The tech sector is fueling Silicon Valley's roaring economy with record-breaking numbers of new jobs, patents and IPOs. But when it comes to women's salaries, it's a different story.
Women with a bachelor's degree or higher continue to earn much less than men, and Silicon Valley's pay gap is larger than the rest of the state or nationwide, according to a new report by Joint Venture Silicon Valley, a regional organization of government and industry leaders.
In Santa Clara and San Mateo Counties, men holding bachelor's, professional or graduate degrees earned 52 to 61 percent more than their female counterparts in 2013, the most recent figures available. In 2012, that pay gap was 40 to 73 percent.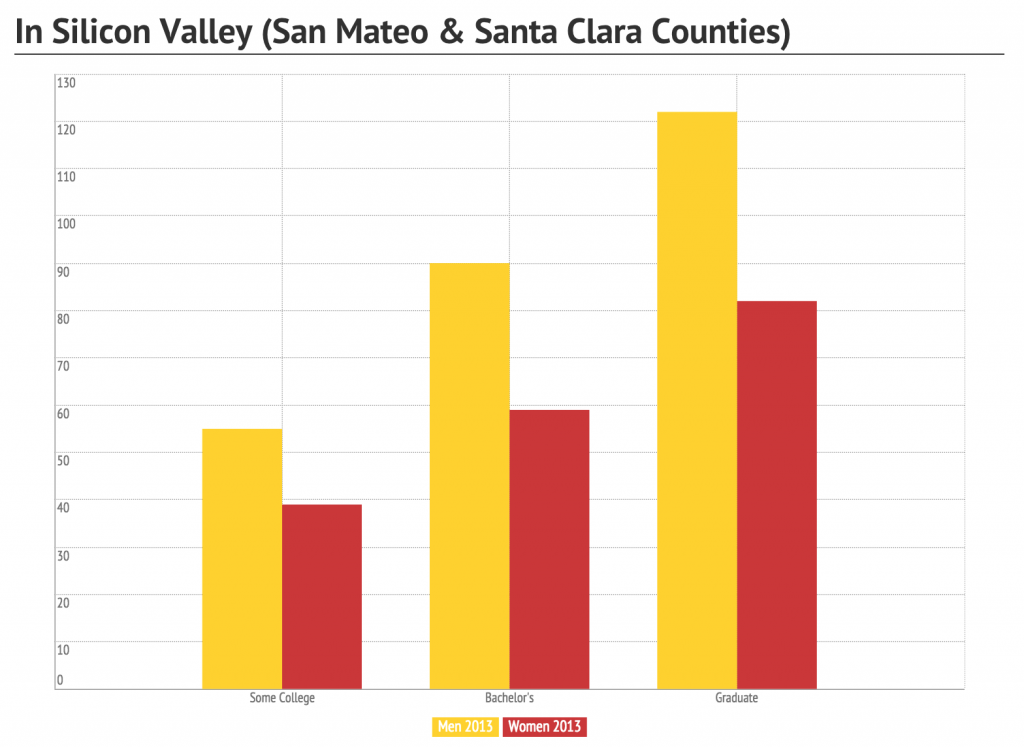 Rachel Massaro, senior research associate at Joint Venture Silicon Valley said, "It's huge. Every woman I've talked to about it is dismayed and shocked."
At the state and national level, men with bachelor's degrees or higher earned 41 to 49 percent more than women with similar educational achievements.
Massaro said she believes that Silicon Valley's concentration of male engineers with high-paying professions is the underlying cause behind the trend. As Apple, Google, Facebook and Twitter disclosed last year, only about a third of their employees are female.
"It has less to do with the culture of tech than the pool of available workers," said Massaro, during Joint Venture Silicon Valley's annual State of the Valley conference on Wednesday. "The real story is we have to engage girls to study math and science, they shouldn't be discouraged from entering male-dominated fields."
That only accounts for part of the story, however. The shortage of women also extends to the business side of tech companies, even though women account for about 40 percent of MBA graduates in the country.
The largest Silicon Valley technology firms also have fewer female executives and directors than other publicly traded companies, according to a study by the law firm Fenwick & West.
"Persistent stereotypes about who belongs in engineering and technology and who belongs in leadership leads to unconscious bias embedding itself in people processes," Caroline Simard, research director at Stanford University's Clayman Institute for Gender Research said in an email. "It affects who is hired and who is promoted to technology leadership ranks."
Persistent stereotypes about who belongs in engineering and technology and who belongs in leadership leads to unconscious bias embedding itself in people processes.
But some change is underway for engineering and other technology fields, Stanford University President John Hennessy told attendees at Wednesday's conference.
"We've seen a dramatic increase in the number of women interested in, for example, environmental engineering or product design. We are even finally seeing some rise in computer science majors. So there's some hope there," he said.
Nationwide, women lagged behind men's median salaries in almost every occupation, including female-dominated fields, and the disparity is worst for Hispanic women who earn about 54 percent of Caucasian men's earnings, according to a recent report by the American Association of University Women.
Women working full-time face a pay gap in every state of the country. They come closest to an equal paycheck in Washington D.C., where they earned 91 percent of what men were paid. Louisiana had the worst income gap, at 66 percent. Though these state figures include all educational levels, the size of Louisiana's gap resembles the pay difference between highly educated women and men in Silicon Valley.
"Women do make different choices than men and they often end up costing them more," Catherine Hill, vice president for research at the American Association of University Women said in an interview. "Choices about the kinds of jobs they go into or parenthood … But people also make assumptions about how dedicated women are to the workforce, which can add up to lower pay."
Ranjani Mohana, a business owner who attended the State of the Valley conference, said she wasn't frustrated by the slow pace of change for women earning less than men just because of their gender.
"Yes, it's there," said Mohana, president and chief executive officer of R Mo LLC, a San Ramon, Calif.-based company that helps small businesses get certified to work for the government. "But at the same time, women are more independent. I'd say overall, women are advancing in so many different ways" when compared to previous generations.
Other participants at the conference said they were surprised by how large the region's gender wage disparity is.
"It's amazing that we still see this gap going on," said Janette Langdell, a manager at Nova, a federally funded nonprofit employment and training agency in Sunnyvale.
This story is a part of a special report, "The Silicon Valley Fix?"