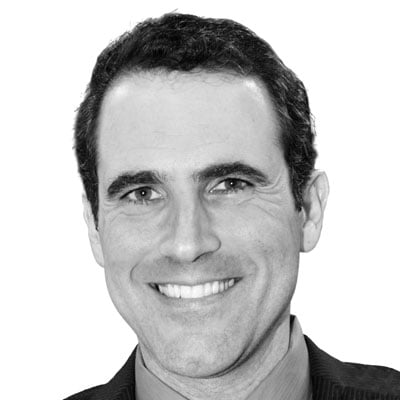 "[It's] not often someone has a dream at 13 and is still living it at 51!" — Seth Davis
When he was 13 years old, Seth Davis penned a letter to Dave Kindred, then a sports columnist for The Washington Post, asking for advice on becoming a sports journalist. A few months later, Kindred responded, having no idea that the boy who had written to him for advice would indeed go on to become a prominent sports columnist and broadcaster himself.
Today, nearly 40 years after he wrote that letter, Davis is a senior writer for The Athletic, covering college basketball, and a studio analyst for CBS. He is a part of a steady stream of sportswriters (Peter King, JP Morosi, Tom Verducci, et al.) who have migrated to television.
While the bulk of his career has been spent covering college basketball, Davis considers himself a journalist rather than a sports journalist or columnist. The son of attorney and Democratic party strategist Lanny Davis, Seth grew up around politics in the Maryland suburbs of Washington D.C. with a love for news and information, as well as reading.
His father was very influential for him growing up, imparting a love for sports and newspapers. Seth grew up attending Washington Redskins games at RFK Stadium with his dad, including having the good fortune of being at four Super Bowls the Redskins played in during their heyday. Despite his father's impact on his upbringing, Seth did not want to become a lawyer. He had seen up close and personal the grind that was his father's work life, and it did not look particularly fun to him.
Throughout the 1980's, Davis was a Maryland Terrapins basketball fan, and still remembers the exact date of Len Bias's death. However, he attended a different ACC school — Duke University. In the four years Davis was at Duke, the Blue Devils made it to four Final Fours and won two national titles.
While in Durham, Davis covered the basketball team on every platform possible, from the student newspaper to radio to the student television station.
"Duke does not have a journalism major. I knew it was a good school with good sports, and I just felt like that's where I wanted to be," said Davis. "What I didn't realize was how much that would work to my advantage, that I was basically the only guy on campus who wanted to do those things. So I started doing stuff for the student TV station, and they didn't have a show on the basketball team."
His first guest on his show — Cameron Corner — that he hosted and produced? Mike Krzyzewski.
After working his way up the food chain at The Chronicle — Duke's student newspaper — covering non-revenue sports and women's basketball, Davis started to cover the men's team in his junior year. That same year, he started a weekly column.
"In some respects it's still the best job I've ever had because it's all inside jokes with your audience. I could be obnoxious, not that I'm above being obnoxious now, and it was a sports column, but it was a humor column really," said Davis. "I learned how to be funny in print and I had these awesome experiences when it became a very popular column."
Perhaps the most influential part of his Duke experience was a journalism class he took taught by John Feinstein, a longtime columnist for The Washington Post. Davis credits Feinstein for being the reason he went into print rather than pursue television.
"He was adamant that I not go and do TV. He thought it's going to be a shallow life and that I was too good a writer. I was already kind of torn and I'm like if this dude thinks I can write a little bit, then maybe I should follow that," said Davis. "I sensed that was really, and still is, my passion."
"A lot of people ask, 'What do you like more? The TV or the writing?'" said Davis. "My answer is always television is more fun, but writing is more gratifying. I did think that TV would still be there for me and in fact I might have better opportunities on TV if I could establish myself as a writer."
After graduating from Duke, Davis's first job was covering high school sports for the New Haven Register. At age 25, he was then hired as a fact checker by Sports Illustrated and eventually worked his way up to being SI's college basketball beat writer.
"I saw an opportunity. They had some very good college basketball writers at [SI], but they did not have a dedicated beat writer who could really get into the nuts and bolts of what was happening," said Davis. "If there was a Peter King for college basketball, I would have tried to go in a different direction. I worked on everything, so I could have gone in a lot of different directions. But, I saw a little bit of daylight and just kind of became the college basketball beat guy."
Davis credits his time at Sports Illustrated, where he worked from 1995 to 2017, for teaching him how to deal with rejection. Not every story he pitched and wrote would get published, and SI constantly demanding his best made him a better writer.
In 2017, Seth's run with SI came to an end as he was a casualty of a round of layoffs. He did not stay a free agent for long, as he joined The Athletic as it was getting started, becoming the publication's national college basketball writer. At The Athletic, Davis has written more longform pieces and developed a few columns that have made him one of the most followed college basketball insiders in the country.
In addition to his writing, Davis keeps a busy television schedule with CBS. Every morning, he arrives at the studio around 10 and works until 1 in the morning on both CBS and CBS Sports as a studio analyst.
Davis has written a few books, most notably Wooden: A Coach's Life, released in 2014 and the newly released book with Sister Jean — Wake up with Purpose! What I've Learned in my First 100 Years. Even though Seth is at a point in his career where he is nationally recognized and has achieved his childhood dream of becoming both a print and broadcast journalist, he considers himself by no means a finished product.
"Probably of all the things I've done, writing books is what's made me grow the most as a writer.
One thing I've come to appreciate is how long it takes to become a good writer," said Davis. "I'm still becoming a good writer as far as I'm concerned. You have to read a lot, you have to write a lot, and you have to do it for a long period of time."
"There's no such thing as writer's block. You know why? Because when I have to pay my mortgage, I can't pay my mortgage with writer's block," said Davis. "If a doctor goes into the emergency room, does he have surgeon's block? Writing is what we do and we have to be careful about not making it more important than it actually is. Yeah, it's important and you want to do your best, but if you do your best by so much, then you become paralyzed. Finding that balance is part of the writer's journey."
"Like I've often said, writers don't retire. Writers die," said Davis. "I hope to always be writing."
---
Many years after Seth Davis sent that letter to Dave Kindred, he approached Kindred with a pitch for The Athletic for him to write a piece arguing in favor of the legendary coach Lefty Driesell being named to the hall of fame. Kindred agreed and the pair worked together for a short time on the article.
"You match your writer with the subject and Seth did that with me and not only matched a writer with the subject, but matched kind of a generational gap," said Kindred. "I thought it was a great request by him."
Davis and Kindred's first contact with each other after the letter came 35 years later at an award ceremony. Davis showed up with Kindred's response letter and the pair re-connected over a document that had originally tied them together 38 years before. Kindred has always followed Davis's career from afar.
"He evolved. I was too shy to ever even think of being on television, but that was Seth's goal from the start," said Kindred. "He knows the game, and he is able to speak in complete sentences on television. So, I've admired his progress for a long time now and am very happy to turn on March Madness and see him as a great part of it."