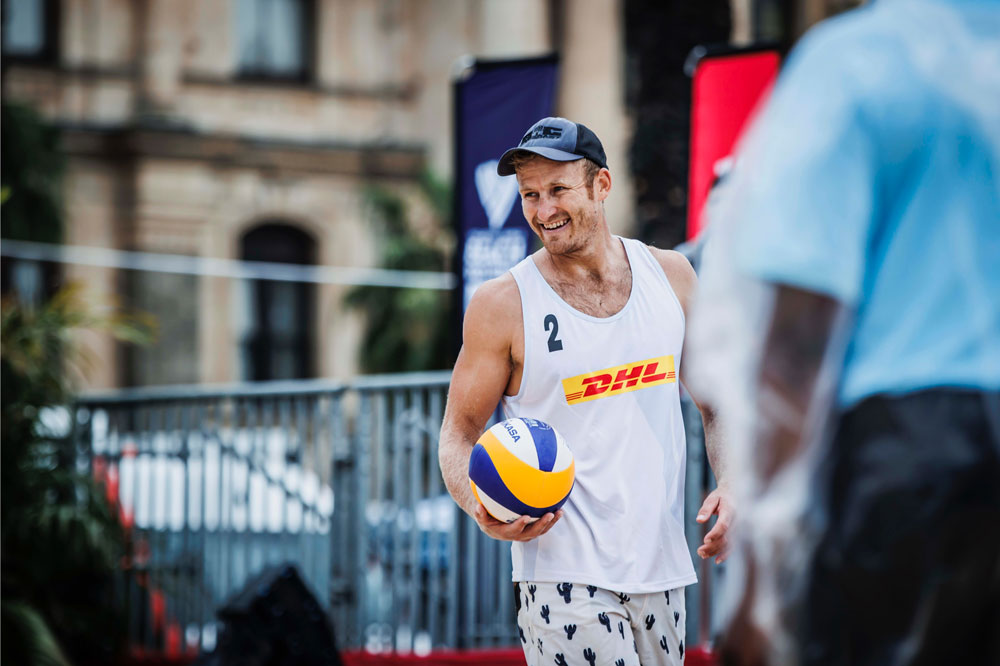 World traveler, professional athlete, sports journalist, author, living in California, married, with a baby on the way.
Thirty-two-year-old Travis Mewhirter, Volleyball Magazine writer and podcaster, can chalk up most of this list to random chance, and a late-blooming love for a sport he would have never predicted falling for.
But, in a life full of random occurrences, one constant ran true: Mewhirter was going to be a sportswriter.
---
Growing up in a small-town in Maryland, Mewhirter is the middle of three sons, to parents Jill and Jim Mewhirter. College sweethearts, and athletes, Jill played volleyball while Jim was the quarterback at Grove City College in Pennsylvania. The Mewhirters raised their boys with the knowledge that playing sports was a requirement, not a choice.
"If we had anything in town it was sports, soybeans, and cows," Travis Mewhirter said when asked what life was like growing up. So, sports it was. Falls were spent playing soccer, basketball in the winter, and baseball in the spring. He was constantly occupied and constantly competing.
While most talented on the soccer field, Mewhirter didn't enjoy the sport and tested his talents elsewhere. He needed a new fall sport, so he chose golf. It was hard, but with a self-proclaimed "obsessive personality," Mewhirter did not rest when it came to bettering his game. After making it onto his high school varsity golf team, he would go on to be a member of a legendary squad that went undefeated for his four years.
Even in school, the only thing that could convince the middle Mewhirter boy to focus on his work was sports, or combining sports with a passion for reading.
"Every writer loves to read," said Mewhirter, remembering growing up reading the Harry Potter series and almost any other book that he got his hands on. "But my real genesis story as a writer came with an elementary class storytelling project that was assigned to me the day before I scored a buzzer-beating half court shot." Telling that story, he said, was what sprouted a passion for sports journalism.
Daily reads of the morning paper sports section with his dad sparked a flame. He wanted to be the one writing those stories one day.
Mewhirter started taking every opportunity to better his craft.
High school paper? Easy, yes. Internship at 16 writing in the sports section for the county paper? Again, for Mewhirter the answer came easy: yes. Giving up opportunities to golf in college to pursue his journalism dream, at his dream school, the University of Maryland? What might have been a difficult choice was again, easy. It was his calling, his obsession, Mewhirter was going to be a sportswriter.
While studying at Maryland from 2008-2012, he continued to fine tune. Working for the Washington Post, he compiled high school box scores and created stories from the nightly highlights. Mewhirter also worked for The Gazette, a weekly community newspaper serving Montgomery, Prince George's, Frederick, and Caroll counties in Maryland. Mewhirter spent his time with The Gazette covering high school sports for these counties in the "DMV" area (D.C., Maryland, Virginia). For a few years Mewhirter continued in a full-time role with the Gazette, writing six beats and features weekly.
---
Mewhirter's passion has turned him into one of the most, if not the most, renowned beach volleyball writers today.
Lee Feinswog, owner and editor of Volleyball Magazine, was in Baton Rouge, Louisiana when he got a call from a friend in early 2017. It was a suggestion to check out "Paper Courts," a podcast featuring some big-ticket beach volleyball names, with a host whose name, oddly enough, did not ring a bell.
That unfamiliar host? Travis Mewhirter.
Mewhirter entered the volleyball world in a way that forced Feinswog's attention on him. Within the hour of that original discovery of Paper Courts, Feinswog was writing an email. Five minutes after it went out, he received a call from Mewhirter, which prompted a line that could be written in Volleyball Magazine's history books. "You're gonna write for me," Feinswog said to Mewhirter.
Since then, Mewhirter has been vital in keeping Volleyball Magazine's pulse as strong as ever. Rob Espero, another contributor to the magazine, said that Mewhirter's impact on the volleyball community has been extremely important, as he covers beach volleyball from a domestic and international perspective. Using social media platforms as well as podcasting to broaden his reach, Mewhirter has extended his audience beyond that of print-digital media. Mewhirter co-hosts and produces "Sandcast," the only beach volleyball podcast with vast listenership and viewership.
The ability to experiment with his reach and tell stories made Mewhirter more appealing to Feinswog, but his versatility and talent to do anything asked of him is where he has been integral. Since last August's passing of Ed Chan, Feinswog's co-owner and Volleyball Magazine editor, Mewhirter jumped in to help with the more "mundane" tasks of the job, covering all of Volleyball Magazine's "Beach" portion of their site.
With a site that garners two million hits annually, Volleyball Magazine's strength comes from the passion embedded in every written piece. Mewhirter's stories are no exception to this rule. In fact, Feinswog described them as the gold standard.
"All of the best writers obviously can write, but paying attention to the human condition, that's what makes Travis so special," said Feinswog. His signature on the site, long-form stories, are well-read and well-received, largely because Mewhirter has a way of humanizing the superhero.
Highlighting why an athlete is amazing, but showing why they're human serves a new purpose.
"You can get a game report anywhere," said Mewhirter. "I like to address an athlete's imperfections, and show them as an inverse of their strengths." The result of this strategy? Athletes have shared they get the chance to learn almost as much about themselves as readers get to learn about them.
With his talent, and overall passion for sports, what made Mewhirter choose to focus on beach volleyball? The answer is simpler than one might think: random chance.
---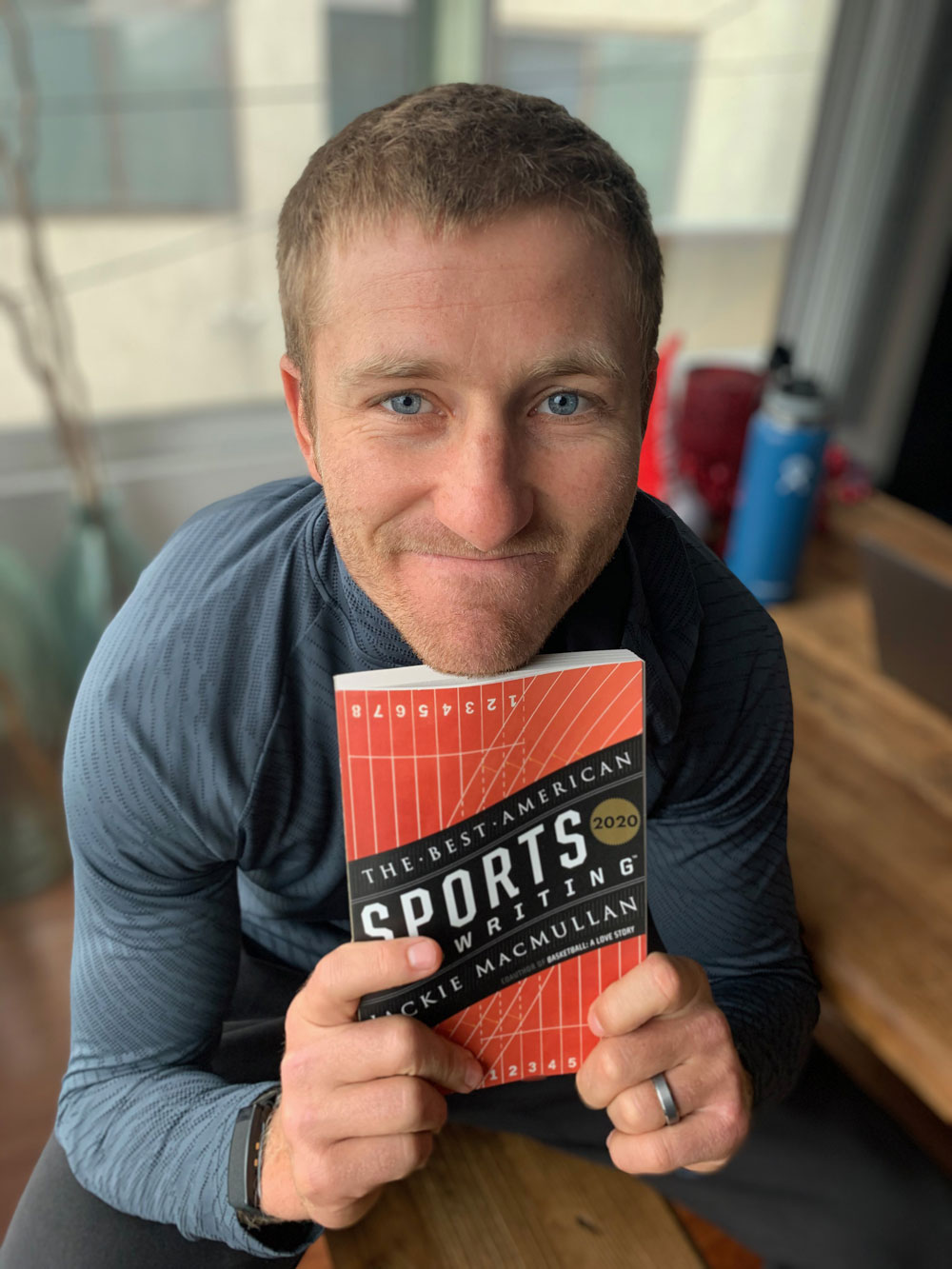 The year was 2014. While snowed in and watching football with his roommates in Baltimore, Mewhirter had enough. He opened his laptop, and started mass applying to any journalism job south of Virginia.
Navarre, Florida sounded nice enough. The Northwest Florida Daily News had an opening, and so Mewhirter packed up his bags and moved to where snow was only present in movies, or nightmares.
While at a local restaurant on his first night there, a woman noticed Mewhirter's 6-foot-4 frame and told him he should look into playing volleyball. Thinking that volleyball was a sport for girls, Mewhirter politely brushed off the comment.
Shortly thereafter, an assignment at work came his way: report on "Fudpuckers," a week-long festival filled by a 4-man beach volleyball tournament and numerous late night amusements. The week, labeled by Mewhirter in 2014 as a "family reunion," is well known to the beach volleyball community, and the allure of it draws players back yearly.
Later on, while on a walk to the beach, Mewhirter's normal path was blocked, so he took a different route, and ran into the woman from his first night in town. She was playing beach volleyball on a court nearby. She invited him to join her pick up games, and his love of the sport took flight.
When he wasn't writing, Mewhirter was playing beach volleyball. His obsessive personality found its new passion, training five days a week to improve his skill. Once he got good, he wanted to get better, and better, and better. So, he did.
While his volleyball talents were on the rise, writing for the Northwest Florida Daily News had reached its limit for Mewhirter. So, in September 2015 he made yet another big move, this time across the country. Home would soon be Southern California, where he would write freelance articles, work a tutoring job, and compete on the U.S. domestic professional beach volleyball tour, the AVP.
Then 2016 rolled around, along with the birth of "Paper Courts." Soon enough, Mewhirter met a friendly face on tour, Delaney Knudsen (now Mewhirter). She became the love of his life. Mewhirter found himself traveling the world, writing stories, playing beach volleyball, and cheering for his wife when she was competing.
Now, the Mewhirters have slightly shifted their tournament travel lifestyle, as they are expecting a baby boy this April.
---
AVP and USA Volleyball Professional Savvy Simo, a current "Sandcast" co-host, spoke of her connection to Mewhirter as a stroke of good fortune that led to a thriving friendship. After being asked to join the show as host of a "questions from the fans" segment, Simo has worked closely with Mewhirter, and seen up close how his connections drive his storytelling.
"He knows so many people and has such a good rapport throughout the community. Everyone loves him and is so open to talking with him about anything which makes his writing super organic and natural," said Simo.
Mewhirter is putting beach volleyball on the map, one story at a time.