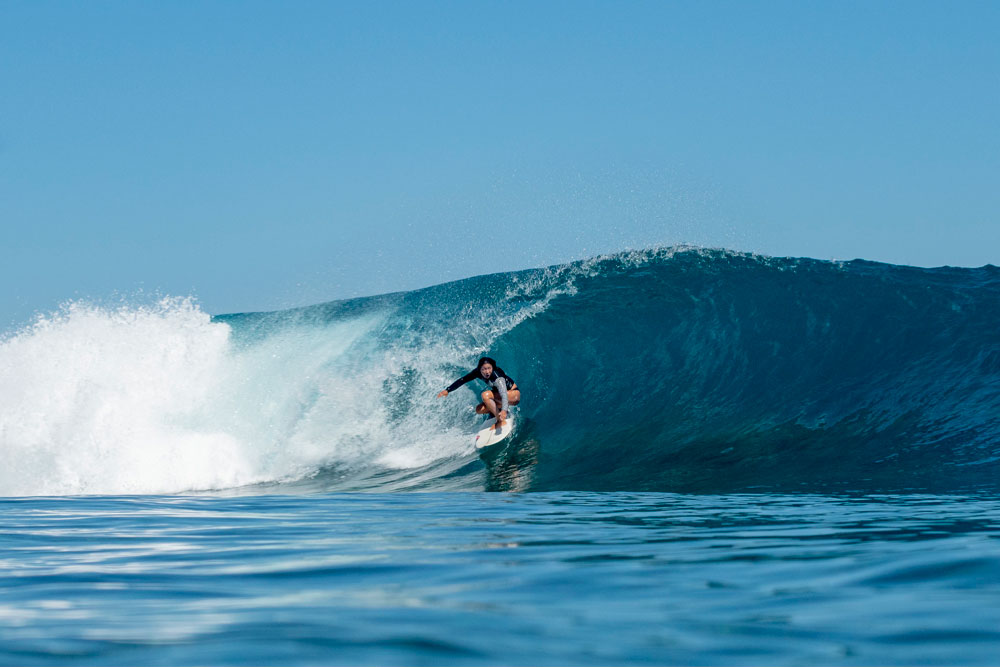 It's Sara Kohrogi's turn to be an ambassadorial bridge between two cultures she proudly feels part of.
The 26-year-old professional surfer and Disney+ series Chasing Waves star aspires to connect worlds, starting with American and Japanese surfing communities.
Born and raised in Hermosa Beach in Southern California, though of Japanese descent, Kohrogi has competed for Japan's national surf team, and plans to use family inspiration to bridge international gaps she has seen while competing.
The push-and-pull of being torn between two cultures definitely had its confusing moments for Kohrogi, who sought authenticity. With a little piece of parental advice, she found herself: "Take your both." It's a motto that both her American-born mother, Susan Ikuhara, and Japanese-born father, Acey Kohrogi told her to live by. They suggested she find the best pieces of both cultures, and make them uniquely her own. In doing so, she would find unity, just as they had.
Her maternal grandfather, Akihiro "Ike" Ikuhara, was a longtime assistant to L.A. Dodgers' President Peter O'Malley, and is honored in the Japanese Baseball Hall of Fame for his ambassadorial role in bridging a connection between Asian and American baseball.
In spring 2020, Kohrogi received a phone call: from the producers of a new Disney+ series called Chasing Waves, created to shine a spotlight on the people and places that are defining Japan's reach in the surf culture. They wanted her to be one of the five featured athletes in the series; her first chance to serve as a bridge between the two cultures on an international stage, just like her maternal grandfather. Now, two generations later, in an entirely different sport, it was Kohrogi's turn to serve as an ambassadorial bridge for the same two nations.
"Growing up, I always knew I wanted to be a professional athlete, it was just a matter of which sport I would play," she said. When a medical diagnosis of scoliosis emerged in her early teenage years, Kohrogi was forced into leaving behind her pursuits of baseball and golf and to pick up a dual-sided sport. With an immediate contempt for swimming, Kohrogi's father suggested surfing as a sport to test out.
The search to find something that felt right for Kohrogi ended. Surfing to her was the first time that she felt as though everything happens for a reason. It has continued to do so, and even served as a catalyst for connecting with roots she had long suppressed.
Growing up in a predominantly white society, she felt pressured to fit into social standards and suppress her Japanese heritage. It wasn't until Kohrogi was 16 that she first began to embrace her family's heritage, while visiting Japan on a surf trip. She discovered connections to her grandfathers that made her even more proud of her heritage.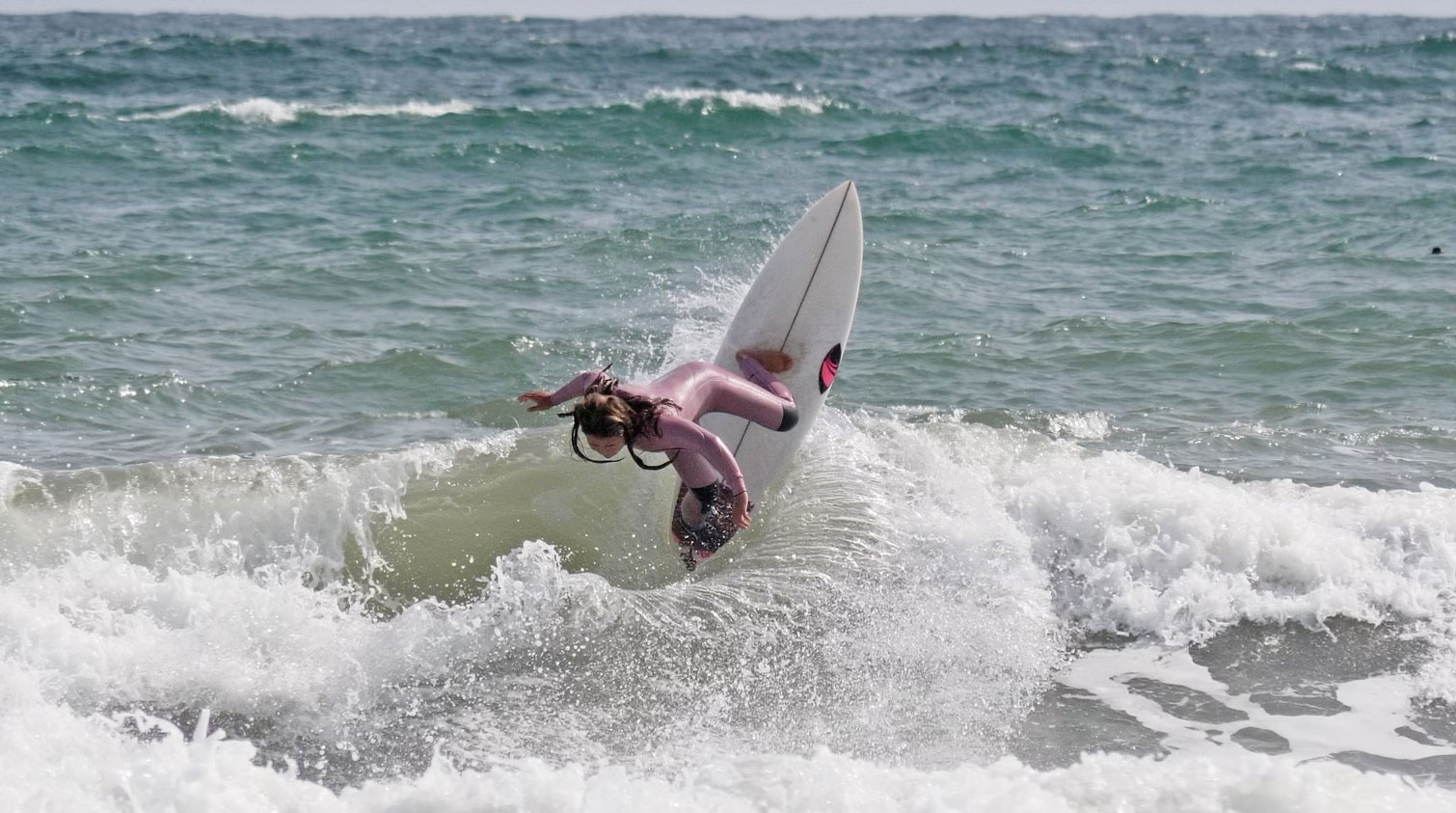 Meeting her paternal grandfather, Yoshitaka Kohrogi, an artist in Japan, deepened her connection to family and culture. So, after receiving her degree in Business Administration and Management from UC Berkeley in 2019, Kohrogi moved to Japan to pursue a career in surfing.
She said, "All I knew was that I was there to be present and to grow." When it came to surfing, she thought, "I'm just gonna rip while I'm here."
That mentality paid off, as Kohrogi earned a spot on the Japanese National Team, following a passion to do what she loved and build connections while doing it. Being a natural sucker for the underdog, she was ready to show the surfing world exactly what Japan was made of.
It was almost as if her maternal grandfather's legacy was calling to her. "It's a drive rooted from a voice within," Kohrogi said. She wants to give back to the places to which she feels a
connection
Childhood friend Sunny Villapando said Kohrogi is energized by people and driven to make places better than she found them. Soleil Errico, World Surfing League Longboard Champion, spoke of her close friend aspirationally. "She lives a life based on positivity, goal-setting, and is driven to live life to its fullest while making the world a better place in the process," said Errico.
Working to build a united community began growing on a much smaller scale, when Kohrogi, Villapando, and two other friends worked to create a community of active women in the Manhattan/Hermosa beach area during the COVID-19 pandemic. Their goal: to bridge the gap between women and the intimidation factor that comes with entering male-dominated sports and lifestyles. Male dominated sports, like surfing, skateboarding and other outdoor activities are historically exclusive, leaving women on the outside. Kohrogi, Villapando, and their friends wanted to stop this historic exclusion, and bring people together instead.
Now, Kohrogi is chasing larger waves: the 2024 Paris Olympics, in which she hopes to compete for Team Japan. With surfing being one of the most recent permanent sport additions to the Olympics, this gives her the opportunity to continue bridging the cultures and communities she proudly stays connected to.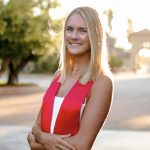 Charlie Ekstrom is a master's student in Communication, from San Diego, California. Completing her undergraduate degree in Architectural Design, Ekstrom has focused much of her career on studies of relationships, using different mediums to explore these studies. When not in the classroom, Ekstrom can be found in the sand, competing with the Stanford Women's Beach Volleyball team. An All-American and three-time All Pac-12 Team member, she is proud and passionate about writing for sports and athletes that historically have less representation and voices covering them.