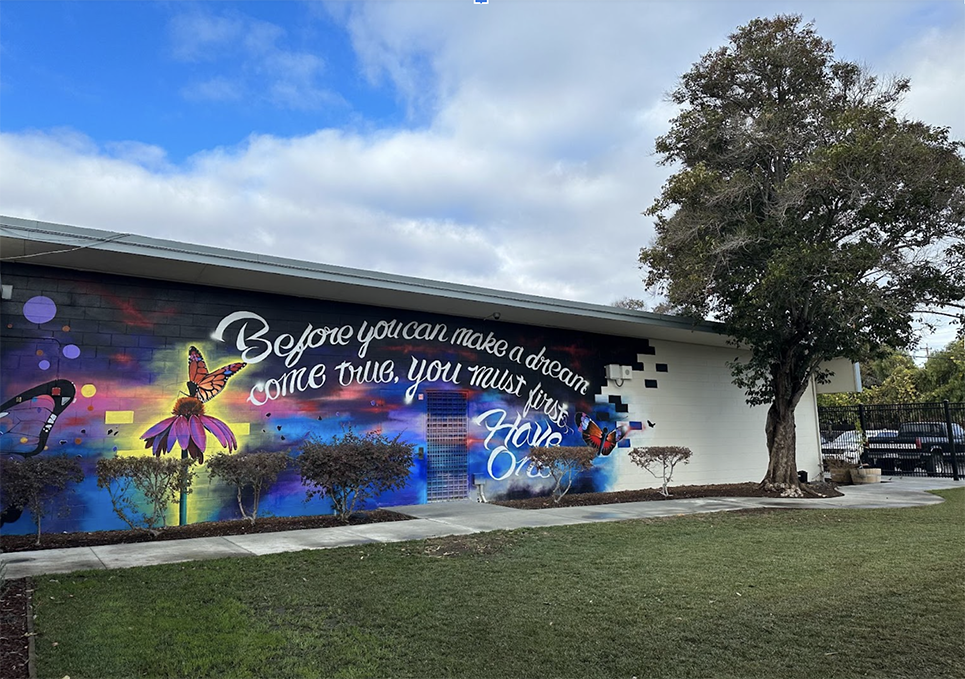 As Principal Alex Quezada began his daily morning walk around Los Robles-Ronald McNair Academy in East Palo Alto, a young student stopped Quezada at the playground to ask if there could be a "break time" later in the day.
The student offered a relieved smile when the principal readily agreed, and then he skipped off to rejoin his classmates.
To Quezada, constant reassurance and strong relationships with students are integral to helping rebuild their emotional well-being after the disruptions of Covid-19. The public school, which is part of the Ravenswood district and offers English and Spanish immersion in grades K-5, was forced into remote and hybrid learning for nearly two years. As a result, students "who really just needed to be around each other" were isolated, Quezada said.
"[We're] teaching our kids to say 'I'm going to need a little break today' because they are still building stamina even though we've been in-person for a while," he said in a recent interview. "For some kids, coming in every day and trying to self-regulate is still a lot of work. They missed a year and a half– maybe two– of not being able to practice that."
California's schools are back to complete in-person instruction, but many students and educators are left to deal with the lasting impacts of remote learning.
The California Assessment of Student Performance and Progress (CAASPP), an annual statewide exam taken by students in grades 3-11, had been on hiatus since 2019 due to Covid-19 and was administered for the first time again this spring. The assessment's results revealed stark differences in students' performances across San Mateo County schools.
The Ravenswood City School District, which serves students in grades K-8, was hit particularly hard. Only about 5.6% of its students met or exceeded the state math standard. The percentage dropped significantly from 11.9% in 2019. Language Arts test results showed a similar dip.
For Los Robles-Ronald McNair, the statistics look only a bit better, with about 7.89% of students meeting or exceeding the math standard.
Meanwhile, Las Lomitas Elementary School District, which serves affluent communities including Menlo Park and Atherton, experienced a slight increase in scores. In all, 83.7% of Las Lomitas district students met or extended the math standard, compared with 82% in 2019.
The rest of the districts on the Peninsula experienced little to no change in their test results.
Ravenswood's test scores have lagged behind the rest of the county– which tended to average about 80%– long before the pandemic. The district serves a community in which about 78% of students are socioeconomically disadvantaged and 54% identify as English learners.
At Los Robles-Ronald McNair, about 84% of students are economically disadvantaged and 87% are considered English learners.
The average income for San Mateo County communities varies greatly. For example, East Palo Alto residents make about $34,000 a year on average, far less than residents of Menlo Park. This causes an uneven distribution of resources, which can lead to a disparity in school test scores, according to Jared Prolo, the executive director of Curriculum and Instruction Services for the San Mateo County Department of Education.
In a presentation to community members at the Ravenswood school board meeting on Sept. 8, board member Ana Maria Pulido called the assessment results "sobering."
"We know we must do better," Ravenswood Superintendent Gina Sudaria said in a written response to a reporter's questions. "Our current CAASPP scores confirm that we have significant work to do."
According to Sudaria, the district is implementing a three-tiered assessment plan that will help monitor students' educational health. The tiers include street data, map data and satellite data.
The street data will be collected by teachers daily in their respective classrooms, while map data will be collected three times a year through trimester exams and attendance observations. Lastly, satellite data will include yearly assessments like CAASPP.
"Instead of waiting for data at the end of the year, we monitor progress along the way so that we build a robust system of data and assessment to create an ongoing and clearer picture of where we are and where we want to be," Sudaria said.
A time-delayed snapshot
Quezada, the Los Robles-Ronald McNair principal, noted that since CAASPP data is published months after the tests are taken, it is a "lagging indicator" and can only offer a minimal look "of where our kids were at that time."
"We do a lot of real-time assessments that teachers are collecting throughout the week," Quezada said. "That is more informative because then you can respond to that right away."
Katherine Strach, who serves as coordinator of data and assessment services for the Menlo Park City School District, also urged community members to be cautious when making comparisons and attempting to draw conclusions from the state test results.
"Just comparing data from 2019 to 2022, it's really like comparing apples and oranges," Strach said. "It's a three-year difference. We have students who are taking it in third grade who were entering the first grade during the beginning of the pandemic, and the pandemic has affected their entire educational career already."
The 2022 version of the state test was 50% shorter than pre-pandemic assessments and adopted an online format. As a result, the test results had a larger standard error, which made it more difficult to analyze, according to Prolo.
"Although they say it's comparable, it's not the same," Strach said. "There are less test items for students to demonstrate proficiency on, so we're looking at this really cautiously and using it as a jumping-off point to know where to gather more data."
The Menlo Park City district also experienced a slight dip in state test results. However, Strach noted that her office was "not surprised" by this because – similar to Ravenswood – her district was administering local benchmark assessments at the end of each trimester.
According to Prolo, these internal assessments are being done in various districts across the county and can help more accurately track student proficiency. However, they are not centralized and districts aren't required to administer them or publish the data.
Impact on East Palo
The Ravenswood district serves students in East Palo Alto, a city that was hit harder by the pandemic than neighboring areas.
According to the most recent county data released earlier this month, East Palo Alto accounted for 11,753 of the 177,388 total COVID-19 cases in San Mateo County, while wealthier communities like Woodside and Portola Valley had well below 1,000 cases each.
"We can not quantify the trauma and what kids felt for parents not having work or going to work every day because they were essential workers," Ravenswood school board member Jenny Varghese Bloom said during the board meeting. "We can not quantify how many of these kids were taking care of siblings or watching TV all day because no one was there to take care of them."
According to Quezada, Los Robles-Ronald McNair was faced with the added challenges of having to support families which didn't have access to technology or other basic needs, unlike families in more affluent neighboring communities.
"It wasn't just a couple of students here and there that needed broadband internet or a couple of students here and there that needed a Chromebook. It was everyone," Quezada said. "It put a really huge burden on the school to meet that need."
Quezada added that although there has been nationwide discourse on how COVID-19 has impacted K-12 education, "I don't think people truly understand how hard it's been."
"It cannot be overstated. It's going to take us a lot of time and a lot of effort to undo and rebuild," Quezada said.
School funding inequities
The district funding system in California further perpetuates the stark inequalities in San Mateo that were reflected in the state assessment results, Prolo said. "[It's] a bit silly," he said. "Certain districts in particular, because of the funding structures, really struggle to get highly qualified and experienced math teachers."
San Mateo County is home to 23 different districts, which serve about 90,000 students.
Districts receive funding on a per-pupil rate based on the local control funding formula.
Prolo added that if the community's local property taxes generate revenue in excess of what is allocated based on the formula, the district is able to keep the extra money. This can incentivize wealthier neighborhoods to establish smaller districts.
"Small, wealthy communities want to keep all of their money locally and it allows them to hire and retain people even more easily," Prolo said. "But it does mean that cities not very far away, like Redwood and Ravenswood, are nowhere near able to offer the same salary benefits and working conditions."
This leads to an uneven distribution of funding, with some districts receiving around $35,000 per student per year, while others receive as low as $16,000.
"In many cases, if you have a math credential, you're not sticking around in Ravenswood," Prolo said.
Despite difficulties posed by funding structures and the lasting impacts of COVID-19, Quezada stressed the benefits of having a strong, unified staff to help mitigate these issues.
"For us, it is always how do we make sure kids are safe, and that they're still learning?" Quezada said. "Everyone is kind of on the same page. Maybe that's one of the benefits of a crisis; it brings people together."