---
In front yards across Menlo Park, green "Yes on V" campaign signs battle with bright yellow "No on V" signs, neighbors displaying opposing stances on a controversial ballot measure this November: where affordable housing belongs in the city, and who has the power to decide that.
A group of Menlo Park residents opposed to affordable housing being built in their residential, predominantly single-family home neighborhood introduced Measure V to restrict the city council's power to rezone land for high-density housing. At the heart of the debate is a proposed development on an empty lot near the Suburban Park neighborhood that would create affordable housing with priority for teachers and staff in the Ravenswood City School District.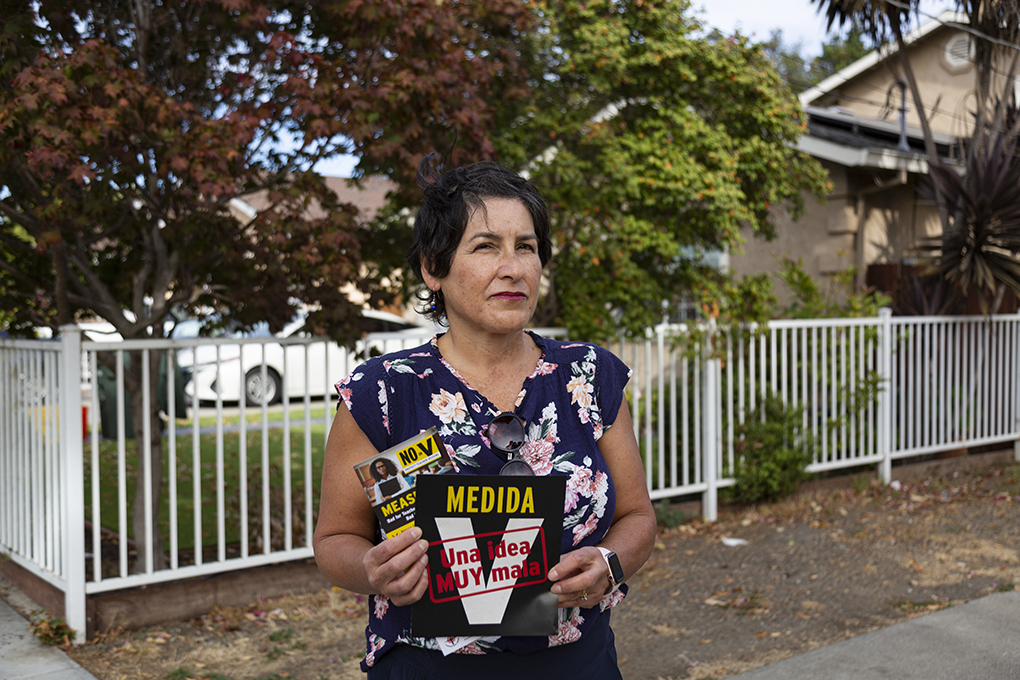 Margarita Méndez, a resident of Menlo Park and a Spanish teacher, has been a vocal opponent of the measure, canvassing for No on V on weekends. She says she became passionate about Measure V because she cares about her young coworkers having access to affordable housing.
"I grew up here, and [in] my first year teaching, I made $24,000 a year," Méndez said. "I want my colleagues to have a place to live where they're not driving two hours or more to work."
"I know what teachers make, I know how hard we work, and I know this area is unaffordable," she added.
Teacher housing, a problem throughout the Bay Area, has become the flashpoint of the debate about Measure V. The measure would require any proposals to rezone a single-family lot to higher density housing to go through a citywide vote, potentially blocking or delaying development. But it's been most vocally backed by residents near 321 Sheridan Drive in Menlo Park, the land where the Ravenswood City School District wants to build ninety units of affordable housing. While the measure isn't about teacher housing specifically, it has become a focal point of the Measure V campaigns because of Ravenswood's proposed development.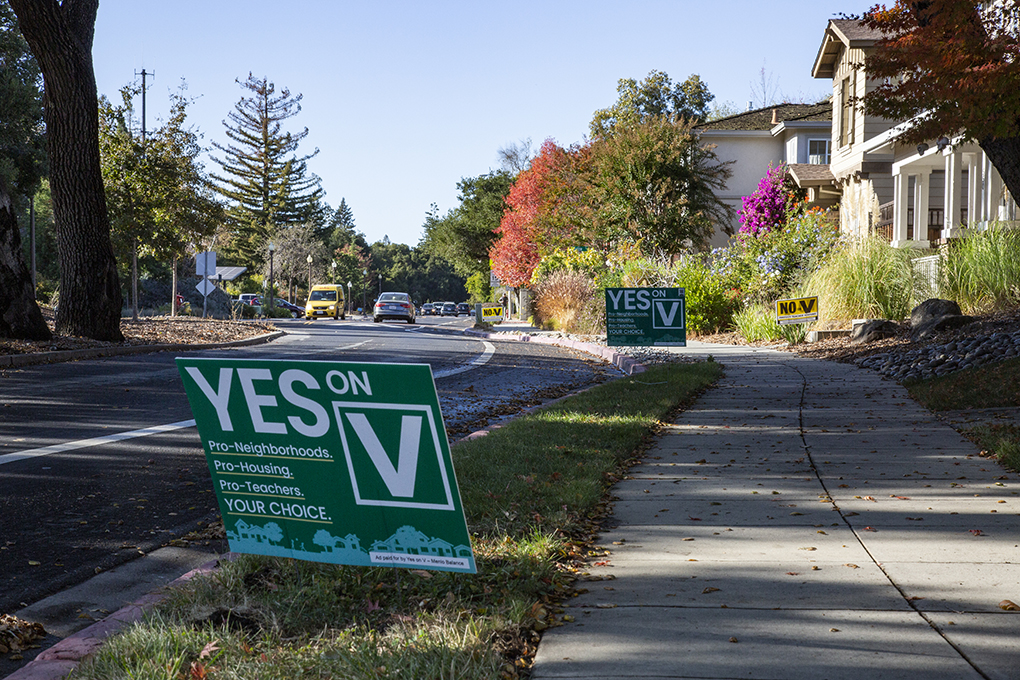 The lot was once home to an elementary school that closed in 2011, and the land has sat empty since. The proposed construction, which would be capped at four stories and 90 units, is intended to help ease the housing shortage and generate revenue for Ravenswood.
Walking up and down the streets of Belle Haven, a neighborhood near the proposed building site, Méndez approached one house after another, switching between Spanish and English to explain the ballot measure to neighbors who opened their doors.
Belle Haven, a predominantly Latinx and Black neighborhood on the northeast side of Menlo Park, belongs to the Ravenswood City School District and is separated from the rest of the city by Highway 101. Children on the southwest side of the highway, in Suburban Park, attend the Menlo Park City School District.
The geography around the proposed Flood School building site has made the debate about Measure V more heated. Opponents of the measure assert that it is part of a long legacy of zoning laws that have entrenched racial and economic inequality in the region. They worry that more restrictive housing measures from affluent communities will push development plans to areas that are zoned for denser housing, such as Belle Haven, where residents are predominantly people of color.
Alex Dersh, 24, the organizer of the No on V campaign, said that he grew up in a house that was historically part of a racially restrictive covenant, and it made him passionate about getting involved in affordable housing advocacy.
"Measure V is in a long line of policies that just entrench this inequality in our community, and so it has to be defeated," he said.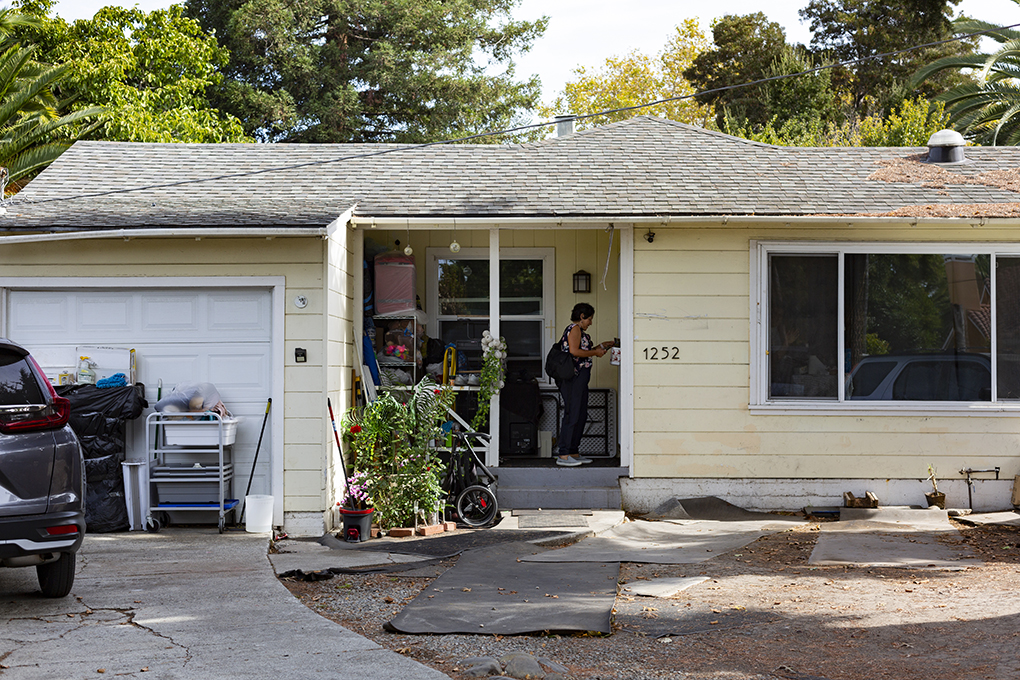 But Mary Pimentel, 82, a longtime resident of Menlo Park who supports the Yes on V campaign, said Measure V isn't meant to be exclusionary. "People are trying to paint our neighborhood as racist or NIMBYs, which I think is so unfair because we are not any of that," she said. "We would welcome new residents at the end of our street — we just don't want high-density apartments."
"Our neighborhood would welcome townhouses that could be built there that would fit in perfectly with the neighborhood," she added.
Will the measure succeed?
In California, local governments are required by law to submit a housing element report every five to eight years to ensure their development plans meet state-mandated housing goals.
Historically, the state seldom held local governments accountable for failing to carry out development plans, and citizen initiatives similar to Measure V have contributed to a shortage of affordable housing in the Bay Area. Saratoga, another affluent city 20 miles south of Menlo Park, passed a measure similar to V two decades ago. It has not had a single proposal for rezoning since — an indication of the impact Measure V could have in Menlo Park if it succeeds.
Measure V, if passed, can create barriers to proposed developments across the city. "At a minimum, [Measure V] would delay the project for years, delaying our ability to provide much needed workforce housing and much needed income for the district," Gina Sudaria, the superintendent of Ravenswood City School District, said in a recent statement.
In a survey of Ravenswood teachers and staff conducted in May 2022, 85% of respondents reported a household income that makes them eligible for the proposed affordable housing.
William Eger, the chief business officer of the Ravenswood City School District, said in an email that the district is unwilling to leave any units vacant if all teachers and staff are accommodated. Instead, the district will follow the structure outlined in A.B. 2295, a state bill that regulates housing on land owned by school districts. According to these guidelines, units will be offered to Ravenswood staff first, then to members of the public eligible for affordable housing.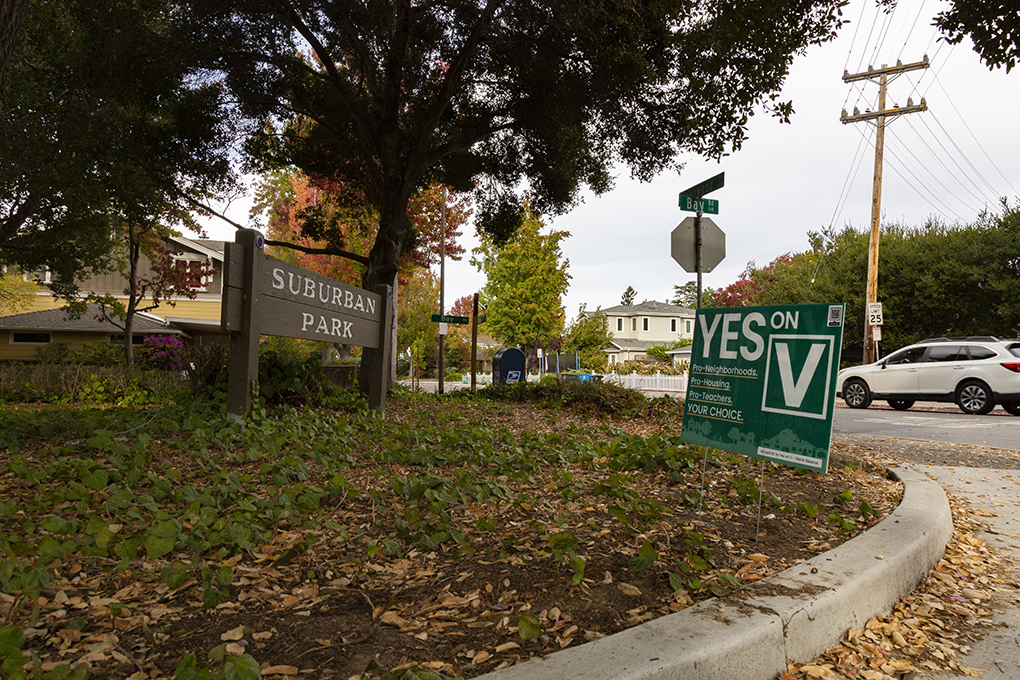 As Election Day nears, both sides of the measure believe it will be a tight race for the future of zoning in Menlo Park.
Residents of Suburban Park say they worry that increased traffic would make their neighborhood less safe for families and young children.
Sarah Shenk, a Suburban Park homeowner, said she doesn't think her neighborhood is well suited for the development Ravenswood has in mind.
"I'm pro teacher housing, I'm pro affordable housing, I'm pro density housing — I'm just also pro thoughtfulness of what that means for Menlo Park and my community," she said.
Pimentel, who lives across the street from Shenk, agreed.
"There's got to be a better place than at the end of this street to put high density apartments," she said.
"It's hard to see your neighborhood destroyed, and that's the way I view it," Pimentel added. "Things would be forever changed."
Méndez, however, said that making affordable housing available is essential.
"I've heard from my neighbors in Suburban Park that how can their kids play in the streets, that the streets are where they play, and how there's going to be so much traffic," Méndez said. "Will there be more traffic? Probably. But is your kid playing in the street more important than housing a family? I don't think so."