---
SAN JOSE, Calif. – A tight labor market coupled with threats to poll workers have led to staff shortages in states including Georgia, Arizona and Pennsylvania, where some of the most hotly contested races will be held. While many election workers quit due to fears of violence and safety concerns, election officials in Santa Clara say the county has enough workers for the Nov. 8 election.
One third of poll workers and election officials quit their jobs due to fears of safety, Kim Wyman, election security lead at the Cybersecurity and Infrastructure Security Agency, told CBS in September. This year, in anticipation of potential violence at polling sites, federal officials offered de-escalation training for state and local poll workers.
Even though California is not a swing state, Mindy Romero, founder and director of the Center for Inclusive Democracy at the University of Southern California, said that election worker harassment is still an issue here. "I think it's a phenomenon that's happening across the country," she said. "Election officials across the state here in California have said that they have received harassment threats, intimidation of all different sorts."
Some of those planning to work the polls next week in Santa Clara County said they felt safe given their location.
"I'd be more worried if I wasn't geographically where I am," said Molly Ackerman-Pulliam, a volunteer election worker for Santa Clara County. "I'd be worried in a less progressive part of the state or country."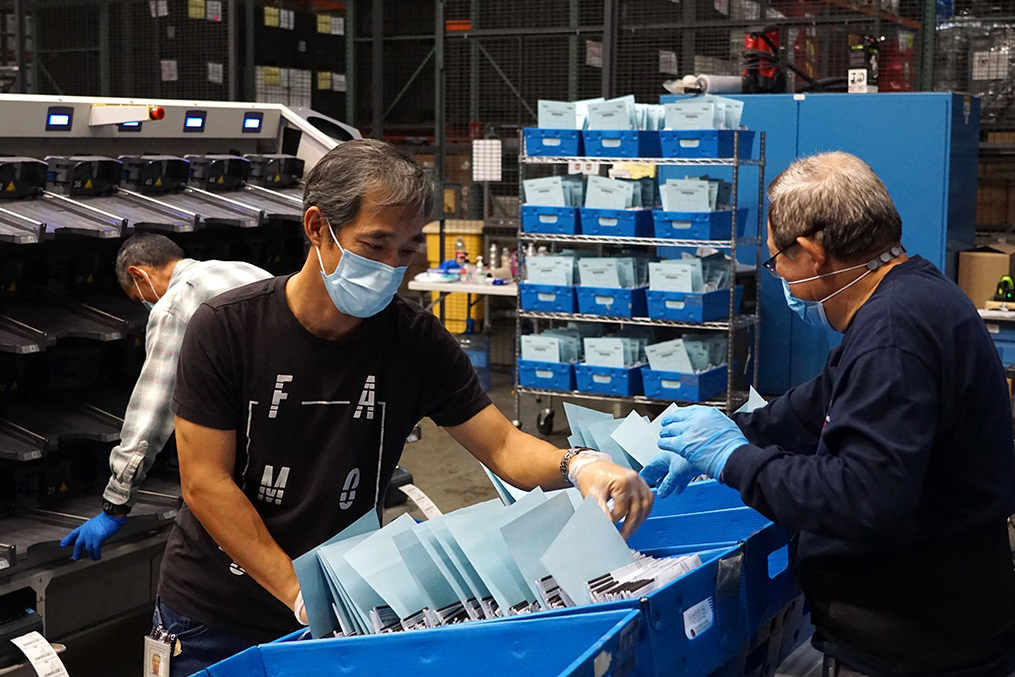 Less fear of political conflict is one reason Santa Clara County has enough election workers. Other reasons include their $24/hour salary for hired staff and $115-200 volunteer stipend and participation in the California Voter's Choice Act, which creates more stable election worker employment.
When Santa Clara County adopted the act in 2018, the county condensed 800 polling places into 103 vote centers. The county also changed its staffing model from mainly relying on voluntary election workers into 1500 hired election staff and 500 volunteers.
Under the act, counties condense their polling places to a smaller number of vote centers, and residents can vote at any vote center in their county. Moreover, they extend the early voting period and expand on-site services such as language assistance. Counties without the act continue to offer in-person voting at polling places assigned to residents based on their permanent address. With a separate law passed in September 2021, all registered voters in California get a mail-in ballot, regardless of whether their county implemented the act.
A little less than half of the counties in California adopted the Voter's Choice Act, with 11 counties implementing it for the first time this year.
On Oct. 29, 25 vote centers opened for early voting in the county. Another 78 will open on Nov. 5. Although the act intends to make it easier for voters to vote early, only around 10% of Santa Clara County voters had cast their ballot one week before the election.
"We have a million voters and only 100,000 have voted so far. So, yes: everybody waits till the last minute," said Evelyn Mendez, Public and Legislative Affairs Manager for Santa Clara County.
In the 2020 presidential election, 93.1% of Santa Clara County voters cast a mail-in ballot just above the California average of 90.4%.
Even though absentee voting prevails, in-person voting options are important. Mendez said in-person voting increased after claims of election fraud following the presidential election.
Romero's research showed that due to safety and security concerns at the 2020 election, around 17% of voters decided to drop their vote-by-mail ballot off at a staffed location. Others vote in-person because they need language assistance or help filling out the ballot.
The number of election observers also increased. Election observers are citizens who registered with the county to watch polling places and election processes. Mendez estimated that before 2020, about 100 observers watched each election, but in 2020 the number of observers increased to over 500. "I know in 2020 was the most that all of us have ever seen," she said. "I think every election it'll get higher and higher."
Some election workers volunteer to ensure the accuracy of ballot counts, others participate in response to the news, and one woman mentioned that volunteering was one of the few jobs she could qualify for with her mobility disability. Most of the volunteers, however, are motivated by community spirit.
"This is my civic duty," said a retiree who gave his name as Donald and worked as an election volunteer for the last eight years. "Once I retired, I said, the only thing I'm gonna do is work at elections. And that's all I do. I don't do anything else but elections."