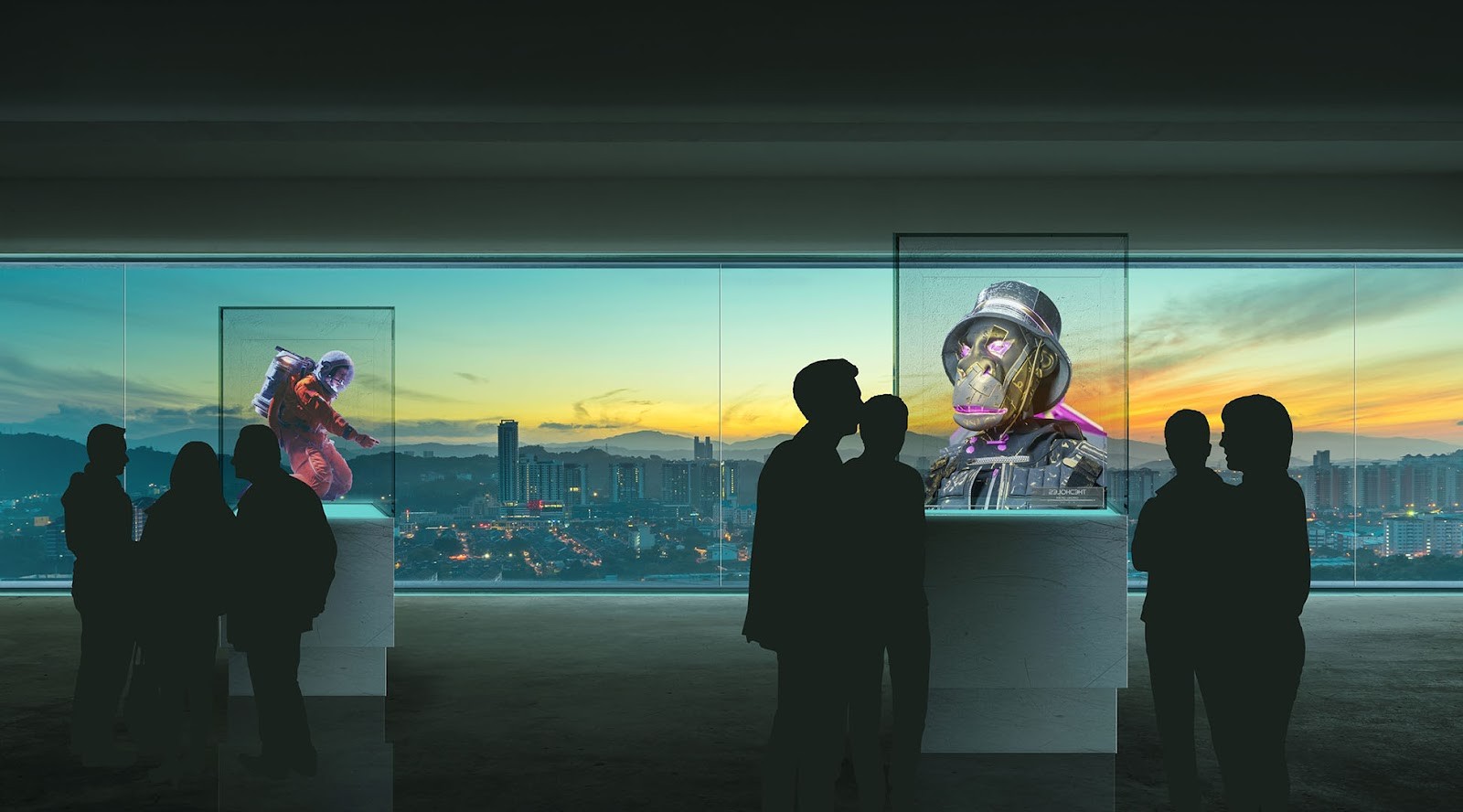 Three blocks from the San Francisco Museum of Modern Art, where visitors can stand inches from a Georgia O'Keefe or Henri Matisse painting, one of the city's newest gallery exhibitions features … blank walls.
"VERSE: Art of the Future" opened in early February at the San Francisco Mint to showcase NFTs, the digital creations verified by blockchain technology that have shaken up the art world. There are no advertisements for the exhibition outside of the Mint, but a back-door entrance ushers museum goers into the basement. Neon signs with phrases like "NFTs are fake" and "What is real?" light up a long hallway where the exhibit is located. Empty rooms housing the NFT art, which can range from photographic images to video GIFs, branch outwards from the main walkway.
To view the pieces, visitors must download an augmented reality app and hold up their phone to scan the walls. For an additional price, they can use a virtual reality headset.
Ever since Mike Winkelmann, better known in the art world as Beeple, sold one of his NFTs – shorthand for nonfungible tokens – for $69 million at Christie's, artists and art connoisseurs around the world have questioned how, or if, they should wade into the NFT space. For an auction house that has sold paintings from the likes of Van Gogh, Picasso and Monet, this record-breaking NFT sale sent tongues wagging.
California-based artist Elizabeth Turk, a MacArthur "genius grant" fellow, has grounded her practice in marble sculptures while also venturing into multimedia, interactive experiences. For someone whose works are displayed in venues such as the National Museum of Women in the Arts and Manhattan's Hirschl & Adler Galleries, putting art into the world via NFTs would be unchartered territory. "It's a whole new group of people to shape culture, what could be bad about that?" Turk said, when asked about NFTs and their effect on the art market.
In addition to pop-up exhibitions like VERSE, NFTs are playing a role in the nonprofit sphere, introducing a new way to raise money. Turk is weighing the advantages and risks of engaging in NFTs, and she sees this as a potential opportunity for local communities to engage more with public art. She holds steadfast in her belief that intent is relevant for such a new terrain, and she would not want to create art that becomes inaccessible to those not in the loop. "I would want to put it out in a very specific way," she said.
While an NFT may give well-established artists like Turk an opportunity to experiment, for some creators it's their entire practice.
"I don't see NFTs any different than visual art and how they're utilized in the real world," said Göksu Ilgaz Koçakcıgil (@skywaterr), a San Francisco-based artist. For Koçakcıgil, NFTs have played a huge role in their artistic career, most recently with an exhibit of their work at the Southampton Arts Center. NFTs that Koçakcıgil made were also included in a few "Artists Who Code" exhibits in New York City and Los Angeles.
The VERSE exhibit has captured the attention of a wide variety of art enthusiasts across the San Francisco Bay Area and drawn in patrons from a variety of backgrounds, according to workers at the Mint. Whether this fervor to understand such a new art experience leads to seismic changes in how works are sold remains up for debate. But artists are beginning to form thoughts on how to maintain agency over their work, while also making art accessible to a broader public.
"The web3 culture and anonymity helps with democratization of the NFT art market but in general we are still at the beginning stages of this equalization," Koçakcıgi wrote in response to a series of interview questions. Web3, a new, decentralized iteration of the World Wide Web based on blockchain technology, could be the skeleton of this new vision of the art world.
With the potential to have so many new artists producing works in a digital forum comes a challenge – how to maintain control when the pieces of art in question aren't physical. This dissonance leaves room for legal questions regarding ownership, copyright and intellectual property.
Mark Lemley, a Stanford Law School professor and senior fellow at the Stanford Institute for Economic Policy Research, foresees how litigation could begin to emerge surrounding trademarks. "If you want to make an NFT of the Mona Lisa, feel free," Lemley said in jest. "There's nothing to stop you from a legal perspective, but nothing about it is authentic. Everything before 1927 is in the public domain."
What is deemed authentic or valuable is up for debate.
Although the art market has always lived on principles of scarcity, what the proliferation of NFTs both in the open market and in historic auction houses will do for the democratization of art is a new frontier. It could be that NFTs are the same exclusivity politics that the art market has thrived on, just packaged in a new and digital way. "If what people pay for is their exclusivity," Lemley said, "the value comes from wanting the world to know I have it".