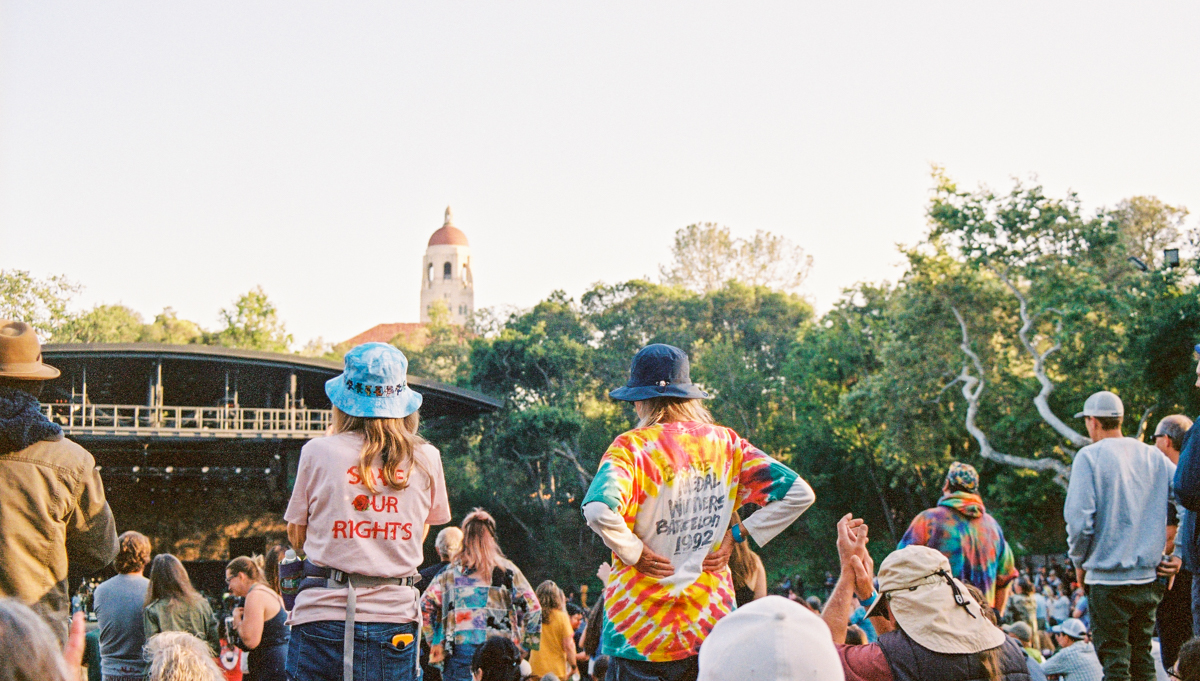 Tie-dye, long beards, floral skirts, tattoos, marijuana, bare feet. If you looked from afar, Stanford's Frost Amphitheater traveled back to the 1960s on Sunday, May 1. It was a special occasion. Bob Weir, one of the founding members of the Grateful Dead, had returned to play in Palo Alto, the place where the band got its start in 1965.
Or maybe Frost returned to the 1980s when, over the course of the decade, the Dead played at the venue 14 times.
But this time around, there were iPhone 13s held up high to capture "Ramble on Rose" and credit card-only drink vendors. Some of the younger concertgoers revealed Phish or Dave Matthews Band tattoos in lieu of the Grateful Dead bears.
"Playing the Frost Amphitheater felt kinda like a homecoming of sorts," Weir said in an e-mail interview. "The well of Grateful Dead material has filled up a bit since the early days when we first got started there — but there's something about what it feels like playin' there that somehow doesn't change."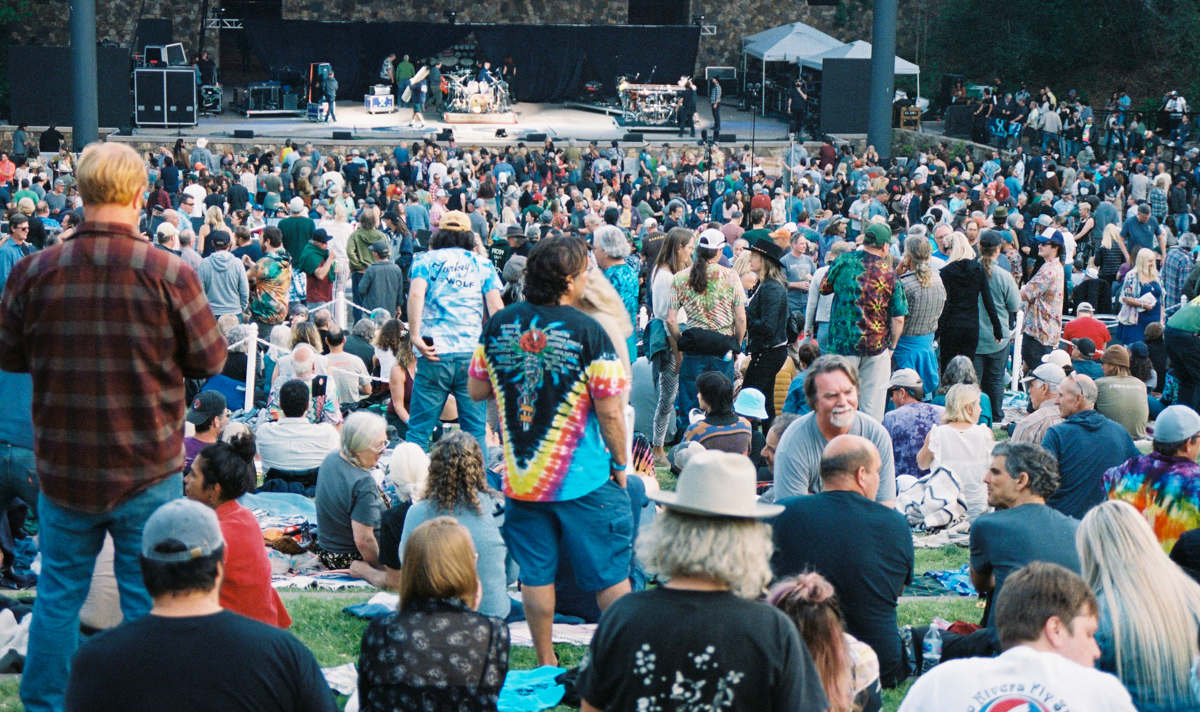 He performed with his latest group, Bobby Weir & The Wolf Bros. Mickey Hart, who joined the Grateful Dead in 1967, played with Zakir Hussain & Planet Drum before Weir got on stage.
Derek Featherstone, the tour director and sound engineer for Dead & Company, a band featuring former Grateful Dead members, said the musicians were glad to return to their old stomping grounds.
Weir first met Jerry Garcia in Dana Morgan's Music Store in Palo Alto, now home to a mattress store, and they spent the night jamming. They decided to form a band that would become the Grateful Dead.
They were not the only soon-to-be-famous musicians to come out of Palo Alto in the 1960s. There were, to name a few others, Joan Baez, the Kingston Trio, Lindsay Buckingham of Fleetwood Mac and Grace Slick of Jefferson Airplane.
Palo Alto's music scene took off a decade earlier with folk music, transitioned to rock, maintained a steady metal and punk scene in the 1980s into the early 1990s, and then dwindled around the time tech started to dominate the area, said Mark Lünztel, 53, who grew up in East Palo Alto and played in a few local bands.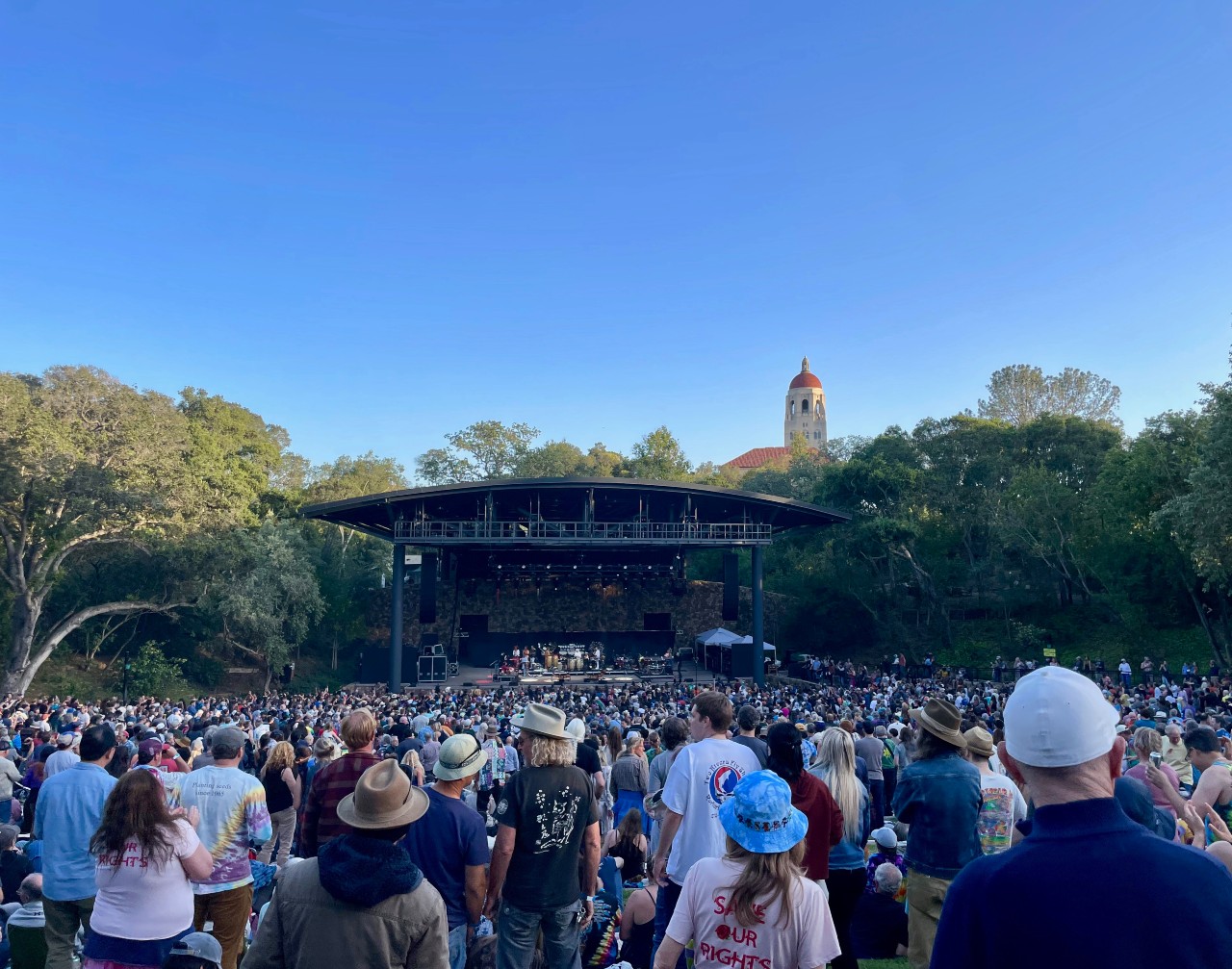 "In the mid-nineties, the number of places to play diminished wildly," Lünztel said. "It also started to become more expensive to live in Palo Alto. Back in the seventies and eighties, I like to say, there were a lot of muscle cars in driveways instead of Teslas. There are a whole bunch of reasons why [the music scene] fizzled out."
Featherstone, who has worked with the Grateful Dead since 1988, agreed.
"I think that Silicon Valley and the tech industry destroyed the music scene in Palo Alto," he said. "You put so much money into an environment and any poor kid who is playing guitar is not going to afford to live in Palo Alto anymore, so I think that's the demise of it. It had to do with technology and all the young rowdy musicians getting thrown out by tech folks."
Since the mid-1990s the music scene in Palo Alto and neighboring cities has quieted. Now, efforts to fill this void are gaining momentum.
Frost Amphitheater, which opened in 1937, stopped hosting many concerts from the 1980s and onward due to limited infrastructure and amenities and rising costs, according to Stanford Arts. From 2017 to 2019, Frost underwent renovations to build a state-of-the-art stage. Since the renovation, Bob Dylan, the San Francisco Symphony, Kali Uchis and Willie Nelson have performed, among many others.
In neighboring Menlo Park, the Guild Theatre, originally a single-screen movie theater that started in 1926, reopened this February as a live music venue. The nonprofit Peninsula Arts Guild raised $35 million to fund the redevelopment.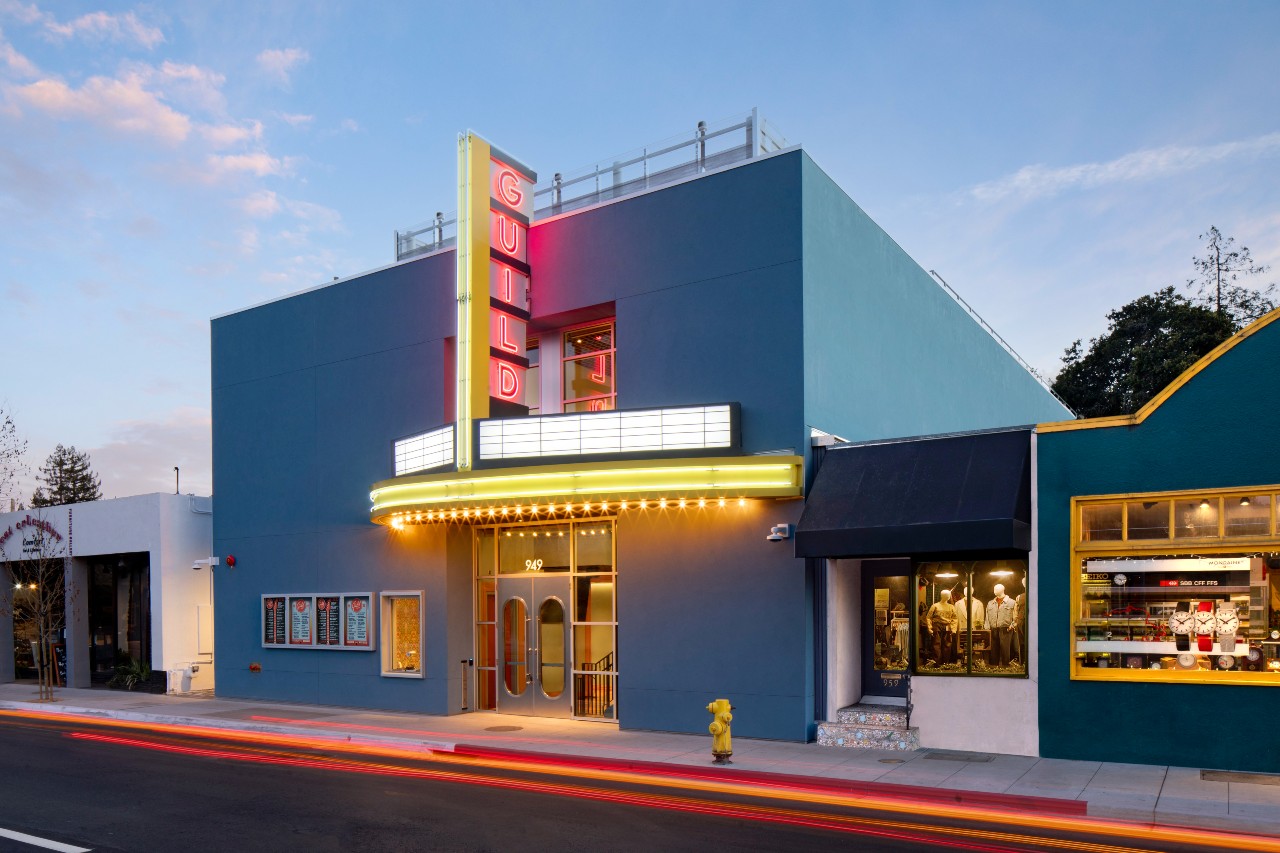 On April 28, Molly Tuttle & Golden Highway performed there. A bluegrass artist, Tuttle is the daughter of Jack Tuttle, who was a music instructor at Gryphon Stringed Instruments, a Palo Alto establishment since 1969.
Tuttle's show sold out, an exciting event for a brand-new venue and all the better that it featured a local musician, said Tom Bailey, the theater's general manager.
"There was nowhere on the Peninsula for people to go," Bailey said of the years before the Guild's reinvention. "You really did have to travel to see shows. There were a bunch of little places that were close by, and then one by one they disappeared. The Guild is now a place where we can have arts and put some entertainment on, where there simply wasn't a facility like this to do so in Menlo Park or Palo Alto."
Bailey said that it is far more lucrative to convert buildings into housing developments or commercial property than a concert venue. The Guild Theatre could reopen as an art space only because of Peninsula Arts Guild's funding, he said.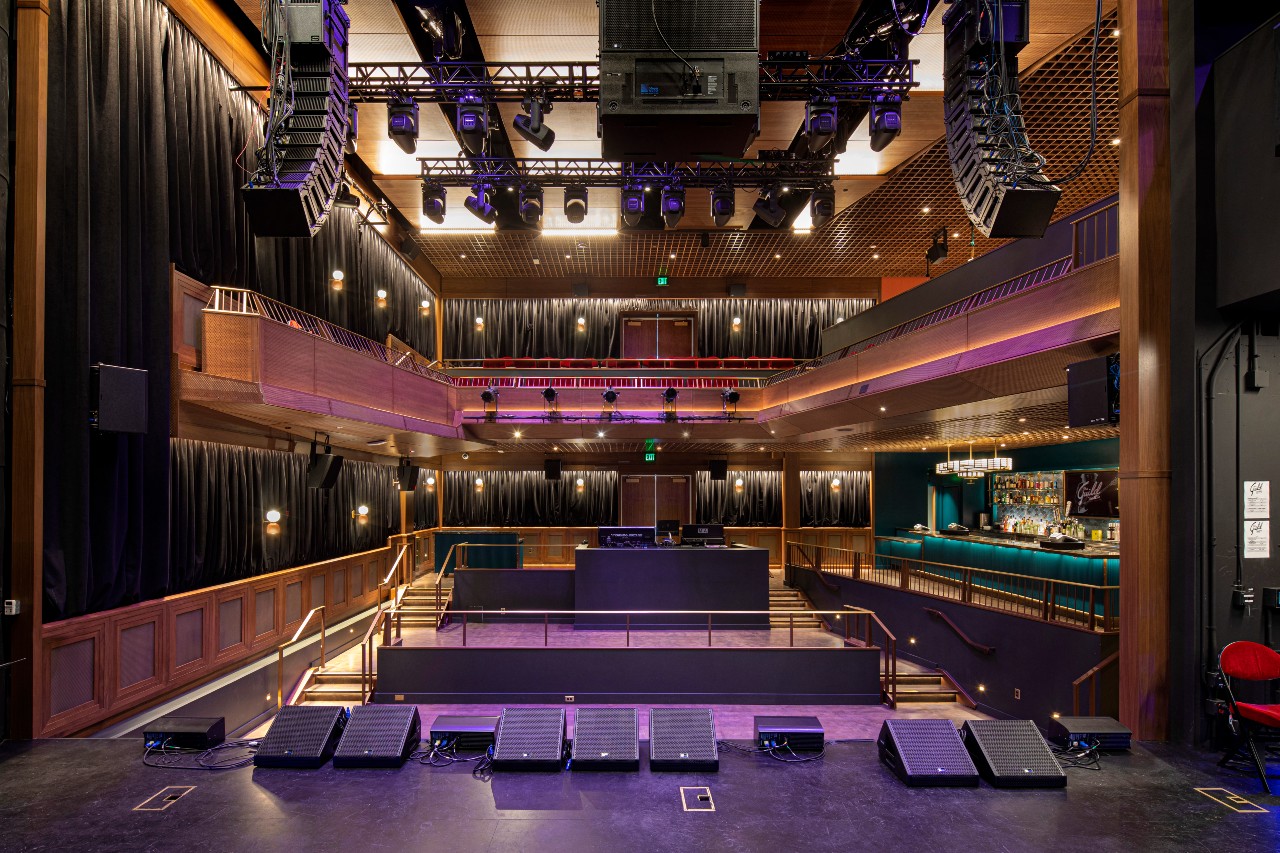 Ulick Malone, a retired software engineer, moved to the San Francisco Bay Area in 1977. Malone said the Peninsula music scene suffered as venues closed. One popular venue, the New Varsity, functioned as a single-screen movie theater and live music space on University Avenue in Palo Alto, drawing parallels to the Guild Theatre. It closed in 1995, and the space transformed into a Borders Bookstore. In 2015, HanaHaus, a co-working space for many tech companies, and Blue Bottle Cafe took over the space.
"The New Varsity stands there now as a symbol of the tech industry," Malone said. "It has displaced a movie theater, a Borders Bookstore and live music. In 1984, I saw the Talking Heads movie Stop Making Sense there when it was first released—the whole audience literally got up and danced during that memorable screening. It was arty, there was a scene, and young people hung out there. It had an outdoor music scene with some bigger acts like Van Morrison."
Malone, who lives in West San Jose, said that the Guild provides a glimmer of hope for the revival of music in the area.
Across the street sits Kepler's Books, a bookstore that opened in Menlo Park in 1955, originally adjacent to the Guild Theatre. Kepler's moved to other locations on El Camino Real in 1959, 1980 and again in 1989; today it resides between Santa Cruz Avenue and Ravenswood Avenue.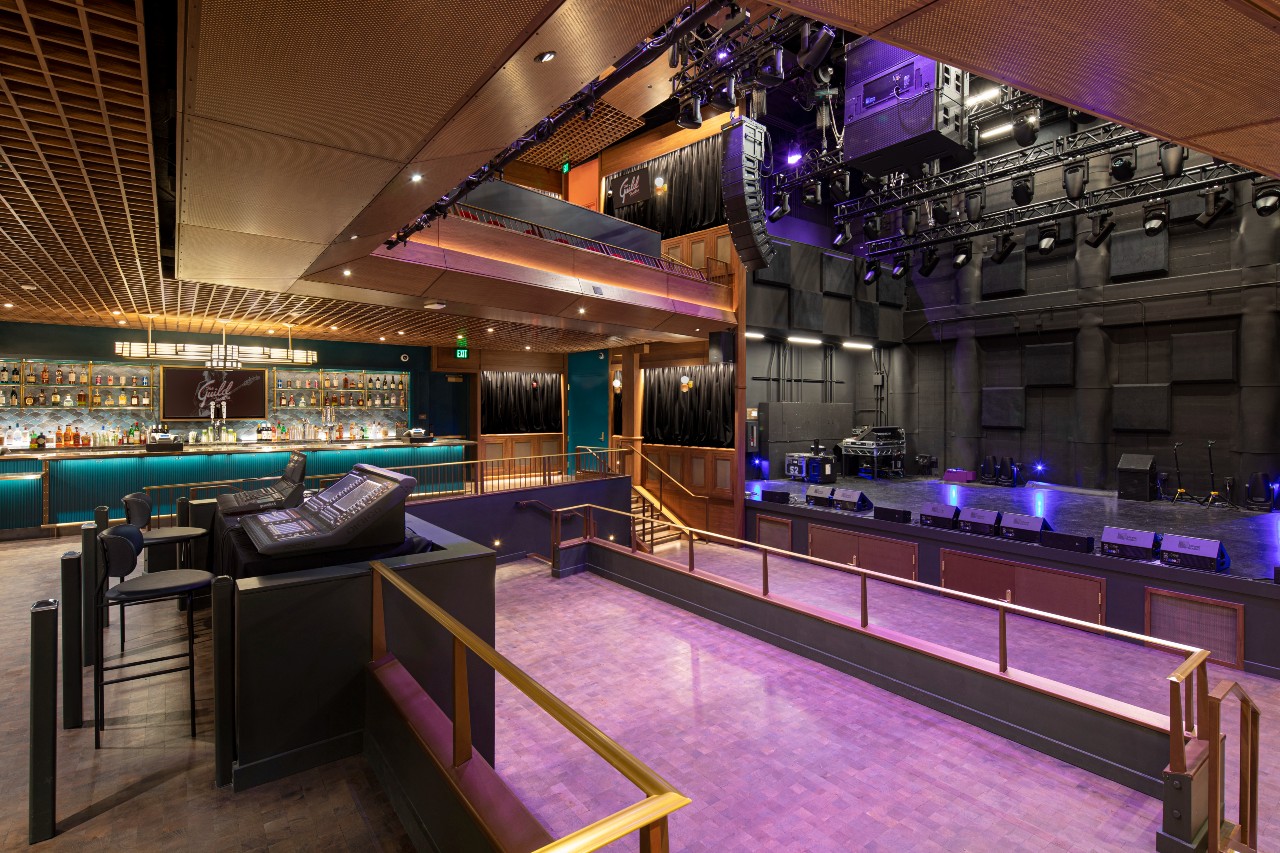 Kepler's Books played a prominent role in the 1960s folk and early rock scene as well as in various social movements, according to Michael Doyle, author of Radical Chapters: Pacifist Bookseller Roy Kepler and the Paperback Revolution, which chronicles Kepler's history.
It's not lost on long-time residents that the Guild Theatre offers live music across the street from Kepler's and around the corner from what once was Magoo's Pizza Parlor, a Grateful Dead hang-out spot that has since turned into Harvest Furniture. It feels like a continuation of history.
"After a gap of many years, we have a lively music scene again on the Peninsula," said Praveen Madan, the CEO of Kepler's Books.
Bailey said he reached out to Bob Weir in an effort to connect the music scene in Menlo Park and Palo Alto of the past with the modern-day.
Featherstone, the Dead & Company tour director, said that Palo Alto and Menlo Park, when viewed together, will bring more artists back through the area because of the new Guild Theatre and renovated Frost Amphitheatre. The Guild resembles the Fillmore in San Francisco, he said, and the Frost now compares to the Greek Theatre in Berkeley.
"What Palo Alto would benefit from is a 2,500-seat theater that could compete with the Warfield in San Francisco," Featherstone said. "If the venues arise, I do think it is a viable place to play and would keep people from going to San Jose."