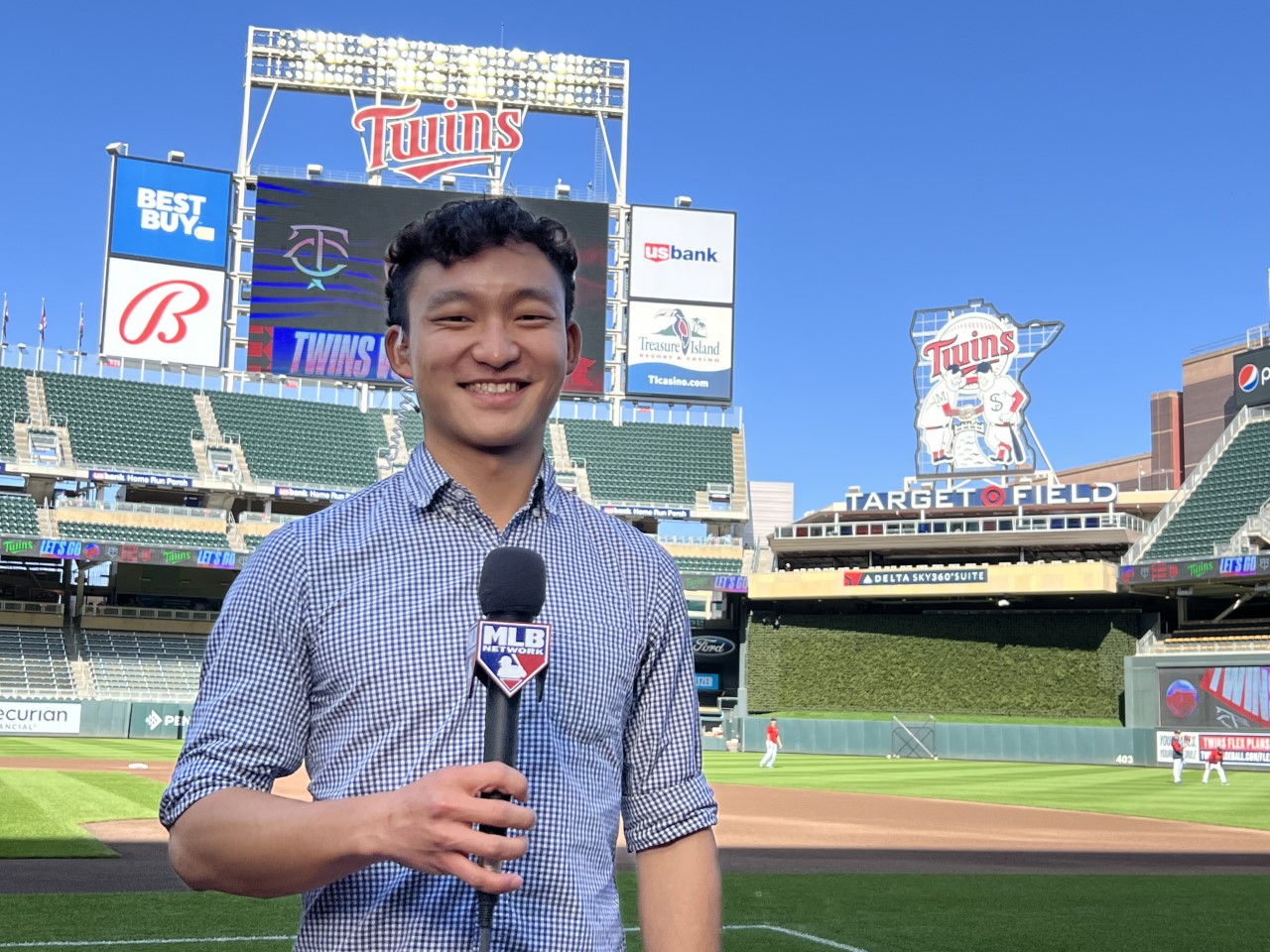 Do-Hyoung Park is a 24 year-old MLB.com reporter covering the Minnesota Twins. He is anything but ordinary.
Born in Korea, Park arrived in Minnesota at age four. When he was 11, he jumped from fifth grade to high school. He graduated from high school at 15 and enrolled at Stanford, focused on a career in science or engineering.
At Stanford, Park pursued a degree in chemical engineering. Set to graduate in 2016 at the age of 19, sports journalism did not appear in Park's plans.
But halfway through Park's freshman year, his roommate invited him to The Stanford Daily's special dinner event. Park tagged along.
Within weeks, Park had joined The Daily's writing staff.
Between his freshman and sophomore years, Park served as The Daily's news editor. From there, his role evolved into sports desk editor. Before long, Park was sports editor for The Daily, a role he would retain for the remainder of his undergraduate experience.
"The Daily became my primary social and extracurricular network that I dedicated myself to full time, all the time," Park said. "That's how much I loved it. Most of my friends joke that I was majoring in The Daily and minoring in chemical engineering."
Whether by coincidence or fate, Park happened to be sports editor during the pinnacle of Stanford Athletics in most revenue sports.
Joey Beyda was editor-in-chief for three years alongside Park at The Daily.
"Do had three Rose Bowls in four years. He couldn't have picked a better time to be writing about Stanford football," Beyda said.
Beyda said that the peak of media coverage, and revenue, in Stanford football overlapped with Park's stint as sports editor.
Many Daily articles were amplified and picked up by ESPN.
"There was not a better time in terms of attention, energy, opportunity around the Stanford football program," said Beyda.
Sam Fisher was The Daily's desk editor for sports when Park joined the team. He and Park would go on to work five nights a week together throughout Park's sophomore year when Fisher was the managing sports editor.
"Really, really amazing energy," Fisher said of Park. "He was one of the more fun people to be around in the office. Everyone liked having him around."
Fisher now works in the technology industry but helps out with Stanford Athletics when he can. He is content with the fact that his time in sports journalism came to a close after his time at The Daily.
"I was there with Andrew Luck. I really got to do a lot of cool broadcasting for football, and I got to write a book," Fisher said.
"I felt like I really got to have one of those careers – just as a college undergrad. I felt very lucky that I didn't need to keep doing it."
"Probably 90 percent of people at The Daily went into something other than journalism," Beyda said. "I graduated and never wrote another article again. A lot of us didn't."
Park, however, hadn't finished leaving his mark as a sportswriter.
In his post-graduation job search, Park saw an opening for an internship at MLB.com. After sending his cover letter and resume, Park received an email notifying him that he was a finalist in the selection process.
"A couple weeks later– I think I was coming out of a midterm– I got a call saying, 'Hey, how do you want to write about the Minnesota Twins?'" he said.
"That sounds great!"
Park went home to Minneapolis to cover the Twins that summer.
He returned to Stanford in the fall to pursue a masters degree in chemical engineering. He remained closely involved with The Daily and served for a year as chief operating officer.
Once his time at Stanford came to a close in July 2018, Park found himself at a crossroads. He was searching for a job in the chemical engineering field but had devoted so much of his time – and himself- to sports reporting.
He had declared a drop-dead date for himself and had two days remaining to find a job when his editor from his MLB internship called about a part-time position opening up. Park saw that as a sign.
Within three months, he was the Minnesota Twins' beat reporter.
"I'd like to think that I was really fortunate, and that I was just at the right place at the right time twice. But that's still the position I've got today, four years later," he said.
He arrived in Las Vegas for the MLB's winter meetings in 2018 and his first day with the Twins. As a new beat writer, he was told that the first year was just about survival.
"That was a terrifying environment to drop somebody into for their first year journalism job because literally everybody from the industry is there," Park said.
"They're like – there is news here, go get it!"
Betsy Helfand, a 25-year-old beat reporter for the Twins at the St. Paul Pioneer Press, had arrived with a similar goal of survival.
Park shook Helfand's hand for the first time.
Park: "I'm Do, and I have absolutely no idea what I'm doing."
Helfand: "I'm Betsy, and I also have absolutely no idea what I'm doing."
"Do you want to have absolutely no idea what we're doing together?"
"Sure!"
Helfand and Park have continued closely as both competitors and friends.
"I'm just very thankful to have somebody around who shares a lot of the same interests and who is kind of in a similar work and life position as me," said Helfand.
Helfand also appreciates Park's writing style, and his confidence.
"Each word goes in exactly the order he wants, and he wants to make sure it sounds like his voice. Him being so sure of his writing style is definitely something I admire."
Outside of reporting, Helfand said that the group of Twins writers are very close.
Helfand and Park live within 10 minutes of each other. They like to play board games, go to escape rooms and engage in Twitter feuds. They also carpool to spring training.
"He always has Skittles. It's nice to have someone to steal Skittles from," Helfand said.
Park's experience since with the Twins has been anything but ordinary.
His first year, the Twins finished with 101 wins and their first division title since 2010.
The following year, COVID-19 shut down the world as we knew it, including sports, and along with it, sports reporting.
"There's been a lot of uncertainty, and I think the quality and variety of the stories that we – not just me, but we as a beat could write – has suffered as a result," Park said.
The pandemic presented challenges: no pregame or postgame access to players and everything happening through Zoom rather than in person.
"Tracking down players to add different perspectives and viewpoints to a story, that was pretty much impossible a lot of the time," Park said.
"Even when there is a pivotal play at the plate, for example, if a guy is thrown out at home plate – I'd love to talk to the outfielder, I'd love to talk to the catcher, I'd love to talk to the pitcher about that, get the perspective of the player that was thrown out, and that is just simply not possible," he said.
Park said, at times, his best source was to rely on the manager seeing a play from the side view.
COVID has stripped away a lot from sports and sports reporting.
"The level of detail and level of color that really sets apart a good game story or a good description of an event, I think that was lost," he said. "At the same time, the variety of unique, cool stories was also lost."
Park's dynamic personality and ability to build strong relationships has fueled his career as a reporter.
"He was not just popular among The Daily staff," Fisher said. "I think he was really popular among the athletes who got to know his story."
Park appreciates the player relationships he has been able to build with the Twins, too.
"I'm around these guys every day, so naturally I get to know them. Even if I'm not asking them questions or interviewing them, I'll say hi or give them a nod or ask them about their kids," he said.
"I'm really starting to feel comfortable with player relationships now that I'm entering year four, even with the challenges of the pandemic."
Park looks forward to this season and continuing his responsibilities as a beat reporter.
"It starts and ends with me. I am responsible for this story. There is nobody backing me up," said Park. "I need to find this story. If I don't, nobody else will."