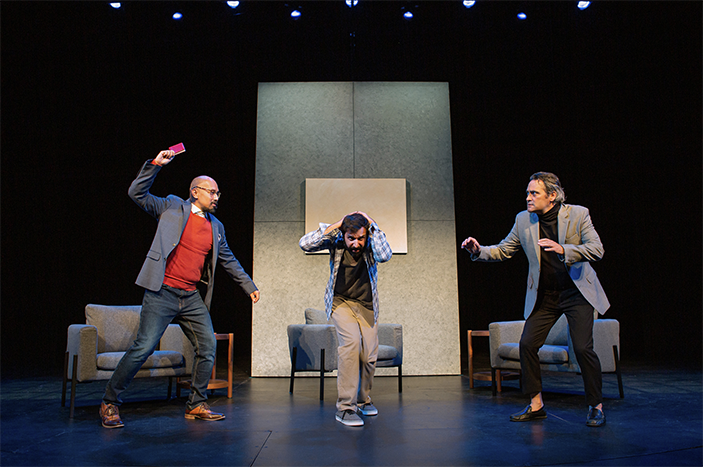 Three actors drank champagne in Zone A. Their director, exhausted but giddy, offered cheers from Zone B. Feeling grateful yet discombobulated, these seasoned actors celebrated their successful completion of the unusual— they had just performed a play onstage.
Sure, cameras replaced a packed audience and actors threw props at each other in lieu of a wrestling scene, but regardless, SF Playhouse set a precedent for professional theaters across the country.
SF Playhouse performed and filmed a live play in-house, making it the first West Coast theater company to produce an in-person show on an Actors Equity Association contract since COVID forced theaters to shutter over seven months ago. SF Playhouse is also the second professional theater company in the US to stage their in-person production for live multicamera filming.
"Equity said we're trailblazers when they gave us permission," said Susi Damilano, SF Playhouse's producing director and co-founder.
After rehearsing for two weeks on Zoom, SF Playhouse received the green light from Actors Equity Association (AEA), the labor union that represents actors and stage managers, to produce the 1994 play "Art" by Yasmina Reza in their downtown San Francisco theater and film it for online streaming. The highest caliber American theaters are Equity-affiliated, meaning they hold AEA contracts and employ its members.
Once confirmed, SF Playhouse workers were allowed inside the playhouse for one week under strict COVID-19 protocols. Actors Bobak Bakhtiari, Johnny Moreno, and Jomar Tagatac rehearsed for two days onstage with Artistic Director Bill English providing direction from the audience before capturing the live staging on film.
The actors removed their masks to film four full performances of "Art" over a three-day period.
Tagatac believes filming live performances of "Art" is an innovative way to ease back into live performance. "I was really proud that we were able to adapt. The fact that we're filming theater using the rules of film and also using the rules of theater is so fascinating to me," Tagatac said.
In post-production, English selected one run of the performance and released a polished version of that show for online viewing, which is available until Nov. 7. SF Playhouse is offering video access tickets at a tiered pricing rate, to both heighten accessibility and encourage donations. Viewers can choose to pay from $15 to $100.
Prior to beginning in-person work, every SF Playhouse worker was required to receive two COVID tests within 24 hours of each other. Only 10-12 workers were on site at a given time, and everyone needed to complete a health check upon entering the theater. Social distancing was enforced using spatial zoning and the actors were staged to maintain social distance while performing.
"There was a fear, like, is this too soon? Is my yearning to be an actor superseding safety? But I trust the science, I trust the city, I trust the union, and I trust SF Playhouse," said Tagatac. "When I walked into the theater and saw the protocols that SF Playhouse put forth, that just put my mind at ease so much."
SF Playhouse was approved because San Francisco's positive COVID test rate remained under 5% for the duration of in-person work. "Art" would have been performed on Zoom if SF Playhouse hadn't received Equity's confirmation in time.
Professional actors usually rehearse in-person for approximately four weeks. "Art" rehearsed on Zoom for two weeks prior to gaining Equity approval. Then, the actors only had two days onstage to pull the show together before filming commenced.
"I feel extremely privileged to be among the first [onstage again], but it was a whirlwind," said Bakhtiari. "I'm still trying to process what happened."
Though English maintained the play's integrity by filming it without pauses, Bakhtiari said it felt strange to not feed off the energy of a live audience.
"Our bodies are trained for certain lighthouses of gratification. We didn't have that in this architecture of a performance process," said Bakhtiari. "No one's laughing. It's like you're playing to this alien environment. It certainly relegates the joy of the experience."
The actors said they were aware of the camera's presence and utilized film acting techniques while onstage. "A lot of theater actors tend to overact on film. Instead, you want to keep it compressed and potent. I was tuning into that," Bakhtiari said.
"Art" is a commentary on disconnected relationships. The play revolves around three men who have been friends for 15 years. Tensions rise when Serge, played by Moreno, purchases a painting of white diagonal lines for $200,000 and the other characters can't quite make sense of that decision.
"It was an exhilarating feeling to be able to be back working with fellow actors, to be back telling a story, because I do believe that storytelling is an essential service," Moreno said. "We need to be reminded that we're connected."
According to Damilano, "Art" emphasizes power struggles. SF Playhouse said in its promotional materials that the Presidential election and our nation's political dividedness connect to themes of division and evolution in "Art."
"The appeal for doing it was absolutely the polarization that's happening in our country," Damilano said. "To make it simply about a white painting allows [the play] to really be about anything. Is [the painting] the pandemic? Is it the President? It could be many things."
Tagatac believes lessons in the play connect to pandemic-related interpersonal issues among friends and family.
"The pandemic has highlighted the dynamic of our relationships. It brings to light issues you could have hidden if there wasn't a pandemic, but you can't look away anymore," Tagatac said.
SF Playhouse hopes to stream live performances in real-time. "It seems like the goal is going to be able to run theatrical productions like they're football games where there's live [camera] switching and it's actually live," said Bakhtiari, who also serves on SF Playhouse's Board of Directors.
Damilano hopes their production will inspire other Bay Area theaters to follow suit. "There is a light at the end of the tunnel," Damilano said. "Taking COVID seriously is the most important thing for anyone involved. Other than that, just go for it. Because, [to quote 'Cabaret'], what good is sitting alone in your room?"
Tickets to stream "Art" can be purchased on SF Playhouse's website through Nov. 7.
https://www.sfplayhouse.org/sfph/2020-2021-season/art/