The technology is still so new the regulators don't know what to call them. In Los Angeles, they are dockless on-demand personal mobility devices. In Long Beach, shared micro-mobility devices. And, in San Francisco, where they are called powered scooters, more are coming.
After a one-year pilot program overseen by the San Francisco Municipal Transportation Authority, four companies with the chirpy names of Scoot, Jump, Lime and Spin deployed a total of 2,500 powered scooters onto city streets on Oct. 15. Their fleets will ramp up to 4,000 by Feb. 15, and if they meet operating goals, they may expand to a combined total of 10,000 within a year, almost five times as many as have been allowed before.
"It's like Christmas today," said EV Ellington, Lime's General Manger for California.
The excitement was shared by other operators. "I have so much hope for the mission of Spin," said Spin's Operations Lead for San Francisco, Michelle Vander Lugt. "I really see one day where, you know, we have more bike lanes and everyone's able to take a scooter to work."
But despite the operator enthusiasm, there remain continued concerns about safety, both of the riders and pedestrians.
The city "is sanctioning dangerous behavior and the potential for injury and serious injury," Edward Mason, a frequent critic of SFMTA, said at an Oct. 3 meeting of SFMTA's Citizen's Advisory Committee. He advised the city to get financial guarantees from the e-scooter operators against the risk of being left responsible when an individual "is left a vegetable for the rest of their lives."
At the meeting, SFMTA advised the committee on a number of pending transportation initiatives and also presented a legislative update on a state bill – AB 1112 – that threatens San Francisco's ability to regulate the operation of scooters by removing local authority in favor of state regulation.
When the Birds Landed
Shared fleets of electric scooters, commonly called e-scooters, hold the promise of cheap and easy transport through congested urban areas, replacing car rides and the emissions they produce.
But when Bird and two other e-scooter companies landed flocks of e-scooters on San Francisco's streets in March 2018, problems followed.
Scooter riders buzzed down forbidden sidewalks, zipping past and sometimes into pedestrians.
Because they did not have to be returned to a fixed dock; they could be left just about anywhere. And they were.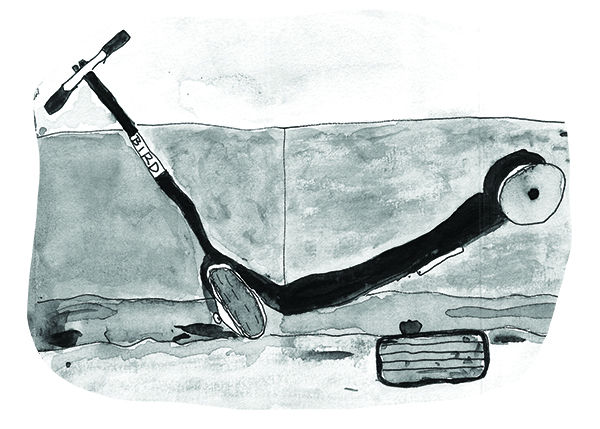 Scooters were abandoned haphazardly, splayed on sidewalks where they blocked the right of way. Pedestrians tripped and fell.  Residents with visual impairment found the sidewalks especially dangerous.  The San Francisco Chronicle published a gallery of photos of poorly parked scooters called "Scooters Behaving Badly."
By the summer of 2018, fed-up residents in San Francisco and other California cities had destroyed scooters, buried them on the beach, lit them on fire. An Instagram page – Bird Graveyard – that gleefully displayed ruined scooters attracted 85,000 followers.
The Pilot
Responding to the complaints, the city Board of Supervisors banned e-scooters in San Francisco, but in June 2018, it authorized a pilot program that allowed a limited number of operators to introduce small fleets in the city under the supervision of SFMTA.
The pilot began in October of 2018. A dozen scooter companies – including Bird – applied for permits, but SFMTA selected only Scoot and Skip. They were permitted to deploy 625 scooters apiece with the chance to double their fleets after six months.
A key goal was to reduce haphazard scooter parking. SFMTA instituted a "lock to" requirement that meant scooters had to be locked or tethered to a fixed object at the end of a ride.
In April 2019, SFMTA released a mid-term study of the pilot. It found that the locking requirement caused both parking complaints and citations to decrease sharply. The study gave both operators a "strong" rating – the highest of three categories – for providing disabled residents access to the sidewalks, and concluded that the approach is "the most practical way to ensure the public pedestrian right of way is kept clear of vehicles."
Not all operations were as favorably reviewed. Both operators received "poor" ratings for providing equitable access to the devices throughout the city, including low-income areas.
A separate safety report was prepared by the San Francisco Department of Public Health and Zuckerberg San Francisco General Hospital and Trauma Center (ZSFG) based on data collected from the San Francisco Police Department, ZSFG and reports by the operators.
Because of data collection and reporting inconsistencies from the different sources, the report wasn't able to comprehensively evaluate injuries involving the scooters in the pilot program. However, the authors found a low level of helmet usage among riders and observed that collisions per vehicle mile rose sharply during the first five months of the pilot, based on the operators' reporting.
The report recommended working to standardize data reporting and continuing the analysis as more information is collected.
Under the city's program, the operators promise equitable deployment of scooters and greater access for low-income residents. SFMTA will monitor compliance and consider their performance in connection with any increase in scooters beyond the initial thousand.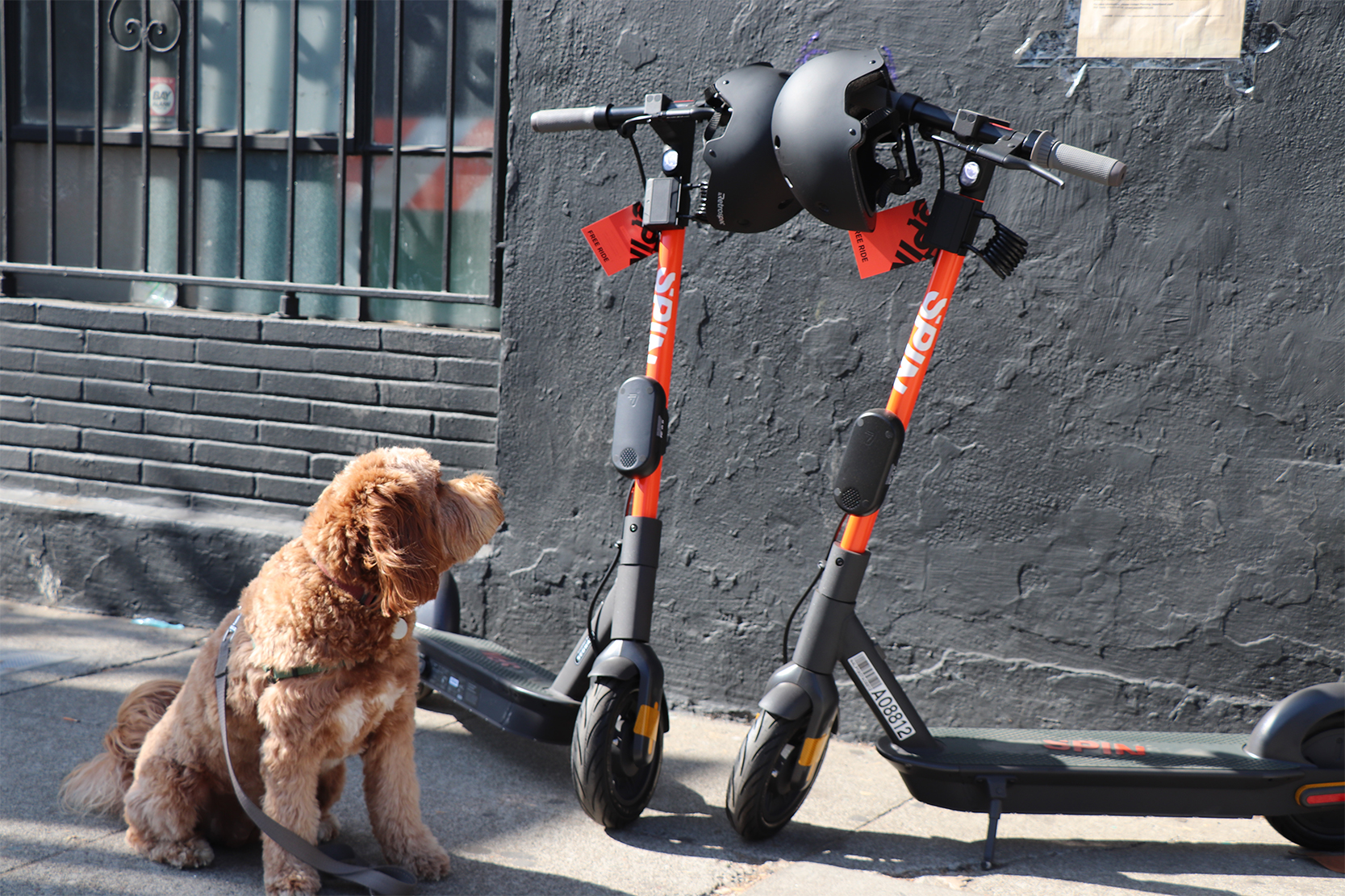 AB 1112
San Francisco's regulatory approach is threatened by AB 1112, a state bill introduced in the House by Representative Laura Friedman (D–Glendale), which would establish a system of statewide rules and standards for scooters, sharply limiting local authority in the area.
SFMTA opposed the proposed bill because it offered a "one size fits all approach" not best suited for San Francisco's specific concerns, according to Jadie Wasilco, Senior State & Federal Legislative Analyst at SFMTA. She said the bill "would have potentially prevented us from having our 'lock to' device requirement which we know has done a really great job of getting the scooters off the sidewalks."
AB 1112 passed the House on a 73 to 1 vote, but Wasilco reported that it remained in the Senate Transportation Committee at the end of the 2019 Legislative session, and would not be enacted this year. She predicted the bill would return in 2020 and said SFMTA will continue to oppose its adoption.