Their motto is "Arrive as a stranger and leave as a friend."
The Palo Alto Pickleball Club has over 400 members, 40 percent of whom are from Palo Alto. They play every day at Mitchell Park, frequently offering free clinics for the public on the tennis courts.
That wasn't always the case. Three years ago, the club called for more dedicated pickleball courts in Palo Alto. In 2019, that plea is finally coming into fruition.
It used to be impossible for pickleball players to reserve space, according to the club's president, Monica Engel Williams. The old policy regarding reserving courts only allowed the Palo Alto Tennis Club and United States Tennis Association to reserve the courts for tournaments. Kristen O'Kane, Assistant Director of Community Services in Palo Alto, said the department has updated the courts usage policy to reflect the pickleball players' rights to reserve the courts. Still, this requires the players to put up and take down moveable pickleball nets, which can be hard on the players, Williams said.
"Many of us are tennis players with new hips, new shoulders or new knees: We're in knee brace heaven!" Williams told the City Council last fall. "Some players have lost their spouses and because of the social aspect, enjoyable exercise and fun competition, pickleball has given them a new lease on life."
Williams, 76, found pickleball five years ago while spending time with friends in Arizona. She realized that pickleball was a fantastic sport for seniors and she swore to bring it to Palo Alto.
She joined a group of eight or nine men who played on two paddle tennis courts in Mitchell Park. The group grew to be 25 people every weekend and as the pickleballers outgrew their court, they started using painters' tape on three of the tennis courts near the Magical Playground in Mitchell Park. They formed the Silicon Valley Pickleball Club, later renamed the Palo Alto Pickleball Club.
Williams compared the game to playing on a life-sized ping pong table. Each game, played either as singles or doubles, ends when the winners obtain 11 points and beat their opponents by at least two. Players earn points when opponents fail to return the pickleball to the other side of the net. The players are required to stand at least seven feet away from the net without entering the "no volley zone," or "kitchen."
"You'll hear 'stay out of the kitchen, stay out of the kitchen,'" Williams said.
Pickleball is one of the fastest growing sports in the United States, with hundreds of pickleball tournaments occurring every month. The need for designated courts came to Palo Alto City Council's attention when the City asked for community input while developing the Parks, Trails, Natural Open Space and Recreation Master Plan in 2017. The community requested more variety in health and wellness opportunities. After the original master plan was created, City Council presented a proclamation honoring pickleball, accolading the sport's health and wellness benefits.
In a Feb. 13, 2019 email to Mitchell Park users, Senior Community Services Manager Adam Howard said the plan would include two additional pickleball courts near one of the current tennis courts as well as convert one tennis court into four designated pickleball courts. The City would maintain the two courts which are currently multi-use and four courts dedicated solely to tennis.
The Community Services Department still needs to complete an environmental review and seek City Council approval. O'Kane estimates this should be completed by next September.
"Pickleball is an example of a sport that can be played by people of all ages and provides health and wellness benefits — not only physical fitness, but also the social connections that are made and the positive impact that can have on the senior population," O'Kane wrote in an email to the Peninsula Press.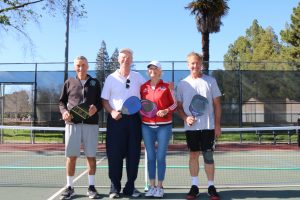 For Marz Garcia, 82, a former California state senator and avid tennis player, pickleball gave him a new lease on life. As a cancer patient, Garcia encountered serious health issues two years ago. He was immobile in the hospital for 15 days; his legs no longer functioned. But when he found pickleball at Mitchell Park, he found new hope.
"Since I got into this pickleball and everything, I feel normal," Garcia said. "I still take chemo every other month, but I feel normal."
Garcia has been playing almost every day for the past nine months — and he's not the only one. On average, up to 50 people will play pickleball each weekday and 100 on weekend days, according to Williams.
"Pickleball is so popular now: it can be played by most anyone from nine to 90," Williams said. "It's exploding in the nation and the world."