More than two years after a Blue Ribbon Commission recommended oversight for the Santa Clara County jails following interviews with hundreds of inmates that painted a picture of widespread abuse, there still is no independent entity examining the jails.
The report, released in February 2016, highlighted inmate complaints of violent behavior and lack of accountability of jail staff.
Recent problems at the jail have once again focused attention on conditions there. In October, the sheriff's office reached a $1.6 million settlement in a class action lawsuit filed by the Berkeley-based Prison Law Office, a nonprofit that provides free legal services to juvenile and adult offenders, over inadequate conditions and medical care in the jail.
Weeks earlier, the county agreed to pay $365,000 to an inmate who says he was violently beaten by guards two years ago.
In January, three guards were sentenced to 15 years to life in prison for the murder of Michael Tyree, a mentally ill inmate whose death in 2015 prompted the Blue Ribbon Commission's formation.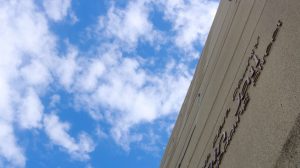 Santa Clara County Sheriff Laurie Smith was re-elected for a sixth term on Nov. 6, but her opponents criticized her at pre-election debates over culture and staff accountability at the jail.
In an interview, Smith dismissed the comments of inmates interviewed by attorneys as "unsubstantiated" and "unreviewed." She said she has recommended oversight but that the Santa Clara County Board of Supervisors is responsible for establishing it.
Retired judge and former police auditor LaDoris Cordell, who served as chair of the Blue Ribbon Commission, said that independent oversight was the commission's first recommendation and "number one, top, top priority." She said she is "disappointed that things are moving so slowly" with establishing it.
"The fact that there is no oversight in place, I find there's no excuse for it," Cordell said.
Supervisor Joe Simitian of District 5 said that the board agreed unanimously to establish an overseeing body. A majority of the board voted to do it on a contract basis with a consulting firm that specializes in law enforcement.
"The finalists are in the process of being screened and reviewed and evaluated even as we speak," Simitian said on Nov. 16. "The hope is that sometime in the next couple of months we'll be able to identify a contractor … and move from planning to implementation."
But Cordell said she has seen the job description proposed by the Board of Supervisors and is "very disappointed with it."
"It really calls for, you know, a team of people who could have absolutely no connections with Santa Clara County at all who will periodically check in on what's happening in the jails," Cordell said. "That's not what, certainly [not] what I envisioned."
What Cordell envisioned, she said, was a group that would be located near the jail and able to provide "24/7, 365 oversight over jail operations."
Simitian said the finalists being screened are "very professional"  and "capable" and understand their role in providing impartial oversight.
Other changes have been or are being implemented. Sheriff Smith said she is researching how to better psychologically profile during pre-employment screenings to avoid "hiring bad cops" and jail guards.
Smith said she is also working with the Prison Law Office to implement changes for "safeguarding our most vulnerable" inmates, including those with mental health problems.
Additionally, the sheriff's office now publicizes monthly grievance reports on the county website.
Jose Valle, an organizer with the advocacy group Silicon Valley De-Bug, said prices for food and phone calls have dropped and inmates are getting more out-of-cell time.
"There's still, unfortunately, a very hostile environment," Valle added.
Smith denies widespread culture problems in the jail.
"Did we have a major issue with the death of Tyree? Absolutely," Smith said. "Is it systemic culture? There's always bad cops."
'Physical' and 'excessive' force
In January and February of 2016, at the direction of the Blue Ribbon Commission, a team of 11 attorneys interviewed 944 Santa Clara County Jail inmates from the main jail in San Jose and Elmwood facility in Milpitas.
Nearly half of 944 inmates interviewed — 458 — complained about use of force or violent behavior from guards.
"Guards use physical force to try to provoke them," one main jail inmate told an attorney from the San Francisco-based law firm Moscone, Emblidge & Otis.
One inmate claimed to have been beaten by 15 to 20 correctional officers "while he was chained to the floor with shackles on his hands and ankles and lying on the floor in an interview room," according to the report.
Pablo Gaxiola, a Blue Ribbon Commission member and former inmate, described the report's findings as "atrocious," the Mercury News reported.
"But I know it happens because I've been there," he added.
According to the report, 54 percent of inmates interviewed said they were concerned about the accountability of jail staff.
"Guards pick on people with mental health issues more than others," claimed an inmate.
Sixty-seven percent said they were concerned about the grievance process. "Sometimes the guards tear up the [grievance] forms," an attorney wrote.
Inmates alleged that some guards acted like members of a "gang." Others said inmates were forced to participate in a "fight club." One claimed guards would sometimes beat inmates during "elevator rides" where there were no cameras.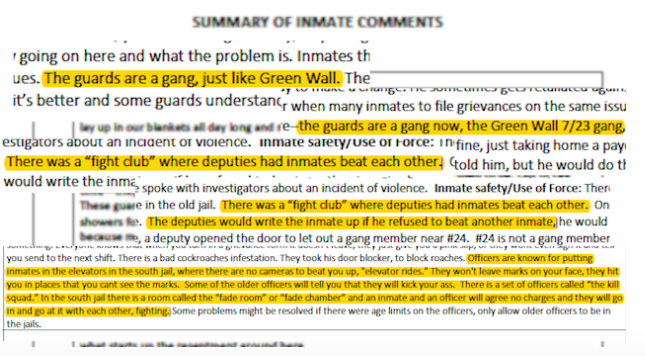 The attorneys note that they did not investigate the credibility of the inmates' claims.
Smith said she does not find the inmate comments credible.
"That was an absolute non-scientific review of taking everybody's comments and putting them into a document, period," the sheriff said.
Smith said some of the comments made by inmates were likely true, but emphasized that they were not verified or followed up on. "Is some of it factual? Probably, most likely," Smith said.
Smith said the sheriff's office is committed to holding jail staff accountable. She said agreements made in the October settlement with the Prison Law Office, including improving dental and mental health care, implementing suicide prevention and making modifications to the inmate and booking process, will be the "roadmap" for reform.
"When there's misconduct, we are very quick [to act]," Smith said. "We hold people accountable quickly, and I think that leads to a more disciplined organization."
But Cordell said things should have moved faster after Tyree's death and the commissions' subsequent investigation.