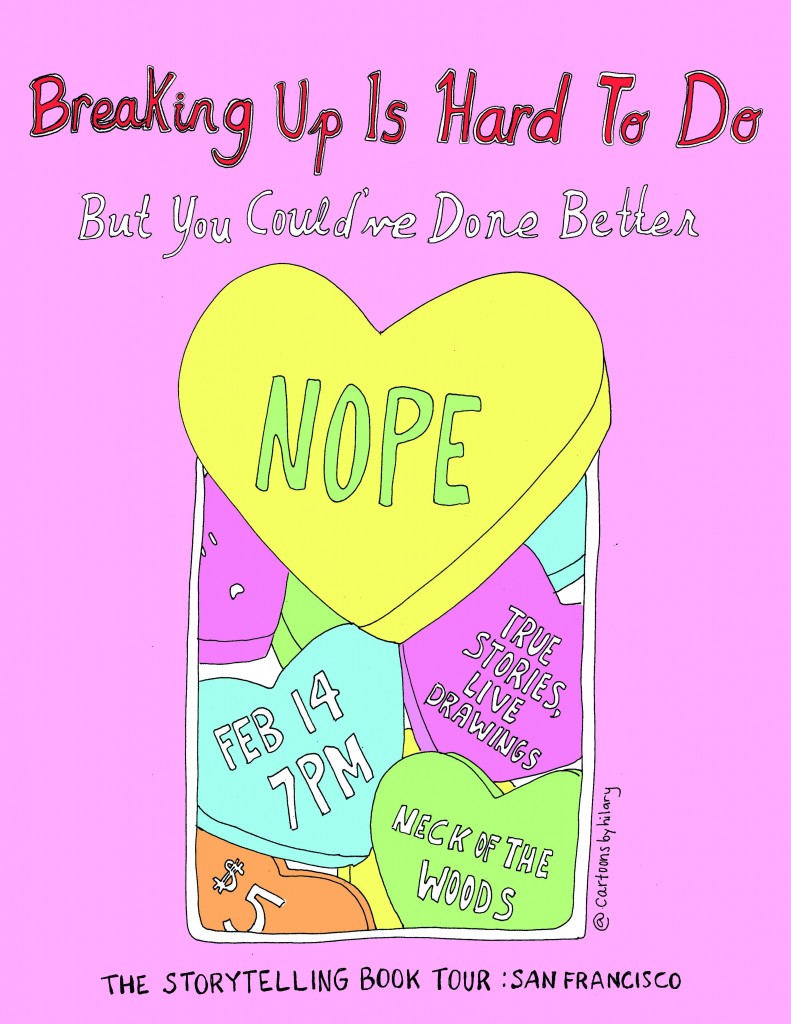 If your heart's still tender from a recent breakup, Hilary Campbell wants to help. At her Valentine's Day event in San Francisco's Inner Richmond, the filmmaker-slash-cartoonist will turn her artistry and storytelling into a live event. The latest stop on her national book tour, Campbell's show, starting at 7 p.m. on Feb. 14 at Neck of the Woods, is part book party, part open-mic night, and part improv. As guests take the mic to share their most humorous and horrifying breakup tales, she illustrates the stories in the lively comic style that characterizes her new book, "Breaking Up Is Hard To Do, But You Could've Done Better," a cartoon collection of fifty anonymous breakup stories.
The book rose from her own experience with digital age heartbreak, a classic non-breakup breakup of a relationship that never really was. It's a familiar story in the era of hanging out, where flirtations end in "ghosting" (sudden silence) and "breadcrumbing" (ghosting compounded with continuing to "like" social media posts, scattering crumbs of affection). "That's what I hate, that you can't be upset because he was never really your boyfriend or something like that," says Campbell, 27. "He was never really my boyfriend, but I was crazy about him, and I had an idea of what it was, and then he crushed it."
Campbell, a documentary filmmaker, had just moved to New York from L.A. Her first independent movie, "This Is Not The End," a seven-minute portrait with no spoken dialogue about her family in Sonoma, was winning awards at festivals, but Campbell needed a change from the city's isolating sprawl. One night, she attended a screening of Spike Jonze's movie "Her." When Jonze asked the audience, "How many of you think L.A. is lonely?" Campbell was the only one to clap. Laughing, she says, "I was like, 'okay, me!'" On a whim, spurred by her roommate, she moved to New York. There, working as a hostess at a Brooklyn pizzeria, she started drawing during her down moments. Somehow, illustrating her breakup — and some ridiculous things her not-boyfriend had said — put things in perspective.
One night, drinking wine from a to-go cup in the back, she sketched a to-go coffee cup juxtaposed with a glass of red wine, captioned "9-5, 5-9" under the two beverages. She put it on Tumblr, even though her following there was small, and awoke one morning to discover 20,000 reblogs of the image. Having taken every animation class offered while studying filmmaking at the University of California, Santa Barbara, she also started a web series based on her frequent phone calls with her mom. Secretly recording these conversations, Campbell started a web series called Talkies with Hilary's Mom, wherein she animates her mother circuitously narrating old film plots she can't quite remember. "She's the source of everything I do; she's a very funny woman," Campbell says.
At a film festival in Alabama, Campbell discovered another filmmaker with a growing interest in illustration. Chatting with Steve Hoover, whose feature had recently won at Sundance, Campbell showed him her cartoons, and he offered to set up a meeting for her with his company, which publishes books. "I thought he was kidding," Campbell said, but he was not. She quickly found herself signing a contract with Animal Media Group, Hoover's indie book house. They loved the concept, though a friend told her that the first title she came up with, "Breaking Up Is Hard To Do, But You're a F*cking Piece of Sh*t," was perhaps too aggressive.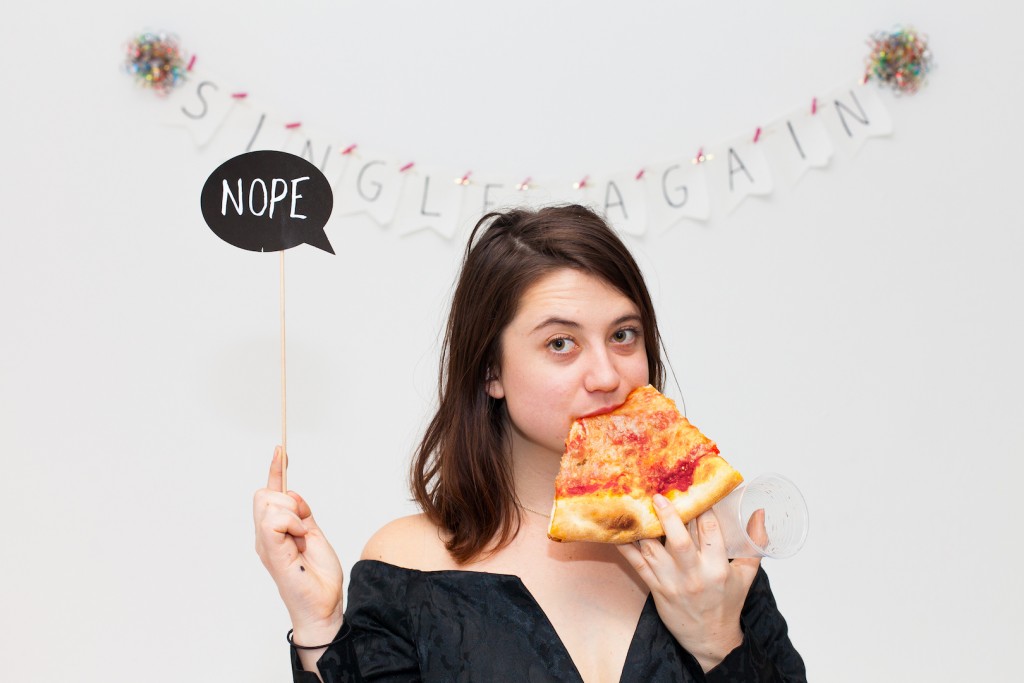 Campbell returned to her Brooklyn apartment and quickly transformed her bedroom into her workspace, thinking she could knock the project out in six months or so. She created a massive schedule of stories to be drawn on the purple wall behind her bed, covering the back corner of her room with index cards for each one. Each card was marked with an X on the back, so that as she worked through them and flipped the cards, the wall was slowly overtaken by X's signifying work accomplished. "It was very 'Beautiful Mind'-looking," she says. She still has the index cards in a box in her closet, somewhere.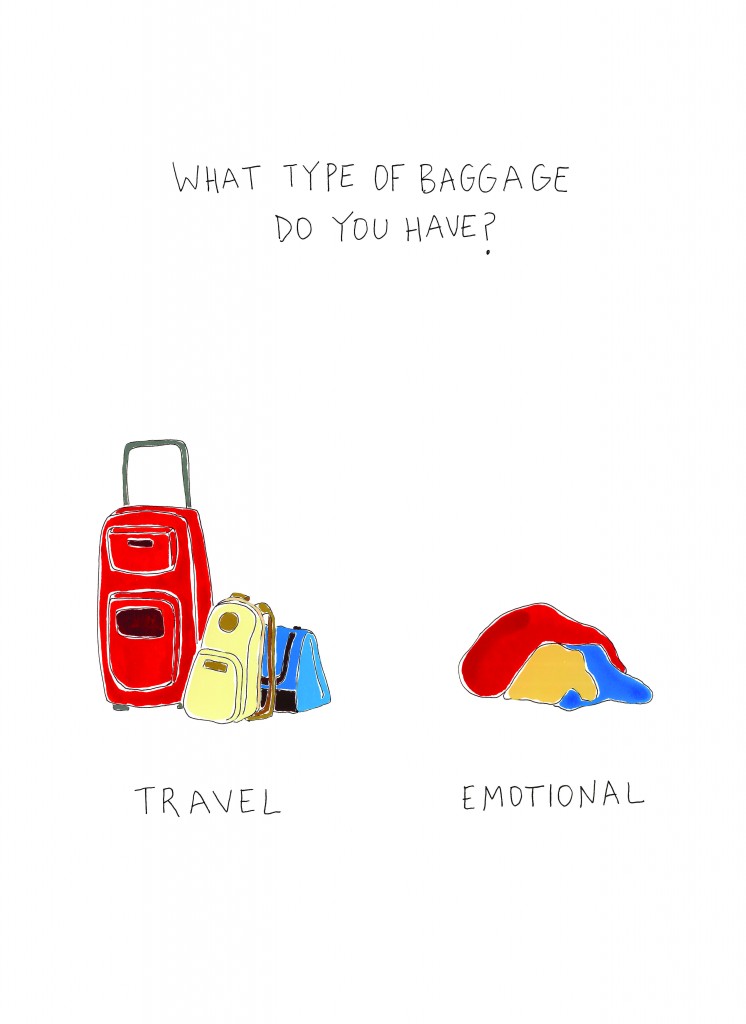 Once the wall was finally consumed by X's, she began to look at the first cartoons, and realized that since the beginning, her style had changed so drastically that the start didn't match the end. Back the cards went as she started over, redrawing the entire book between restaurant shifts, changing colored-pen cartoons to acrylic paint, ultimately spending about another year on revisions.
Tuesday's Valentine's Day show in Richmond is the second-to-last of her unconventional book tour, which she dreamed up herself and funded through a Kickstarter campaign. She announced the campaign through another animated conversation with her mother. In one scene, we see a drawing of Campbell at her desk with a glass of wine, face-down on the keyboard, captioned "It's exhausting." The tour she envisioned would cost $4,200; she raised it within a week; a month later, she'd nearly doubled the amount. "The reason this whole idea was so successful in the beginning was because it has a sense of community and inclusion and participation, so I wanted to use that same concept and platform on the book tour," she says. "So take the book out and make it another venue, another avenue for storytelling."
The book itself is a slim volume of brightly colored cartoons etched with thin black lines, drawings juxtaposed with breakup narrative text written in first-person. Some are one-liners: "You're someone I want to marry, not someone I want to date" with a vintage Frigidaire labeled "Men for now" by the fridge and "Men for later" by the freezer. Some are longer: a breakup via voicemail, illustrated with an old-school answering machine, in pink, captioned, "If you press play you don't have a boyfriend anymore."
L.A. will be the last stop on the tour. She's not sure what comes next, but slowing down isn't part of the plan. She has many irons in the fire — cartooning for Instagram, a greeting card business, an upcoming documentary on her traveling wine salesman Uncle Jim, cartoon TV show pilots — and any one of them could be the next to heat up. There may even be a "Breaking Up Is Hard To Do" part two in the future. Regardless of where her next project takes her, there's no doubt it will be back on her drawing board.