A tree has uprooted the healthy relationship among neighbors on Montclair Terrace in San Francisco's Russian Hill neighborhood.
Meri Jaye, 96, is fighting for landmark status for the redwood tree that she planted in her backyard in the early 1960s, in memory of her husband and two children who died in a tragic plane accident.
"My husband proposed marriage to me in Muir Woods," Jaye said at the city's Landmark Tree Committee's nomination hearing last October. "When I lost my husband and my children, I wanted a memorial that would mean the strength that I needed to carry on."
Jaye hopes that her personal story will not be the only thing that convinces others of the tree's need to be a landmark.
"It is a giant, beautiful and healthy redwood tree in the heart of the city. It is extraordinary," Jaye said.
But neighbors and arborists are in disagreement over whether the tree should be given landmark status, causing the San Francisco Urban Forestry Council to delay their decision two times already.
The process of landmarking a tree in San Francisco is long and requires the tree to get the approval of the Landmark Tree Committee, the Urban Forestry Council, and then, finally, the Board of Supervisors. Only 18 individual trees and five groves of trees currently have landmark status in San Francisco, recognized for their size, age, species, historical significance and/or cultural value. Removal of these trees is punishable with jail time.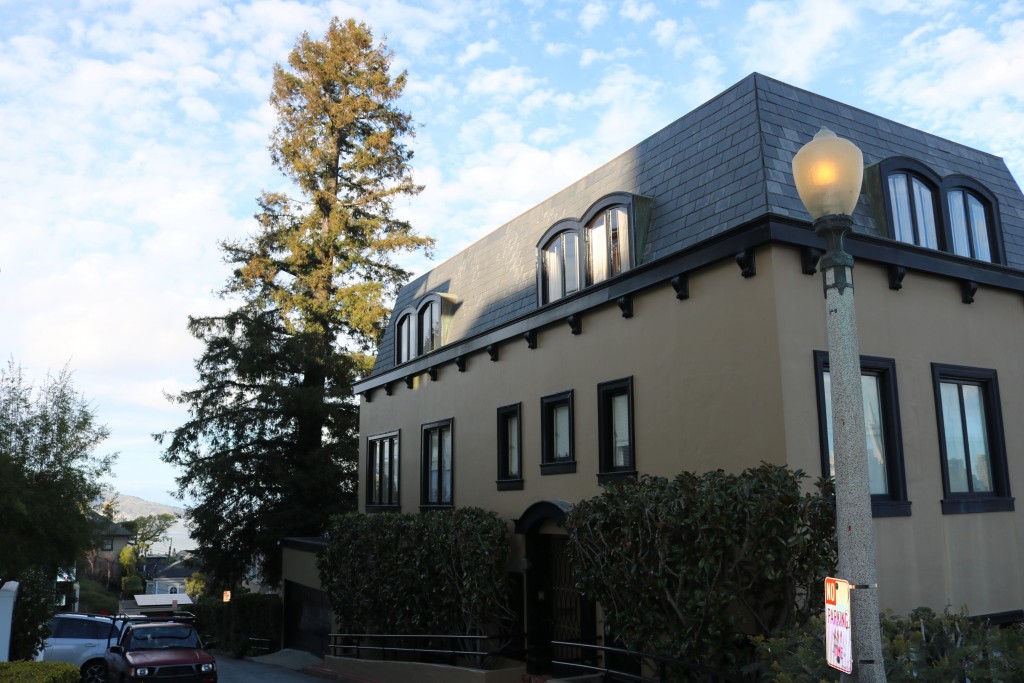 Many of Jaye's neighbors oppose landmarking the redwood at 4 Montclair Terrace because they say it blocks views and poses a safety hazard to residents as well as the thousands of tourists visiting intersecting Lombard Street, the famous crooked street of San Francisco. Two neighborhood groups, the Montclair Terrace Association and the Lombard Hill Improvement Association both are in opposition to landmarking the tree and cite unanimous support from their members.
"When we moved into our home we had a great view through our kitchen of where my grandmother lived, and the whole area is covered by that tree now," said Christina Zimbardo, a neighbor who last year had a nearby cypress tree fall on her home. She worries Jaye's redwood will fall as well.
Another neighbor, Heidi Bioski, fought back tears when she testified to the Urban Forestry Council in December about her concerns for the safety of her three children who often play in the street near the tree.
"The branches are huge and if the branches were to fall on my child is that worth it? Is that worth anything?" Bioski said, citing an accident last November where a woman was paralyzed by a falling tree branch in nearby Washington Square Park. "I don't know why we would look to preserve a tree over a child."
But tree specialists disagree over the risk posed by the 90-foot-tall redwood. Roy Leggitt, an arborist hired by Jaye, said the tree has the same level of risk as any other healthy tree of its size.
"The idea that the branches could fall at any moment, I think that is completely an exaggeration. There is nothing like that going on with this tree," Leggitt said.
Kevin Kielty and Jeromey Ingalls, arborists hired by opposing neighbors, disagree with Leggitt's opinion that the tree is healthy. Kielty said the previous topping of the redwood, a process which removes the whole top off of a tree, has caused it to only rate a 55 on a 1 to 100 scale of tree health.
"When you top a tree, the lateral limbs get wide and heavy, and those lateral limbs tend to break off," Kielty said. Ingalls agreed with Kielty, writing in his report of the tree that, "because the tree has been topped in the past, there is an elevated risk of future [limb] failures occurring."
Leggitt, hired by Jaye, said that Jaye only pruned the tree at the urging of neighbors and that the opposing arborists' views were simply "spin."
The Urban Forestry Council will meet next on Feb. 28 to discuss the tree's nomination for landmark status for the third time. Jaye said she will continue to fight for the tree, despite the pushback from neighbors.
"I don't know why my neighbors are trying to make me a target, rather than focusing on the miracle of a giant redwood in the heart of the city," she said.