The blue map shows the median housing price in different counties across the country, according to a five-year U.S. Census. The deeper the color, the higher the median housing price. The pink map shows difference in median listing price between 2014 and 2016 in most counties across the country, according to Zillow, the online real estate marketplace. The deeper the color, the steeper the housing price increase in the past two years. (Click on each county to view details)

Aaron Castle and his fiancé Candace Anderson wanted to invest earnings in a tangible asset, rather than watching their earnings evaporate every month to cover rent. With combined annual incomes less than $50,000, Castle and Anderson found only a tiny house can be built on minimum wage in the Bay Area.

Tiny houses provide a way to own a home in the Bay Area's exorbitant housing market, where a one-bedroom apartment asks for an average of around $3,000 rent a month and a median price of home is $1.1 million, according to Zillow, the online real estate marketplace.

Castle and Anderson poured $18,000 and 1,400 hours into building their home. They have lived in their self-built, 139-square-foot tiny house on wheels for two and a half years, moving from Redwood City to San Bruno.

The couple have to repeatedly pick up and relocate their tiny home, because there are no California laws defining and regulating tiny houses, a situation which has left construction of the units in a murky legal situation.

"There's always sort of insecurity around our living situations," Castle said.

The tiny house community defines a tiny house as a home of 400 square feet or less, either on wheels or a foundation.

Castle is a tiny house advocate who has been deeply involved in tiny house discussions and events for the last three years. He envisions a fair number of Bay Area residents would seriously consider living in a tiny home if it is more readily available and legal.

Under the pressure of excessive housing prices, a growing number of Bay Area residents have found their American dream is no longer a four-bedroom home, but a tiny house where every square inch has function.

Source: Zillow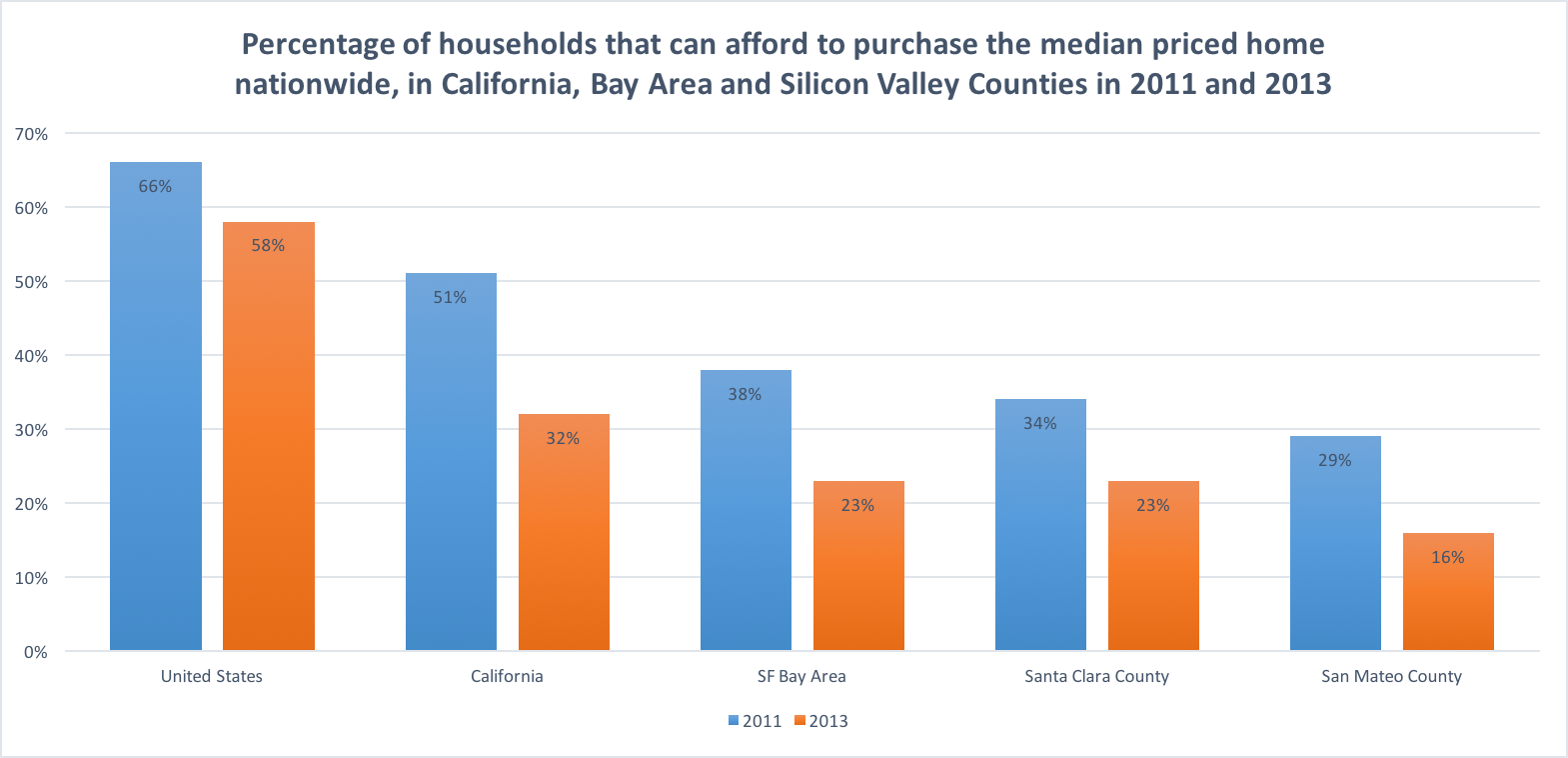 Source: San Mateo County Performance Dashboard
A tiny house competition in October featured nine tiny houses built by competing universities across California that demonstrated the possibilities of living sustainably in a space less than 400 square feet. More than 2,000 people attended the tiny house competition's exhibition day.
Over 50 local tiny house meetups were held in the past three years in Northern California. More than a dozen local tiny house enthusiasts blog about tiny living. A tiny house film screening took place in Redwood City on Nov. 13.

A new tiny house dweller in Mid-Peninsula
Amanda's house is 130 square feet, but has everything she needs. (EDITOR'S NOTE: Peninsula Press withheld Amanda's last name to maintain her privacy.)

Amanda is now happily living in her home, which is placed on a main house's backyard in the Mid-Peninsula. She feels like a dream has come true to have her own house with only 20 percent of her income devoted to renting the land. She had to pay 40 percent of her income to live in the area before.

However, Amanda is trying to keep a low profile, because it's illegal to live in such a tiny space in her city if subject to the California residential building codes. "It's complaint-driven, so if no one complains about it, I think I'll be allowed to live here," Amanda said.

In November 2015, the Fresno City Council took the first steps in legalizing tiny houses and put tiny houses on wheels into the city's building codes. In September 2016, Gov. Jerry Brown signed a five-year law that bypassed the state's building codes and allowed San Jose to create tiny homes for the homeless, according to San Jose Mercury News.

Other Bay Area cities have been slow to respond to this new housing concept. Chair of Palo Alto's Planning and Transportation Commission, Michael Alcheck, said he had never heard about tiny houses, but welcomes suggestions about it.

Without regulations, many other interested tiny house adopters are still watching and waiting for it to be legalized.