Because of the high cost of child care in San Mateo County, Valerie Higgins, a single mother of three, chose to quit her job at a nonprofit in order to take care of her two youngest children over the summer.
With child care for two kids costing well over $2,000 a month, it made more sense for Higgins to quit her job and collect food stamps and Medicaid than to continue working.
"It was just too expensive," she said. "It didn't make sense financially."
For a family of two, consisting of one parent and one child, the income limit to qualify for a child care subsidy in San Mateo County is $3,283 a month. But because the waiting list is so long, and families are served based on need, only families making less than $1,833 a month tend to get help, according to staff at San Mateo County's Child Care Coordinating Council, the county's resource and referral agency for families seeking care.
While Higgins was in school earning her associate's, bachelor's and eventually master's degrees, she received government support for child care. But when she went back to work, she no longer qualified for that assistance.
"I didn't want to quit because I've come so far," Higgins said. "I felt like why did I even get a master's degree to stay at home with my kids? But ultimately, I had to make that sacrifice."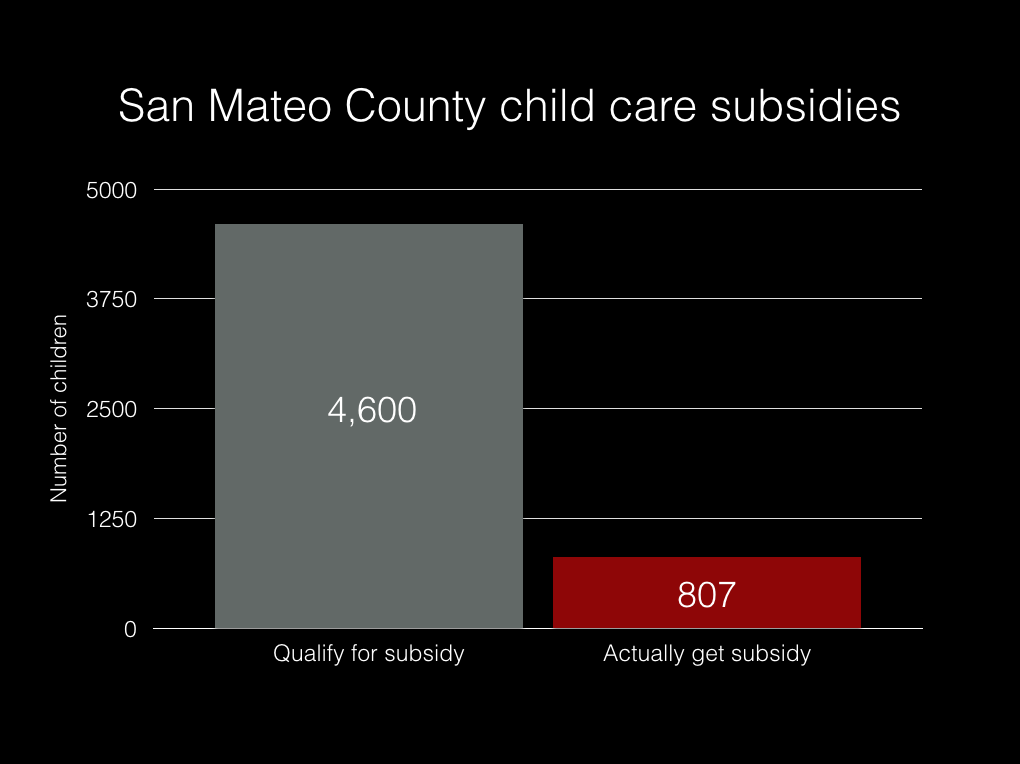 "There's such a growing inequity in terms of income which affects everything," said David Fleishman, executive director of the Child Care Coordinating Council of San Mateo County. "If people are spending 70 percent of their money on child care, and 70 percent of their money on rent, and 70 percent of their money on food, the math just doesn't work."
According to a recent supply and demand study, there are currently 4,600 children who meet eligibility requirements for subsidized child care in San Mateo County. But because of lack of funding, only 807 kids are currently being served, said staff at San Mateo County's Child Care Coordinating Council.
"This is San Mateo County. It just shouldn't be in a county with this much money that so many people are living subsisting," Fleishman said.