The proposed construction of a 600,000-square-foot office building near Google's main campus is worrying local residents, commuters and Mountain View City Council members who say peak-hour traffic already creates a gridlock on the city's major traffic routes.
The development site for the two-story building is a vacant lot between Amphitheatre Parkway, Shoreline Boulevard and Charleston Road, close to Shoreline Amphitheatre. Google could get the seven-member council's approval by majority vote within months, and begin construction in mid-2017, Councilmember Mike Kasperzak said.
It would be the first time Google builds a new office from scratch, local officials said. So far, the company has bought or leased existing spaces, then remodeled them, Kasperzak said.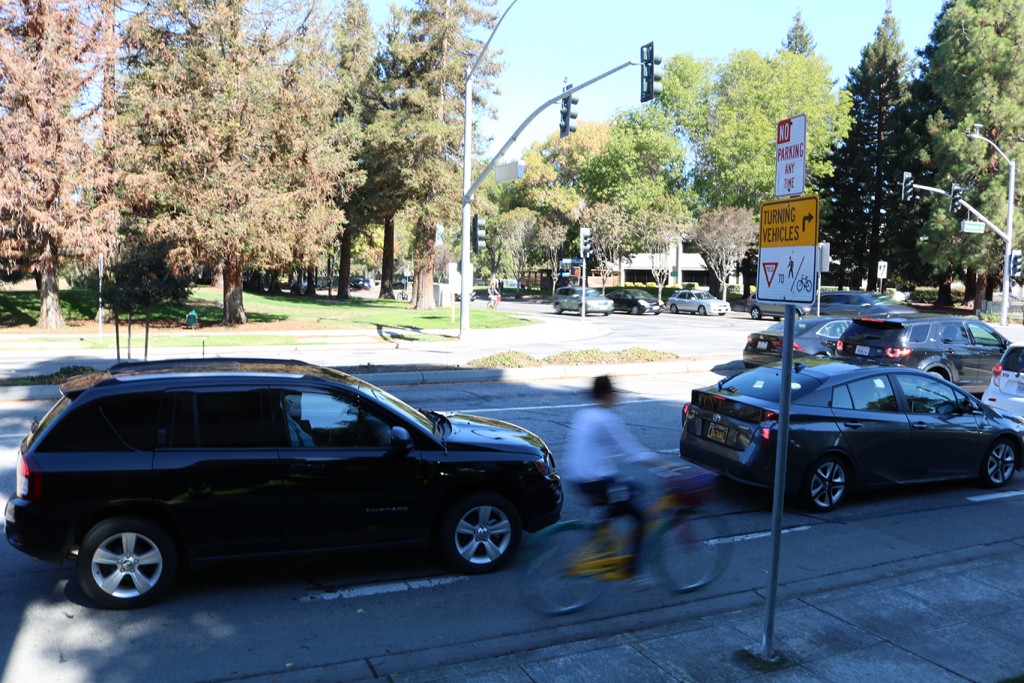 The new office building would accommodate roughly 2,700 employees, Drew Wenzel, campus design technical specialist at Google, said in an e-mail. It's not clear whether those employees will be new hires or will relocate from existing offices. Roughly 20,000 people work at Google in Mountain View. When moving to the area in 1999, the company had 12 employees.
Mountain View residents like Kevin Brodie complain about the high volume of cars, which "are there from 6:30 in the morning to 9 o'clock at night." He uses Shoreline Boulevard every morning on his way to work in San Mateo and says that Shoreline can be a "complete bottleneck trying to get on (Highway) 101," if you get there after 9 a.m.
The company's past attempts to lessen commuter traffic through shuttle services and complimentary bikes for employees have eased some of the congestion, Vice Mayor Ken Rosenberg said. But an impact on transportation, especially during the construction period, seems inevitable. "You can't have a construction site of that magnitude, and not impact the daily lives of people who work there," Rosenberg said.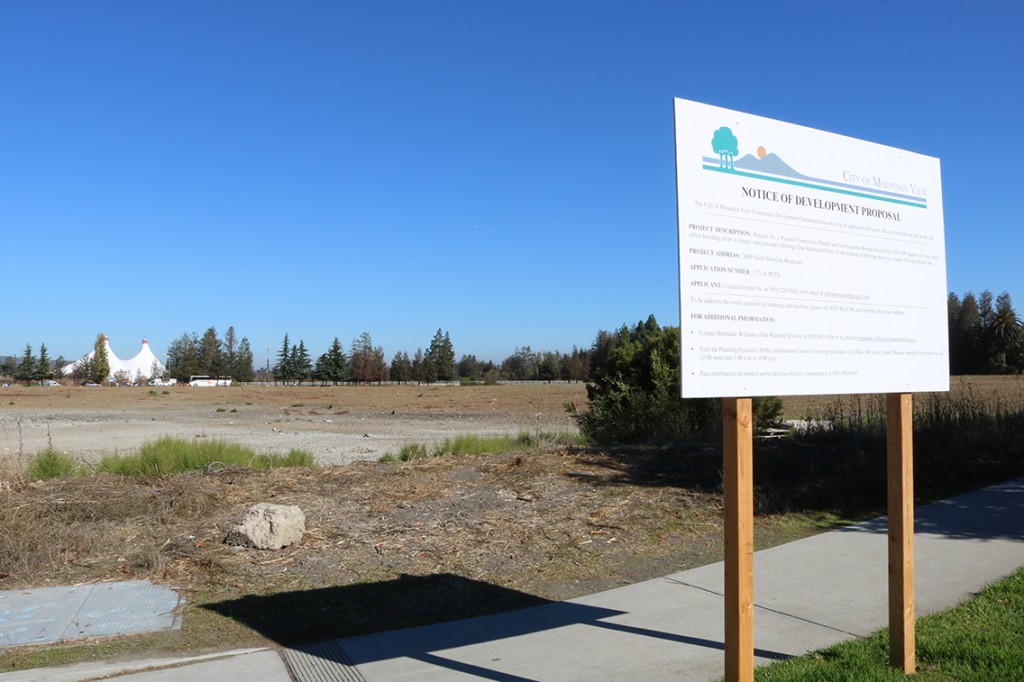 Even if you try to ship materials and construction equipment to the site during off-peak traffic hours, it will affect traffic. "You can't get away from it. It's going to be a challenge. If you work in that area, you have to plan accordingly," Rosenberg added.
Wenzel said the construction would take approximately three years, and Google is "looking for ways to limit the project's impacts on traffic and the community."
City officials are considering redirecting traffic during construction so commuters and construction traffic would not interfere with each other.
Apart from planning the actual office spaces, Google has laid out development proposals for transportation improvements that would allow for a separation of vehicular and non-vehicular traffic in the area.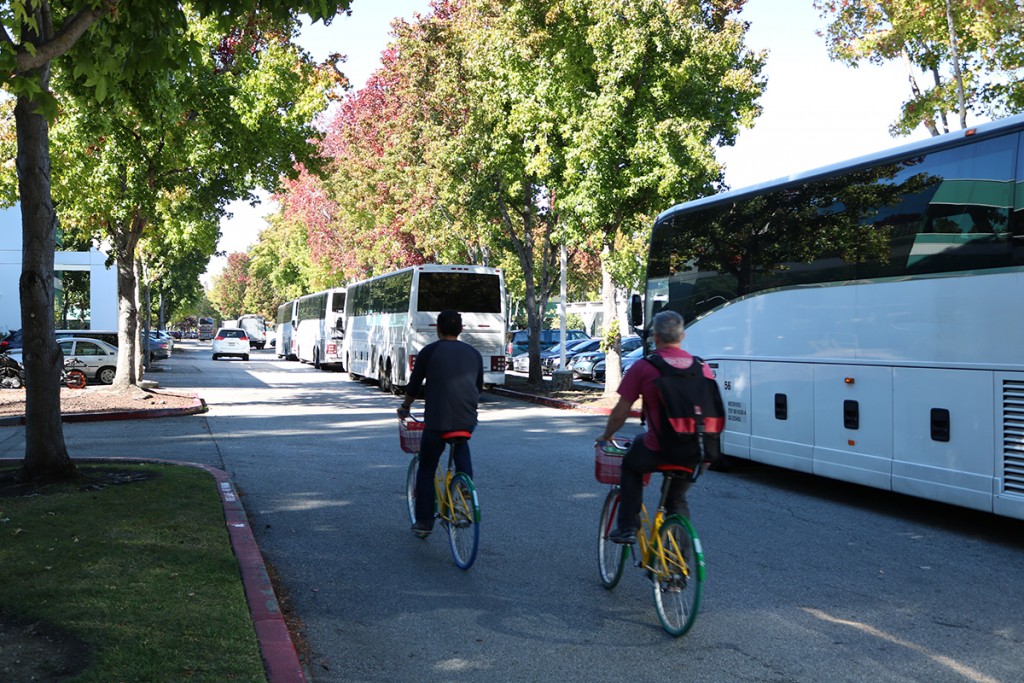 Google proposed two-way cycle tracks instead of the current on-the-street bike lanes, which would enable cyclists to go into both directions without having to cross the three highly frequented traffic routes adjacent to the construction site. The plan also proposes widening sidewalks for pedestrians.
Commuters using the public bus system would also see improvements, with pull-out bus stops on Charleston Road that allow for a bus to move off the travel lane, permitting cars to pass by without interrupting the traffic flow.
Councilmembers heard comments from several Google representatives and residents, at a special meeting on Oct. 4. All of the six people who spoke besides the Google employees favored the company's prospective office construction, including the plans to improve transportation in the surrounding area.
The people represented local and regional community groups such as the Silicon Valley Bicycle Association, environmental organizations such as the Sierra Club, or spoke as members of the public.
Colin Heyne, deputy director of the Silicon Valley Bicycle Coalition, said improvements would increase traffic safety and serve all road users, but cyclists in particular.
In a later interview he admitted it was likely "if traffic trends continue as they have, it will get far worse, before it gets better," referring to the transportation concerns during the estimated three-year construction period.
The final details of construction plans, the timeline and how it will be executed are still being determined, but residents like Lisa Marie Klein hope the improvements will eventually lead to traffic relief. She said she is tired of having to take detours to work from her home in Old Mountain View, trying to avoid traffic congestion. "It used to take me 10 to 15 minutes. Now it takes me at least 30 minutes."