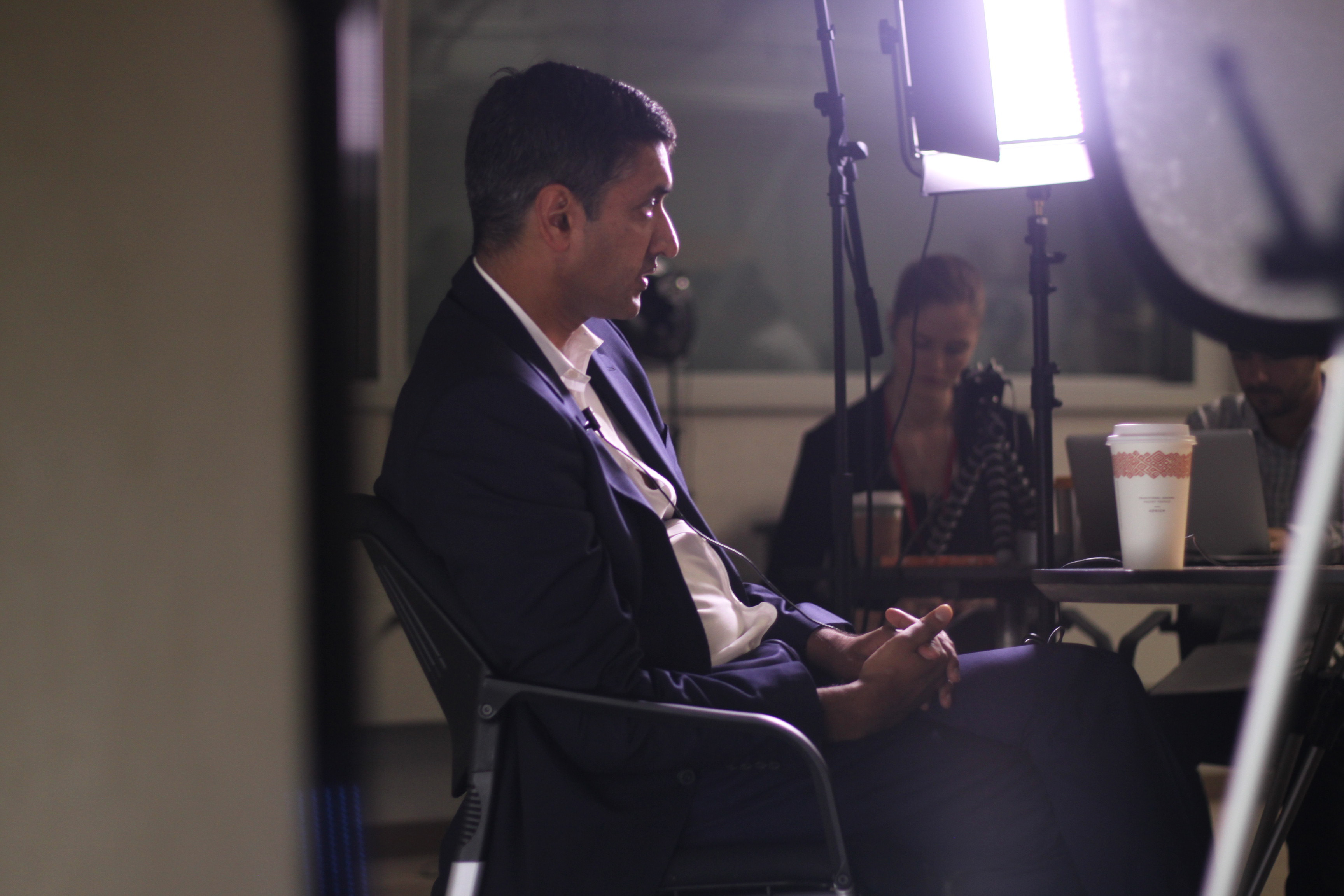 Ro Khanna, who is challenging Rep. Mike Honda for California's 17th district seat in Congress, called his former campaign manager's decision to keep access to a Dropbox account of a former employer that had Honda's donor list "an error of judgment."
"I had a campaign manager who allegedly looked at a Dropbox of a former employer that was a fundraising consultant for Mike Honda," Khanna, 40, said in an Oct. 28 interview with the Peninsula Press. "I think it was an error of judgment. He resigned. But the court found and we internally found that none of that data was used by our campaign."
Honda, 75, took the Khanna campaign to court in early October for allegedly stealing donor records. On Oct. 11, a federal judge deferred ruling on an injunction motion filed at a preliminary hearing by the Honda campaign. The judge later stated that "the Motion will not be deemed submitted to the Court," according to court records. The two campaigns negotiated an agreement to exchange certain documents.
The incident has dominated coverage of the contentious campaign leading up to the Nov. 8 election, largely shifting discussion away from district issues like the high cost of living, traffic and education to the character of the candidates.
"I am committed to the highest level of ethics," Khanna said, adding that he doesn't take money from lobbyists or political action committees, which donate directly to candidates.
Much of the Khanna campaign's financial support has come from donors who work in the technology industry. He has been endorsed by, or received donations from, leaders including Facebook's Sheryl Sandberg, Google's Eric Schmidt, and venture capitalist John Doerr.
"I haven't gotten money from Alphabet (Google's parent company) directly or Facebook or any of the companies," he said. "I have gotten a lot of money from executives and leaders at those companies, but they've been in their individual capacity."
While PACs haven't donated directly to his campaign, Californians for Innovation, a Super PAC, set up to support Khanna, has spent $59,925 on the race, according to OpenSecrets.org. Super PACs cannot make contributions to candidates directly, but can fund advertisements.
Khanna held a 1-point lead over Honda in a poll conducted by SurveyUSA earlier this month.
In 2014, Honda edged Khanna, barely winning with an advantage of 4,714 votes. The intra-party showdown between two Democrats is allowed by California's primary system because the top two vote-getters in the primary are permitted to run in the general election.
President Barack Obama, who endorsed Honda last time, hasn't made an endorsement in the race this year.

Khanna calls Honda's attack ad 'amusing' and 'unfortunate'
Earlier this month, Honda's campaign released a television advertisement using an actor, who appeared to be South Asian, to portray Khanna in a way that the San Jose Mercury News said played on racial stereotypes. Khanna is Indian-American and Honda is Japanese-American.

Khanna said the ad – which portrayed him as beholden to Wall Street — backfired on Honda. "This is a very educated district. This is not some random district in the country where people don't understand Indian-Americans or the global economy," he said.

He said he found the ad "amusing," and that it was an "unfortunate" tactic for Honda's campaign.

"I have great faith in the voters to make a judgment, and to sift through what they think are factual points and what they think are exaggerations," he said.

Government 'overreach' in war on terrorism
Khanna, who has represented technology companies in intellectual property cases, said he shares concerns of major Silicon Valley corporations regarding government pressure to turn over data, as was the case earlier this year when the FBI tried to force Apple to help unlock the phone of one of the San Bernardino shooters.

"It's a very tough issue, and my bias is towards more civil liberties, and privacy, and suspicion of mass government surveillance, and a sense that the government has overreached in the war on terror," Khanna said. "And so I'm much more sympathetic with Electronic Frontier Foundation or some of the tech companies' perspectives of making sure that they don't have obligations to hand over data."

Still, Khanna said Silicon Valley should find ways to cooperate with Washington on national security issues without compromising their principles.

Khanna, who has attacked Honda as being out of touch with current technology trends, said his background in the industry will help him better represent the district.

"I think understanding the nature of the Valley and automation and globalization will inform both one's policies on education and also the role government should have in strategic investment,'' he said.

'Strategic cuts' in defense spending to fund minimum income
While technology dominates the workforce in the 17th district, there is perhaps no more pressing issue of public concern than the skyrocketing cost of living. Khanna said the United States should cut defense spending and raise capital gains taxes on those earning more than $1 million per year to help pay for a universal minimum income of $30,000 for Americans.

"I think what we ought to be looking at is strategic cuts in the Defense Department,'' Khanna said when asked how the minimum income would be funded. "We currently have bases overseas, all over, as if we're fighting the Cold War.''

Khanna said his proposed tax increase would affect the wealthy who claim capital gains as their primary source of income, but wouldn't affect Americans saving for retirement. The universal minimum income could be paid through an expanded earned income tax credit.

While Khanna supports a $15 minimum wage – set to take effect in California by 2022 – he acknowledged it was "not sufficient to address the high cost of living in this area.''

Some Peninsula towns are considering rent control to help address the high cost of living. But Khanna said that would only be a "temporary solution," and he would rather see housing made more affordable by using the "global supply chain'' to bring down costs and by building more high-rise housing near transportation hubs.

"We have to, as a Valley, think about what do we want to look like," Khanna said. High-rise construction near transit centers is "one of the only sustainable ways of figuring out how to create more supply of housing and bring down the price.''

California agribusiness 'taking too much water'
With California in its fifth year of severe drought, Khanna said the agriculture sector uses too much water and the state needs to reevaluate water rights that were negotiated decades ago.

"Our water is going to support agriculture businesses that have been just a part and parcel of California tradition, but they are taking way too much water, so we need to rethink those water rights,'' Khanna said.

To combat climate change, Khanna said he wants to tax companies producing carbon emissions for their negative impact on the environment and to see the Small Business Administration give loans to startups that are especially focused on alternative energy.

Cautious foreign policy
On foreign policy, Khanna said he supports accepting more Syrian refugees, "as being true to our values."

"You look at Steve Jobs, who from my understanding, is of Syrian origin, and the Valley has shown that we succeed by having people from around the world,'' he said.

But Khanna expressed hesitation about any deep U.S. intervention in Syria, though he supported a no-fly zone.

"I don't think we can be totally hands off, but I would not have [us] choose sides in the battle or try to overthrow the Assad regime, or put ground troops there,'' Khanna said.

"I would try to work with the other regional players, to get a no-fly or a safe-fly zone in Syria, which is more or less, President Obama's current policy,'' Khanna said. The Obama Administration has in fact resisted a no-fly zone, partly to reduce potential for sparking direct conflict with the Syrian and Russian air forces.

Khanna, who said he opposed the Iraq War early, cited military interventions that proved to be mistakes and added, "My view is that the first policy, or principle for American foreign policy, should be do no harm."

Khanna unconcerned with Trump's ambiguity over concession
Regarding the national election, Khanna said there's been an overreaction to Republican presidential candidate Donald Trump's statement that he may not accept the result of the Nov. 8 election.

"Who cares what Donald Trump thinks?'' Khanna said. "We have such a strong judicial process and an independent judiciary, and we don't rely — our country doesn't need the consent, fortunately — of any one individual. And no one individual is strong enough, as demagogic as they may be, to upset American democracy."



* * *




Editor's Note (updated Oct 31. at 9:30 p.m. PT): This story has been corrected to clarify that the federal judge did not throw out the lawsuit but deferred ruling on an injunction motion. "No lawsuit or any aspect of the lawsuit was thrown out," Vedant Patel, Honda's communications director, said in an Oct. 31 email. "The lawsuit still very much exists and will be moving forward."

Editor's Note (updated Oct. 29 at 12 p.m. PT): The original headline and lead was changed to clarify that Mr. Khanna said his comment that his ex-campaign manager's "error of judgment" was in keeping access to the Dropbox that contained Honda donor information — not that he actually accessed records, a charge the ex-manager, Brian Parvizshahi, denies and believes the Honda campaign is using to distract voters.

Editor's Note: Peninsula Press reached out to Rep. Honda's campaign for an interview as part of our fall newsmaker event and received no reply. Peninsula Press is a project of the Stanford Journalism Program. Khanna is teaching a course in the Economics Department at Stanford University this quarter but has no affiliation with Peninsula Press.

With reporting by Peter Arcuni, Bethney Bonilla, Erica Evans, Virginia Fay, Jenna Fowler, Nicholas Gailey, Courtney Lewis, Siqi Lin, Tara McCullough, Jane Nevins, Tori Owens, Sejin Paik, Felix Petermann, Thomas Plank, Christine Quan, Priya Raja, Kelly Swanson and Dylan Tull. Editing by Janine Zacharia, Geri Migielicz and Vignesh Ramachandran.