Days before the election, the 11 Palo Alto City Council candidates vying for four open seats are split over their vision for the city's future into basically two camps: one group is pushing to slow the pace of what they describe as excessive development and the other is arguing that Palo Alto can and should grow more.
A surprisingly contentious race – that has led to accusations of undue outside influence on candidates — illustrates the passions surrounding the growth issue as voters demand action on housing affordability and traffic congestion.
The council currently has nine seats but will be reduced by 2019 to seven because of a 2014 measure that passed. Each councilmember serves a four-year term.
The election comes as the city moves to adopt a new Comprehensive Plan, a document that guides decisions related to land use and housing.
Candidates Arthur Keller, Lydia Kou, Stewart Carl and Greer Stone are in the slow growth camp, arguing for maintaining quality of life, limiting office development and prioritizing housing for service workers, teachers and police officers.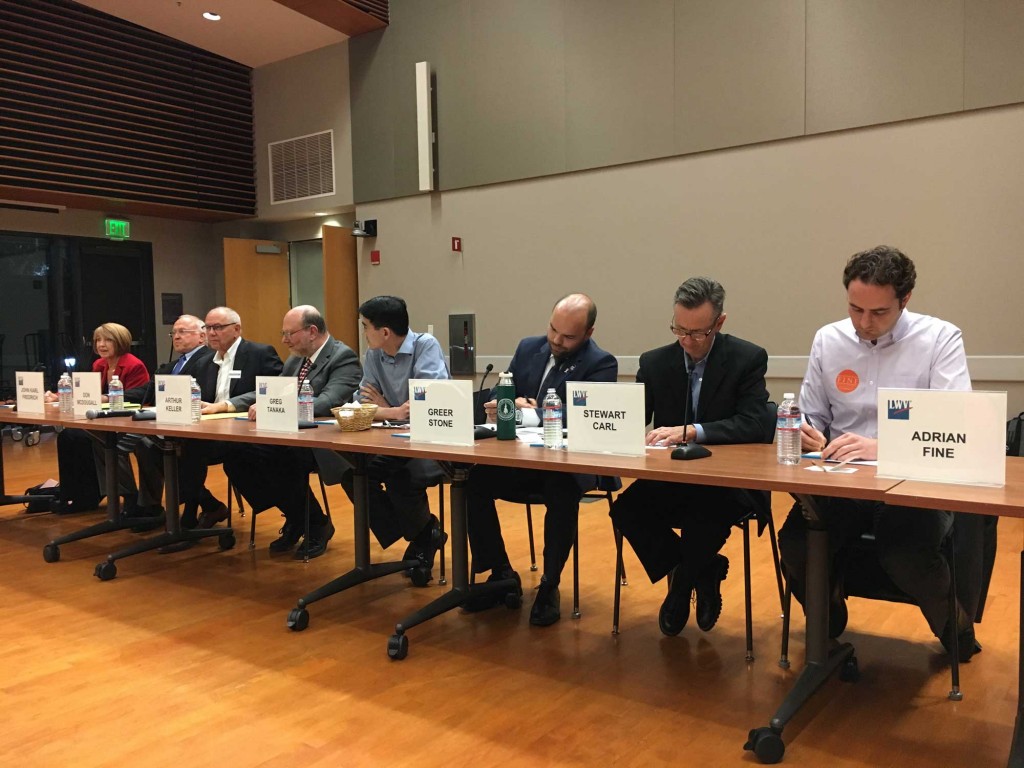 "Instead of green-lighting every new development project and handing the key to our city over to the developers, we need to plan and approve responsible development projects," Keller told an Oct. 5 League of Women Voters candidate forum.
Keller served two previous terms on the Planning and Transportation Commission and is currently co-chair of the Citizens Advisory Committee for the Comprehensive Plan update.
Kou, who shares many of Keller's views, was edged out by Cory Wolbach in the 2014 city council race, when she ran alongside current slow growth council members Tom DuBois, Eric Filseth and Karen Holman.
All three councilmembers have endorsed Kou and Keller, while Wolbach has endorsed Adrian Fine, Liz Kniss and Greg Tanaka.
"[Palo Alto] is bound to grow, it's just that we have to be a little more responsible in how we grow," said Kou, who currently serves on the citizen committee updating the Comprehensive Plan.
Adrian Fine, Don McDougall, Greg Tanaka and incumbent Liz Kniss are more supportive of growth, prioritizing the construction of new affordable housing as well as more units near public transit and jobs.
"I'm not promoting Manhattan and I'm not promoting zero-growth either," Tanaka, current Commissioner of the city's Planning and Transportation Commission, said in an interview.
Fine, who grew up in Palo Alto and has served two years on the Parking and Transportation Commission, says he will work to increase the amount of available housing, especially near transit centers.
"My fiancée and I rent and recently we looked for a condo in Palo Alto and there are about two of them on the market. There is a very limited supply and we don't have enough housing choices," Fine said in an interview.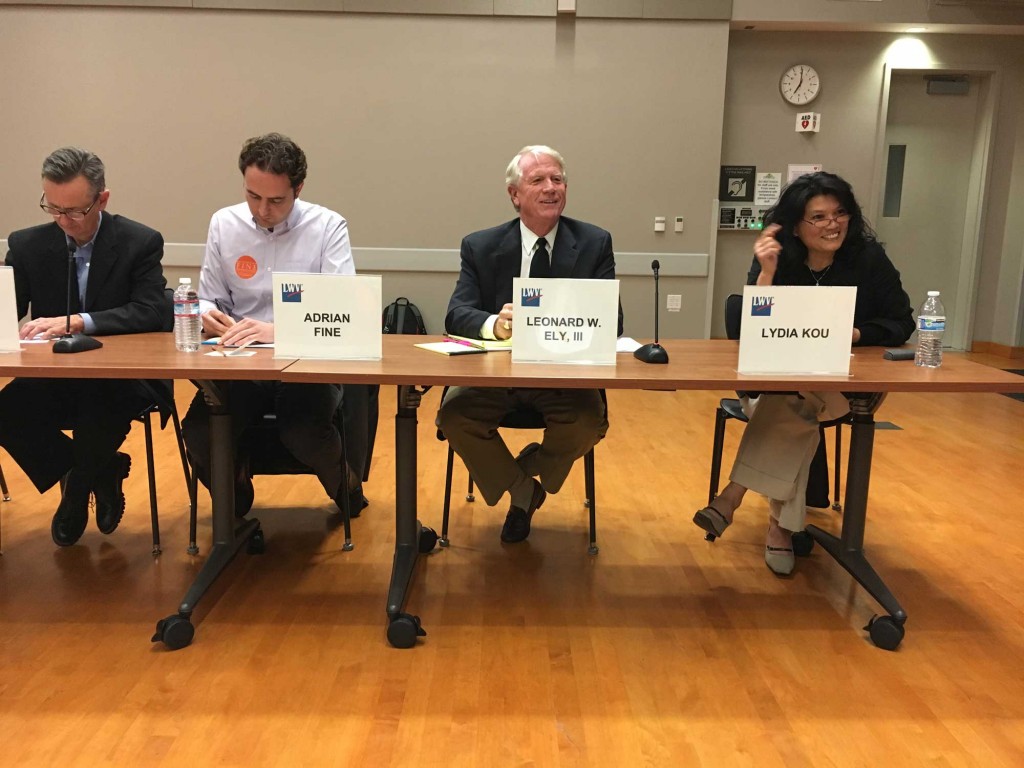 Greer Stone and Stewart Carl also favor slower growth. Stone, chairman of the Human Relations Commission, promises to implement aggressive traffic management before approving any new development projects. Carl argues that housing growth must be limited to avoid putting stress on infrastructure.
Also in the race are longtime Palo Alto residents Leonard Ely III, John Fredrich and Danielle Martell. Political outsider Ely supports raising the height limit for building downtown. Fredrich, a retired high school teacher who is back in the race for the sixth time, advocates for reducing growth that may impact residents' quality of life. Martell, a Palo Alto native, advocates expanding housing for local seniors, firemen and police officers, according to a statement online.
The race has been contentious, with negative political ads surfacing on Facebook and accusations on both sides that the opposition has been receiving unfair support.
Local newspapers and some voters were surprised when the Palo Alto Chamber of Commerce signaled support for Fine, Kniss, McDougall and Tanaka in a letter circulated online. The Chamber advocates for job and business growth.
Amy Sung, a local resident who supports the candidates the chamber endorsed, still took issue with the move. "They have to stay neutral and not take sides," she said.
Articles in the Palo Alto Weekly showing that a local PAC, Palo Altans for Sensible Zoning, which supports Keller and Kou, had received more than $100,000 in contributions from a few Palo Alto families, prompted some criticism. For others, like resident Rita Vrhel who gave $500 to the PAC, the donations were fair game.
"This is the most important election," Vrhel said in an interview. "We're putting our money where our mouth is."