Nicole Higley couldn't afford to rent her own apartment when she began teaching Japanese at Mountain View High School three years ago. So she did what many other Bay Area residents are doing: look for a roommate.
Evan Smith, who has taught math at Mountain View High for 13 years, meanwhile, was looking for an apartment at the same time. Although he owns a house in Santa Clara, he had leased it for a reduced price to a family of five, choosing to rent an apartment until the family's three children finish elementary school. During a coffee break one day at school, Smith and Higley decided to find housing together, and they now rent a two-bedroom apartment in Mountain View for $2,495.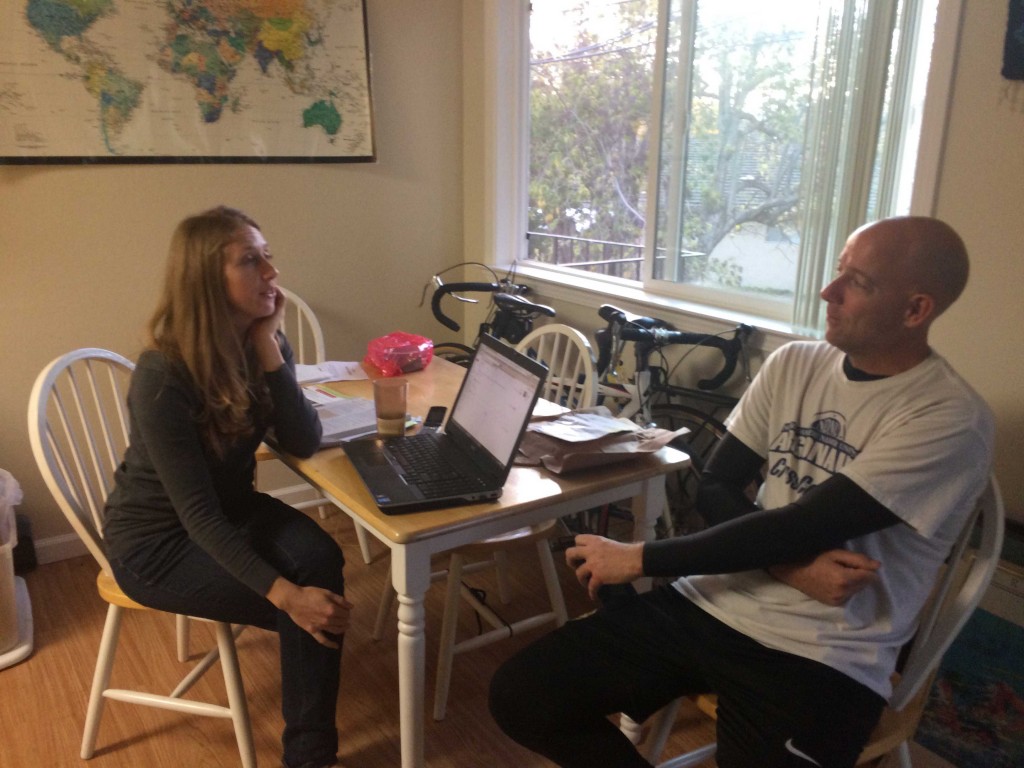 Confronting an acute housing shortage, a disparate group of Bay Area residents, some of whom would easily be able to afford their own apartments in other regions, have found roommates to share the cost of rent.
While co-living arrangements are not unusual among senior citizens and college students, full-time professionals are increasingly boarding with roommates to afford the steep cost of living in Silicon Valley. The median monthly rent for a one-bedroom apartment in Mountain View is $2,695, according to real estate website Zillow. On Craigslist, two-bedroom apartments in downtown Palo Alto rent for $4,000 or more.
Although the Mountain View Los Altos High School District pays the highest teacher salary in California on average — $103,172 during the 2012-13 school year according to the most recent, publicly available state data — teachers with the least tenure earn far less. Higley and Smith are not alone among their colleagues in opting to live together.
Three of their colleagues share an apartment in Belmont, and Marie Thuillier, a French teacher, moved in with a colleague after she and her husband separated.
Thuillier was jarred by the cost of renting her own unit. "The prices were ridiculous. I couldn't afford it," Thuillier said. "I didn't have time to look for a place, so my colleague offered her place."
The severe housing shortage on the Peninsula has affected young professionals in other sectors as well. Jeremy Hoffman, a software engineer who has worked at Google for seven years, explained that tech workers for companies such as Google and Palantir, a data systems software company, regularly share single-family homes.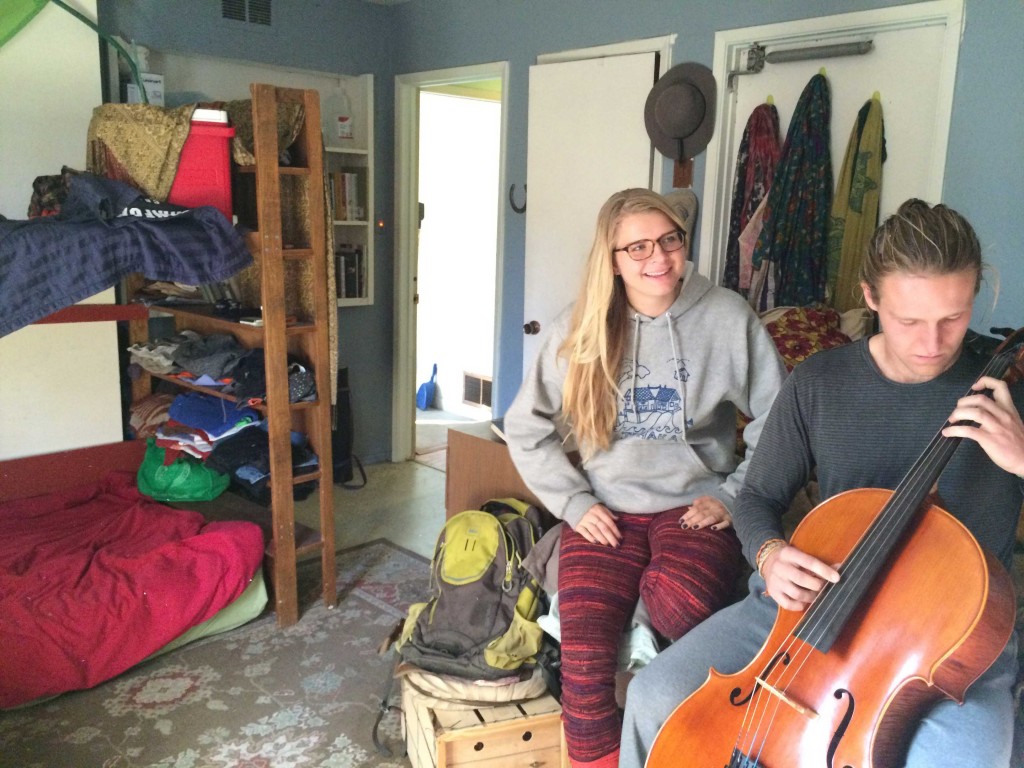 "What I see my younger friends still doing, is sort of just piling into whatever housing is available," Hoffman said. He added that his wife, who also works for Google, used to live with five people in a three-bedroom home with an in-law unit.
Startup employee Elena Stamatakos saves on rent by living in a housing cooperative, called Ithaka, located a few blocks from downtown Palo Alto. Stamatakos became head of logistics at Feeding Forward, a food conservation startup, after earning a master's degree at Stanford. She said she wouldn't be able to afford an apartment in Palo Alto unless she were to share it with "at least five people."
Occupying three separate structures, Ithaka's 20 residents lower their expenses by purchasing food in bulk, splitting utility bills and leveraging diverse skill sets. When the co-op's television stopped working, one resident was able to replace a broken part at a fraction of the cost of a new TV.
"Within Palo Alto, I don't know of any people paying as cheap of rent as I do," Stamatakos said.
She emphasized, however, that she most values the community within Ithaka: "We take care of each other."
San Mateo nonprofit plays housing matchmaker
Despite the recent surge in home sharing among full-time professionals, the Human Investment Project, usually called HIP Housing, has run a home sharing program in San Mateo County since 1979.
The free program matches home seekers with home providers, though in most cases, providers have space for only single tenants or families of two.
In a typical year, 300 home seekers apply to the home sharing program, but that number has jumped to over 400 this year, according to Laura Fanucchi, HIP Housing's associate executive director. Fanucchi explained that many new clients apply to the home sharing program after receiving sharp rent increases. Others move out of rooms they had rented from homeowners who suddenly needed the space for family members displaced by high rents elsewhere.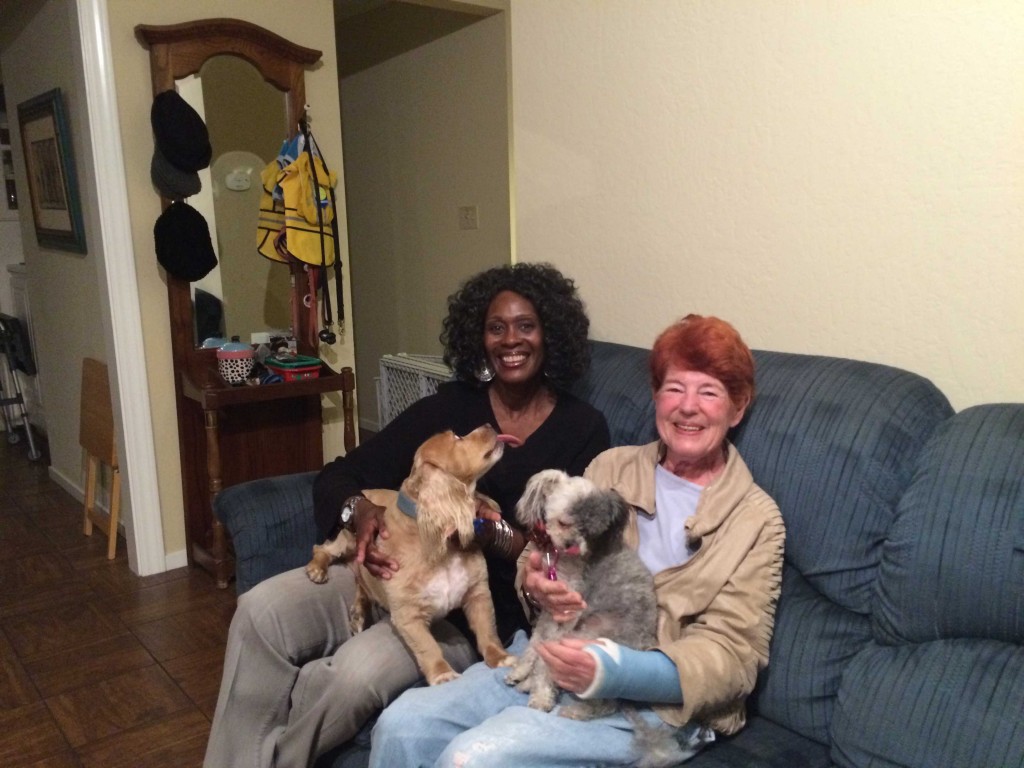 Home providers renting out rooms through the HIP Housing program don't charge as much as they could on the open market, instead setting rent between $550 and about $1,200 a month. But they benefit from the program's services, including pre-screening of home seekers, the matchmaking process and follow-up consultations.
Although any resident of San Mateo County may use HIP Housing's program, over half of participants are senior citizens. Fanucchi explained that senior home providers, who would ordinarily have reservations about accepting unfamiliar home seekers, take comfort in the program's pre-screening process, which includes client interviews and background checks. Home sharing is also an affordable arrangement for retirees living on fixed incomes, although Fanucchi reports that higher-income employees have begun participating.
Kim Hester, an insurance agent, applied to the HIP Housing program after her former landlord began renting neighboring units at a premium using Airbnb. Uncomfortable with the ever-changing assortment of guests in her old building, Hester used the program to find a safer apartment that she could afford without moving farther from her job. "What's out there is not affordable," Hester explained. "You can't do it on your own anymore."
San Francisco, Fremont replicate home sharing model
Recently, local governments outside San Mateo County have begun to replicate HIP Housing's program. The City of Fremont launched a home sharing program in partnership with the nonprofit on Aug. 1, and the Peninsula Press has learned that San Francisco has contracted with Northern California Presbyterian Homes and Episcopal Senior Communities to start a senior lodging program based on the HIP Housing model early next year.
"It's just a way of using existing resources to help a population that needs help," said San Francisco City Supervisor Katy Tang, who helped spearhead the San Francisco Program. "It just totally makes sense right now in this climate, especially in this district where we just don't see that much development."
But in other parts of the Bay Area, increased development is one of the answers to quickly rising rents. A majority of city council members in Mountain View, for example, favor further development. In its November update, the city's planning division listed nearly 1,300 new apartment units being constructed or slated for construction.
U.S. Representative Anna Eshoo (D – Palo Alto) also supports increased home building and has encouraged local jurisdictions to take an inventory of public lands where they can construct more housing.
Eshoo, however, acknowledged that housing development is not a short-term solution: "This isn't an issue where you can take this cup," Eshoo said lifting her Starbucks cup, "and put it in the microwave and, in 60 seconds or less, the coffee is heated and the water is boiling. It just doesn't work that way."
In the meantime, Eshoo worries that fewer public service employees will be able to live in the Silicon Valley communities they serve. "If the only people that can live in our communities are wealthy people," she said, "Then, you're pushing out … police, fire[fighters], government workers, garbage collectors, nurses, teachers."