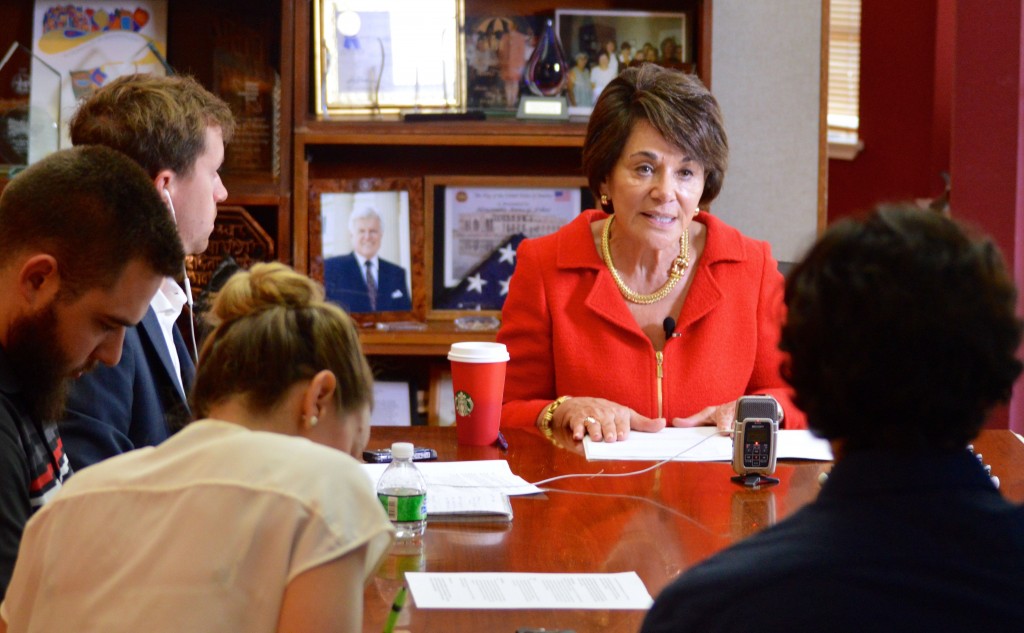 Representative Anna Eshoo (D-Palo Alto) lamented that Silicon Valley is becoming a place where only wealthy people can afford to live and warned that major traffic congestion will continue for "many years to come."
In a wide-ranging interview with the Peninsula Press in her Palo Alto office Oct. 30, Eshoo urged cities and counties to alleviate the acute housing shortage by devoting land they already own to new housing. Citing reduced federal funding for affordable housing development, Eshoo encouraged local governments to take an inventory of public lands where they can build more homes in partnership with the private sector.
Eshoo said there was no "silver-bullet" solution to the housing shortage that has sent rents and home prices soaring. "It's a threat to what the composition of a community will become…if the only people that can live in our communities are wealthy people."
Police officers, firefighters, garbage collectors, nurses, teachers, and seniors are being forced to relocate, she noted, while expressing support for protections that could help limit renter displacement in towns like Mountain View, where community activists have packed council meetings demanding reform. "These are things that can help," Eshoo said, "but it's not producing the housing stock that we need."
As skyrocketing housing prices push commuters farther from their jobs, Eshoo added that the region must upgrade its public transit system to alleviate congested roadways, noting that it took her roughly 30 minutes to go the 2.5 miles from her home in Menlo Park to her Palo Alto office.
She called Caltrain "the spine of our transportation system on the Peninsula," but said the diesel-powered train service has become a "slow" and "dirty…thing of the past." Eshoo has helped secure federal funding to electrify the Caltrain system, which will slash emissions and enable trains to run more efficiently.
While Eshoo credited such federal funding with providing "make-or-break dollars" for local transit projects, she added, "Congress, in its dysfunction, has not even brought forward a transportation infrastructure bill." And any transportation bill brought to the floor now would be "bare bones" at best, she said.
'You broke this,' Eshoo tells FAA Administrator on airplane noise
Another transportation issue Eshoo has needed to address is airplane noise in the towns she represents. She's arranged several meetings with Federal Aviation Administration officials and distressed constituents over airplane noise that has afflicted towns, including Palo Alto, since the FAA ordered changes in flight paths into San Francisco International Airport as part of a national overhaul for improving efficiency in congested airspaces.
"This is the first time, in almost 23 years, that I've dealt with airplane noise that is affecting my entire congressional district," Eshoo said.
"I said to the administrator, 'You broke this. You are the one who made a mess out of this, so it's up to you to fix this,'" Eshoo added. "People here are simply not going to put up with this. And they shouldn't have to."
Ian Gregor, public affairs manager of the FAA's Pacific Division, said on Oct. 30 that the agency would release a plan of action responding to local concerns "in about a week."
"Longstanding noise issues, as well as changes to some Northern California instrument approach and departure procedures, have generated noise concerns from residents in Santa Cruz, Santa Clara and San Mateo Counties," Gregor said in an email. "People have identified a number of distinct issues and/or proposed remedies. In response, the FAA is developing the plan of action to explore such modifications. We are working closely with Congresswoman Eshoo's office to address these issues."
NSA 'has gone too far'
Eshoo, who heads a House subcommittee on communication and technology, also discussed her legislative attempt to eliminate "encryption backdoors" that would enable the U.S. intelligence community to access private information on users' devices. The dispute between Silicon Valley and the U.S. government over the issue has yet to be resolved. "In my view," she said, "the NSA has gone too far."
Eshoo raised her concerns over allegations that the National Security Agency (NSA) put intelligence-gathering "back doors" into American-made routers before they were shipped to foreign countries, as the Wall Street Journal reported last year.
"I thought it was jaw-dropping," said Eshoo, who is also pushing for standards that the public and private sector would need to follow to protect digital networks against hacking.
The revelation that American-made products could contain spying equipment has had a "real chill in other parts of the world."
'They bullied our democracy.'
Throughout the interview, Eshoo lamented the U.S. House's political dysfunction. She blasted the "radical right-wingers" for putting ideology over consensus and described the new House Speaker Paul Ryan (R-WI), as "pleasant" and "nice," but "no moderate," and expressed concern that the most conservative wing of the Republican Party would continue to block compromise with Democrats.
"They're bullies, and they bullied [former House Speaker] John Boehner," Eshoo said. "They bullied our democracy."
"I hope that they've gotten it out of their system. I hope. I hope and I pray, because it's hurting the country," she said.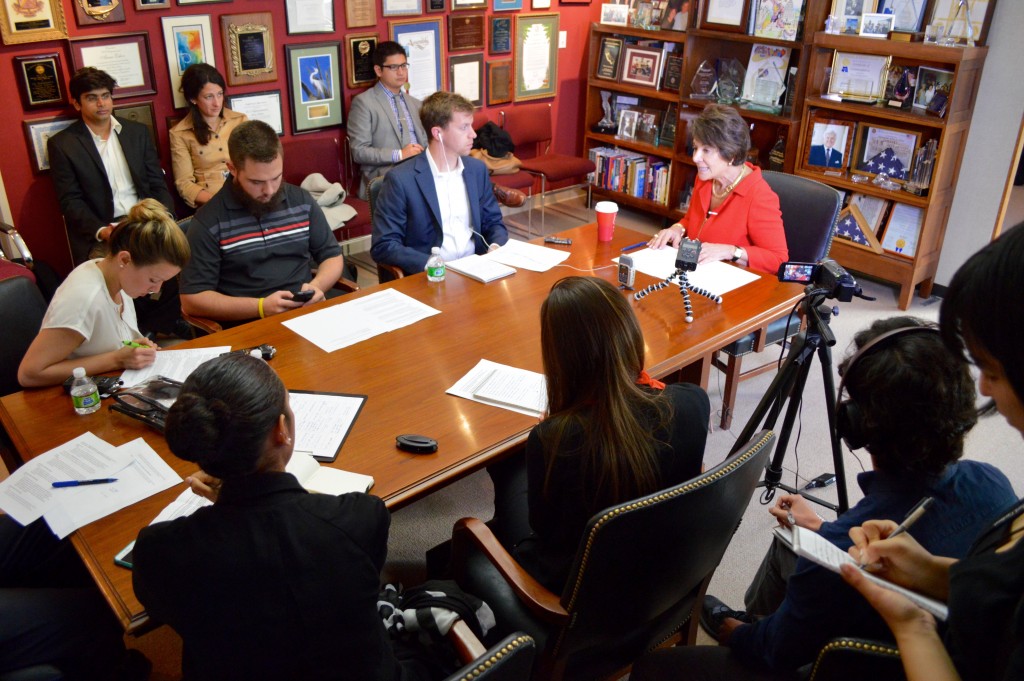 H-1B system is 'outdated'
On immigration, Eshoo lamented how Congress's partisan paralysis has prevented comprehensive immigration reform and said Democrats aren't willing to consider a partial fix.
"The new speaker [Paul Ryan] has already made the ironclad promise to radical right-wingers and the others in his own party that he will not allow any immigration bill to come to the floor…they are dead set against it. All you have to do is listen to the presidential debates on the Republican side about immigration. It's hurting our country; it's hurting our economy. And it's real. It's not just a bunch of words."
Eshoo has advocated increasing the quota for H-1B visas, a temporary visa that allows companies to hire highly skilled foreign workers, which are in short supply in Silicon Valley. Leaders on the Peninsula have lobbied to increase the quota. The U.S government issues 65,000 such visas each year, with an additional 20,000 set aside for graduates of master's programs and higher from U.S. universities.
"It's an outdated system because the number that's allowed is taken up and claimed in a week," Eshoo said. This year, the US Citizenship and Immigration Services received almost 233,000 applications for the H-1B visas, nearly three times the allowed limit.
Too 'slow' to absorb Middle East refugees
President Barack Obama announced in September that he would allow 10,000 Syrian refugees to enter the United States over the next year. But Eshoo, co-chair of the Religious Minorities in the Middle East Caucus, said the number of refugees the United States is taking is a "drop in the bucket compared to what other countries are absorbing." Eshoo said she is pushing the administration to quickly issue an additional 5,000 visas to persecuted religious minorities who "might be dead and gone" by the time they are allowed in under the current system.
Asked her opinion of the President's response to the refugee crisis, Eshoo said: "It's been slow – very, very slow."
Expanding the number of refugees the United States absorbs "isn't about doing a favor," she said. "These are American values."
Eshoo's parents – her mother was from Armenia and father was from Iran – "fled for their lives…they were being massacred…and it was all because they were Christians," she said. The current refugee crisis is particularly urgent for Eshoo, she added, because "it's a repeat of history."
With reporting by Saurabh Datar, Kimberly Kenny, Kaitlyn Landgraf, Shane Newell, Lucas Oswald, Ana Santos, Travis Shafer, Jamie Stark, and Carolyn Zhang.