Increased traffic and soaring construction, combined with rising real estate costs, have prompted more than 500 Redwood City residents to sign a petition asking for a moratorium on approval of new commercial buildings.
In city planning meetings, protesters are routinely demanding that officials amend the Downtown Precise Plan, a blueprint for future growth in the three-block radius surrounding the county's old courthouse downtown.
The plan — approved in 2011 and first conceived during the 2007-2010 economic recession — anticipated slow urban growth to take place over 20 years, allowing residents to gauge its impact over time. But as the economy bloomed and conditions changed, the city reached 86 percent of the plan's office cap in the last four years alone.
Calls to freeze growth come as cloud storage firm Box prepares to move to its new headquarters at 900 Middlefield Road, in one of the most significant real estate deals on the Peninsula this year. Scheduled for November, the move of Box's employees is expected to spur more development down the road, as it may attract shops, restaurants and transportation systems catering to the incoming workforce. The company currently has a little over 1,300 employees worldwide and expects to have around 1,000 employees in Redwood City when the move happens in November.
Residents, who are upset about the height of the Box building, are now trying to prevent another project from gaining approval. Dostart Development Company is proposing a nine-story office building and 270 parking spots at 601 Marshall Street. Redwood City's Planning Commission says the 112-foot-tall building won't dwarf historic buildings like the City Hall of Justice (143 feet) or the Old Courthouse (118 feet). But residents remain skeptical, arguing that the project's modern architecture will change the downtown look and feel.

"It is simply too much," said Tania Sole, who is running for city council in November. "Within less than 12 months, four huge buildings went up and totally changed the character of the city. We've gone from a suburban environment, to an urban environment."
Sole calls for a new precise plan based on a five-year horizon that would account for changes to the area like the drought and new services like Airbnb. "These factors cascade down into society, and people don't always think of them until it hits them in the face," she said. "And here, it hit people in the face really brutally, with the number of buildings that came up all of a sudden."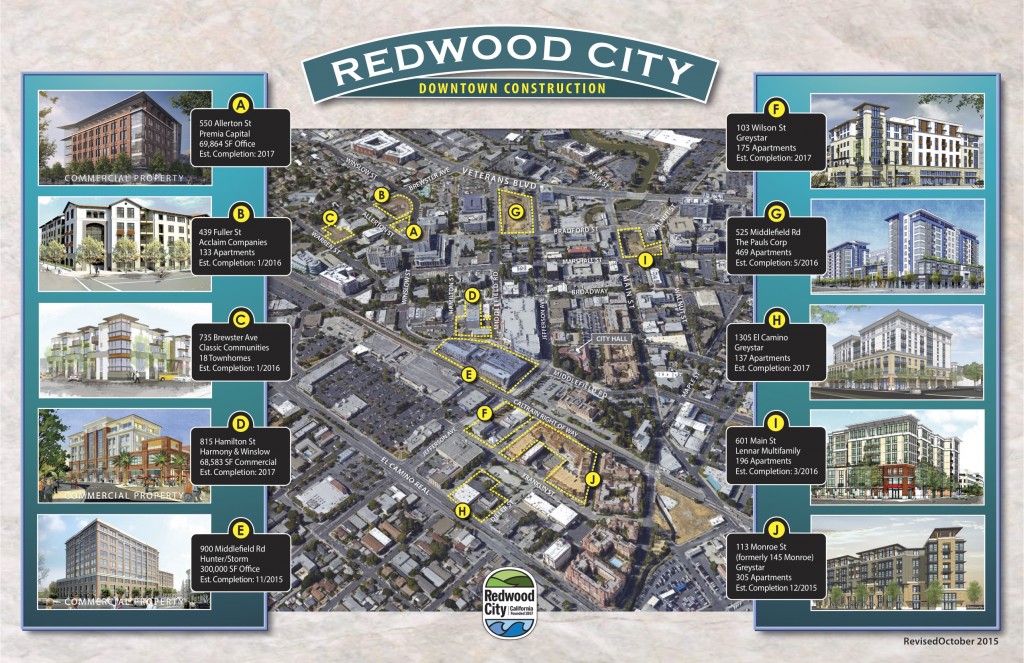 A construction boom is indeed underway: 14 new buildings have been approved under the development plan, and six more are currently being reviewed. From the 500,000 square feet planned for commercial buildings, only 61,341 remain open. In contrast, 1,478 housing units were built to date, from the 2,500 capped — even though a specific objective of the Precise Plan was to provide more downtown housing.
For 30-year resident Dave Gahagen, organizer of group "Residents for Sensible Growth in Redwood City" and author of the "Too Tall, Too Fast" petition, the impact of the construction goes beyond downtown. "My concern is with the neighborhoods surrounding the area, because as these apartments and offices start to fill up, we're going to see a large influx of traffic," he said. "And I'm afraid that a great deal of that traffic will go by my front door."
Gahagen believes that the city should allow smaller buildings, and perhaps more of them, at a slower pace. "If this was the case, I don't think commissioners would face the kind of antagonism that's being raised," he said. "To me, development is like salt in a cookie recipe. If you don't have it, it tastes funny. But if you have too much, you ruin the recipe."
For Ralph Garcia, owner of Ralph's Vacuum on Main Street, a big part of the problem is that residents don't know how the growth will affect them personally, and the pace is frightening. "Obviously [the Precise Plan] is five years ahead of itself and it caught everybody off-guard. But people in general, and I'm afraid I'm guilty of it too, don't like change."
CORRECTION – Editor's Note (10/22/2015): Peninsula Press originally misstated that 1,700 Box employees would move. To clarify, Box currently has a little over 1,300 employees worldwide and expects to have around 1,000 employees in Redwood City when the move happens in November. The story above is corrected.