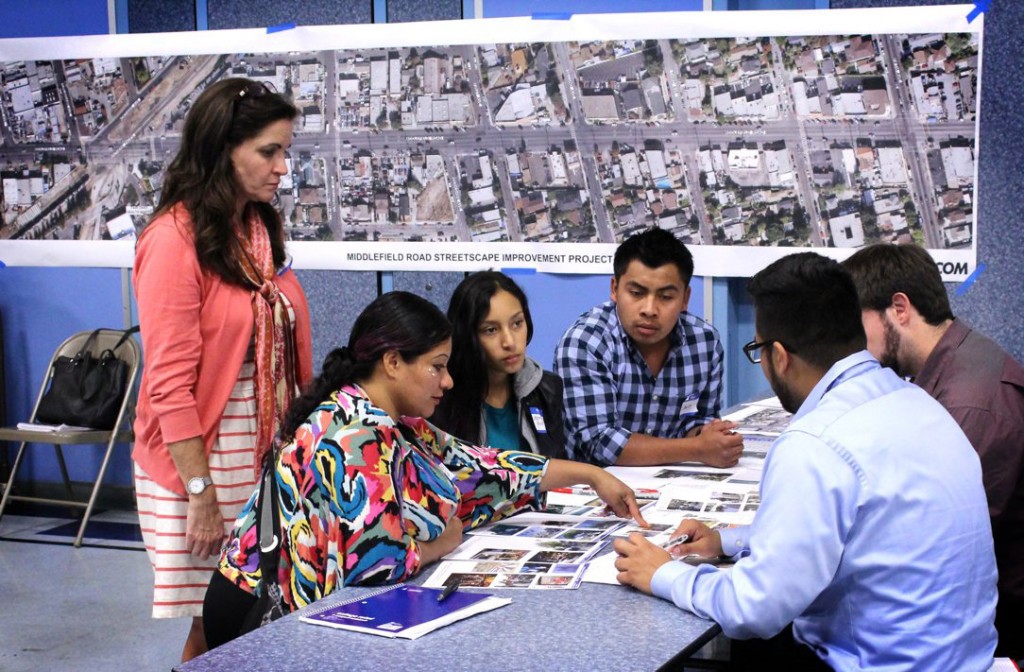 A plan to redesign the stretch of Middlefield Road that runs through the working-class neighborhood of North Fair Oaks has residents torn between wanting a safer, more inviting main thoroughfare, and concerned that upgrades will lead to gentrification.
Today, cars speed along Middlefield's four traffic lanes, while pedestrians crowd on narrow sidewalks and cyclists risk being struck by cars backing out of diagonal parking spaces. Last October, the County of San Mateo approved a $12.5 million revamp of Middlefield between Pacific and Fifth Avenues, making the street the centerpiece of its renewed focus on this unincorporated area. The plan will cut the road to three traffic lanes, switch from diagonal to parallel parking, and use the extra space for bike lanes, wider sidewalks and public art.
Yet as housing costs skyrocket in surrounding cities, community support for the project has become mixed with fear. Residents and business owners worry that a spruced-up Middlefield may attract affluent newcomers and push up prices in one of the last affordable pockets in Silicon Valley.
"I'd be really sorry to see the community driven out, and our nice little working street that's always been really useful turn into some kind of chichi, boutiquey area," said Penny Durham, a 36-year resident of North Fair Oaks. "There's been historically sort of benign neglect. Now there's so much pressure."
Similar projects to swap traffic lanes for bike paths and broad sidewalks are increasingly common around the Bay Area. Often known as "complete streets" or "road diets," these redesigns can reduce traffic injuries, encourage healthier and more sustainable commutes, and spark activity on street corners and in local shops. Yet on the Peninsula, these projects have typically been in wealthy neighborhoods and downtown business districts, such as California Avenue in Palo Alto or Lincoln Avenue in San Jose's Willow Glen.
North Fair Oaks doesn't fit this mold. Tucked between the mansions of Atherton and booming Redwood City, the neighborhood's median household income was just $60,000 in 2013, and 73 percent of residents are Latino. Instead of being lined with upscale restaurants, this stretch of Middlefield is home to auto repair shops and beauty salons, the signs outside a blend of English and Spanish.
To help adapt the complete street concept to North Fair Oaks, the county has engaged community members throughout the project. It launched an outreach initiative called North Fair Oaks Forward, and selected the three-lane, parallel-parking concept through a series of collaborative neighborhood meetings. Now, the project team is hosting workshops where community members can shape the details of the new design.
County officials acknowledge risks of gentrification, but say they are taking a similarly collaborative approach to developing protections for existing residents and businesses. "We will form a gentrification group and we will talk about this," said Deputy County Manager Mike Callagy at the first design workshop on Sept. 30. "I promise you these issues are really important to us."
Not all residents are convinced, though. "It's just hard to know who to trust," said Armando Garcia, a resident and business owner. "I wouldn't mind having a nice street, but I feel like it's going to snowball into something bigger than that eventually."
Beyond policy protections, thoughtful design can also help check gentrification, said landscape architect Steve Rasmussen Cancian. A bilingual former community organizer, Cancian was brought in by the county to facilitate design workshops and help translate neighborhood feedback into specific plans. He described how the project could enhance the street for existing residents, but in ways that have limited appeal to outsiders. "Rather than putting one bench next to a bus stop, you put two benches facing each other under some trees, and you don't put them in front of a cafe where they become an extension of the cafe, you put them in front of an auto parts store."
Pointing to successful projects in other cities, Cancian said that with thoughtful choices and extensive community input, Middlefield can be redesigned in a way that avoids displacement. "It is possible to have both the best quality, the full diversity of services, and affordability, but it's not going to happen without an extraordinary level of effort."
The county will host additional planning meetings through the end of the year, then will draw up detailed plans during 2016 and 2017. Construction is projected to begin in late 2017.