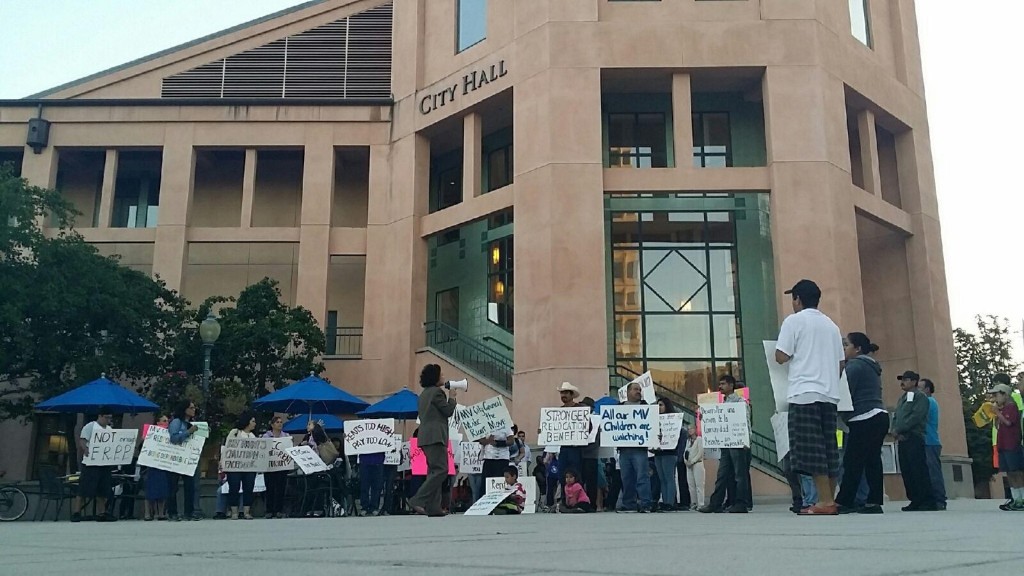 A coalition of Mountain View residents is pushing the city council to freeze rents at a time when soaring housing costs are threatening to displace more tenants.
As pressure mounts for rent relief in Mountain View, where 60 percent of residents are renters, the city council will learn more about the Mountain View Tenants Coalition's proposed rent moratorium and alternative policies at an Oct. 19 study session. Landlord representatives from the California Apartment Association will also present policy options at the session, which will take place at Mountain View's Senior Center.
The study session comes after about 200 people attended a standing-room-only city council meeting on Oct. 6, with dozens of coalition members arriving fresh from a protest outside city hall. Protestors spoke in support of a rent moratorium, which would temporarily freeze rents, and rent stabilization, which would cap rent increases. Five speakers opposed these interventions, some favoring more housing development instead.
Rents in Santa Clara County have risen by roughly 20 percent over the last five years, and nearly 50 percent over the last decade, according to the U.S. Department of Housing and Urban Development. One tenant reported that rent on his two-bedroom Mountain View apartment rose from $1,550 to $2,100 since 2013, a 35-percent increase in two years.
The sharp rise in housing prices has forced students and teachers to bolt from the Mountain View Whisman School District and has propelled some residents into homelessness, while the city has taken limited steps to stem the problem, preferring instead to encourage office development and to designate 10 percent of newly constructed housing to be affordable for low- and middle-income households.
In July, local activists formed the Mountain View Tenants Coalition as more residents began sharing their struggles to pay rent at the San Francisco Organizing Project and Peninsula Interfaith Action's cafecitos, where residents give testimony about personal challenges. According to coalition volunteer, Angel Santuario, participants have included people working two jobs and Google employees spending half their salary on shared units.
The tenants' coalition wants the city to bolster tenant protections beyond state requirements. Under California law, landlords may evict tenants who lease month-to-month without stating a reason, so long as they provide 30 or 60 days notice. State law also frees landlords from local rent stabilization regimes when new tenants take occupancy.
The tenants' coalition argues that Mountain View should implement a combination of rent stabilization and just cause eviction policies to eliminate the incentive state law gives landlords to re-establish market-rate rents through eviction. They have also called for relocation benefits that temporarily cover the differential between old and new rental rates for tenants displaced by rent increases and searching for replacement housing.
The city council is exploring maintaining a list on the city's website of landlords who voluntarily adopt specific fair rental practices, such as limiting rent increases to one reasonable increase a year and providing 90-day notice of rent hikes.
Vice Mayor Patricia Showalter pointed out that this low-cost program could be implemented quickly. "People are hurting now," she said, "and we need to do something now."
Councilmember Leonard Siegel expressed skepticism. "There's a voluntary program in place already," he said, "Good landlords aren't raising rent. Good landlords aren't evicting people."
The Mountain View Tenants Coalition argued that the housing crisis warrants stronger intervention and urged city council to enact a rent moratorium while developing longer-term solutions.
"The way we see this is there's a bleeding," said María Marroquín, a coalition leader. "The thing that you need to do immediately is to stop the bleeding."
Several landlords criticized rent stabilization at the Oct. 6 meeting, calling the policy ineffective. They pointed to San Francisco, where rental costs top the nation despite rent stabilization.
One resident blamed rampant office space development in Mountain View for attracting more people to the area and increasing competition for housing. A once homeless resident, Jim Neal, urged the city council to stop approving office construction.
Changing community demographics emerged as a theme among speakers demanding rent relief. Paula Zenti, a Mountain View homeowner, voiced concern about decreasing diversity. "I would like to live with my coworkers who are nurses, social workers, techs, cleaning people," Zenti said.
Graham Middle School Principal Kim Thompson reported that Graham and Crittenden Middle School lost a combined 20 teachers last year, mostly due to rent increases. Thompson also reported that teachers and school staff share apartments to afford rent in Mountain View.
Children also struggle with the threat of displacement, according to Suzanne Strohmaier, a renter whose son attends Mariano Castro Elementary School. "They don't want to leave their friends and their school," Strohmaier said.