AcelRx Pharmaceuticals, Inc., a specialty pharmaceutical company focused on the development and commercialization of innovative therapies for the treatment of pain, suffered an almost 40 percent drop in stock price, due to an unanticipated FDA request made right before the company announced its fourth quarter earnings on Monday.
The Redwood City-based company reported a net loss for the fourth quarter of 2014 of $13.8 million, or a loss per diluted share of 32 cents, compared to $17.8 million profit, or 39 cents per share, for the fourth quarter of 2013.
The Street expected a loss of 30 cents a share on revenue of $590,000.
The company reported $226,000 in revenue for the 2014 fourth quarter — a 99 percent drop — from the almost $28 million in revenue reported in the fourth quarter the year before.
This was due, in part, to a $30 million upfront cash payment owed to a partnership with Grunenthal GmbH. Grunenthal is a European pharmaceutical company that entered into a collaboration with AcelRx to commercialize Zalviso in Europe.
For the full year ended Dec. 31, 2014, AcelRx reported a net loss of $33.4 million, or 91 cents per share. This compares to a net loss of $23.4 million, or 59 cents per share for 2013.
On average, analysts predict that AcelRx Pharmaceuticals will report a loss of 95 cents per share for the current fiscal year.
Increased expenses in the recent quarter were also attributed to potential commercialization of the company's key Zalviso product.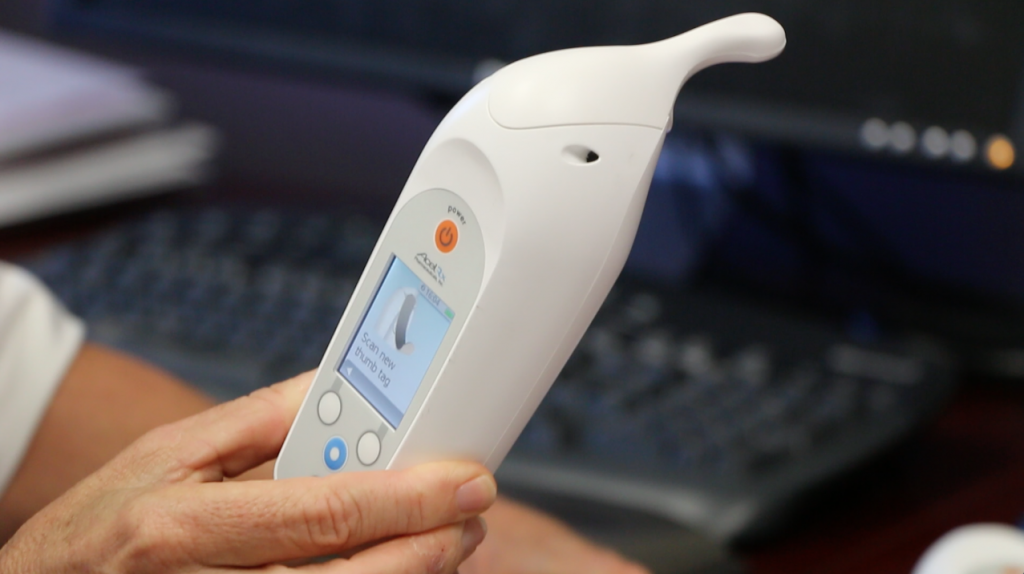 Zalviso is a patient-activated, handheld device which allows a hospital patient to self-administer pain medication, bypassing the invasive procedure of having to using an IV.
The product — which had already successfully undergone three phases of clinical trials — was rejected by the FDA in July. In a Complete Response Letter, the FDA asked for the completion of more bench testing and a human factor study.
After fulfilling these requests over the past six months, the company hoped to resubmit Zalviso for approval later this March. But last Friday — before the Monday earnings announcement — the FDA made an additional request for yet another clinical trial to assess the device's dispensing risks, pushing back the resubmission date.
On the earnings call with analysts, AcelRx Chief Executive Richard King said the company will not resubmit the Zalviso New Drug Application (NDA) this quarter.
King said last week's correspondence from the FDA was "unexpected." He said the company had been "diligently working with the [FDA] and conducting their requested studies to resubmit the NDA and preparation for that resubmission was on schedule."
Founder and Chief Marketing Officer Dr. Pamela Palmer said she remains confident that the Zalviso product will trump the trials and eventually get FDA approval.
The company's latest testing to date has shown a low rate of dispensing errors, Palmer said, and the completed human factors study has demonstrated proper use of product by both patients and healthcare professionals.
Palmer said, "We are optimistic that discussions with the FDA will lead to a path forward for this much-needed patient-controlled analgesia system."
Guggenheim Securities Senior Analyst Louise Chen also said he was optimistic, noting that Zalviso may have longer-than-expected brand exclusivity. Because it's so difficult for a drug-and-device combination, such as Zalviso, to get FDA approval in the first place, it will be hard to make it a generic in the future, and thus lose value.
"We are exceptionally difficult as a product because we're a drug-device combination," Palmer added. "We have all the hurdles with the drug, we have all the hurdles with the device."
"Despite the delay in Zalvio's NDA resubmission given the FDA's request for an additional clinical trial to assess the risk of dispensing issues, our investment thesis remains intact," Chen said. "We continue to believe Zalviso and the rest of ACRX's pipeline have the potential to drive billions of dollars in sales while the Street only expects several hundred million dollars of peak sales for these assets."
Analysts at Mizuho downgraded shares to a "neutral" rating and lowered their price target for the stock by 60 percent from $14 to $5.59 in a research note Monday.
At the close of trading on Monday on the NASDAQ Stock Exchange, shares of AcelRx closed at $5.51, down almost 39 percent from the previous day close of $9.01. That was a 59 percent drop from the 52-week high of $13.40. The stock has continued to fall since, closing on Thursday at $4.15.