Wanda Wolfe sits in a chair wearing her self-deemed "Thanksgiving sweatshirt," with a pumpkin and a cornucopia gracing its green background. She talks of her nieces and nephews, sisters and brothers-in-law. She becomes more comfortable talking to a reporter as she embraces the familiar setting: the Morgan Autism Center, her second home for the past 42 years.
Wolfe has found a community at the Morgan Autism Center, one of the premier facilities in the South Bay for treating adults with autism. She most enjoys having lunch with her friends in the adult program. She also loves attending their birthday parties and beamed at the thought of her own upcoming 49th birthday on a recent Saturday. She shows off her paintings and pencil drawings with pride.
The Morgan Autism Center, beginning in 1969 in a Palo Alto church, has gradually grown in both enrollment and community involvement. It has grown from four to 112 students today, which includes the additional adult program that was incorporated in 1985.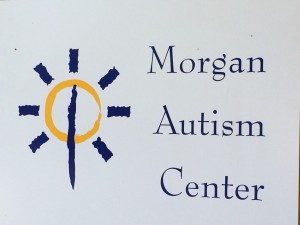 The school's future trajectory, despite increased demand, is uncertain. Since the Morgan Center began, the school has been unable to obtain a permanent location — it has had five different homes. Additionally, the adult program can't fund all the services the center hopes to provide, such as vocational experience because of a shortage of state funds.
The center's challenges come as autism spectrum disorder diagnoses are skyrocketing. Thirty years ago, autism affected one in 2,500 births. Today, one in 68 children are diagnosed. Many of these children affected by the increased prevalence of autism are transitioning to adulthood, creating a societal need for a program such as the one Morgan provides.
At the age of 22 — when the official transition from child to adulthood is recognized — the funding source switches from school districts to regional centers — non-profit, state-funded corporations that serve people with developmental disabilities — which allocate state funds to students with developmental disabilities.
While the autism rate is higher in the Bay Area than in other areas of the state, funding is spread out evenly based on statewide median rates, experts said.
The adult program ends up receiving only about one-quarter of the funds the school program receives. This has forced the Morgan Center to reduce its staff-client ratio.
The Morgan Center's school program prides itself upon its 1:1 student-to-staff ratio for higher-need individuals. But the adult program is struggling to maintain a 3:1 ratio. All of the 45 adults who attend the day center are crammed into one crowded room.
Some who can't manage the transition from a one-on-one aide to the 3:1 ratio are forced to leave.
"It's really heartbreaking to serve a child in our school program … and tell parents they are no longer a fit for our adult program," Executive Director Brad Boardman said.
Boardman, executive director since 2013 but involved with the center since 1995, spoke passionately about the challenges the school is currently facing, with finding funding and obtaining a permanent location being at the top of the list.
"Many of our parents of our school-age kids are just really anxious for what will happen to their children once they graduate from the school program," Boardman added.
Jill Escher, president of the Autism Society's SF Bay Area Chapter, said it goes beyond anxiety. "The autism community on the whole is in an absolute state of panic. Parents are panicking and confused and don't know what to do to make sure their kids have a viable, protective space and enriching future ahead of them."
Escher — whose son attends the center — says the community isn't doing enough for autistic individuals transitioning to adulthood.
"A program like [the Morgan Center's] is nothing short of a life-saver for autism families," Escher said. The center's exclusive focus on autism is welcomed by the families, as is the community it cultivates for them. Low staff turnover and professional, high-quality training are other components that set Morgan apart, according to Escher.
The center hopes to double their current adult enrollment and find a way to reduce the teacher-client ratio for adults in the next two years. To that end, they are soliciting more funding from the regional centers and expanding fundraising.
The search for a new location has particularly been frustrating. While public schools have often provided the space and outdoor setting for the program to perform optimally, they often have to reclaim the property temporarily rented to the center to accommodate their own rising enrollment.
While the best-case scenario is to find a location that can accommodate both the school and adult programs, the school is open to other arrangements that will serve the greatest number of students.
These looming obstacles, however, do not deter the Morgan Center from providing its students with an infectious optimism.
Another student, Julian Devon, 28, was so excited that Thanksgiving was over so he could focus all his excitement on Christmas. His energy continued to radiate the room as he discovered his birthday was the same as my half-birthday.
"I just like to enjoy myself as much as I can," he glowed, talking about his days of playing soccer and spending time with family and friends.
Asked what he likes to do when he's not at the autism center, Devon replied: "All I do … is be helpful to anyone I can."
In spite of the challenges the Morgan Autism Center faces, they place a high priority on reaching out to the community in an attempt to create the most welcoming atmosphere for their students and expose others to autism. Community outreach ranges from quarterly training sessions of employees such as law enforcement and transit workers, to a yearly lecture series for members of the community covering an array of topics, such as, but not exclusively, the science behind autism, speech therapy and diet.
This outreach is part of a "two-way street," as Boardman puts it. Community outreach helps adult clients be engaged in the community and lead positive and productive lives, he noted. It also helps teach the community how to interact with individuals on the autism spectrum.
"We are a small school with a large impact on the community," Boardman said with a smile on his face and an eye towards the future.