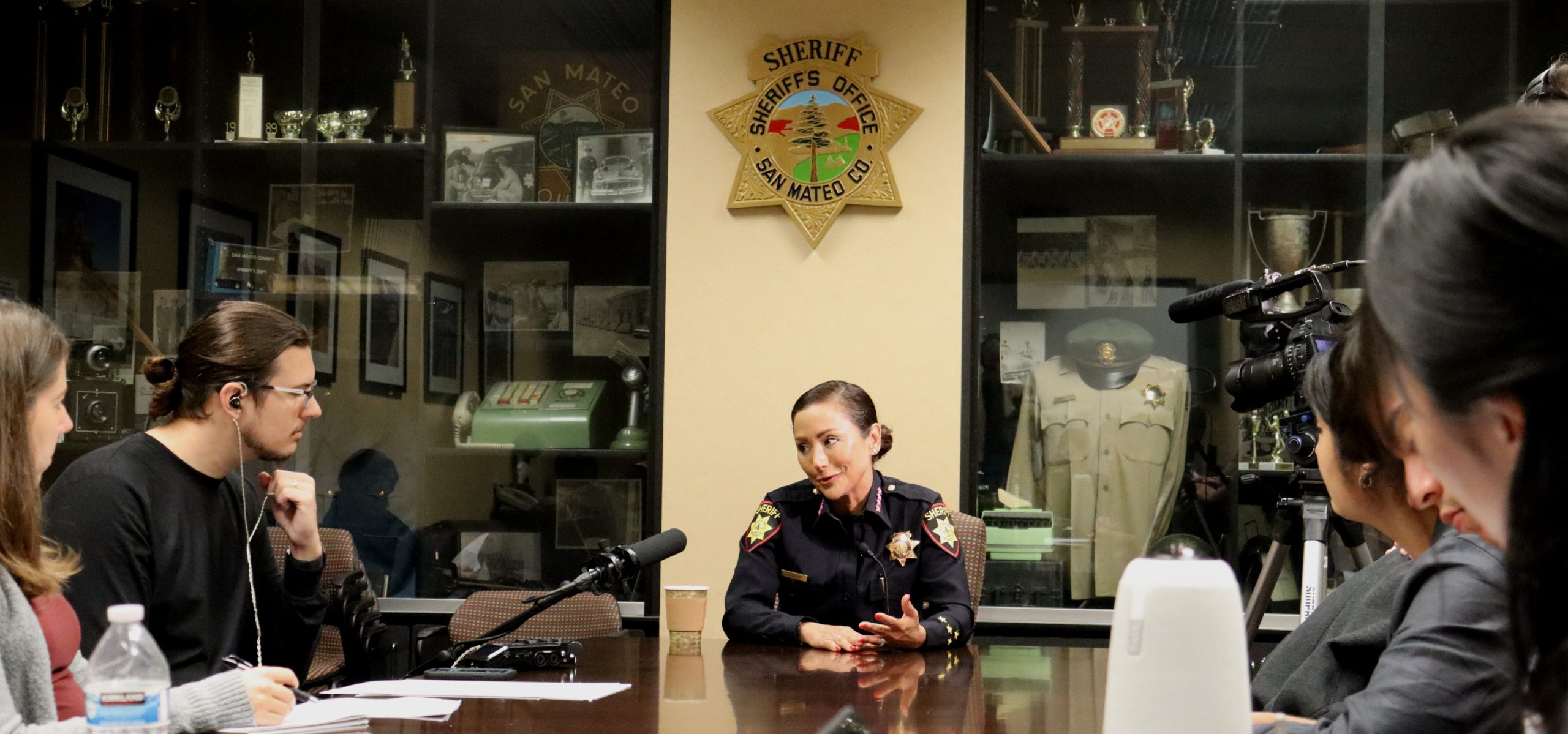 REDWOOD CITY — San Mateo County Sheriff Christina Corpus said California's lowering of penalties for non-violent property crimes has contributed to a state of "lawlessness" and urged California legislators to reconsider the law.
"Let's put some stricter reforms because it's obviously not working, it's worked against us," Corpus said.
"The state of lawlessness that's going on…The lawmakers really need to go back and look at, did it work?" she added.
Corpus said that although Proposition 47 passed with good intentions, legislators should reevaluate the effect it's had on crime in the state. The 2014 proposition reduced certain non-violent property crimes worth less than $950, such as commercial burglary, to misdemeanors from felonies.
San Mateo County had one of the highest shoplifting rates in the state at 347 reported incidents per 100,000 residents last year — a 53% increase from 2019, according to the Public Policy Institute of California. Organized retail crime has reached its highest level in the state since 2008.
Corpus said she doesn't want San Mateo County retailers to face the same fate as those in San Francisco.
"I just remember being a kid and my mom would take us down to Union Square, and I'd see all the stores…and it was so nice to be out there," Corpus said. "Now everything is locked up and you can't go into the city."
In September, the sheriff's office received $15 million to fight organized retail crime — among the largest grants for any county in the state. The funding will be used to invest in technology and personnel, she said.
Corpus, 52, took office in January, becoming the first female and Latina Sheriff in San Mateo County history. The daughter of immigrants from Nicaragua and Mexico and raised by a single mom, Corpus rose through the ranks from Correctional Officer to Chief of Police, to Sheriff.
In a wide-ranging interview with the Peninsula Press at the sheriff's office in Redwood City on Oct. 26, Corpus also called hiring and retention of staff one of her top challenges, described interventions to tackle officer burnout and acknowledged that amid nationwide mass shootings, she worries for her daughter when she drops her off at school.
Retention and burnout persist
The biggest challenge facing law enforcement – both in San Mateo County and across the country – is deputy retention, she said. Corpus aimed to fill 100 positions when she took office, and after 10 months 96 slots remain vacant, despite months of recruiting efforts including visits to military bases and high schools. Ten women who attended a recent boot camp out of 50 participants are in background checks, part of Corpus's effort to diversify the force.
Asked if the short staffing could lead to longer wait times for 911 calls, Corpus said: "Yeah, it could, absolutely. So, we haven't reached that point yet…but if we keep losing people, and we're not able to bring people in, then it will impact our communities and the way that we're able to safeguard the residents of this county."
Still, Corpus said attrition and officer burnout have been pervasive issues for the department, exacerbated by staffing shortages.
"I found myself on Christmas Eve, not being with my family, but working inside of the jail," Corpus said, adding that she "can't ask the people that work in this organization to do things that I wouldn't do myself."
To address burnout, Corpus said that she is prioritizing staff mental health, implementing wellness programs, community events and providing massage therapists to her staff.
Readying for potential shooters
The county is partnering with schools, superintendents, and the County Office of Education to keep students safe, an issue that is personal to Corpus as a mother of a high school student.
"When I drop her off, I still worry, too. I worry: Is something going to happen to her today," she acknowledged.
She added that her department is working to protect schools and to cope with "swatting" incidents, or bogus threats. Each swatting incident concludes with a briefing to assess how they can be more efficient in the future.
"Regardless of whether it happens or not, if it's just a bogus call, it's still traumatic to somebody," Corpus said.
Jail deaths prompt review
Corpus said the county is re-evaluating its safety protocols in local jails after two inmates died while in custody at the Maguire Correctional Facility in Redwood City.
On Oct. 20, a 64-year-old man was found unresponsive in his cell and was later pronounced dead. The next day, a 34-year-old inmate housed alone in the jail's Behavioral Health Unit also died in his cell. Preliminary investigations by the sheriff's office concluded that the first man likely died of natural causes and the second man likely died from suicide, but final determinations will be made by the Coroner's Office.
Following the deaths, Corpus stressed no officers were put on administrative leave and she suspected no wrongdoing, but they are considering how to improve responses to future crises.
"We are reevaluating and looking at how do we try and not miss those gaps or what do we do, is there anything that we could have done better?" she said.
Calls for more funding
In a September statement made in response to reports of increased retail theft, San Mateo County Supervisor David Canepa called for an increase in funding for law enforcement.
"Increases always help when we want to do more things or when we are trying to tackle a specific issue," Corpus said. "I feel that the County, the CEO has been really supportive of the sheriff's office."
Corpus said with more resources she could dedicate specific liaisons for houses of worship and schools, if given an increase in funding. She also suggested that more spending on officer mental health could lead to higher retention rates and decreased stress.
San Mateo County penciled in about $558 million for spending on criminal justice for the 2023-2024 fiscal year – around 15% of the county's total budget. The sheriff's office accounts for about half of that allocation. The office will add nine positions from the prior fiscal year, according to a September budget revision.
Community-centered law enforcement
As the first female sheriff in San Mateo County, and the second Latina sheriff elected in California, Corpus has prioritized changing the culture in law enforcement, focusing on the roots of the issues that entangle people with the criminal justice system.
"I'm the first one to say we need to change in law enforcement," she said. "But it doesn't happen overnight."
Corpus emphasized the role of police as "guardians" of the community, whose motto is "service above self" as they work to rebuild trust with the people they serve.
Corpus never thought she was going to run for office though. She had all the odds against her as she was running against incumbent Sheriff Carlos Bolanos who had a "war chest of money and had all the elected officials in San Mateo County backing him," Corpus said.
"It was a year and a half of hell," she said of the campaign.
Corpus recalled an experience as a school resource officer where she met many immigrant families living in North Fair Oaks. She formed a group of moms called Grupo de Mamas that met on a weekly basis over coffee. One day, she received a call from one of the mothers.
"She says, 'Christina, my son doesn't want to go to school. Can you come over and get him out of bed to go to school?'"
When she pulled up with her car, she saw streamers, balloons, presents, cake and food. "They got together, and they had a surprise baby shower," Corpus said. "For me, that was my 'aha' moment that they accepted me, and I was a part of them.
"Every time when I think about how I can engage the community, I go back to that memory and how that made me feel," she added.
Reported by Mira Cheng, Ron Rocky Coloma, Sarina Deb, Erin Edwards, Tilly Griffiths, Ronny Hu, Rowan Ings, Kaylee Kang, Eve Lu, Xavier Martinez, Abigail Neely, Hannah Poukish, Guilherme Guerreiro, Sarah Raza, Jordan Rynning, and Laura van Megen.