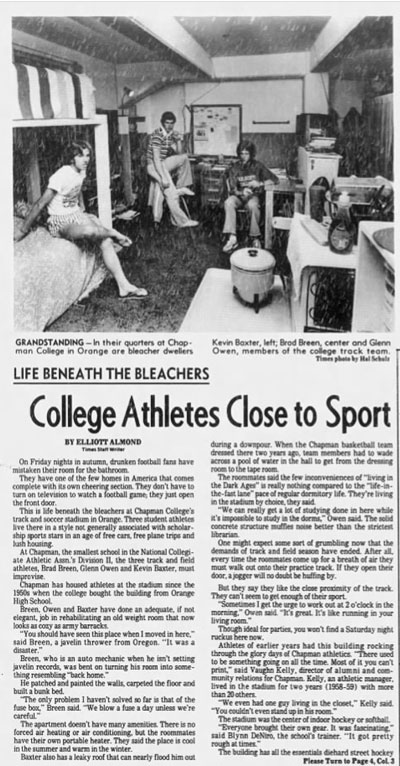 As the final few fans saunter from the Chapman College football stadium in the southern California city of Orange, the once bustling sporting arena begins to fall silent.
Except…
There, under the stands!
Can you see it?
The lights are still on!
Venture further beneath the bleachers and you'll find three Chapman track and field athletes who have made cozy college dormitories of the old stadium's vacant storage rooms.
Among them is a young cross-country star from La Puente, Calif., named Kevin Baxter.
That was 1979.
More than four decades later, Baxter – now 63 years old and a seasoned Los Angeles Times journalist –remembers the story well.
A baseball fan and cross-country runner in high school, Baxter realized early on that as a sportswriter, he could remain in sports long after his last race.
After joining the San Gabriel Valley Tribune at 17, Baxter wrote for the Orange County Register while at California State University, Fullerton, where he was competing without a college team.
One day, the track coach of nearby Chapman College called the Register, reporting his team's cross-country results.
Baxter picked up.
"During the call, I kind of laughed," Baxter said. "I go, 'Coach, I could beat everybody on your team!'"
The coach's next questions: "Who are you? What's your name?"
"I guess he [the coach] went and researched me," Baxter said. Upon calling back the following week with more results, Chapman's coach offered Baxter a track scholarship over the phone.
Baxter accepted.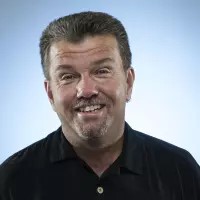 To make scholarship money go further, Chapman permitted some of its athletes to decorate and inhabit unused rooms beneath its old stadium (which has since been rebuilt), negating the need for pricier dormitory accommodation.
When that story reached the media, the young interviewer became an interviewee, and Baxter was featured in the L.A. Times.
No more cheering in the press box
At the Register, Baxter's career continued to flourish as he covered Los Angeles' Angels and Dodgers of Major League Baseball. However, off-putting and disheartening encounters with some of baseball's larger-than-life figures soon began to tarnish the young writer's love for the sport. By his early 20s, Baxter had called an early time-out at the sports desk.
A career shift, to copy editing and page design, may have seemed like a dream extinguished, but it soon paid dividends.
"Everyone wants to be a writer," Baxter said. "But very few people are really committed to being editors."
That change took him from Orange County to San Francisco to Spokane, Wash., before the L.A. Times came calling in 1988 and Baxter, now 29, returned to the City of Angels.
Not just a sportswriter
"I wound up working, at one point or another, as an editor in every section of the paper except sports," Baxter said.
As his reporting repertoire grew to include everything from the metro and foreign sections to book reviews and food, Baxter contributed to two Pulitzer Prizes-winning series with the Times' staff for his field reporting, editing and page design while covering the 1992 Los Angeles riots and the 1994 earthquake that struck Northridge.
In Los Angeles, while married to his first wife, a Nicaraguan woman, Baxter also became fluent in Spanish. With an expanded appreciation for Hispanic culture, the difficulties faced by immigrants, and the importance of Spanish language media, that newfound bilingualism also prompted Baxter's own venture into Spanish language reporting, including on television and radio.
After 11 years, Baxter left the Times to become arts editor at the Miami Herald in 1999, and a year later contributed to his third Pulitzer Prize, for breaking news coverage of the deportation battle and subsequent uproar surrounding Elian Gonzalez, a young Cuban immigrant.
Cuba, Baxter says, is the most memorable of the 30-plus countries to which he has travelled in his career so far, both for a tense first visit (before the nation's improved diplomatic relations with the United States) and for its unrivalled passion for baseball.
Back to the press box
Baxter's own love for baseball (and sports in general) never truly died out. Throughout much of his time away from the sports beat, freelance work for magazines including the Sporting News and Baseball America kept his sports writing flame alight.
In Florida, the home of the United States' largest Cuban American population, much of that freelance work centered on Cuban baseball players and defectors. The Herald's hierarchy soon took note and pitched a new role.
On its face, a switch from arts editor to national baseball writer at 42 years old might seem unusual. But for Baxter, a return to the sportswriting world from which he had departed decades prior felt just right.
This time, however, he saw that world through a much wider lens.
"I was basically a big fan with a press pass, which is not a good combination," Baxter said of his beginnings in sports journalism. "But through 20 years working in other sections and doing a lot of cultural reporting, I came back to sports with a whole different vibe."
To Baxter, sports – a realm influenced by countless societal factors including race, gender and immigration – now provided "a window around the world."
"It [sport] can shine a light on a lot of important things," he added.
Sports are also a renowned mechanism for bringing people together – but not always without a heated debate!
The case of the "stolen" front-page story
On Oct. 22, 2005, the Herald ran a story on regional support for Venezuelan-born Chicago White Sox manager Ozzie Guillen ahead of Chicago's MLB World Series against the Houston Astros. The idea for the story came from a local government reporter, Geraldine (Jerry) Berrios, who was influenced by Florida's substantial Venezuelan population.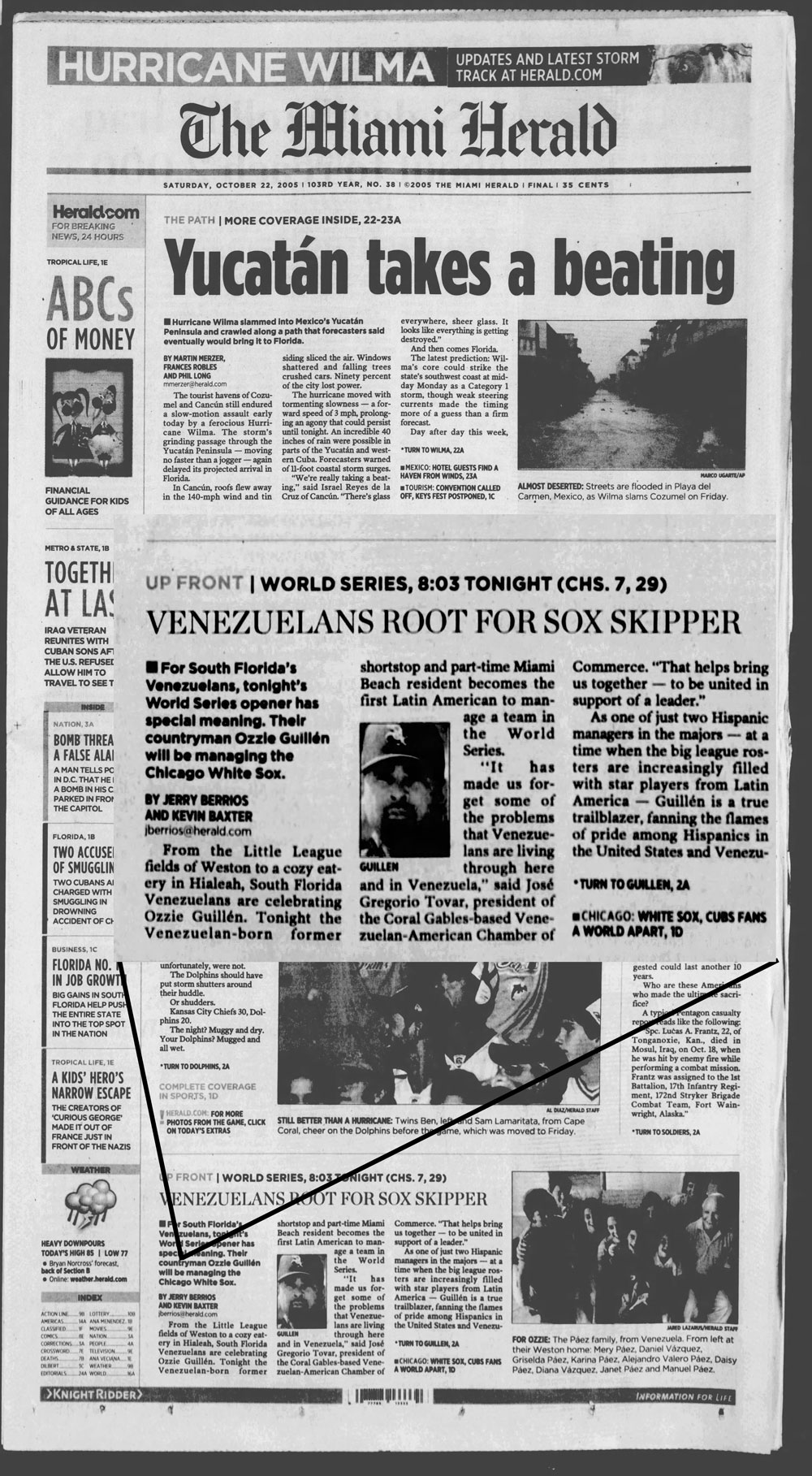 To enter the baseball world, Berrios enlisted the help of Baxter, the Herald's national baseball writer, who also wrote a separate story for the day's paper.
But when Berrios' article nabbed front-page real estate, Baxter shared with her that he believed his own story deserved that spotlight.
Retelling the story almost 20 years later, Berrios said, "I remember saying, 'Oh my god, what a jerk!'
… and then, I married him."
That's right.
Ahead of a trip to Berrios' homeland of Puerto Rico on assignment several months later, Baxter reached out to make amends. By 2007, he had returned to Los Angeles, with Berrios, who he married in 2011.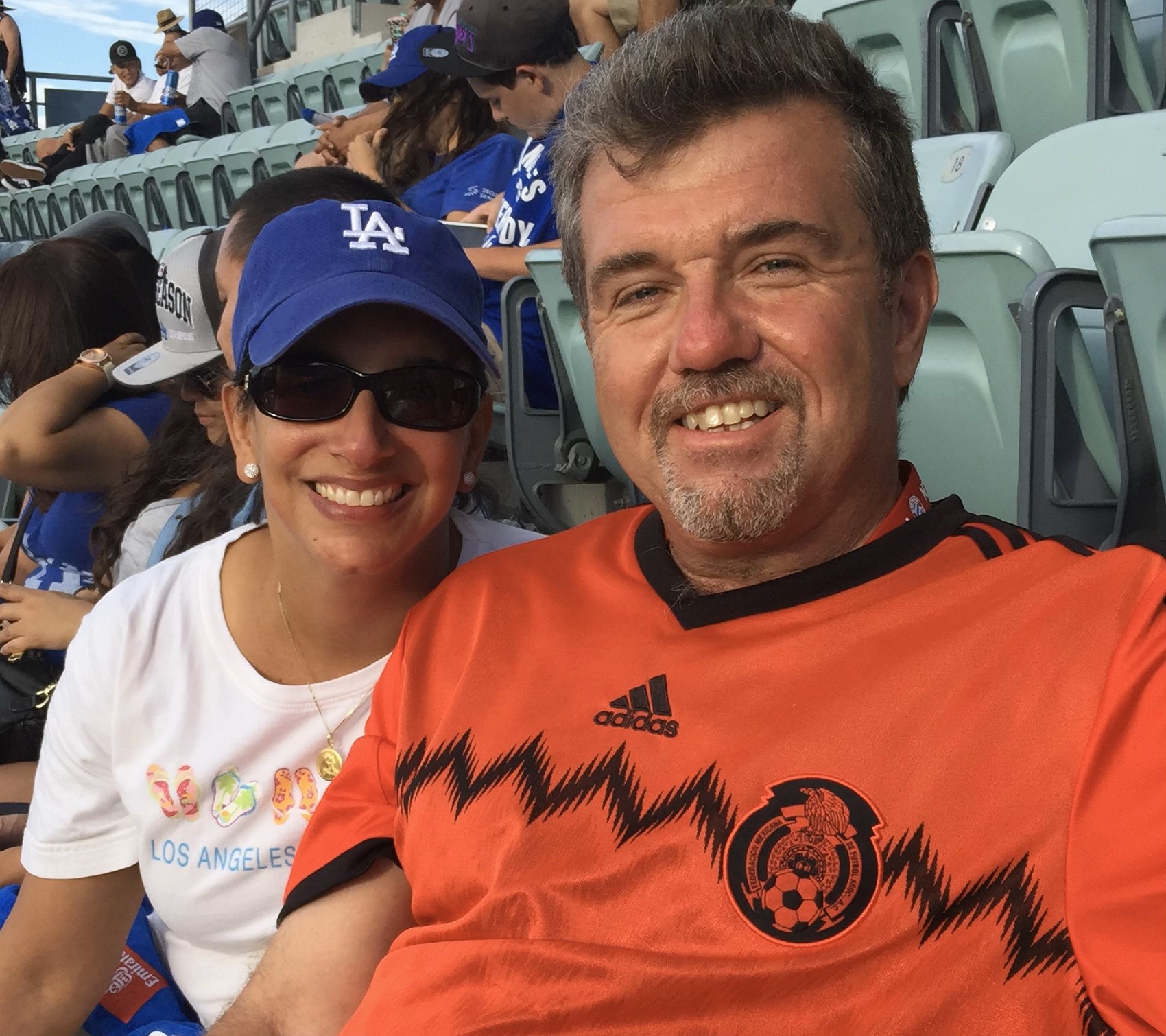 Never just a baseball writer
Back at the L.A. Times, Baxter soon made baseball his beat once more. But in 2010, his fluency in Spanish saw him assigned to cover Mexico at the FIFA World Cup in South Africa.
Ahead of that assignment, Baxter was apprehensive at best.
"I didn't know anything about soccer," Baxter said. "And I'm at the greatest soccer event in the world, right?"
Following the World Cup, he was then tasked with replacing the retiring Grahame Jones on the Times' soccer coverage.
Perhaps it was the thrill of Landon Donovan's injury-time winner against Algeria in 2010 (still Baxter's favorite soccer moment). Maybe it was his wife Jerry's growing interest in and knowledge of soccer (which, for a while, outmatched Baxter's own). Whatever the reason, Baxter would grow to love covering "the beautiful game" – in time, even more than baseball.
Now an avid fan of English side Manchester City, Baxter has covered each of the three men's World Cups since South Africa, and plans to stick around for the 2026 edition, some of which will take place in Los Angeles.
He has reported on the last two women's World Cups, too, and will head to New Zealand for the next one this summer, where he hopes to interview former prime minister Jacinda Ardern ("an inspirational figure" and currently Baxter's dream interview).
Since working the soccer beat, Baxter has added podcasting to his multimedia resumé as a regular voice on the "Corner of the Galaxy" podcast, where he brings expert analysis to the highs and lows of the L.A. Galaxy.
Baxter's versatility, highlighted as his biggest strength by long-time sportswriter confrère Larry Morgan, has also seen him cover nearly ever sport over the last four Olympic Games.
"He can cover everything and make it entertaining… not a lot of writers can do that," Morgan said. The two were colleagues at the San Gabriel Valley Tribune, and for a time Morgan edited Baxter's weekly soccer newsletter for the L.A. Times.
Baxter laments the loss of that newsletter, which he cherished for the reporting depth it allowed. Too often with shorter stories in today's journalism landscape, he says, there is "all this interesting stuff still in [his] notebook that nobody ever gets to see!"
Where will the light shine next?
Curiosity, Baxter says, is a crucial characteristic for journalists to possess.
"He's endlessly curious about the world around him," said Iliana Limón Romero, the LA Times' assistant managing sports editor. "He wants to take people on a journey that's different than anything they've seen before, to help draw insight to under-the-radar life experiences that perhaps they didn't know about."
By seeing beyond the obvious, searching for stories behind the games and their players, Baxter's diverse reporting and experience covering underrepresented communities enables him to do just that. In fact, Baxter's next stop is Uganda, where he is seeking out the riveting story of a promising baseball talent who has been sharing his skills on YouTube.
Whether it's from the streets and stadiums of sprawling Los Angeles or halfway across the world, stay tuned for that and more stories from the L.A. Times' writer of soccer and "other things."