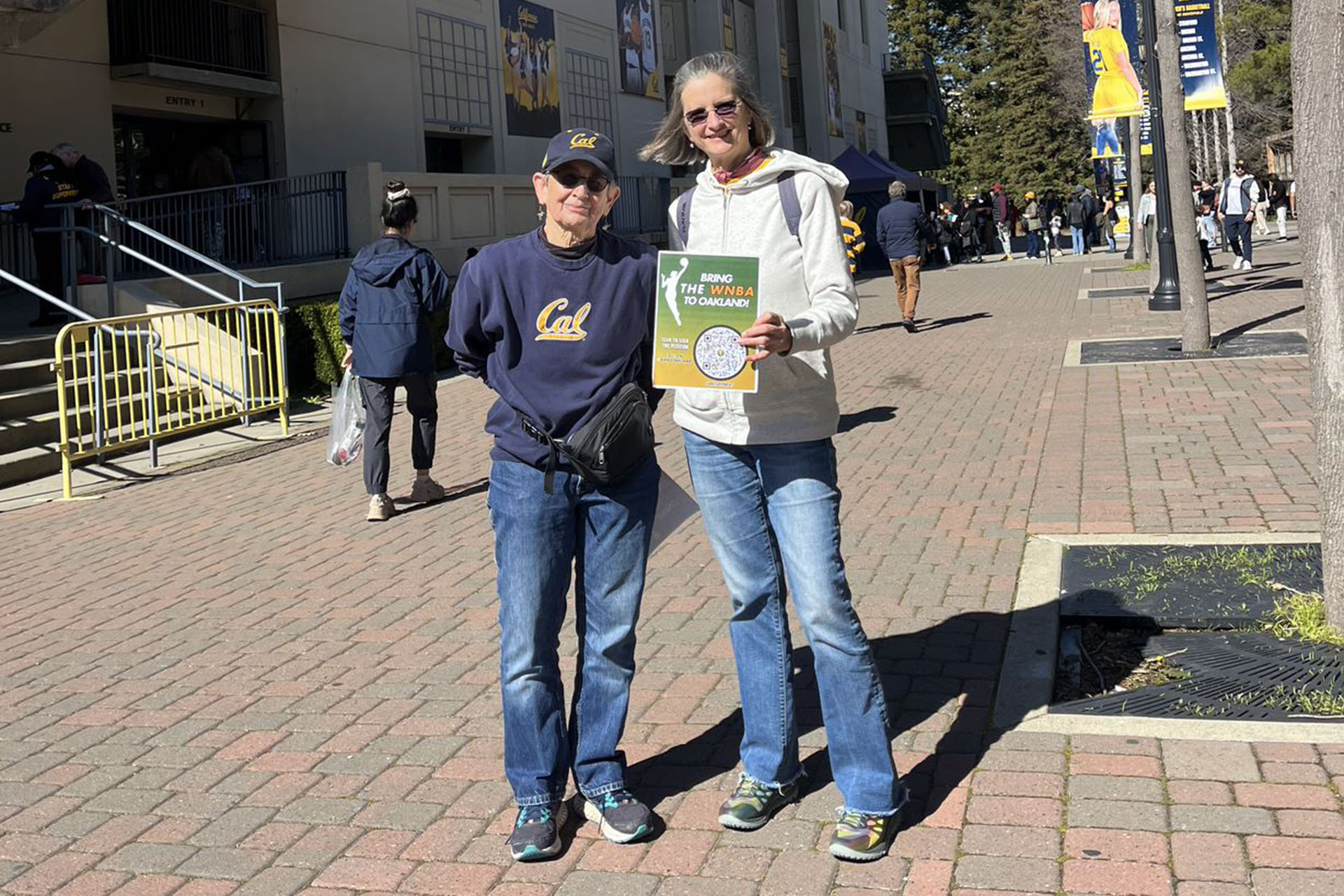 The sun shines on the path in front of Haas Pavilion. Between the ticket lines, small trees, and bike riders, stands a 79-year-old woman named Joanie Lohman, no more than five-foot-three. She's dressed in a blue Berkeley baseball hat, crewneck sweatshirt, and wears a fanny pack. She greets students and fans arriving to the stadium with a big smile, inviting them to sign her petition. She holds a small poster featuring the outline of a woman shooting a lay-up and a large QR code below the words, "Bring the WNBA to Oakland!"
The WNBA plans to expand the league as soon as 2025. The short list of potential cities includes Oakland, San Francisco, Philadelphia, Toronto, Nashville, and Portland. The African American Sports & Entertainment Group leads the Oakland pitch to buy a team to play in the Oakland Arena, the old home of the Warriors.
The Golden State Warriors have previously expressed interest in bringing a WNBA team to play at Chase Center San Francisco, but they have made no public statement on their efforts.
Lohman and Sara Brande, 29, are the leaders of the grassroots movement to bring a team to Oakland. They assembled a citizens group of nine core members that are supporting AASEG through WNBA Oakland's "We've got next." Brande and Lohman met last summer when Brande reached out after seeing Lohman's email on an AASEG Zoom call.
Despire their fifty-year age difference and their opposite-coast roots, Brande and Lohman are connected by their love of women's professional basketball. Their age difference nearly mirrors the legacy of American men's and women's basketball – the NBA is 76 years old, while the WNBA is 26 years old.
Brande, a Boston native, moved to California in 2021 with their girlfriend, an Oakland native. Brande grew up playing sports, but got into the WNBA during the COVID bubble season, inspired by the strong social justice stances that the players took related to Black Lives Matter, the killing of Breonna Taylor, and trangender rights. Brande was particularly inspired by Layshia Clarendon, a Cal alum and WNBA athlete who, like Brande, is transgender and non-binary.
Brande created the movement's website and social media accounts, @WNBAOakland, after a 2021 meeting during which AASEG announced that former player Alana Beard would lead AASEG's WNBA Oakland effort.
"I didn't know who would show up. I didn't know who I would be connected with. But I just figured if you build it, they will come," Brande said.
Lohman, who has lived in Oakland for 27 years, has seen multiple iterations of professional women's sports in the Bay Area. She watched the San Francisco Pioneers of the early Women's Professional Basketball League in the late 1970s. She went in 1996 to the opening night of the San Jose Lasers of the American Basketball League. She watched the Sacramento Monarchs of the WNBA win a championship in 2005 before the franchise folded in 2009. She has long been hoping for a WNBA team based in San Francisco or Oakland, and she sees her passion reflected in the Oakland community.
"People get so excited. Oakland! WNBA! It was kind of a big 'YES'!" Lohman said.
On February 2, AASEG announced exclusive negotiations with the city of Oakland to redevelop the Oakland Arena site. The land deal is Oakland's largest ever purchase by an African American organization.
"For me, it was really exciting and really validating to know that the work that we're doing is being seen and is being taken seriously, not just by other Oaklanders, but by the city council and by people with investment capital," Brande said, "There are people that believe that this vision is possible and is feasible and is good for Oakland."
Brande and Lohman's main focus is getting 20,000 petition signatures, the number of seats in the Oakland Arena. They currently have several thousand signatures.
Brande said, "Once we hit that 20,000 petition signatures, that's gonna be huge. That's something we can take to Cathy and to the WNBA and say 'Look, we have 20,000 people in Oakland that want this to happen. We're just waiting on you to say yes,'" Brande said.
Tara VanDerveer, the Stanford women's basketball head coach and all-time winningest Division I women's coach, expressed excitement about a potential team in Oakland, citing the great facilities and fanbase, as well as the need for expansion in the WNBA.
"I think it would be great to have a WNBA team in Oakland. The Bay Area is very supportive of women's basketball with our team at Stanford… I think a lot of fans would come out and watch," VanDerveer said.
Brande and Lohman also mentioned the potential for homegrown players like WNBA stars Chelsea Gray and Sabrina Ionescu to return to their roots on a Bay Area WNBA team.
To Alexis Gray-Lawson, the athletic director at Oakland Tech, the movement is particularly inspiring to her young Oakland Tech students, especially her students of color.
"The possibility of any one of our kids here at Oakland Tech or any of the other schools being able to play in the WNBA at home," Gray-Lawson said, "I mean, it's a gamechanger,"
Gray-Lawson played at Oakland Tech and UC Berkeley before moving across the country after being drafted to the WNBA. "There is nothing like playing at home and having your community and your family there to support that. That's the dream," Gray-Lawson said.
The WNBA planned to choose two expansion sites by the end of 2022. Cathy Engelbert, the WNBA Commissioner, announced three weeks ago that expansion teams are still two to four years away.
This announcement disappointed Brande and Lohman, but, from a marketing perspective, it gives them more opportunities to make authentic connections and spread the word throughout their community.
"I felt some frustration," Lohman said, "At the same time, this whole journey is such a dream-come-true kind of thing for me that I'm just happy to be a part of it, however long it takes."
Brande and Lohman are looking forward to continuing their petition, attending women's high school basketball playoffs, watching March Madness, and organizing an April 8 three-on-three basketball tournament in Oakland.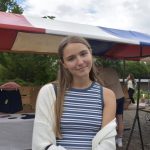 Josie Gross-Whitaker is a sophomore Communications major from Oakland, California. Her interest in journalism began when she learned that only 4% of sports coverage was dedicated to women's sports. She began taking journalism classes during her freshman year at Stanford. Sports journalism has combined her interests in Communications and sports by telling underreported stories in women's sports. In her free time, she likes to watch sports, hang out with friends or her dog, and explore the outdoors.