ATLANTA, GA — Ahead of the Georgia Senate election runoff, criminal justice organizations in Georgia have focused on making sure everyone eligible to vote does, including those formerly incarcerated who often mistakenly believe they can't.
"A lot of people have the notion that once you've got a felony record, you can no longer vote and that's no longer the case," said Robyn Hasan, executive director of Women on the Rise, an organization focused on empowering formerly incarcerated women. In Georgia, formerly incarcerated people can vote after completing their felony sentence, which includes parole, probation and paying certain criminal debts.
In writing, Georgia's law is more progressive than other Southern states. However, in practice, Georgia leads the country in number of people on probation with over 190,000 on felony probation — more than triple the national average per 100,000 adults. The state also has over 19,000 people on parole, as of last year.
Multiple polls predict Senator Raphael Warnock has a narrow lead — 51% — over his opponent, Herschel Walker. Last year, Warnock won his seat by just 2% with 93,550 votes in a runoff election. With such a tight margin, the formerly incarcerated vote could be critical in any result.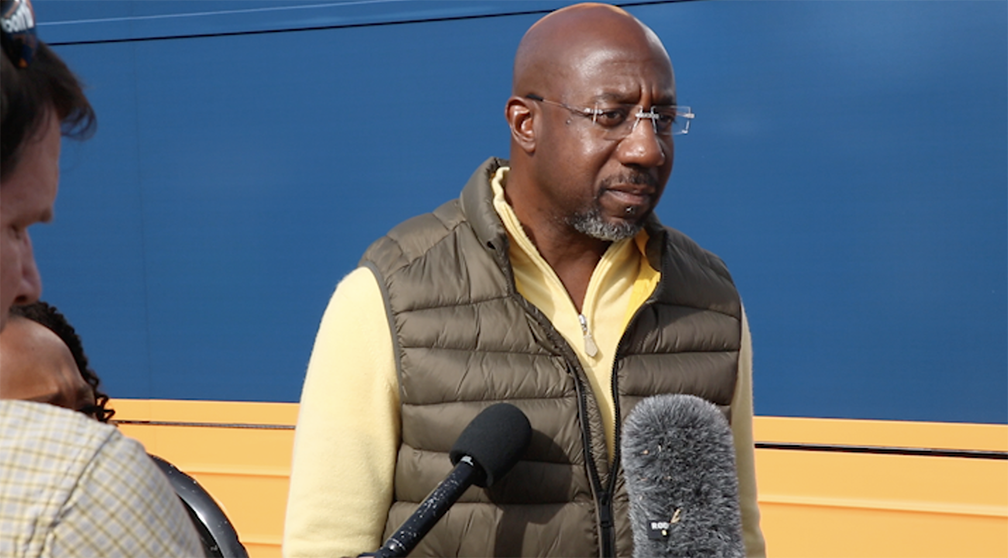 The Senate race is the most expensive election of the year with more than $380 million spent, according to OpenSecrets. With record early voting turnout, both candidates urged their voters to keep the momentum and turnout on election day, Dec. 6. Over 250,000 people cast votes for the Georgia Senate runoff election on Monday, Nov. 28, breaking the state's record for one-day early voting.
On Nov. 29, the voting line snaked around bookshelves inside the Northwest Library at Scotts Crossing, one of the 24 early voting polling places in Fulton County, Georgia. Outside, a few election officials dotted the sidewalk waving signs and staking balloons in patches of dried grass. Some voters strode into the library, only to turn around and leave immediately after seeing the line. One family noted that they would come back later in the week. Others opted to wait in the line and told their children to browse the library books in the meantime. Jason Esteves, a member of the Georgia State Senate, said that lines were two to three hours long in general at early voting sites.
State-by-state rules
Voting rights laws vary by state. A couple of states permanently disenfranchise all people with felony convictions, while others never revoke voting rights. Most states fall somewhere in between, revoking voting rights during incarceration and then restoring them based on different metrics – release from prison, completion of parole or probation, or the type of felony.
Georgia has taken steps which enfranchise more formerly incarcerated people.
Governor Brian Kemp passed a law in 2021 that allows Georgians who have served over three years of probation to terminate early based on good behavior. Upon signing, up to 25% of probationers — about 48,000 people — may qualify for early termination, according to the Georgia Justice Project.
Under the law, the Department of Community Supervision automatically checks the files of people who have served probation for three years and if they meet the behavior guidelines, processes the termination of their probation. People no longer need to file a petition themselves. Afterwards, the Department mails a certification of completion to the recipient's home address.
The certificate of completion began in 2018 and is designed to be automated and sent to people regardless of whether their sentence ended by early termination or another means. However, a spokesperson at the Department said there can be issues that interfere with distribution, namely address changes without the probation officer's knowledge.
It is unclear how many have had their probation terminated through this new law and have registered to vote as a result. Several advocates for felony enfranchisement worked to register these people, motivated by their own experience without voting rights.
Page Dukes regained her right to vote two years ago and now works as a communications associate for the Southern Center for Human Rights, a nonprofit law firm for criminal justice. After serving a ten-year prison sentence, Dukes was released on a five-year probation in 2017.
She first noticed the loss of her voting rights during the 2016 election. She was living in a transitional center in rural Georgia and completing a work release program. While most participants worked at a poultry plant or a window factory, she worked at a cafe and attended classes at Piedmont College. One third of her salary paid for room and board, and she returned to a prison cell to sleep every night.
"I would go to a college campus surrounded by kids who could vote for the first time but didn't really care, and I couldn't vote," she said. "I really wanted to, and I hated that I didn't have a voice in the election."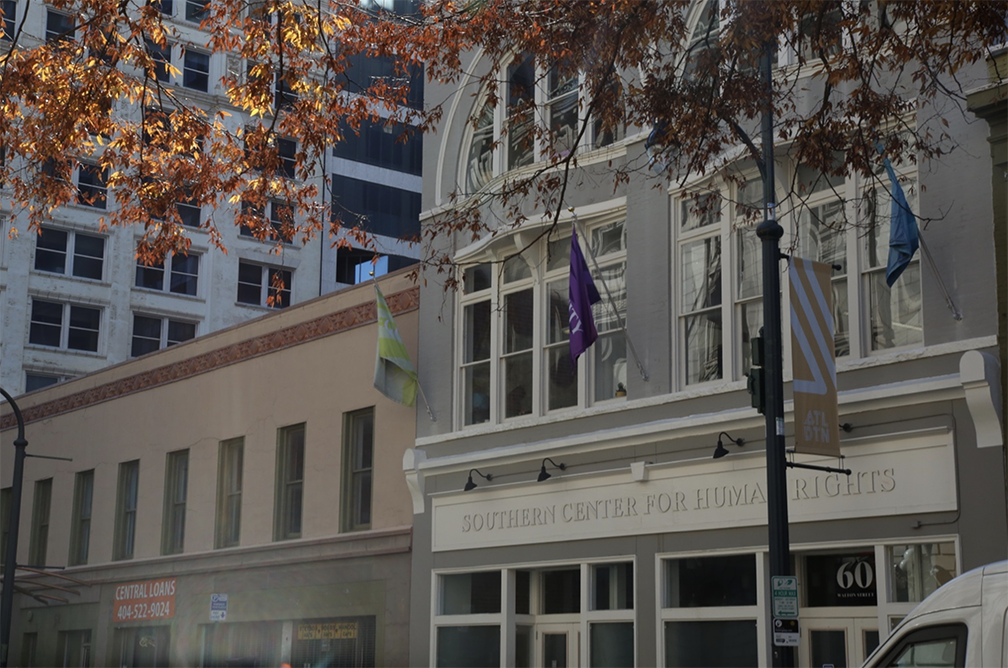 She felt the loss of her voting rights again in 2020, while watching Black Lives Matter protests ahead of the presidential election. Her probation was unsupervised, meaning she did not have to report to a probation officer or request permission to cross state lines. Dukes petitioned the court to terminate her probation after completing three of her five years.
"Terminating probation becomes a big deal," said Doug Ammar, executive director of Georgia Justice Project, an organization which supports those in the criminal justice system. Probation status affects many areas of life including jobs, housing, and voting.
Dukes, whose sentence ended before the new law, did not receive a certificate of sentence completion and faced difficulty registering to vote after her court case. Her online registration didn't work, so she had to visit the office in person to register.
Getting out the word
Although the probation law is a notable step towards felony enfranchisement, there are still people unaware of their right to vote. Organizers in Georgia are working to turnout the vote themselves by canvassing to combat misinformation which may stop people from registering.
Women on the Rise began canvassing in September before the election. The group went out not only in metro Atlanta, but also to rural areas in the state like Macon, Columbus, Valdosta, and Savannah to register and inform voters. They also put out billboards with five other organizations led by formerly incarcerated women of color.
Hasan also mentioned the Formerly Incarcerated, Convicted People and Families Movement Conference in Atlanta in early October. She said it was about 700 people who engaged in phone banking, text banking and registering voters.
She said that they also work to inform people about the law change in Georgia providing the opportunity to terminate probation. She said probation officers and parole officers were not informing people of their right to vote once completing their probation period. "We just feel like we had a lot of missing gaps that were going on with people not being informed and that's why we were pushing so much," she said.
Georgia has no limits on the length of felony probation, so terminating early can change lives. Ammar said his clients have had as much as 40 years of probation. Hasan, the voting rights activist, was released in 2020 with ten years of probation. She works to increase civic engagement amongst incarcerated women but cannot participate in elections herself. "I'm a homeowner. I pay taxes. I do all the things," she said. "But I can't vote."
"It's like it takes away your voice," she added. Dukes' petition was granted just before the 2020 voter registration deadline. She considers her success in court to be a product of her access to legal information and an amenable judge. Since she was working at a law firm, her colleagues supported her decision and gave her the confidence and information to file a motion.
"That takes a lot," she said. "Prison teaches people learned powerlessness and inferiority. It teaches us that we don't deserve citizenship, that we don't deserve the right to vote." Dukes appreciates the progress from the early termination law but wants to see the state enfranchise more people. She thinks about a friend with a lifetime sentence who may be disenfranchised permanently.
"I'm in no way morally superior or in any other way superior," she said. "I don't deserve the right to vote any more than she does."
Editor's note: Phoebe Quinton is a resident of Atlanta, Georgia. She reported this story while home over Thanksgiving.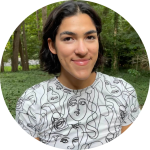 Phoebe Quinton is a journalist from Atlanta, passionate about telling underreported stories. Her interest in policy development and social issues has led her to cover small businesses, transgender athletes and immigrant communities. As an undergraduate at Stanford University, she majored in International Relations and improved her French and Arabic. Outside of the classroom, she was a desk editor at The Stanford Daily and worked in podcast production for the Stanford Storytelling Project. You can also find her work in The Peninsula Press, a California publication, and in 285 South, a local newsletter focused on immigrants in Atlanta.