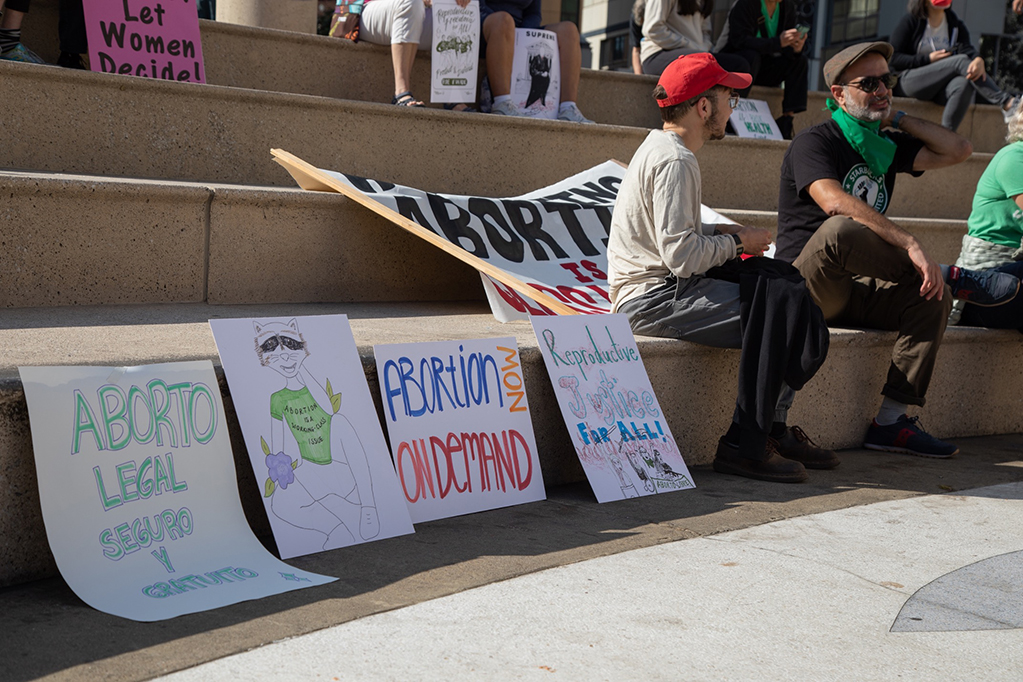 STANFORD – Californians voted to establish a constitutional right to abortion, marking the latest change in state policy following the U.S. Supreme Court's decision in June to overturn Roe v. Wade. The ballot measure, known as Proposition 1, passed by nearly a 2 to 1 margin, an anticipated result in the Democrat-controlled state known for its liberal policies.
The amendment establishes enduring protections against state-level efforts to limit access to abortion or contraception—although a federal ban, like the one proposed by U.S. Senator Lindsay Graham, would override state law.
In the immediate future, however, the implementation of Proposition 1 may prompt legal challenges within the state, with anti-abortion advocates potentially forcing California's courts to determine exactly how the amendment fits into the state's preexisting laws, legal experts said.
"Constitutional amendments are often written at a very high level, and then courts fill in the blanks about what that means," said Mary Ziegler, professor at UC Davis School of Law.
Much like federal courts have defined limits to freedom of speech regarding incitement, threats and obscenity, California's courts have the authority to define potential limits to this new constitutional right to an abortion.
One of the blanks that California's courts may have to fill in is around a fetal viability limit. California's abortion policy since 2002 has allowed pregnant people to access abortion up to fetal viability—typically around 24 weeks of pregnancy—or later only if a physician determined that the health or wellbeing of the pregnant person was in jeopardy. The new constitutional amendment includes no mention of a fetal viability limit.
This omission caused confusion and alarmed anti-abortion advocates, including Brian Johnston, executive director of the California ProLife Council, which opposed Proposition 1. People "do not want unlimited abortion," said Johnston, citing a survey by the conservative polling company Rasmussen Reports that found 13 percent of Californian voters believe abortion should be legal up until the moment of birth. National polling conducted by the nonpartisan analytics company Gallup found that more than half of Americans believe abortion should be legal in all or most circumstances.
If anti-abortion advocates do challenge the amendment over its lack of a fetal viability limit, Ziegler anticipates that California's courts will uphold broad access to abortion because of longstanding legal precedent and lawmakers' stated intent to preserve—rather than dramatically expand—access to abortion.
"California law is already very protective of abortion," said Ziegler. "There are almost no abortions that happen after viability anyway, and it's not really clear that the omission of the word viability is about a desire to see access to later abortions."
Assembly Speaker Anthony Reardon, who co-authored the constitutional amendment, addressed the measure's intent when the California State Assembly met in June to vote on the amendment.
"We must preserve the fundamental reproductive rights of women here in California, because they are under attack elsewhere," said Reardon during his Assembly floor remarks.
Since California has a history of extensive abortion rights, the constitutional amendment "is more of an insurance policy," says Ziegler. "In the unlikely event that the state were to undo protections through statute, Prop. 1 would be there as a backstop."
Jane Schacter, professor at Stanford Law School, agrees that the amendment's impact comes from protections against political shifts, rather than change in current abortion policy.
"We as a country have just seen how a change in the membership of the US Supreme Court led to a drastic change in access to abortion. This constitutional amendment protects against such a future change in the CA courts because it is now explicitly protected in the state constitution," Schacter said in an email. "I don't expect this to change the law and policy of abortion in the near term."
Nancy Northup, president and CEO of the Center for Reproductive Rights, says state constitutional amendments, like the one passed by California, are one of the most effective ways to protect the right to abortion following the Supreme Court's decision overturn Roe v. Wade.
"A silver lining is that the states that believe in and support a right to abortion are going to be strengthening everything," said Northup.
California is one of three states—including Vermont and Michigan—to affirm a constitutional right to abortion in the midterm elections.
None of these state constitutional amendments, however, would protect against a federal ban on abortions. Federal law would take precedence and preempt any state protections. But many legal experts believe a federal ban on abortion is unlikely, at least for the foreseeable future.
"The kind of backlash that [a federal ban] would produce would be almost categorically different than the backlash we're already seeing," said Ziegler.
In the absence of federal abortion policy reform, any changes to abortion access across the country will continue to come from the states. And even though, as Schacter said, California's new constitutional amendment likely will not significantly impact access to abortion within California, abortion-rights advocates say the amendment still sends an important message to the rest of the country.
For Stephanie Dominguez Walton, director of Strategic Projects and Partnerships at Planned Parenthood Mar Monte, the new constitutional amendment shows that people can rely on California for abortion, as she did when she had an abortion in the early 1980s shortly before her 18th birthday. "We really are, I think, a beacon of hope to anybody who's seeking reproductive justice for themselves and for members of their community," said Dominguez.
Quita Tinsley Peterson, interim director of ACCESS Reproductive Justice, a Bay Area abortion fund, also said the amendment sends a powerful message about access to abortion to people outside of California, including individuals living in any of the 13 states that have banned abortions.
"People don't always go to the clinic that's closest to them," said Peterson. "Sometimes people go to clinics in states where they know for sure that healthcare is a right, particularly when we're talking about abortion." Proposition 1's decisive passage lets people know with greater certainty that "they are legally and culturally protected" when seeking abortion in California, said Peterson—something they might not feel in states where policymakers or courts are actively considering abortion restrictions.
Peterson said that ACCESS has experienced dramatic changes in hotline calls as other states have introduced or enacted abortion restrictions.
"When [Arizona's] abortion ban went into effect, we instantly saw our call volume from people in Arizona go up. The moment their clinics reopened, we saw it go back down," said Peterson. "Folks can treat anti-abortion laws like there are theoretical, like bargaining chips for their political careers. But the reality is these laws have a real tangible impact on real people."
For now, voters have made California a state where abortion is legal throughout a pregnancy. Even if state courts define limits of the new constitutional amendment in the coming months, abortion-rights advocates and organizers say the right to abortion in California brings new comfort and purpose.
"For us it's really solidifying, for years to come, that access to abortion is a right here in California," Peterson said. "This gives us a little bit of peace of mind."