Nestled between a block of colorful homes and located directly above a Caltrain tunnel, sits the largest community farm in San Francisco. The Florence Fang Community Farm is a pocket of food and fresh produce in the midst of Bayview-Hunters Point's food desert. It's the second most-productive urban farm in the city.
The farm's verdant greens and abundance of plants are the fruitful labor of its workers and volunteers, a group of largely Asian American immigrants, many of whom have been nourishing the land since the farm first opened in 2014.
It started as an experiment. The co-founder, Ted Fang – son of San Francisco Examiner owner Florence Fang – wanted to bring Asian Americans together. Florence Fang, who has received local attention for her Flintstone House off 280 Interstate, has been active in helping the Asian American Community since arriving in the Bay Area in 1960 from Taiwan. It is work that her son has continued to pursue. In his research, Fang found that many Asians self-described as "environmental" and expressed a passion for the earth.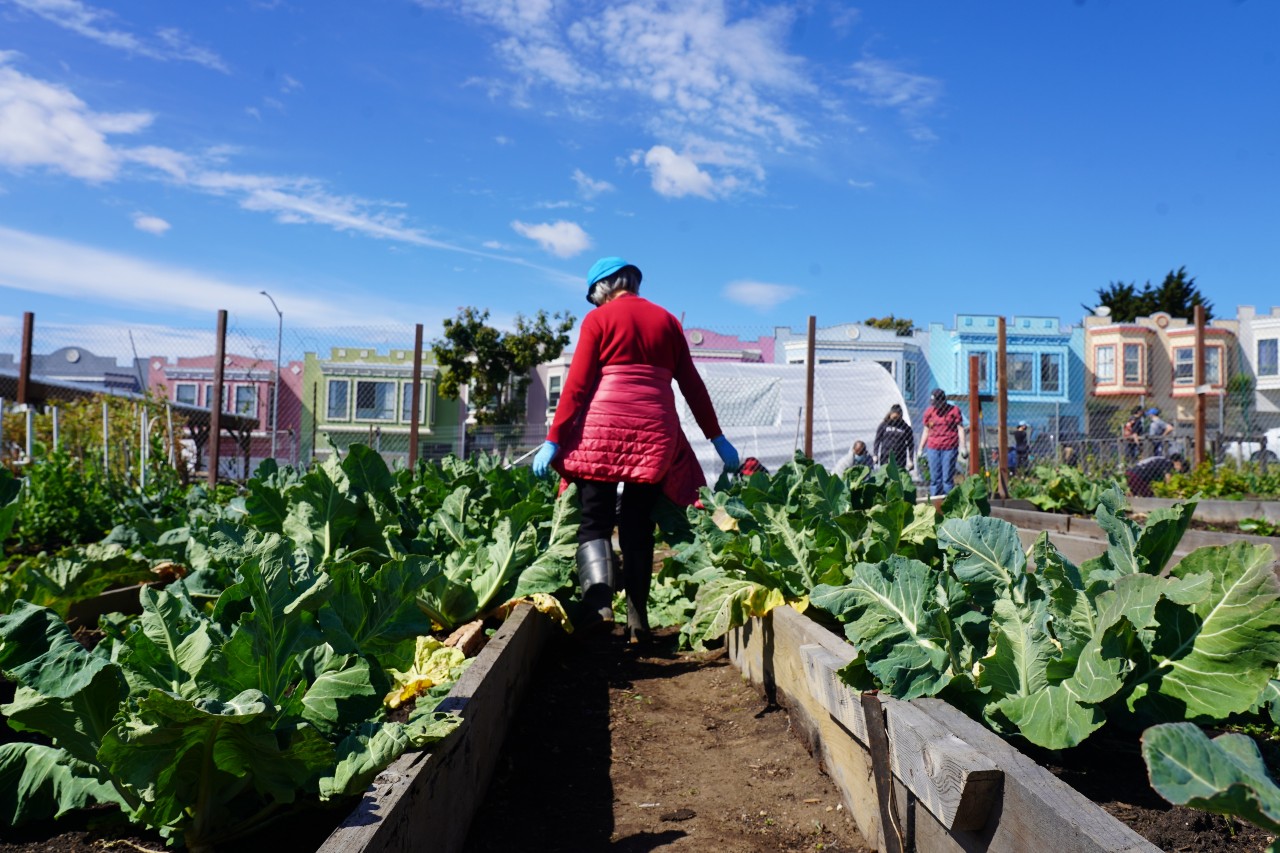 "So we said, let's do something like that. And sure enough, they turned up for the farm and it was all little ladies, an old Chinese lady and a woman who turned out to work on this, which was not what I was expecting," Fang said.
But as a community organizer, he said, this was exactly what he had hoped for. This was how he defined community.
Fang had been thinking about retiring, however, taking time off from his many projects. "I went on sabbatical for four or five years and all my other projects got passed on. But this one, it was not really happening, so we just left it in the corner there," Fang said. "And then when I came back, they were growing a lot of food."
The farm had expanded beyond Fang's original vision, the space now brimming with produce, the community much larger than the one he had originally targeted.
While Fang was gone, Faheem Carter, the farm's co-founder, stepped up. Carter had told Fang about his interest in growing plants and his desire to both teach kids, but also to inspire people to eat more of what they grow.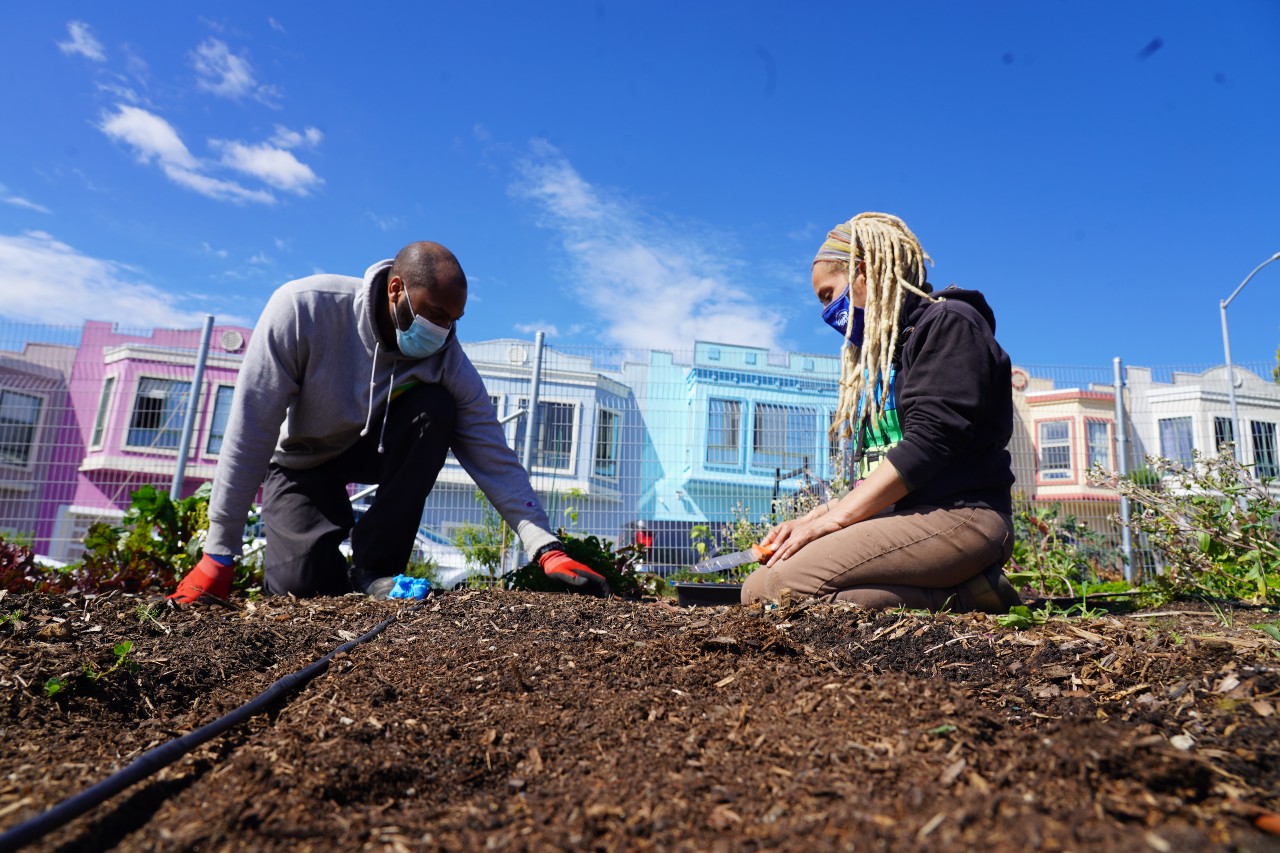 The volunteers began to pour in. Today, there are over 100 regularly participating families, aided by the work of over 100 additional volunteers.
For Carter, who grew up in San Francisco, he knew how desperately the community needed a space like this.
"This neighborhood has no organic stores, like a mom-and-pop shop," Carter said. "This community has more liquor stores than organic options for food, for fresh produce. So [the farm] is bringing in a lot of awareness about food, healthy eating, growing your own vegetables, even just coming outside just for a walk, exercise."
The farm has become a source of food for the surrounding Bayview-Hunters Point neighborhood. It is a neighborhood where the lack of access to healthy food is so severe, it has been classified as a food desert, and even dubbed in recent research as a food swamp.
Defined as having at least one third of the area's population living more than a half-mile from the closest supermarket, food deserts are rampant in the Bay Area. According to a recent analysis by ABC7 News, 17% of neighborhoods in the San Francisco metro area are classified as food deserts.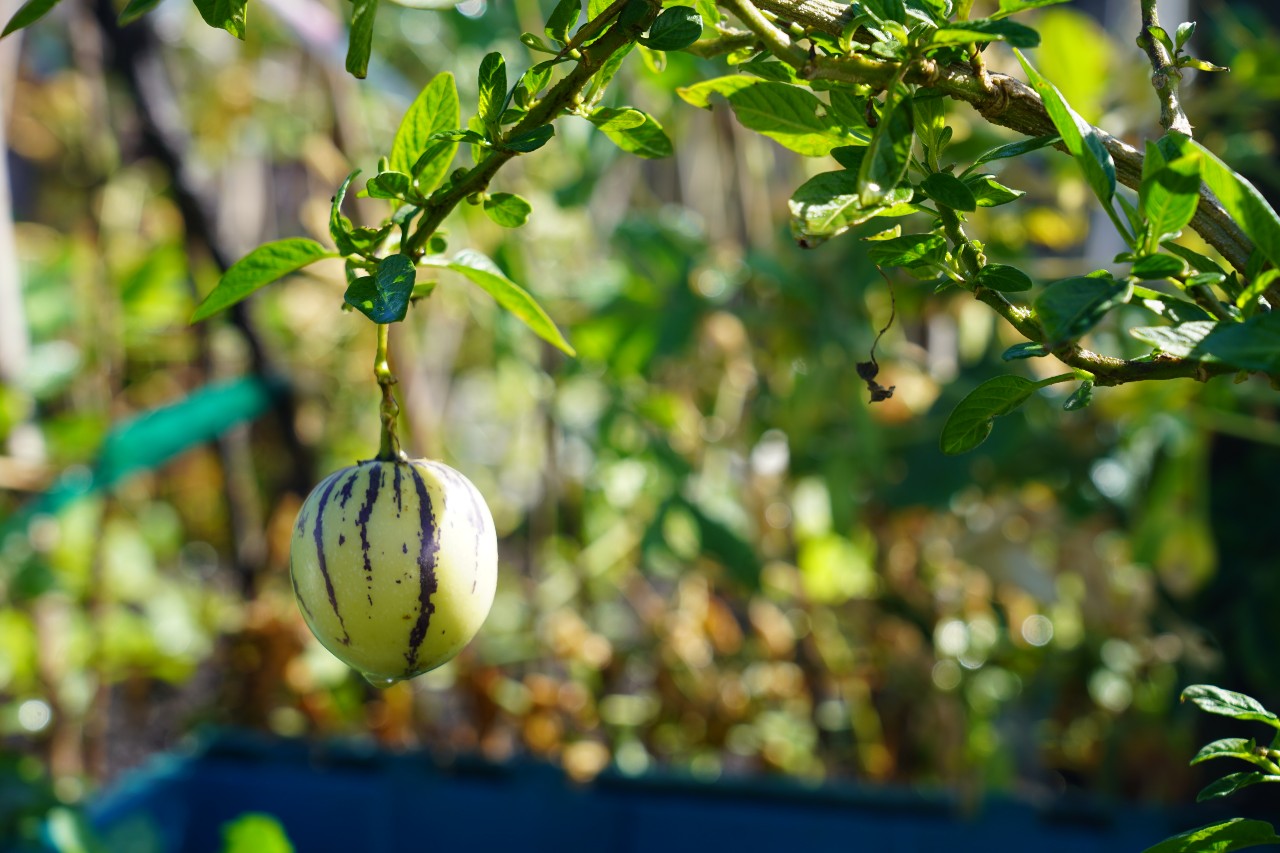 With seriously limited access to green spaces, two federal Superfund sites and over 300 toxic sites, Bayview-Hunters Point was labeled a food swamp because not only is the food limited, but the food that is available is neither healthy nor affordable.
This is where the Florence Fang Community Farm comes in, with volunteers selling the fresh produce selling at a discounted rate to help provide food to locals from the surrounding area.
Their efforts have resonated with the community and people have been eager to help. Volunteer Joshua Diaz lives right across the street. He would see the volunteers show up every day, watching from his window as they entered the land.
"I just saw how many people were gathering. Many people, like all kinds of different ages. And it seemed like a good opportunity to meet people in the city and to get into more sustainable farming," Diaz said.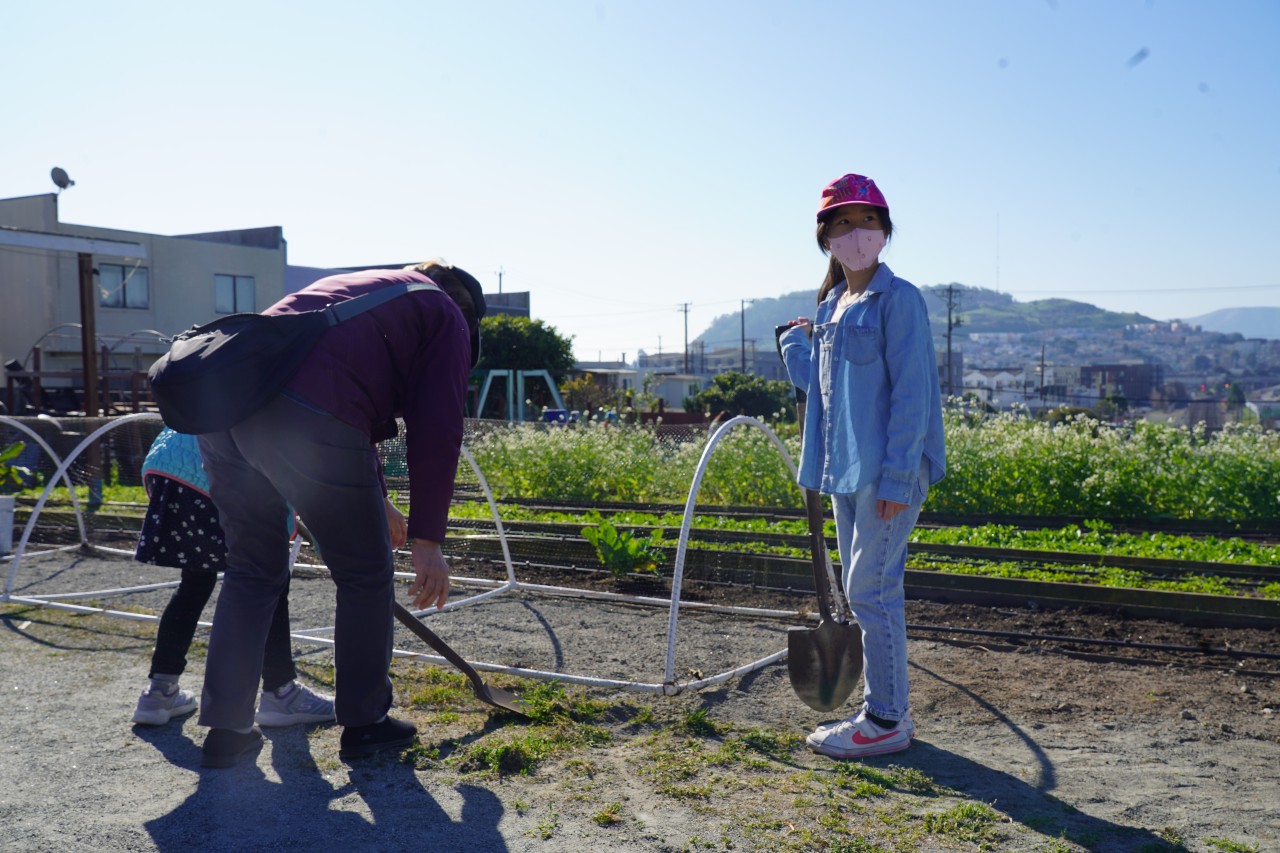 Though initially an initiative for the Asian American community, the farm has now expanded to serve a wider range of the population. The diversity of San Francisco is reflected in the farm's people, a multicultural field of faces streaming in.
In the midst of heightened acts of violence against Asian Americans in 2020, the farm created a space that would reflect the intergenerational and ethnic diversity of the local community. The farm was bringing people together, bridging during a time of isolation and divide.
"[It's a] different culture. Cantonese culture, different Asians, and Hispanics. Very diverse community," Carter said.
To reflect this change, Fang removed the "Asian" that had once sat between "Fang" and "Community" in the farm's name. Just as the fruits and vegetables had multiplied, so too had the diversity of the farm's volunteers.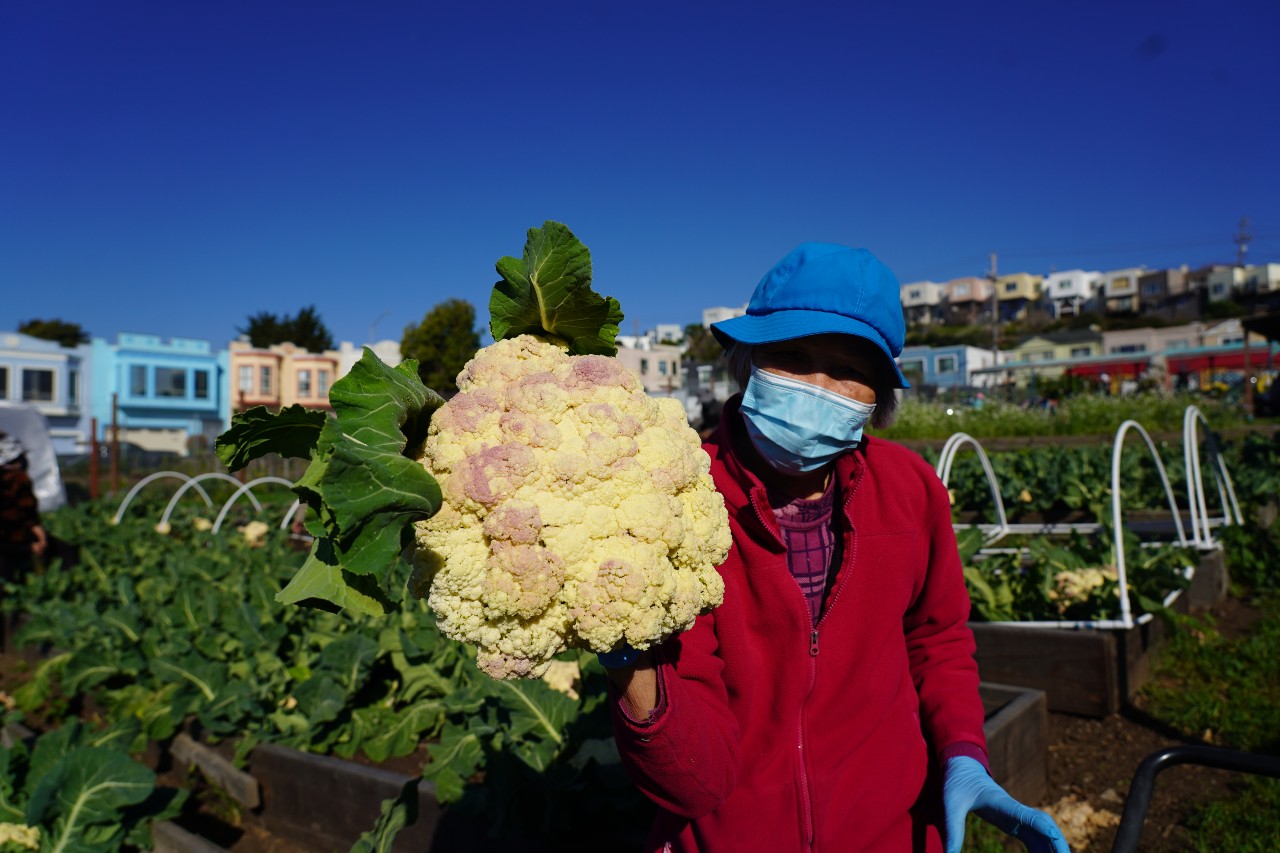 Volunteer Eva Chong said she's worked hard to make the farm into a home.
"There wasn't a lot when we started, just some wild grass. We've transformed it over the past eight years. We've all worked together to clear the weeds," Chong said, in Cantonese.
For Chong, who came from China, this farm has become her community.
Chong said, "We get to chat, we get to laugh, we get to sing together, we get to plant vegetables. It's really too good."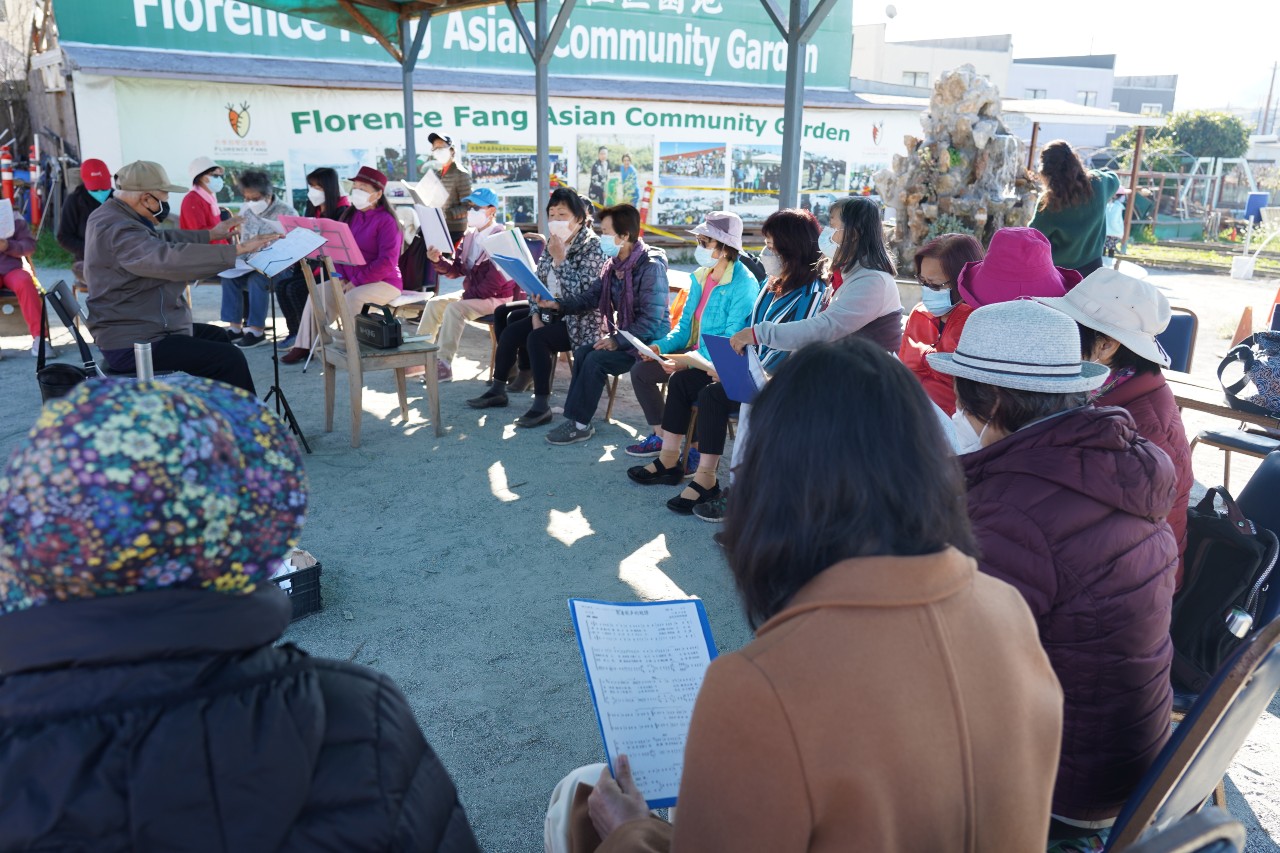 Elissa Miolene contributed to the production of this story package.