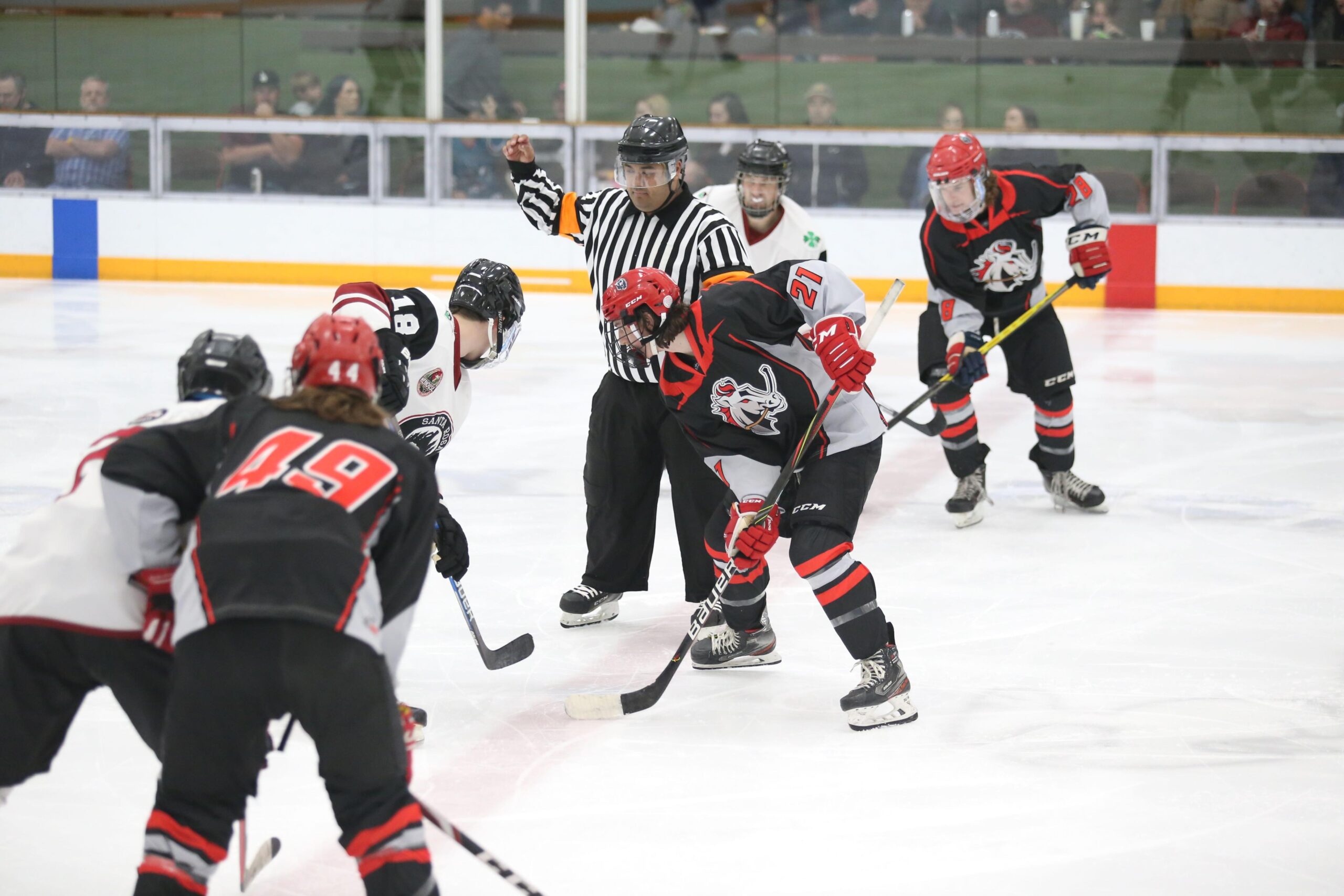 It was hockey night in Oakland. A late Friday evening matchup pit the Stanford Cardinal against the San Jose State Spartans, who led 5-1 midway through the third period. But the scoreboard was blank — it had suddenly lost power, and the players retreated to their benches to wait out the delay.
As the scorekeeper tried to troubleshoot, referee Cole Robello — who fancies himself "the cool ref" — skated to the Stanford bench to swap chirps (hockey slang for banter) with players.
Max Evans, a senior on the team and the Cardinal's leading goal scorer, bemoaned the delay.
Hearing this, Robello quipped, "the worst part is, you don't have any goals," prompting a grin and a head shake from Evans.
"They keep bear-hugging me," the speedy forward replied.
"I'm gonna keep it real with you, Evans," Robello said. "If I'm skating faster than you, that's a bad sign."
Like nearly all West Coast collegiate hockey programs, Stanford and San Jose State compete within Division II of the American Collegiate Hockey Association, the largest non-varsity league this side of the Canadian border.
The league can be bare-bones, with games drawing as few as a dozen fans, though some of the larger matchups fill the bleachers with hundreds.
Even as the insults and chirps hurled at refs reverberate off the confined walls of the ice rink, it turns out the players and officials have a lot more in common than they realize.
Both must finance their own equipment and provide their own transportation. Both can spend more than two hours driving to a distant ice rink on a Friday night. But, most of all, both do it for the love of the game.
While the players only see the stern black and white stripes of the uniform, it's easy to forget that the refs are human, too. They aren't paid big money to perform at the NHL level, but rather are local folks who find part time work officiating games.
Robello, for whom officiating is a full-time job and his sole source of income, is an exception.
The 29-year-old official, like most, works games across a variety of leagues, including the ACHA, local adult league, youth hockey, juniors (elite-youth) and semi-pro. Working mostly adult league, which he calls his "money maker," Robello averages more than a dozen games per week.
"I tried your typical nine-to-five stuff," Robello said of his choice to pursue reffing full-time. "It just wasn't for me."
Most refs keep it part-time. Patrick Arensberg, head official for the PAC-8 Conference, which is the highest tier of ACHA hockey on the West Coast and includes teams like Stanford, San Jose State, Cal, and UCLA, will only officiate a handful of games per week. He spends most of his time working for FedEx.
While there's some money to be made from officiating, most don't concern themselves with the paycheck. "Income is part of the pie, but mostly it's the love of the game," Arensberg said.
Refs can expect to earn $100 to $135 on college games — $150 for juniors and semi-pro.
Ed Giacomucci, referee-in-chief for the ACHA, said "the ones that do it for the money don't last. They're not going to climb to the higher levels."
The 61-year-old Giacomucci, who also serves as president of the Mid-Atlantic Hockey Officials Association and was formerly president of the National Ice Hockey Officials Association, recently retired from a 25-year career in sales at Bosch.
"I found the experience — the challenge and the competitiveness of refereeing — much better than actually playing," Giacomucci said. "I fell in love with it."
But sometimes the love of the game can only take you so far. Hockey is currently plagued by a reffing shortage at all levels in what Giacomucci calls a "national concern."
Robello views it as a compensation issue. "The shortage is happening because they want more pay," he said.
However, Giacomucci and others believe it's due to the unduly high level of harassment levied on officials from players, coaches and parents.
"I think our game takes the most abuse of any sports professionals," he said. "I actually quit doing [youth] games because the parents were a pain in the butt."
Robello remains rather balanced on the issue. "Hockey, in my opinion, is one of the most physical sports. It almost smiles upon the fact that we can fight," he said. "You've got someone's child out there. Of course the parents are going to be insane."
Throughout any game you'll hear constant chirping at the refs, typically over penalty calls. Most of it is benign. "You'll get the classic, 'You're trash' or 'What are you doing out there?'" Arensberg said.
But the attacks can get personal.
"I've had racially motivated comments. I don't even want to put any of these on record. But I have a very Italian last name," said Giacomucci, who also noted that Black and female officials he's worked with have been targeted with similarly derogatory remarks.
"Have I been called fat f*ck? Yeah, of course," said Robello, who seemed more dismissive than offended.
"A lot of people are overly sensitive," he said. "Players, they're gonna chirp you. That's just part of the game."
Abuse aside, hockey officials certainly have a tougher job than most. Robello remembers a semi-pro game that got particularly out of hand.
"One of their guys gets hit in the groin," he recalled, which kicked off a "kerfuffle," of "four or five fights" between the two teams. One player, the "goon" of the team, had another in a headlock and was feeding him punches. Robello couldn't dislodge the two.
"I'm like, 'Dude, you have to let go or I have to do something extreme,'" he remembers saying. The player's stick was lying on the ground, so Robello picked it up and speared him between the legs.
Needless to say, it worked.