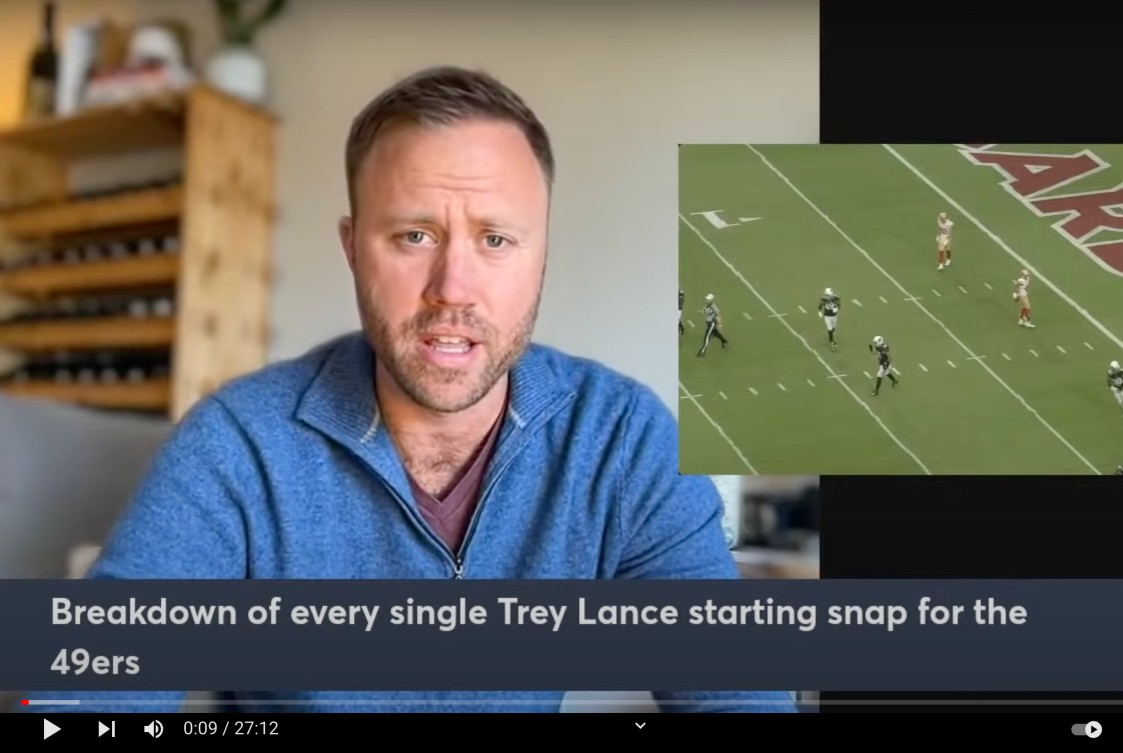 David Lombardi wonders: "Is my career where it's at right now if Richard Sherman doesn't hold on to that catch on fourth and 20?"
Lombardi was a sophomore at Stanford in 2007 when Sherman came down with the ball just a few centimeters past the sticks. It was enough to give Stanford a first down on the final drive of the game. As the ball sat on the USC 10-yard line, Lombardi allowed himself to entertain the impossible. When Tavita Pritchard, quarterback for the Cardinal, tossed the game-winning touchdown with 48 seconds remaining to tight end Mark Bradford a few plays later, the impossible became reality.
Stanford, a 41-point underdog, had beaten No.2 ranked USC, 24-23, in what many consider to be the greatest upset in college football history.
Lombardi, 33, who now covers the San Francisco 49ers for The Athletic, was calling the game for KZSU, Stanford's radio station. He credits that game as being the driving factor behind his decision to pursue sports journalism professionally.
That season, Stanford football was at rock bottom. The Cardinal had lost to Arizona State 41-3 the prior week. "USC had so much more size, so much more athleticism," Lombardi said. "It was just set up to be a complete bloodbath."
But due to the five interceptions thrown by USC quarterback John David Booty, and Bradford's toe-tap touchdown in the final moments of the game, Stanford had pulled off the upset.
"It was almost like an invisible spaceship came over the stadium and sucked all of the energy out of it," Lombardi said. "It was pin-drop quiet."
The 93,000 USC fans in attendance had been shocked into a disbelieving silence after witnessing the Trojans' first home loss in 35 games. Sitting on a concrete ledge atop the Los Angeles Coliseum, far above the hushed crowd below, Lombardi vividly remembers the scene.
"You're sitting there on the roof and you've got this gleaming view," he said. "It was a perfect night…You can see the Hollywood sign off in the distance."
Fitting, he recalls, that "Stanford delivered the Hollywood finish."
As a young sports broadcaster, Lombardi never wanted to let go of that feeling. "I think that really helped cement that this is the path for me," he said.
When Lombardi entered Stanford as a freshman in 2006, that path wasn't so clear. "I've always wanted to be an announcer," he said, but "never knew how to materialize that dream." Pursuing a degree in International Relations, Lombardi had put sports on the back-burner until roommate Ben Spielberg suggested he get involved at KZSU.
"I'm like, 'Oh my god, this is exactly what I wanted to do since I was four,'" he said.
For Lombardi, the dream runs deep.
"When I was young," he said, "I'd be announcing an imaginary baseball game as I was trying to fall asleep. I wouldn't sleep because I'd literally go through all nine innings."
Lombardi grew up in Visalia, a small town in the central valley 40 minutes south of Fresno. His dad is a farmer, his mom a pediatrician. She emigrated from what was then Czechoslovakia in 1987; years later, a two-year-old Lombardi helped tear down the Berlin wall. He still has a piece of it at home.
Growing up, sports were never far from Lombardi's mind. He was a die-hard 49ers fan, and as a talented swimmer from an early age, it might've been easy for him to feel like a big fish in a small pond in quiet Visalia.
Only problem: there was a bigger fish.
Enter Kohlton Norys, Lombardi's childhood best friend and fiercest competitor. The two are a year apart; they met while swimming for the Visalia Waves, a local rec team, when Lombardi was eight and Norys seven.
"I was never as fast as him," Lombardi remembers. But it wasn't for a lack of trying.
The two friends went to rival high schools, and by the time Lombardi was a senior, both remained undefeated throughout high school. They swam different events — Lombardi the 100 meter freestyle, and Norys the 100 meter backstroke.
When the two schools met during Lombardi's senior year, he and Norys, a junior, decided to swim the same event, putting the two undefeated careers on the line.
They called it "The Duel in the Pool."
The two agreed to swim the 50 meter freestyle. Short and sweet. "If you know anything about David, David gets super pumped up," Norys said. "He wants everyone involved."
The local newspaper ran a story. When the meet came, they filled the bleachers, charging five dollars for entry. "The city showed up to watch David and me duel in this race," Norys said.
After Norys won, the two friends embraced in the pool. Norys would go on to swim for Auburn University in college, and in 2009 he won the NCAA championship for 100 meter backstroke. He's now an electrical lineman in Irvine, and coaches swimming part-time.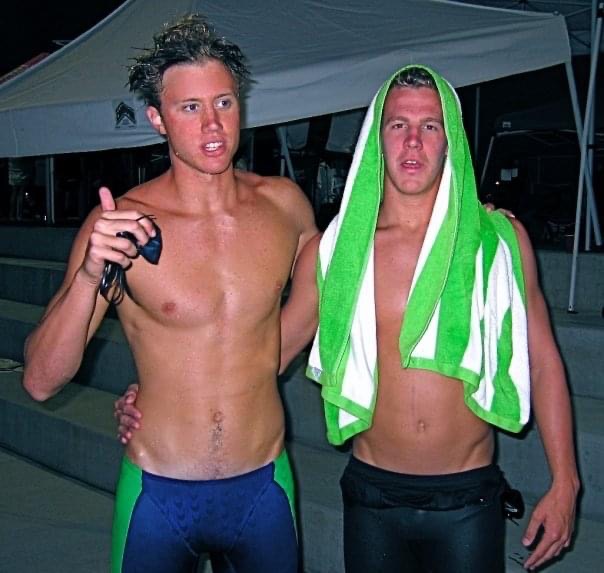 Lombardi knew he had a slim chance at victory. But that didn't matter. "David's mentality is 'I might not be the absolute best. But whatever you can do, I'm going to try to do it better,'" Norys said. "David has always been a competitor."
Lombardi is grateful that he was able to train with an "Olympic-level talent" growing up, crediting their rivalry for instilling him with "competitive DNA."
"I just love being around the NFL locker room," he said, "and around guys like that because I still need my fix."
Lombardi got his fix. In 2017 he was hired by The Athletic to cover the 49ers. But he had to work his way up first.
After graduating from Stanford in 2010, Lombardi went to Boston University and earned his master's degree in broadcast journalism. By 2012, he was working for four separate media outlets — Lombardi was an update anchor for 95.7 The Game, wrote for The Bootleg (an online publication focused on Stanford sports), worked as a sideline reporter for Comcast Hometown Network, and called play-by-play for several sports on ESPN radio.
"I was driving Uber too," he added with a chuckle."It was a hustle at the start."
Lombardi's breaks came in 2014 when ESPN hired him to cover Pac-12 football, and when he joined The Athletic three years later.
Now, Lombardi epitomizes what it means to be a modern journalist. His Twitter, with nearly 60,000 followers, is brimming with updates and commentary. During the season, he'll arrive early to games so he can post Instagram updates of what players wore when they arrived at the stadium, according to Norys. Lombardi co-hosts a 49ers podcast with colleagues from The Athletic, and a year ago he started a YouTube channel where he shares his thoughts on all things 49ers.
Recently Lombardi posted a series of videos breaking down every snap from Trey Lance, the 49ers presumptive starting quarterback, during his limited action last season. As Lombardi talks, you can make out some details through the blurred background — a potted plant sits on top of a wine rack full of bottles. It might be any one of the numerous locations Lombardi stays at throughout the year.
Despite reporting on the 49ers, Lombardi doesn't live in the Bay Area. He has a house alongside Shaver Lake near Fresno. When he needs to be in the bay, Lombardi will stay with Jack Wang, Assistant Chief Engineer at KZSU, and Lombari's mentor from his undergrad days at Stanford.
When he needs to be in Los Angeles, like when the 49ers and Rams met in the NFC Championship game this January, he'll stay with Norys in Irvine.
Lombardi's girlfriend lives in Nashville. Wang likes to call him a "roving reporter."
When football's on, Lombardi spends about half the season at Wang's house in San Mateo. He'll record YouTube videos in his loft, or out by the pool as Wang's children run around.
On game days, Lombardi likes to get there early and stay late. Norys said that Lombardi is always one of the "last people in the stadium." Wang agreed. "Late nights, man, I've had to pick him up from the stadium because public transit doesn't run that late," he said. They'll go for In-N-Out afterwards.
Marcus Thompson II, a columnist for The Athletic who covers Bay Area sports, doesn't attribute Lombardi's success to the long hours. "I don't really like that 'first one in, last one out' narrative. Maybe it's because I'm not the first one," he said with a laugh.
"The difference is, David Lombardi really loves what he does," he added. "He's into it in a way that you just don't find very often."
For Thompson, it's about passion. Lombardi, who writes about a team he's cheered for since childhood, would agree.
"The only way to correctly cover sports is to bring some of that passion across," he said. "This is sports, not politics."
"When I cover this team, I try to cover it with intensity," he added. "I hope that the intensity of my work can somehow match the intensity of what's happening on the field."
Sam Silverman is a graduate student in the Stanford Department of Communication. He also got his BA in communication at Stanford, while adding a minor in music. Sam's an assistant captain on the Stanford Hockey team, and has served as their Director of Communications since 2018. He's an avid musician, and has played drums in several bands on campus, one of which released an EP that eclipsed 100,00 streams across all major platforms. After graduating in June of 2022, Sam plans to pursue a career in sports media.