It was 4:30 p.m., on a Thursday in November. As the sky was dimming, the tour of Japantown San Jose began.
A group of ten began walking along N. Fifth Street where the San Jose Buddhist Church sits. They looked up at their smartphones in the air and gazed into the two-dimensional space projected on the screen.
In contrast to the quiet streetscape in the real world, the town on the screen was decorated with augmented reality arts in glittering colors and showed immigrants from China, Japan, and the Philippines.
"Here's a place where exclusion against different ethnic groups happened in the past," the tour guide slowly started to explain.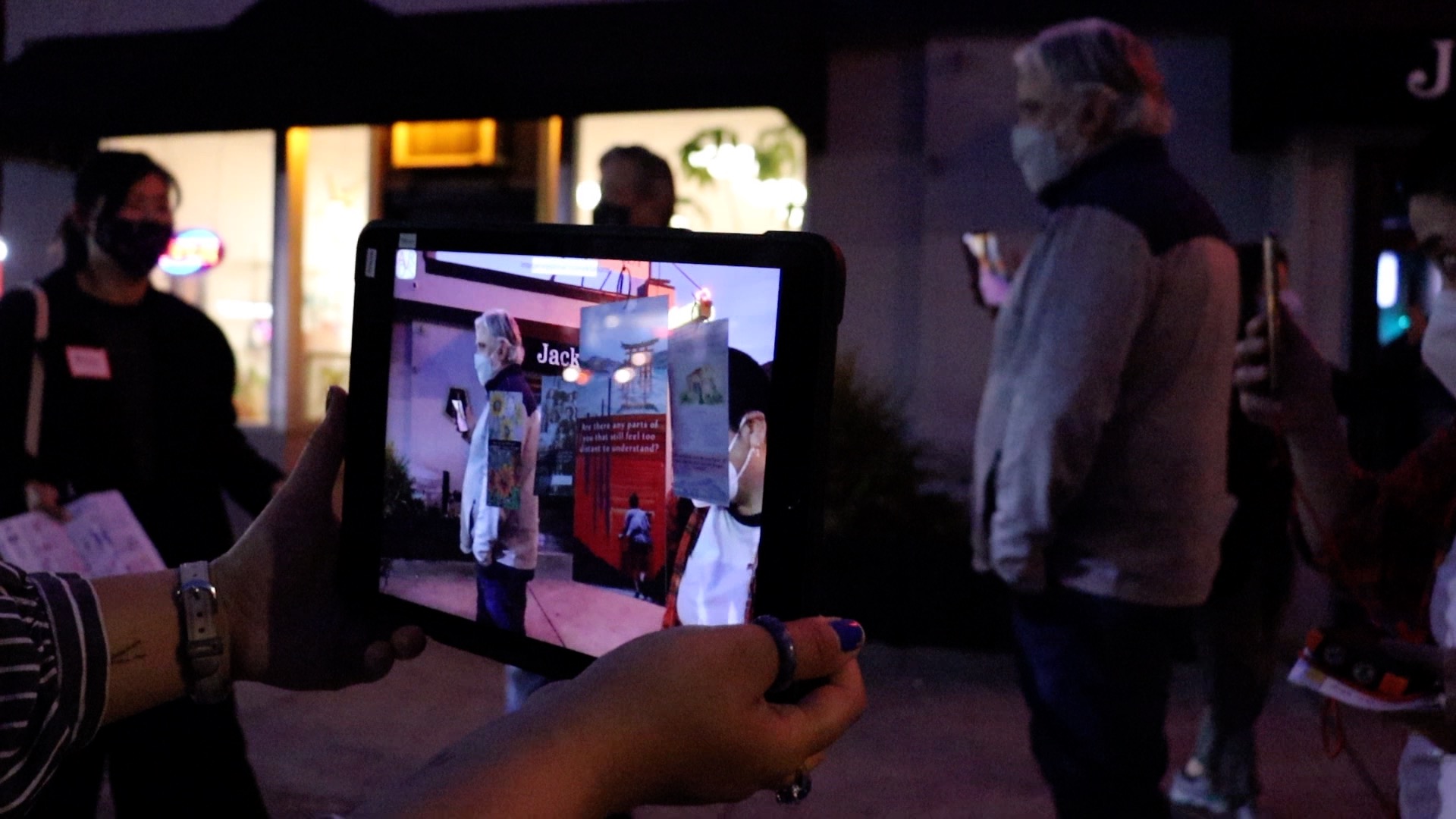 Hidden Histories Project
This is part of the Hidden Histories project that the Japanese American Museum of San Jose has been organizing.
Community leaders Susan Hayase and Tom Izu spearheaded the project to tell the untold stories of the 130-year history of San Jose's Japantown.
Participants of the tour can install the free mobile app on their smartphone or tablets and watch nine AR art installations shown on the streets while walking through Japantown.
The AR art installations were created by local artists related to Japantown in San Jose.
A young artist discovering the untold family history
This year marks the 80th anniversary of the attack on Pearl Harbor, which later led first-and second-generation Japanese Americans to the internment camps. The number of people who experienced such tumultuous times is decreasing every year.
"Once they're gone, their stories are gone too," said Maylea Saito, one of the local artists who joined the Hidden Histories project.
Saito is half of the third-generation Japanese American and second-generation Chinese Taiwanese American. Her father and his family experienced the internment camp in Heart Mountain, Wyoming, during WWII.
San Jose's Japantown is her father's hometown. Saito used to visit her grandmother and aunt often when she was young. However, they rarely talked about their experience at the internment camp as well as the history and tradition of Japanese Americans.
"When growing up, I felt definitely disconnected from my Japanese American heritage," said Saito.
Yet it was not until she was in her early twenties when she took an ethnic studies program at college. When she visited the Japanese American Museum on a field trip, she recognized the camp's name where her father and his family were interned on a part of the exhibit.
"That's what made me really curious about everything because I knew the name of the camp and that's about it," Saito said.
Saito joined the Hidden Histories project to learn more about Japantown and her connection to it.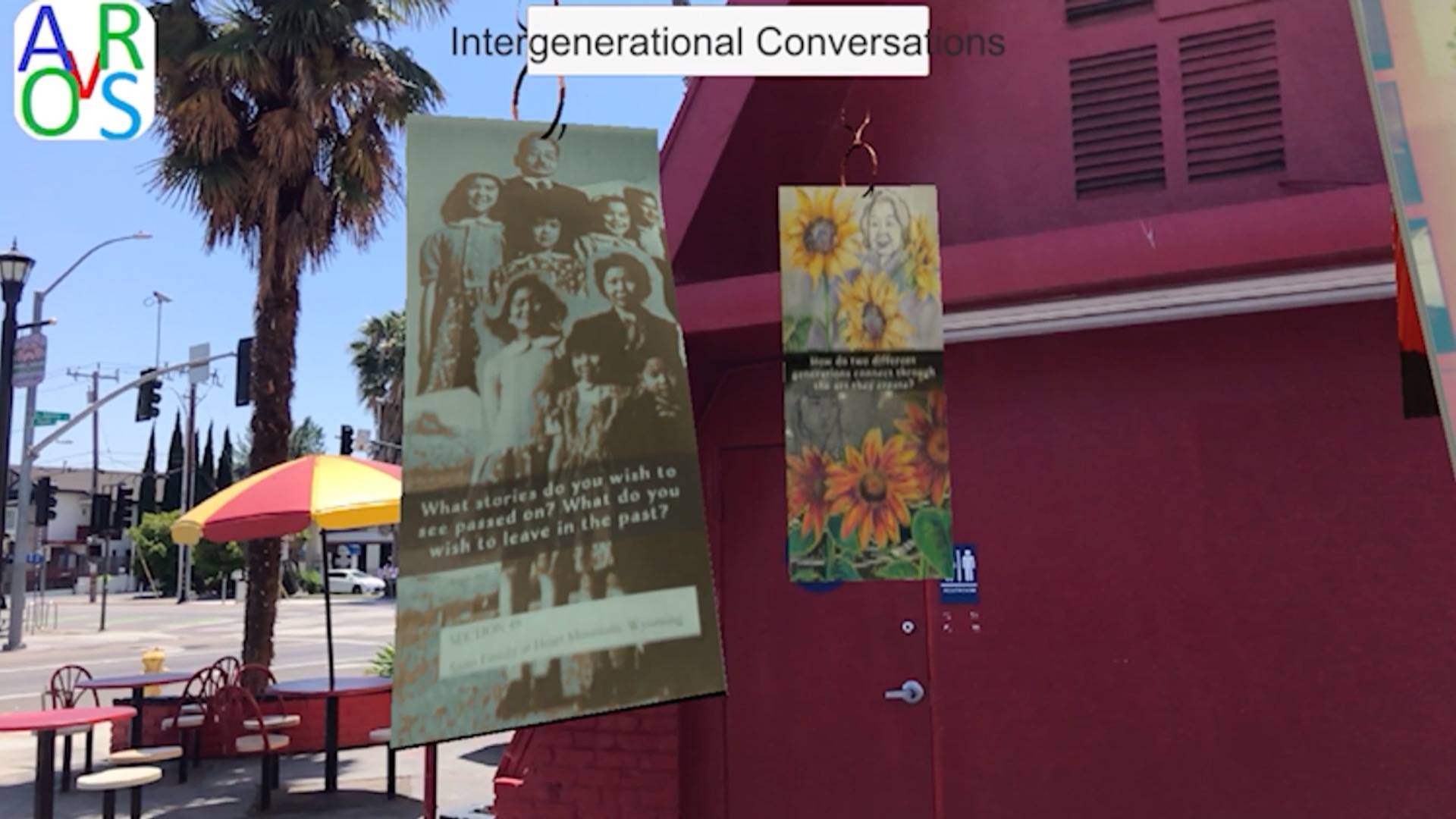 She chose a place for her AR art showcase to Amy's Beauty Salon where her aunt, Amy Okazaki, ran for over 40 years.
She created a floating cloud of Tanzaku, which are colored tags that people write out wishes on during the Tanabata, or the star festival, traditionally held during the summer in Japan. According to legend, it celebrates the once-yearly meeting of the stars called Vega and Altair to renew their ancient bond of love on July 7.
On each of the tags shown in AR, Saito illustrated questions that she had when reflecting on her family's experiences growing up in Japantown, such as "What stories do you wish to see passed on?" "What do you wish to leave in the past?" and "How do the two different generations connect through the arts they create?"
Sharing history against anti-Asian hate
The Hidden Histories project, which launched, came out at the time when a string of hate crimes against Asians and Asian Americans occurred.
"The wave of anti-Asian hate during the pandemic stirred up a lot of strong emotions including anger, sadness, and fear," Saito reflected.
"It got me really thinking about what having 'Asian Pride' meant, and how often times studying our history and relationships with other communities is left out of that conversation," said Saito.
During the emotionally difficult times, the project turned out to mean more than discovering the family history for her.
"I do believe one solution to stopping hate is for all of us to be able to see each other's full humanity. This is done through listening, reflecting, and sharing personal stories, emotions, and history," Saito explained.
History of San Jose's Japantown
San Jose's Japantown has been home to a variety of immigrant communities, who had faced exclusionary policies and violations of civil liberties in the 130-year history.
It was originally Chinatown. However, the Chinese Exclusion Act of 1882 barred Chinese immigrants from entering the U.S. As an alternative to Chinese labors, Japanese immigrants started to move to the U.S. and found refuge in Chinatown. They worked as farmers by renting existing farmland from white owners. Since the mid-1920s, Filipino immigrants also became settled in Japantown.
As WWII broke out, then-President Franklin D. Roosevelt signed Executive Order 9066 which authorized the incarceration of 120,000 Japanese Americans on February 17, 1942. Japanese Americans were forcibly moved to 10 desolate internment camps including Topaz, Utah from 1942 to 1945.
At the internment camps, the adults were given a questionnaire asking them if they would serve in the military and they would swear allegiance to the U.S. After Japanese Americans signed the loyalty questionnaire, they were placed in segregated units including the 442nd Regimental Combat Team from the mainland and Hawaii.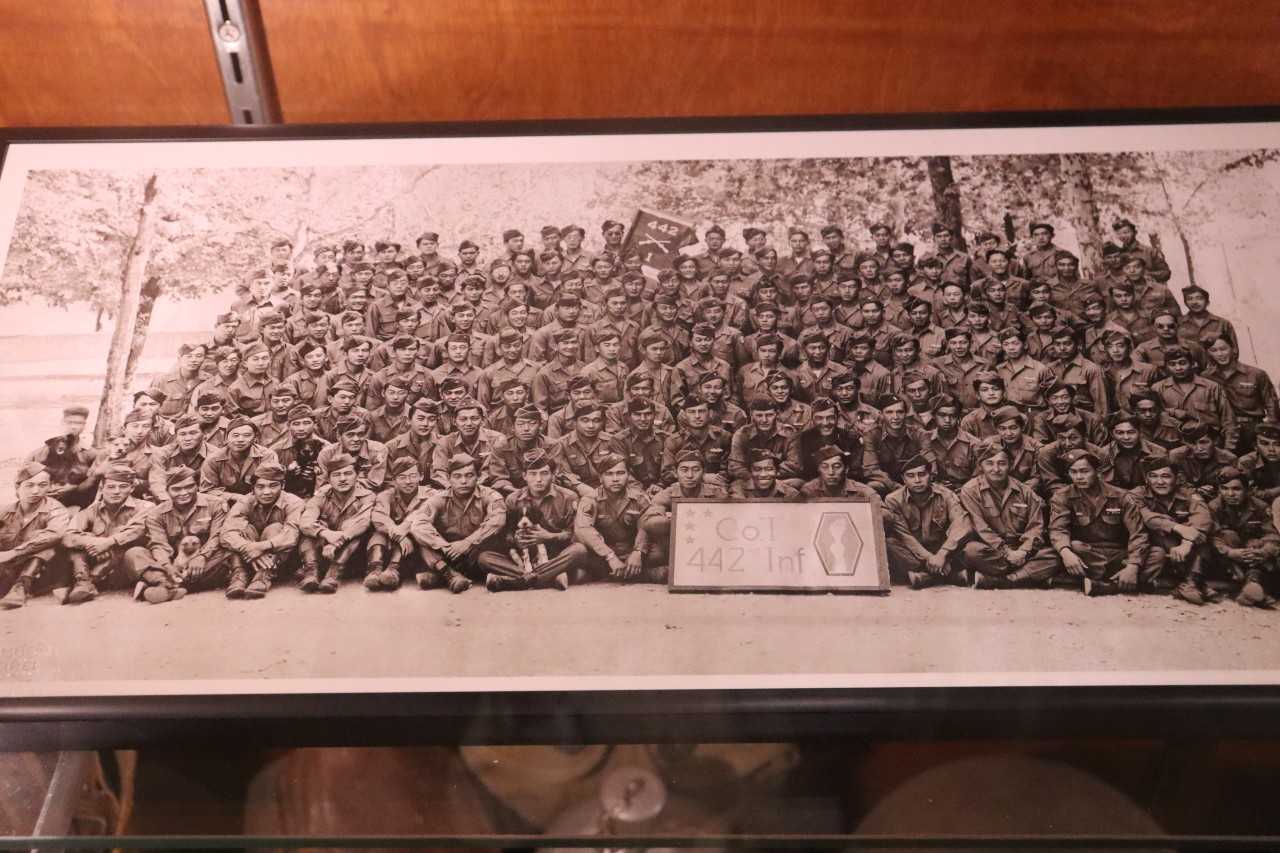 To prove their loyalty and national identity to Americans, the team made their motto "Go for broke." The 442nd team was known for breaking through the Gothic Line of Nazis protecting Germany from the rest of Europe.
Despite they had to sell or abandon all their property before moving to the camps, San Jose's Japantown remains as the only Japantown that was the same exact location as prior to WWII.
It was built again on a foundation of family-owned businesses, which makes the community unique nowadays.
The current generations of Japanese Americans like Saito are awake to the importance of passing down this unique history.
"I feel the cultural pride in that we were able to overcome the situation. Through the generations, the current generations are wanting to make sure that this history doesn't repeat itself," said Saito.
Misato Nakayama, a Fulbright grantee, is from Yokohama, Japan. Misato graduated from Washington College with B.A in economics and international studies. During her school years, she worked as an editorial assistant at The Washington Diplomat, an independent monthly newspaper in Washington D.C. Misato started her career as a reporter at The Nikkei, Japan's top business/economic newspaper, which also owns the Financial Times, and covered a variety of stories from start-up companies to the Japanese government. As a beat reporter, Misato reported on Prime Minister Shinzo Abe's statements and activities, and interviewed Japanese and foreign politicians. Afterwards, Misato worked at a risk management consulting firm, where she helped clients conduct due diligence investigations and fraud investigations. Her working experience made her aware of the threat of "fake news," as well as the potential of using publicly available data for reporting. At Stanford, she hopes to learn the utilization of technology for uncovering in-depth news stories in public policy and political fields.