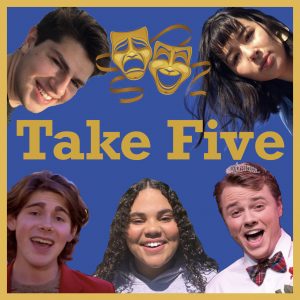 Welcome to Take Five! In this podcast series, Chloe Wintersteen hosts in-depth discussions with five young performers who have achieved excellence in theater.
Ever wondered what it's like to be a child actor on Broadway? How opera singers and Juilliard actors train at the top of their game? Which experiences foster a lifelong passion for the arts?
Whether you're a theater nerd craving highly-informed content from performers on-the-rise or a casual fan looking for a fun way learn about the performing arts, this series for you!
---
Together Wherever We Go: The Magic of Theater Camp with Mia Pak, Part 1– Mia Pak discusses the impact of arts camp. Interlochen Center for the Arts and The Performing Arts Project set her up for success as a professional actor in New York, but in vastly different ways. How did her artistic process and purpose as a performer evolve over time?
Dream a Dream: Working Off-Broadway with Mia Pak, Part 2– Mia Pak discusses her experience performing in "In The Green" at Lincoln Center and working on "Suffragist" at The Public, a new musical in development for the Broadway stage.
Broadway Baby: Life as Professional Child Actors with Johnny Rabe and Austin Zambito-Valente– Johnny Rabe originated the role of Ralphie in "A Christmas Story" on Broadway when he was 12. Austin Zambito-Valente spent four years traveling in the national tours of "Whistle Down the Wind" and "101 Dalmatians" starting when he was 9. How did the shows influence Johnny and Austin's development as young artists? How do Johnny and Austin relate to their respective shows now that they are both Stanford students?
God I Hope I Get It: College Auditions and Juilliard Drama with Lili Gibson– Actor/Singer Lili Gibson breaks down the college audition process and gives us an inside look at Juilliard's actor training program, disproving many misconceptions along the way!
I Got Rhythm: Learn How to Sing with Tim Isaacs, part 1– Vocalists Tim Isaacs and Chloe Wintersteen explain vocal technique and break down clips of famous performances. What happens in a singer's body and mind to produce the sounds they do? Learn how to analyze and critique vocal performances intelligently!
The Music Plays On: Learn How to Sing with Tim Isaacs, part 2– In part 2, Tim and Chloe break down clips of vocal performances, discuss vocal health, and conclude with musings on the beauty of music.
Playlist