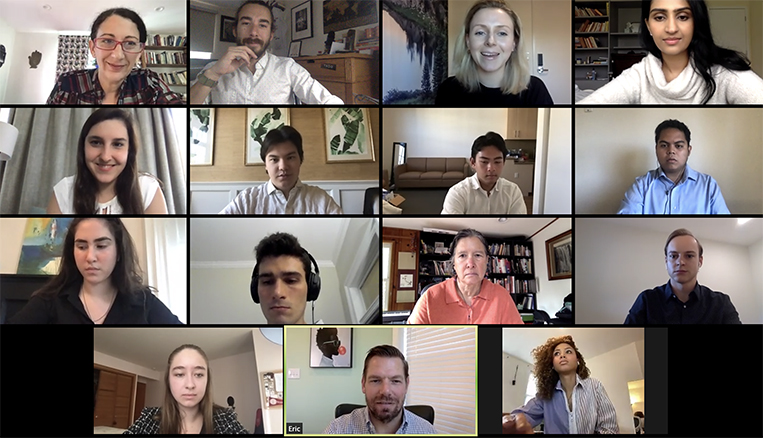 East Bay Congressman and former Democratic Presidential candidate Eric Swalwell (D-Dublin) said he is worried Donald Trump could "incite violence" and summon "militiamen" to the White House to protect him if he loses the Nov. 3 presidential election.
 "It worries me that he won't accept the outcome," Swalwell said of Trump in an Oct. 22 interview with the Peninsula Press. "I still believe in our institutions, and that the American people will demand a peaceful transfer of power. But this President, as we've seen from Charlottesville, to post George Floyd, when we have division or discord or confusion in our country, he doesn't unite us. He makes it worse."
 "And so you can imagine, if he believes that he unfairly lost, he could, you know, incite violence, welcome militiamen in their camo gear and their assault rifles, to come to the White House to protect him," Swalwell added.
 A day after U.S. intelligence and law enforcement officials said Iran and Russia have obtained American voter registration data as part of their efforts to influence the election, Swalwell, who sits on the U.S. House Permanent Select Committee on Intelligence, also expressed concern that "foreign interference could amplify that discord on social media."
Open to possible Senate run
Swalwell, who launched an unsuccessful 2020 presidential bid, expressed interest in Kamala Harris's Senate seat if the junior senator becomes vice president.
 "Under [that] scenario, there would be a vacant Senate seat in California because Kamala Harris would become vice president," he said. "So I say, give me that problem. I would love to have to consider whether to do that."
 Swalwell said he doesn't see politics as an attempt to climb a ladder but noted he would be amenable to a promotion.
 "I never thought I'd run for president, but I did see an opportunity after 2018 — when we elected 29 members in their forties and under — to have a generational candidacy, especially around gun safety and climate and student loan debt," Swalwell, who is 39, said. "And so, I'll keep fighting for those issues wherever the best office to fight for them comes."
Barrett hearings never should "have happened"
As the Senate Judiciary Committee advanced Amy Coney Barrett's Supreme Court nomination to the full Senate Oct. 22, Swalwell declined to criticize California Senator Dianne Feinstein for her handling of the committee's hearings as the ranking Democrat. Her embrace of Senate Judiciary Committee Chairman Lindsey Graham at the end of the hearings drew strong criticism from Democrats who have vehemently protested Trump's rushed attempt to confirm another Supreme Court justice even as voting has commenced. The 10 Senate Democrats who sit on the Judiciary Committee boycotted the vote to advance her nomination which passed with all 12 Republicans voting in favor.
 "I have a lot of respect for Senator Feinstein," Swalwell said. Of the hearings themselves, Swalwell added: "I don't think it was a process that ever should have happened," and "I don't accept that any of it was valid."
Seeking fire funds for left-out Alameda County
Swalwell is meanwhile seeking compensation for constituents who have been impacted by the recent wildfires and are left out of a federal aid package. Swalwell told the Peninsula Press he sent a letter to both Governor Gavin Newsom and the Federal Emergency Management Agency (FEMA) about adding Alameda County, whose southernmost parts were impacted by the SCU Lightning Complex fire, to the list of counties receiving wildfire relief funds for damage caused this year. 
Swalwell said the southern portion of his district, which includes scorched grazing pastures typically used by cattle ranchers, had experienced substantial devastation. "I toured thousands of acres just a couple of weeks ago that were burned, and you may not believe this, but in Alameda County, particularly in southern Alameda County we have a lot of cattle ranchers," Swalwell said. "There is a significant loss there."
Farmers are "going to have haul in bales of hay to very inaccessible areas. That will be quite a cost to them," he added.
With 58% of California forests falling under the auspices of the federal government, preventing fires that are becoming increasingly destructive will require cooperation between the state and federal government.
Swalwell criticized Trump's suggestion that California "rake your leaves" because so much of the land is federally owned. "If the president is concerned that we need to have better forest management, we would welcome federal resources in California to do that," Swalwell said.
Supports nationwide ban of chokeholds
Swalwell said he hoped all states would ban the use of chokeholds by law enforcement even if legislation passed June 25 in the US. House which would do so doesn't advance through the Republican-controlled Senate.
 "The George Floyd Policing Act, which I do support, would ban the chokehold, and I hope we can do that nationwide—if it's not done by federal law—that each state would ban it," Swalwell said. 
 Asked if he would support criminalizing acts of force like a chokehold, Swalwell said: "If a chokehold is banned, I would believe that if you used it not only should you be fired but that, yes, that would be criminal."
 The act would also require every police department to use body cameras. At the state level, he said police forces that fail to adhere to the use of body cameras should not be eligible for federal funds.
"Concerned" About Tech Market Consolidation
Swalwell declined to comment specifically about the Justice Department's antitrust lawsuit filed against Google but expressed broad unease about behavior by the tech industry that stifles competition.
"I won't pre-judge the outcome, but I am concerned about anti-competitive practices," he said. "I'm concerned about market consolidation, especially as it relates to some of the giants. They would probably argue that their products essentially are free, and it can't be a monopoly if it's free. But I do believe that it's not free because our data is really what's being monetized."
Swalwell embraced an idea – backed by other politicians including Newsom – of paying users for the use of their data.
"Perhaps that's where the real reform can come in is making sure that we know better how our data is used, and perhaps that we are compensated like a data dividend of sorts or a data tax that would fund essential services in our country," Swalwell said.
 With reporting by Eli Cahan, Cade Cannedy, Noah Cortez, Danielle Echeverria, Iman Floyd-Carroll, Elizabeth Gerson, Jasmine Kerber, Thomas Manglona, Christopher Rios, Eric Ting, Lakshmi Varanasi, and Chloe Wintersteen.