Opponents of Mountain View's new ban on RV overnight parking are rushing to collect enough signatures to block enforcement of the new rule.
The Mountain View City Council passed a ban on Oct. 22 prohibiting the parking of oversized vehicles on streets with bike lanes, or what's known as "narrow streets" because they are 40 feet wide or less.
Mountain View Housing Justice Coalition, a group of advocates for tenant rights and affordable housing, is leading the effort to overturn the ban.
Lenny Siegel, one of the founders of the Mountain View Housing Justice Coalition and former mayor of Mountain View, has been canvassing the neighborhood and knocking on doors.
"We and the lawyers, we work with, believe that it's wrong and unconstitutional to outlaw parking on oversized vehicles, so that there is no place for people to go," Siegel said.
The coalition needs signatures from 10% of the Mountain View registered voters, approximately 3,700 signatures, to sign a referendum petition. A referendum petition prevents a law from being fully enacted. The coalition has until Nov. 22 before the ban becomes law.
As of Nov. 18, the coalition has an approximated number of 3,000 signatures.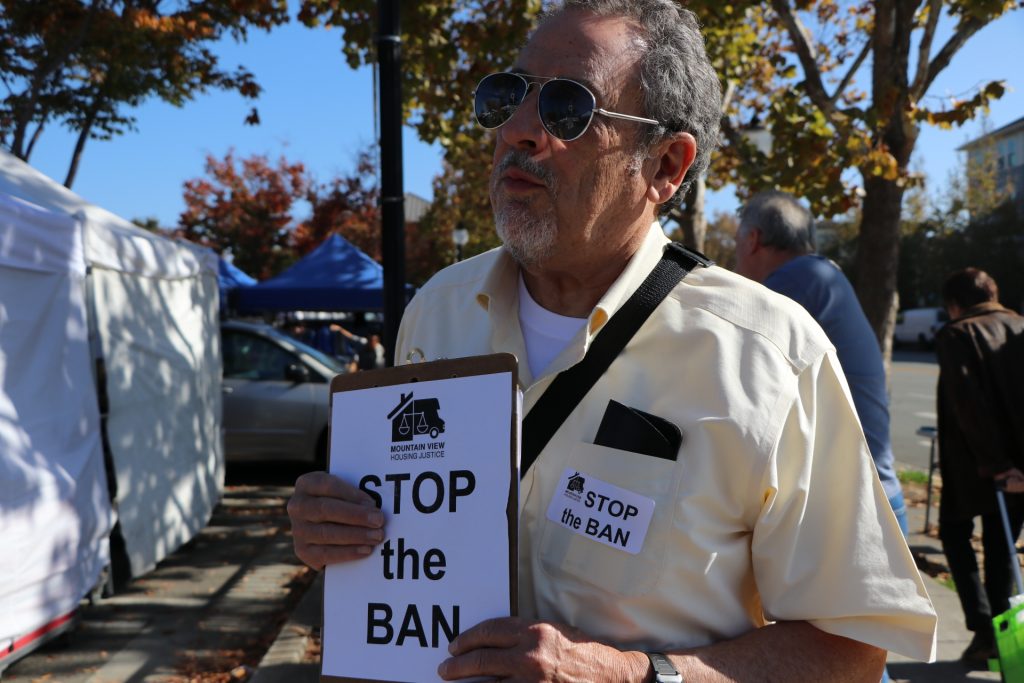 Proponents of the ban have been saying that the vehicles are a problem because they block driveways from motorists' view.
If Mountain View Housing Justice Coalition does not get enough signatures, the ban will cause more than 200 oversized vehicles, including single people and families, to relocate.
Janet Stevens, a Mountain View RV dweller, is disabled and has been struggling with chronic fatigue syndrome and breast cancer. Due to the high rent costs, she decided to live in a RV while she got treatment at Stanford Medical Hospital.
Stevens has to come home as early as possible in order to start her generator, so that it doesn't run after 8PM. Living in a RV comes with many tasks. Not only does she have to dump her waste, she needs to get gas for her RV and has to move it every 72 hours to avoid parking violations.
"The time and energy it takes just to be here is exhausting. If you were in your own home, it's so easy to do things like take a shower or get dressed. But those things are really challenging when you are living in a RV," said Stevens.
Stevens described the ban as devastating. Because of her disability and illness, she is physically unable to leave. This ban has caused distress and a loss of sleep for Stevens. She and along with other families in RVs are in denial and trying not to think about the ban.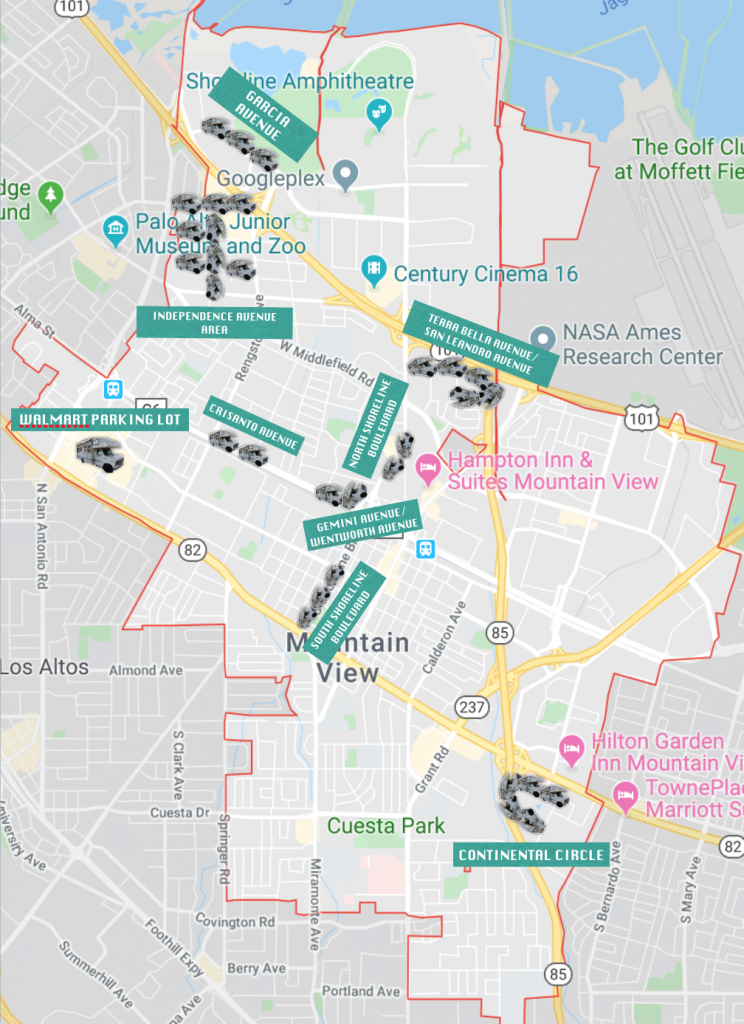 Displacement is an issue in Mountain View due to limited affordable housing. Some reasons as to why RV dwellers need to reside in Mountain View is because their jobs might be in Mountain View, their kids attend schools in Mountain View or their doctors reside in Mountain View.
"My heart is breaking for the people that are going to be more severely affected than myself that have no place to go and have no other way out. I don't know what's going to happen … I'm scared to death," said Stevens.
Michael Trujillo, staff attorney at Law Foundation of Silicon Valley, an organization that provides legal services, strategic advocacy and educational outreach to under-represented individuals, is representing Mountain View families living in RVs who will be affected by the ban. Trujillo explained that the ban will be violating three amendments along with other federal laws – the U.S. Constitution's Eighth Amendment's prohibition on cruel and unusual punished, the Fourteenth Amendment's Equal Protection and Due Process clauses, the Fourth Amendment's prohibition on unreasonable searches and seizures, the Fair Housing Act and the Disabilities Act.
"The RV ban would violate state and federal law, devastate hundreds of some of Mountain View's most-vulnerable families, and send a message that the City of Mountain View is only open to the wealthy," Trujillo said in speaking out against the ban.
Trujillo explained that Mountain View families have no choice but to live in RVs, because the city did not provide an adequate amount of shelter beds or affordable housing when it should have been the most pressing health and safety concern.
This ban is different from other RV policies in cities of California because the cities have not enforced a complete ban like Mountain View. This ban has "made it impossible for oversized vehicle dwellers to live within their city limits," said Trujillo.
Regarding policies in cities other than Mountain View, Trujillo said, "Other cities in the Bay Area have considered and/or implemented measure to address concerns related to individuals living in vehicles. Yet none has enforced a complete ban and made it impossible for oversized vehicle dwellers to live within their city limits."
Palo Alto and San Jose have similar policies on having a 72-hour time limit where all vehicles, including oversized RVs, are required to move to a different spot after 72 hours of parking. Vehicles in Redwood City are subject to a three-day parking limit.
If Mountain View City Council proceeds with this ban, Adrian Fine, vice mayor of Palo Alto, predicts that the Mountain View vehicle dwellers are most likely to move to its neighboring cities, such as Palo Alto or Sunnyvale.
"If Mountain View bans overnight parking in one place, the vehicle dwellers are going to move, and the obvious places are Sunnyvale and Palo Alto," said Fine.
| | | | | |
| --- | --- | --- | --- | --- |
| City | Mountain View | Palo Alto | Redwood City | San Jose |
| RVs Permitted? | Y, soon to be N | Y | Y | Y |
| Restrictions | Subject to a 72-hour time limit when parked on street. Once ban gets enforced, a complete ban will be placed on oversized vehicles. | Subject to 72-hour time limit when parked on streets. | Subject to three-day parking limits and have to be moved every three days. | Subject to a 72-hour time limit when parked on streets. |