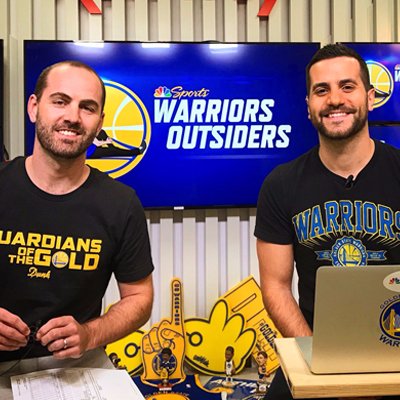 "You're on in five," the director calls, silhouetted behind the glare of studio lights.
Drew Shiller glances down at his notes, resting in a neat stack on a small black stand above his lap.
His casual attire, a blue Golden State Warriors T-shirt over denim jeans, is an unconventional look for a post-game talk show host. But this is no conventional show.
This is Warriors Outsiders, an interactive NBC Sports Bay Area program for television and Facebook Live, featuring Shiller and his long-time best friend Grant Liffman — just two average Bay Area guys talking all things Warriors basketball.
They sit on black metal stools in an otherwise empty corner of the Xfinity Lounge, the newest addition to NBC Bay Area's San Francisco headquarters. In place of notes, Liffman's stand holds a laptop, which he uses to read and respond to fan commentary via Facebook in real time. In a few moments, they will appear on over 150,000 computer screens around the world, before going live on NBC Sports Bay Area before a 5.2 million viewer market.
Game 1 of the 2018 NBA Finals between the Golden State Warriors and the Cleveland Cavaliers tipped off at 6 p.m. Pacific Standard Time, but Shiller has been in the office since 7:30 a.m., monitoring storylines and news from Warriors practices, producing and editing pre-game media content and soaking up as much information as possible in preparation for the night's show. In spite of his outfit and the show's informal nature, Shiller takes his role as a journalist seriously, and caries out his work on game day with a purposeful precision.
"Even though we come across as being quote on quote 'fans,' I try to be as objective as I can when it comes to analyzing the game and the NBA at large," Shiller said. "We know who our audience is, and we try to present a show through the lens of someone who is rooting for the Warriors, but we try to let them have some insights that they're not getting on other shows that they watch."
While working as a web producer for NBC in 2016, Shiller went out on a limb and pitched Warriors Outsiders to former NBC Digital Media director Geoff James. His timing was spot on.
"There was a need at NBC to start distributing content differently, and those two guys were perfectly qualified, they were the perfect blend of analyst and fan," said James. "The show filled the need for Warriors peripheral content. The time they came around happened to be the time NBC was looking for this kind of outlet."
For Shiller, this role was no happy accident.
Two feet above the top of the backboard at Staples Center in Los Angeles, a shot clock flickers, showing four seconds remaining. A 23-year-old, redshirt-senior shooting guard for the Stanford basketball team, Drew Shiller dribbles around a screen to the top of the key, a large purple jersey blocking his path to the basket.
It is the 2010 Pac 10 Conference Tournament semi-finals, and with the University of Washington leading by 18 points over Shiller's Cardinal late in the second half, reality is setting in that this may be his last college game.
It has not been the ending he hoped for. In 26 minutes on the floor, he has made just one of his nine shot attempts. Such has been the narrative for much of this final season. As a matter of fact, it had been the case for much of his college career.
"I don't look back with a ton of regret," Shiller, now 31, said, "but I know in my heart, in terms of the expectations I had for myself, that I underachieved."
These expectations were not ill-conceived. The California High School Athlete of the Year in 2005, three of Shiller's jerseys now hang in a large case beside the scoreboard in the Burlingame High School gymnasium: one for football, in which he earned Bay Area Player of the Year as a quarterback in 2004, one for baseball, in which he lettered all four years and fielded several college offers and one for basketball, for which he accepted a scholarship to the University of San Francisco in 2005. Shiller transferred to Stanford after his freshman season, but never reached the potential he appeared destined for.
"I think that my mindset when I finally got a scholarship to Stanford was that I reached my goal, and I didn't stop and realize: Ok, that's just one goal. Now it's time to work even harder," Shiller said. "I thought it was going to come a little bit easier, and I was in for a bit of a rude awakening in that regard."
"I think he took a breath, not realizing as a 5'11 guard playing in that conference, that he needed to do more to refine his craft," said his father, Barry Shiller. "I remember [Stanford coach] Johnny Dawkins saying, 'Who knows what he could have done?' The fact that his playing career never reached the level of achievement that he imagined kind of fueled him to want to remain in sports and achieve the level of accomplishment he sought."
Behind the camera, the director signals three seconds until show time.
"Director Nick" is what the hosts will call him for the duration of the show. The next might feature "Director Danny" or "Director Matt". NBC assigns them on a rotating basis purely for technical purposes, leaving production in the hands of Shiller and Liffman.
"One of the fun things is that we have almost complete autonomy to produce our own show," Liffman said "Once the game ends we're scrambling. We have to find highlights that we want to show, we create a narrative we want to say in our show, we break down all the blocks how we want to break it down, it's very structured."
Shiller has taken advantage of this freedom, working to carve a niche for himself in the ever-evolving landscape of sports media.
"You can have all this content, but unless you put it in right places for people to consume, it won't have an impact," Shiller said. "Media companies were realizing that Facebook has a large audience, and it was something to tap into."
With a platform in place, Shiller grappled with the challenge of creating a unique format that would appeal to his local audience in ways that mainstream sports media outlets could not.
"I needed to find the right balance of quantitative information while also bringing out the personality and having fun," said Shiller. "I think this show in particular is a fun opportunity, because you're interacting with fans, you're being a little sarcastic…as long as its presented in the right way I think people connect with that."
The shot clock ticks down to two seconds.
Cradling the ball beneath his right palm, Shiller dips his shoulder toward his defender and loads his weight onto his left foot. He winces ever so slightly, feeling a pinch in the left hip that has bothered him since last summer. It took two cortisone shots to help him fight through the pain, but the competitor in Shiller had no intention of missing his senior season.
"He was fiercely competitive as very young kid," Barry said. "That's where it's rooted. He's always been uniquely focused, always wanted to compete in sports, and in the classroom."
This competitiveness was reignited when a second chance to dedicate himself to sports presented itself.
"He does the equivalent of what a performer might do in studying film," Barry said. "He maniacally researches before every outsider broadcast. He's constantly doing basic research online, going through every imaginable source. He works way harder than anyone could ever appreciate."
"Having played, he can tell you that things like deflections are a stat," said James. "He's ultra-prepared as a journalist and as a competitor."
"You can never, ever stop working or let your guard down at all because there are people out there working even harder than you are," Shiller said. "I pride myself on doing as much research as I possibly can…and what makes it easy is that I absolutely love doing it."
One second until show time.
Shiller drags his left foot back behind the 3-point line, squaring his shoulders toward the basket. He raises the ball over his forehead, then elevates and releases, flicking the ball off his right-hand fingertips in a trajectory that arcs just over the defender's outstretched arm. It climbs toward the banners hanging high overhead, backspin blurring the panels together into an orange blob. Then back down it falls, clanging onto the front of the rim before ricocheting off the backboard, and landing in a defender's open hands.
It would be the last shot of his athletic career.
In the studio, Shiller smirks to himself, reflecting on the improbability of his situation: getting paid to talk about his favorite team with his best friend on live television. But this smirk lasts only a moment.
The camera is rolling, and it's time to go to work.
He won't miss this shot.