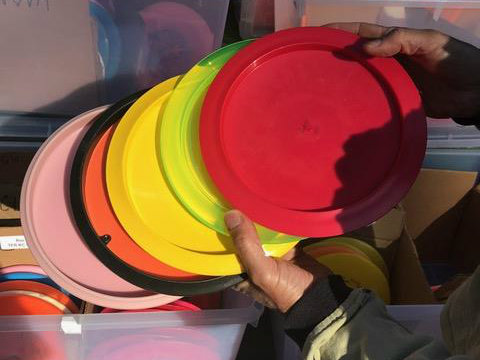 Mark Goldberg, a 33-year old tech investor, took two hard steps forward, swiveled to the left, swiveled back to the right, and flung the disc as hard as he could. The hard, white plastic travelled straight and low for 150 feet then curved to the right and disappeared into the abundant brush. Goldberg started after the disc and almost at once he noticed the quiet beauty of the Golden Gate Park Disc Golf Course. The park was crowded with Sunday visitors.
"And yet one hole into the course you feel like you're in a different realm, you've entered this kind of enchanted area," he said.
In the nine months since he had moved to San Francisco's Outer Sunset district, Goldberg had run past the disc golf course at least 25 times, and each time he thought that he ought to play. While he had only played disc golf once, he'd honed his Frisbee skills playing throw and catch on Brown University's Campus Green. Today he was going to play; he would do well, he was sure. After all, he had "Frisbee in his veins."
Disc golf is one of the fastest growing sports in the United States, according to the Professional Disc Golf Association. Once a backyard endeavor played with the Wham-O Frisbee, the game has developed into a highly nuanced competitive endeavor played in 47 countries. In the U.S. there are more than 5,000 courses and in 2016 there were more than 3,000 PDGA sanctioned tournaments. San Francisco has two top courses that attract players of all levels, from beginners like Goldberg to pro players.
Golden Gate Park Disc Golf Course celebrates 10th year
The Golden Gate Park Disc Golf Course is wedged into a droopy rectangle of wooded park land near 25th Avenue in San Francisco. On a sunny day, shafts of sunlight bore through the canopy of trees and blaze into pools of light on the grass like vernal ponds in New England.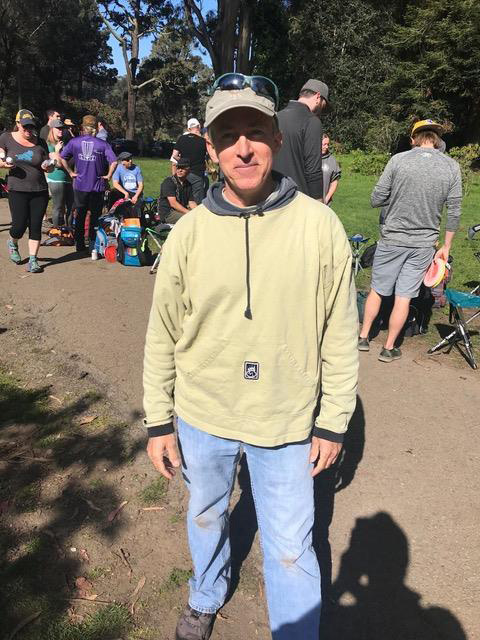 To celebrate the 10th anniversary of its opening and raise money to help maintain the course, the Golden Gate Park Disc Golf Club recently held a "Birthday Bash," with 200 players competing. Leonard Muise, original course designer, attended and added several temporary holes for the occasion.
The usual rules of tournament play were relaxed. Players brought beer and newly legal weed. One outfitted his rolling cart with a boom box and blasted the Grateful Dead as he traversed the course. Dogs were welcomed (as long as they did not fetch). Hikers, mountain bikers and park rangers on horses shared the course. An older woman collected discarded cans. Many of the players knew her — one reported that every year she bakes a cake for the disc golfers.
Though a round of disc golf can usually be played in less than two hours, with the clog of celebrating golfers, it took as much as six hours to get around.
Disc golf rules similar to 'ball golf'
The rules of disc golf are similar to "ball golf," as disc golfers refer to the traditional game. A player stands at the tee and throws a hard-plastic disc toward the target – a basket with hanging chains to break the disc's flight. Except in the extraordinary case where the player throws an "ace" – a hole in one – he or she picks up the disc from where it fell and fires again. Players compete for the lowest score.
Many standard features of ball golf – handicaps, assigning a par for each hole – also apply in disc golf. But as one player explained, in disc golf "the disc is both the club and the ball," meaning the disc's design must do the duty of the golf ball and a club's face and shaft.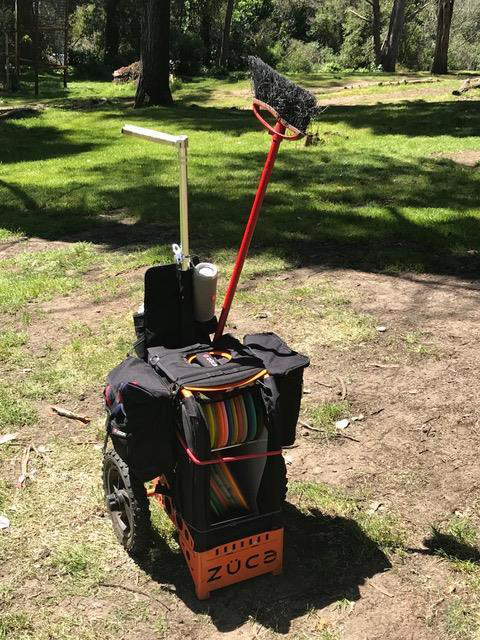 Unlike ball golf, where the number of clubs a golfer may carry is limited, disc golf has no cap. A golfer may carry 20 or 25 different discs and vary them between shots depending on the situation.
Discs have different flight characteristics. Innova Disc Golf, a company that produces discs, uses a four-factor flight rating system. The factors – speed, glide, turn and fade – are expressed quantitatively, so an individual disc, for example, might have ratings of 8, 4, -2, 3. That combination would describe a fairway driver with good glide that, when thrown properly, will make a "S curve," heading right at first but turning left as it slows.
As a rule of thumb, Muise said, a disc golfer can throw a disc roughly 60 percent the distance that a comparably skilled golfer could drive a ball from the tee. A high-level player may throw a disc 500 feet. (In disc golf, distances are generally referred to in feet rather than yards as in ball golf.) The world record, aided by a vigorous wind, is a prodigious 1,108 feet, nearly four football fields.
Dual courses serve both disc golf and traditional golf players
Most disc golf courses in the US – like Golden Gate – are laid out in public parks and can be played for free. However, as ball golf in the U.S. has contracted – down more than 20 percent between 2006 and 2016, according to Statista, a market statistics portal – many courses face financial pressures. An increasingly popular solution is to create pay disc golf courses on traditional golf courses, creating a new revenue stream.
One such course is Gleneagles Disc Golf Course in San Francisco's McLaren Park.
For years, disc golfers tried to convince the San Francisco Recreation and Parks Department to allow construction of a stand-alone course in the park. But community pushback led to an alternative: the new disc golf course would be laid out in and around the existing Gleneagles golf course.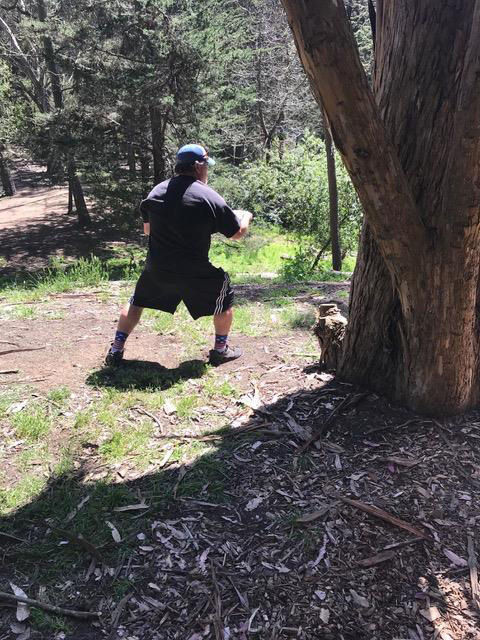 The new course, also designed by Muise, opened in 2017. The disc golf holes thread their way around and through the ball course. Disc and ball golfers share the course, just as multiple foursomes of ball golfers play a traditional course at the same time. Where there is overlap, the ball golfer has priority.
The logistics of integrating play are easier than they seem because disc golf thrives on obstacles. When Muise designs a course, he takes full advantage of trees and shrubs and wild grasses. Many traditional golf courses have large "waste areas" of rough. That is prime territory for disc golf. As Muise puts it, "disc golfers like the rough."
A novice tries disc golf
Playing with one disc – the rough equivalent of playing a round of ball golf with just a 7-iron – Goldberg had several pars. Unfortunately, he said, on the other holes he went "violently off course."
He blamed his penchant for shooting aggressively from 10 feet out only to watch his disc sail 30 feet past the target.
On the 12th hole, Goldberg fired his sole disc into a dense patch of vines and branches. After an unsuccessful 15-minute hunt for the disc, he decided to cut his losses.
Despite the disappointing outcome, he expects to return.
Looking back on the times he ran past the course without stopping, he said, "I've been kicking myself because I feel like I've wasted nine months not playing, I'm definitely, definitely, going to go back."