A mother mountain lion yawns as one of her offspring rests by her side. A lone adult male stalks the forest floor, careful to avoid crunching leaves. A family of three clatters along a small street.
Rob Fulton has lived in Boulder Creek, nestled in the Santa Cruz Mountains along Highway 9, for 16 years but has only seen a mountain lion in person once. On motion-activated cameras placed in nearby woods, he's captured dozens of such scenes that reveal intimate portraits of an elusive predator.
"I'm not well-schooled on wildlife," Fulton says. "I'm just a guy that happened to see them going by and decided that I was interested in where they were going and what it was all about."
Fulton, who is retired but used to work as a locksmith for Santa Clara County, operates seven trail cameras simultaneously and runs a private Facebook group where locals can upload wildlife footage they've captured. In just over a year of existence, his group — "Santa Cruz Mountains Lion & Bobcat" — has amassed over 1,000 members.
Daniel DeLong, a former San Jose Fire Captain, administrates the public Facebook group "Ben Lomond Mountain Lion Journal," which logs sightings of mountain lions in the neighboring town and has gathered almost 1,500 members in the year it's been online.
Fulton and DeLong's Facebook groups are part of an increasing trend in people documenting and spreading footage of California's mountain lions. Leaders in the movement don't necessarily think mountain lion populations are increasing statewide, just our means of capturing and distributing footage in social networks. Urbanization has brought people to regions where mountain lions previously roamed uninterrupted.
"The reality is we've already encroached on their primary habitat," says Lynn Cullens, director of the Mountain Lion Foundation, a national conservation organization, "and they're reduced to becoming animals of the mountains." Cullens points to human factors like hunting, traffic collisions, climate change, and rodent poisons tracking their way up the food chain as harming the mountain lion population.
The California Department of Fish and Wildlife approximates that between 4,000 and 6,000 mountain lions — also commonly known as pumas, panthers, or cougars — roam the state of California, with adults patrolling vast territories. No one knows the number of mountain lions in the Bay Area, but estimates for the population in the Santa Cruz mountains, a range that extends from just north of Watsonville through Half Moon Bay south of San Francisco, are between 50 and 100.
"In California, we don't have strong data to make a statement on mountain lion populations, that they're either increasing or decreasing," says Steve Torres, who oversees the Wildlife Investigations Laboratory for the state and was previously the statewide mountain lion conservation coordinator. "If you're asking me to make an educated guess, I think there is higher levels of lion activity in the Bay Area now than there were 20 years ago, and I'll be the first to admit I don't completely understand why."
Hillsborough Police Corporal Dave Agee has set out a few trail cameras over the past years on behalf of his department to capture mountain lion activity in the town, an affluent suburb near San Mateo.
"In the last year, I've seen an increase in the number of reported sightings," Agee says. "I don't know if it's an increase in the population, or if it's an increase in the availability and proliferation of home security systems" and trail cameras. A recent video went viral of a mountain lion dragging a deer carcass through a resident's porch in Agee's jurisdiction.
In mountain lion Facebook groups, the seeming increase in activity has been a source of local controversy. "People are going to start having more contact with lions because their territory is so cut up," DeLong says, "So you get people in the group that are saying, 'Wow, we need to start culling the herd, we need to start hunting them again.'"
"I love the lions. I don't want to see them hunted," DeLong adds, emphasizing the importance of more research funding to answer questions residents have been speculating about, like whether there have been increases in mountain lions killing livestock and pets.
Joseph Kelleher, a management consultant, lost two goats to juvenile mountain lions when he lived in Boulder Creek a few years ago. "We ended up losing probably fifteen or twenty chickens after we lost the goats." In another incident last year, Kelleher's wife rescued one of their cats after seeing it was "backed up against [the] garage door up on its hind legs and had its head inside the mouth of a puma."
Though Kelleher was forgiving, others have utilized a right granted in California law to hunt mountain lions that have killed livestock. Since 2010, at least 25 mountain lions have been legally killed in Santa Cruz, Santa Clara and San Mateo counties out of over 80 so-called depredation permits issued, according to the California Department of Fish and Wildlife.
"Nobody's studied lions long enough on a regular basis to be able to say what was normal before and what's normal now," Fulton says. "And some people say they seem to be liking pets more, and I'm thinking the thing is they go after what they can get. They don't know the difference between a pet and prey."
Boulder Creek resident Karen Yost thinks local mountain lions have recently become emboldened. "I have lived here over 40 years. I see a change in the pumas," she said. "They snack on domestic pets. It is only in the last few years. It is rampant… I fear nothing will be done until a toddler is taken."
Mountain lions generally go out of their way to avoid people, which is one reason they are so rarely sighted, and mountain lion attacks on people are exceptionally rare. There have only been 14 documented cases in California since 1986, three of which were fatal. Still, mountain lions are commonly feared in communities because of the gruesome nature of the attacks. Local parks in the Bay Area have put up warning signs describing what to do in an incident. The general advice if confronted by a mountain lion is to appear tall, shout, not flee under any circumstance, pick up small children, and give the mountain lion a path to escape.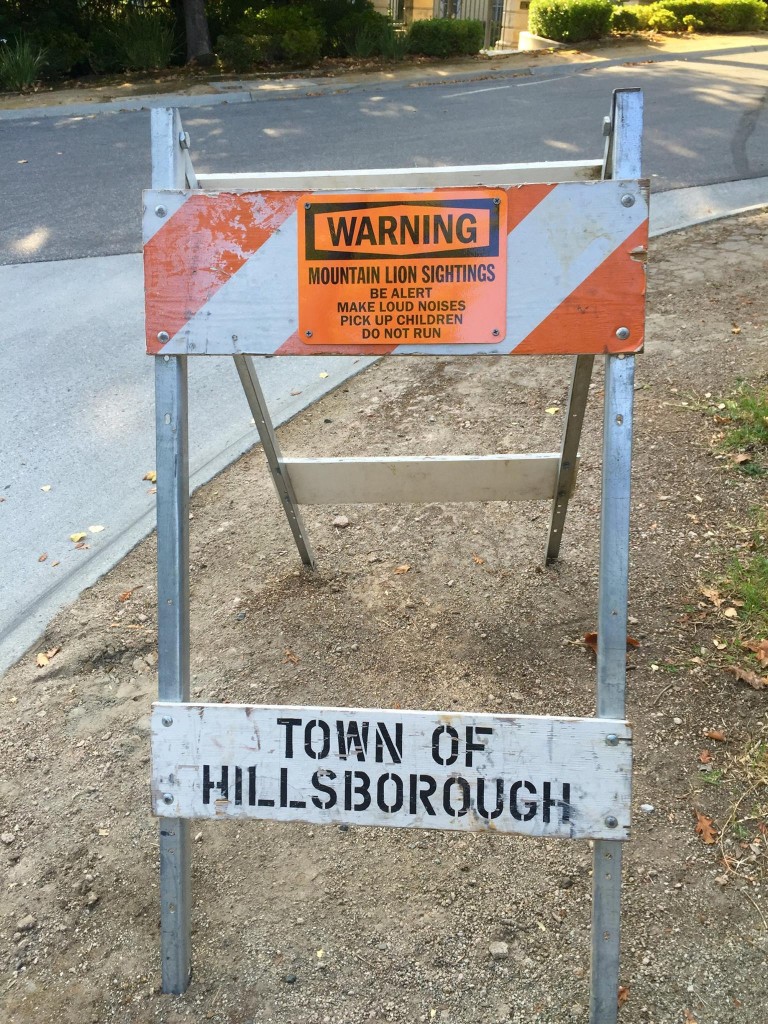 The Santa Cruz Puma Project, a collaborative effort between UC Santa Cruz and the state, has been tracking mountain lions with GPS collars for almost a decade, providing an important window into their territorial patterns. This year, the group released a study demonstrating that "pumas fled more frequently, took longer to return, and reduced their overall feeding time by more than half in response to hearing" prerecorded human noises.
The Bay Area Puma Project is another local initiative that has been researching mountain lion activity. Corporal Agee and the Hillsborough Police Department work with the project to document fatal crossings on Highway 280, which runs from San Francisco down to San Jose. "One of the newer projects is trying to come up with a way to prevent fatalities along the 280 corridor," Agee says. "Since 2014, I know of six confirmed mountain lion fatalities."
With the increased network of trail cameras and online groups to share footage, residents are becoming more aware of how mountain lions roam. Perhaps more impressive is how few encounters there are with humans.
"In any given month there could be a mountain lion in any Peninsula community," Agee says. "People don't see them as often as you would expect given the number of sightings we're getting, but it kind of goes to show you how elusive they are and how much they want to avoid human contact."