The Orion Center welcomed a dozen 20-something year-olds: some in suits and ties, some in loose hippie pants.  
Gregory Sandritter followed the crowd into a home-like room. The floor was spotted with colorful sleeping bags, yoga mats, pillows and blankets. In the middle, candle lights glimmered next to odd exotic instruments in crystal and wood.
Sandritter stood disoriented at the door in his white T-shirt and Levi's shoes. He looked around. At nearly 70 years old, he said he felt like the dinosaur in the room.
"I was skeptical," he later recalled, "I am from Brooklyn, New York, I am always skeptical."
His friend Jordan Blake, whom he'd met a few weeks earlier at the San Francisco Gay Men's Chorus, was now sitting legs-crossed, dozens of quartz bowls surrounding him. He sang at a low pitch and brushed the crystal with two mallets.
Next, Blake would add the hum of Native American flutes, and the wind-like whisper of South American shakers.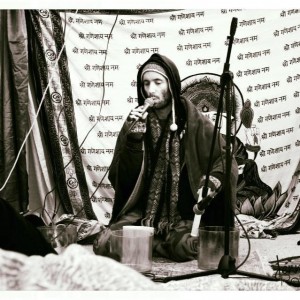 Sandritter had seen a bowl like those once before. His sister Maria had shown him a crystal bowl a decade or so ago. She said it was a form of alternative medicine, and that it was supposed to help her heal her cancer.
He had been open to alternative medicine in the early days, in his battle against AIDS, he said. Now, he found himself willing to try it again.
"At first it took a lot of letting go of expectations, pre-thoughts of what I ought to do or how I should respond to the sound," Sandritter said. "But as soon as I got into it, it felt like a getting high of its own kind."
Sandritter soon became a regular customer of the Orion Center, attending a sound session every other week. When he experienced his first congestive heart failure last winter, he turned to sound meditation for recovery.
His heart was pumping blood to slowly and he felt anxious all the time. Sandritter wanted to take his healing into his own hands.
"I could see that it was starting to get me down, and I realized that I needed once again to become proactive in my own health," said Sandritter, "This singing-bowl meditation made me very hopeful."
Two days after he was discharged from the hospital, he bought four crystal singing bowls from Blake: the Grandfather, the Grandmother, and two Pink Oceans of Gold.
The purchase cost him over $4,000.
The business of healing 
Sound meditation is becoming a lucrative business in the San Francisco Bay Area.
The practice consists of therapeutic concerts performed with ancient, tribal instruments such as Tibetan or crystal singing bowls, planetary gongs, flutes, chimes and didgeridoos.
Sound therapy dates back to ancient religious Hindu rituals. Its practices began to be commercialized and advertised in fitness and wellness centers in the late 1990s.
"Sound meditation used to be something that is connected to particular religious beliefs," said Loriel Starr, a certified sound practitioner with a graduate degree in healing arts from The California Institute of Integral Studies.
"Now, it's not about being a card-holding member. There is no particular qualification or belief-system," Starr said. "It's just about getting together and being able to enjoy something that brings benefit and makes people feel better about being alive, more loving and just happier."
Venues range from cathedrals to discotheques, children summer camps, and therapy clinics; and events cover up to 300 days of the year. Performance dates include Thanksgiving and New Years' Eve.
In the Bay Area, group performances can cost from $25 to $150. The price doubles for one-on-one sessions.
Starr described a struggle of balancing the business component of sound meditation, with the spiritual and artistic nature of the practice.
"I am professional at what I do, so I am paid for it,"  Starr said. "But without a doubt, it is an art as well."
Practitioner Danny Goldberg said he gave free meditations in the first few years of his practice, but eventually, that changed.
"You have to put a value on it," Goldberg said. "It's my time, energy, investment and love going into (the sound meditation) experience."