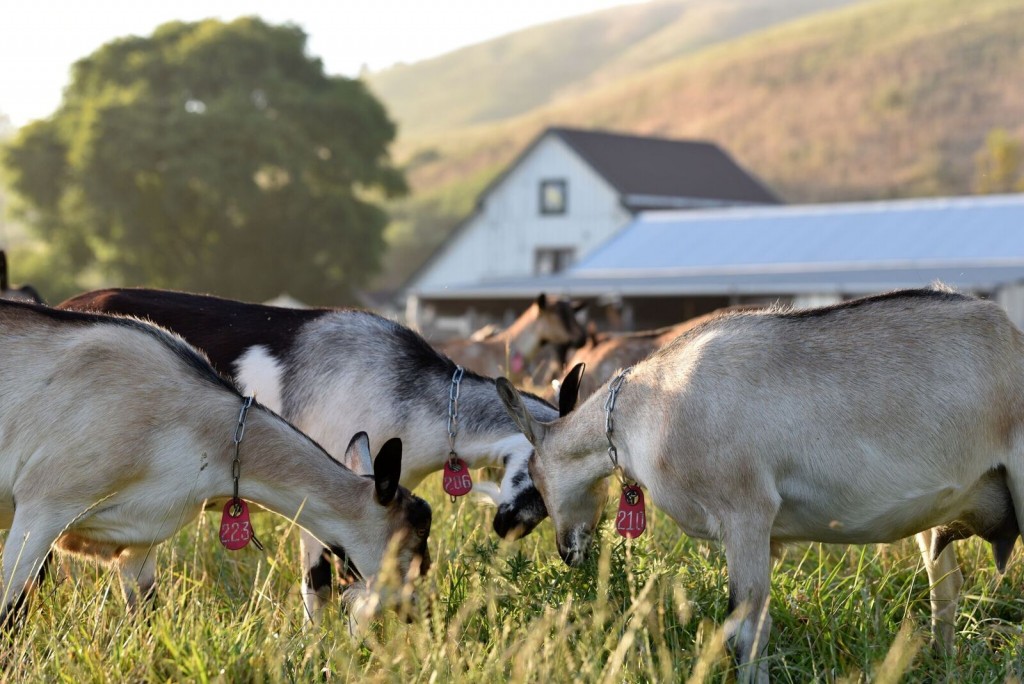 Dee Harley, of Harley Farms, sips her tea on a chilly November day in Pescadero, Calif., slightly more than an hour southeast of San Francisco.
Her 200 goats are laying in the green pastures. And with tourist season over for the next three months, she has a brief chance to relax.
Tours, dinners and weddings have allowed Harley Farms to stay small and do what it does best – create goat cheese. When Harley wants to make more money, she can simply add more tours.
"What started out as a little bit of fun with the kids from local schools now heavily contributes to the income flow of the business," Harley said.
San Mateo County's agriculture production value declined 21 percent between 2007 and 2016 before stabilizing in the past year. And an increasing number of the farms have turned to agritourism to supplement their incomes.
Besides growing crops with high returns such as Brussels sprouts and peas, more farms in the San Francisco Bay area have used tours, opportunities to learn farm tasks such as milking cows and overnight stays to attract people to their property. According to San Mateo County's agricultural commissioner, Fred Crowder, the number of agritourism visitors has increased substantially in the past decade.
"San Mateo County, particularly the coast side, has really become a tourist destination [for agritourism]," Crowder said.
The county's biggest source of agritourism income, though, comes when the coast turns orange with pumpkins.
"You're just going to sit on the highway for a couple of hours wondering where all these people came from," Crowder said.
And across California, farms, which used to compete with each other, are now forming associations to promote their areas like Napa Valley has been doing for decades.
What farms participate in agritourism?
"[Agritourism] generally works best for small-scale farms that can't compete solely in the production world," said Penny Leff, the agritourism coordinator at the University of California Small Farm Program.
And like Harley Farm, Pie Ranch uses tourism to supplement its revenue.
The Pescadero non-profit's visitors range from an intrigued passerby to work groups coming down from Silicon Valley "because they want to be more connected to their food," said Simon Albuquerque, the Pie Ranch's events and programs manager.
It offers a free two-hour work day in the gardens and production fields followed by an optional $12-20 tour and $15-20 dinner and dance. Volunteers perform tasks such as weeding, planting, composting, pruning, clearing tomatoes and harvesting during the farm day.
The events do "help subsidize us as an organization," Albuquerque said. However, 44 percent of its income comes from grants and donations that support agriculture and the majority of the rest comes from their harvest and farm training programs.
Consequently, tours, dinners and dances are more important to foster an involved public than as an immediate income source.
"Our priority is to engage people in that culture of being connected to their food in the farm," Albuquerque said. "And for us that creates the customer base."
Only 15 miles up the coast, though, Harley Farms operates a much different business model.
New Beginning

"Everybody's life changed and our business kind of went through the roof," Harley said of the 2008 financial crisis.
Revenues from Whole Foods' sales were declining. Yet more and more people were showing interest in visiting the farm as a daytrip from places such as San Francisco, Santa Cruz and Monterey.
"I took a big risk and said, 'Okay, we are coming out of the stores,'" Harley said.
By completely stopping the wholesale of her cheese, Harley began to sell 95 percent of it at the farm's onsite store. The other five percent was supplied to local businesses. To supplement, she created ninety-minute to two-hour public tours of the farm. A couple of years later, she added farm dinners. And now for a $150 a person, guests get a tour of the farm and eat dinner.
"Agritourism completely thrust our business forward," Harley said. "We were a success."
The tours start in the edible flower garden, where the 108-year-old farms history is discussed. Next, visitors meet the goats in their pasture and learn about the day in the life of a goat in their farm. The tour finishes by looking into the silos and dairy production facility to see how the cheese is made.
Today, Harley Farms has three main sources of income and agritourism is nearly half of it. Roughly 10 percent comes from the goat tours, 35 percent from dinners and private events and the remaining percentage comes from retail sales from their shop.
And all the energy Harley used to give to packaging and shipping for her wholesale business has been put into the shop to create value added products such as jam and bath and body lotions.
"It [agritourism] fundamentally funds the farm staying small," Harley said.