Nonprofits and many California counties are gearing up for a possible showdown in Sacramento against the state's service employees union over a bill that could make it harder for local governments to contract with outside organizations that provide critical services.
AB 1250, a labor bill that proposes new requirements that opponents say could make it difficult for counties to outsource services, stalled in September in the Senate Rules Committee but is eligible to be acted upon again as early as January.
The struggle to pass it pits the Service Employees International Union, a North American labor group with 1.9 million members, against nonprofits who fear their budgets will be slashed if county governments face new hurdles to work with them.
"It's our number one priority [to stop AB 1250]," said Patricia Gardner, president of the Silicon Valley Council of Nonprofits. "This could decimate the nonprofit sector. It's not good for county government, it's not good for taxpayers, it's not a good bill."
San Mateo County alone contracts with approximately 150 nonprofits because it doesn't have the staff or expertise to supply all needed services, according to Dave Pine, a member of the county's board of supervisors. Such outsourcing ranges from care for the mentally ill to waste disposal to foster care and adoption. In April 2017, 9,387 individuals visited such community-based organizations for food, shelter, and rental assistance, according to the San Mateo County Board of Supervisors.
"It's the role of county government to implement the social safety net for our most vulnerable citizens," Pine said. "And to do that effectively, we need to partner with nonprofit and community-based organizations."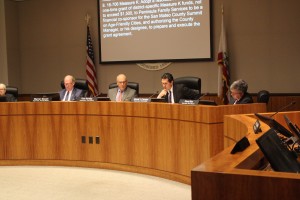 The local union chapter, SEIU521, declined to comment about the bill. Its campaign documents, though, say that "Commonsense Outsourcing Standards," as they've named the bill, forces more transparency and accountability in government contracting.
The bill was introduced last February by Assemblyman Reginald Byron Jones-Sawyer, D-Los Angeles, a former local SEIU chapter vice president, to establish standards for the use of most service contracts by counties.
If passed, it would ban approving contracts solely on the basis of cost savings. Rather, the contractor's wages need to be at industry rates and the contract cannot displace county workers.
These requirements would exist even if the quality of service by an outside organization is considered better.
AB 1250 has already been amended seven times, however. This includes removing a clause that stated contracts over $100,000 needed to be audited by the organization receiving it to prove it provided actual cost savings.
For nonprofits such as Uplift Family Services, a group that helps families overcome abuse, addiction and poverty, that auditing cost would have cost it at least a million dollars, according to its senior director of policy and advocacy, Eva Terrazas.
"We have forty contracts over $100,000 and at $25,000 per audit it puts it at a million dollars simply to audit contracts which means a million dollars is not going to go directly to service," Terrazas said.
Terrazas, though, still worries about future amendments and that the passage of AB 1250 would result in less services provided for vulnerable populations. And that is why Uplift Family Services has met with state senators to discuss the bill.
Another example is Caminar, an organization that provides care for those with mental illnesses. Based in San Mateo, its Assisted Outpatient Treatment Full Service Partnership program provides care for adults with known mental illness that are typically homeless and not being helped. AB 1250 would put the program in jeopardy, according to its president, Chip Huggins, because its restrictions may eliminate the county as a funding source.
On the state level, California's Department of Finance opposes the bill and stated in its analysis that it "makes it difficult for counties to provide public services in the most cost-efficient manner, and in a way that best meets their unique needs."
The Silicon Valley Council of Nonprofits argues the bill makes it more expensive for the county to provide the services because of the benefits given to government employees such as their pension.
As a result, counties may offer the same services they are currently outsourcing but at a higher cost to taxpayers—or they will provide less to save money, according to the council.
"The nonprofit partners bring a lot of flexibility and expertise that would be very expensive for the county to develop," Pine said. He later added that AB 1250 would create a "de facto barrier to contracting with third parties."
Heather Cleary, executive director of Peninsula Family Service, which provides safety-net programs such as early child education, believes funding for its early learning and adult education programs is in danger. She estimates 15 percent of the nonprofit's budget could be lost if it loses its governments contracts.
The current bill, if passed, would impact 44 out of the 58 counties in California. Cities that contract with outside nonprofits would not be impacted.
And in the version currently waiting to advance out of the Senate Rules Committee, San Mateo County is included but Santa Clara County is not.
Nonprofits dislike too how the bill would compel them to release information such as their highest paid employees.
"It's really just a reporting burden for no really good reason," Cleary said. "I see it as extra work that does not have any value."