As a senior procurement manager at a medical electronics startup in Silicon Valley, Ella Ancheta had a career that many would envy. However, in 2001, she walked away: Today, she works as the garden manager at Gamble Garden, a free garden in Palo Alto open to the public. Now working what she calls her "dream job," Ancheta is one of many garden employees and volunteers who have found the gardens as nurturing for people as for plants.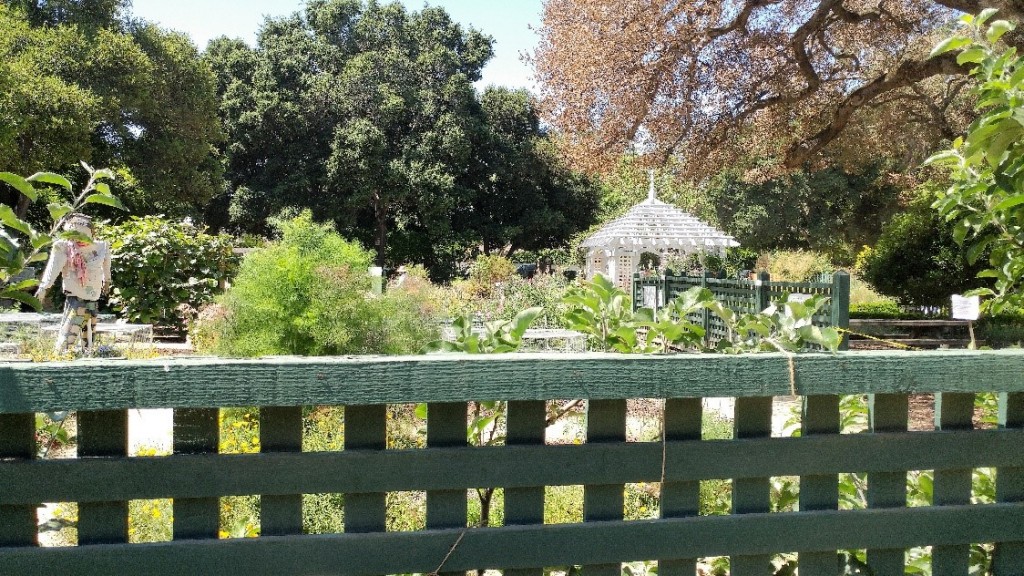 Lush, carefully maintained vegetation dominates Gamble Garden, creating a rare sense of seclusion against a backdrop of Palo Alto suburbia. A crisp fence, characteristic of the estate's colonial style, encircles the formal portions of the garden. Stepping into these parts is like stepping back in time. It's no wonder, given that a contractor from San Jose built the estate for Edwin Gamble in 1902.
Gamble was the son of a co-founder of Procter & Gamble and an heir to the fortune. His daughter, Elizabeth Frances Gamble, eventually willed the land to the City of Palo Alto. A controversy arose around the fate of the plot when she died in 1981. One faction wished to develop low-cost senior living on the land. The Garden Club of Palo Alto spearheaded a different community effort that fought for the estate to be turned into a free and public community space. That group succeeded in 1985, and the plot became a garden all generations could enjoy.
From that point onward, the block contained two community areas: the Gamble estate and a lawn bowling green that Elizabeth Gamble lavishly supported. The Gamble's main house, carriage house, and tea house and the surrounding garden compose the 2.5-acre estate. Staff preserved the formal gardens, including a formidable rose garden and a wisteria garden, when it became public. They erected an educational garden in another section. Today, the garden and houses remain accessible in their entirety.
While the garden's blooms have flourished, so have the people who work there. Many of them were exhausted or unfulfilled by their former work but now thrive at Gamble.
Ancheta, for instance, left her career because "she needed to check out of current Silicon Valley culture," especially its culture of competition and overwork. She enrolled in horticulture classes at a local community college after quitting, discovering a passion for gardening she'd never noticed before.
While Ancheta expected most of her classmates to be young college students, instead she found herself surrounded by people in their 30s to 60s who were also "reinventing themselves," she said. After hearing about Gamble Garden from a classmate in 2004, she decided to volunteer. As luck would have it, Gamble Garden needed to hire a staff member to assist with its Spring Fair, its annual fundraiser and plant sale; the garden quickly employed Ancheta. In 2008, she became garden manager, overseeing all planting and maintenance, as well as the volunteers' work.
Ancheta introduced several changes that helped Gamble become more environmentally conscious. For example, the garden transitioned to organic methodology under her supervision. Pesticides and herbicides are no longer used: instead, volunteers weed by hand.
In addition, Ancheta led the garden through the drought. The garden failed to receive any leniency when the government mandated new water use regulations. She oversaw the installation of a new irrigation system and other policies that reduced water consumption by 70 percent. Because of her efforts and the work of other volunteers and staff, the garden thrived.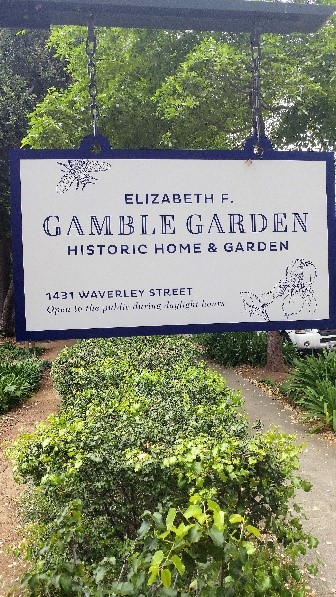 Katie O'Connor is Ancheta's staff assistant and foremost among her helpers. O'Connor took horticulture classes in the same program as Ancheta after leaving a career in accounting. As another transplanted soul, she finds fulfillment at the garden because visitors clearly appreciate the fruits of her labor – something that rarely occurred in her former profession. "It's special to have something like this open to the public," she said, explaining that the garden brings common space and beauty to the community.
Staff working at Gamble Garden say they find fulfillment in working with nature and caring for a community space: The same holds true for volunteers, a diverse group ranging from retired, grandparently figures to working adults seeking more closeness to nature. Gwen Whittier, for example, once taught at Stanford, but joined Gamble in 1987. Since then, she's watched the plants and people there grow. She talked about her former job curtly but spoke tenderly of nature's magic when she discussed her responsibility of germinating plants in Gamble Garden's greenhouse.
Jon Gifford didn't need to leave his job in order to find fulfillment through volunteering at the garden. In his work, he scouts out high-quality ingredients, establishes relationships with farmers and growers and connects them with accomplished chefs as far away as central Europe. Even though he does less gardening and more what he calls "the stupid work" like heavy lifting, he feels the garden has connected him meaningfully to nature.
Mary Ju Lee wished to study gardening in her home country of Taiwan, but wasn't admitted into her desired course of study. Excluded from horticulture, she settled for a career in nursing. Her soul was burnt out from "living around so much sickness" when she retired last year. Wanting to "change paths to one full of life," she decided to finally pursue gardening and eventually began volunteering at Gamble. Now she weeds in the community garden wearing bright clothes and a brighter smile.
While volunteers only work three to six hours a week, their efforts are vital to the health of the garden, Ancheta said. Their contribution not only succeeds in creating a healthy garden, but also one that has earned national honors. The garden holds membership in the prestigious American Camellia Trail, a nationwide collection of 41 gardens recognized as exemplary camellia collections. In addition, the garden has been a member of the American Public Gardens Association for more than 10 years.
Casey Sclar, the executive director of the American Public Gardens Association, agrees with Gamble Garden's workers about gardening's rewards. According to him, "there has truly never been a better time" to pursue the profession. "We have an industry that is highly craft oriented and specialized" he said, explaining that the industry has surplus of employment positions. Current environmental trends and new policies, such as the need to transition to organic and reduced water conditions, have created many of these opportunities.
Just as the future of the profession seems bright, so does the future of Gamble Garden. With an increasing number of volunteers and the drought improving, Ancheta anticipates adding many new blooms to the garden.
To learn more about Gamble Garden and volunteering opportunities, visit its website.