Last February, Caroline McFarlane-Watts published a 57-second tutorial on YouTube of clay being painted, varnished and arranged into pancake stacks roughly the size of a penny. A professional miniaturist since 2005, McFarlane-Watts has since then been featured on the Food Channel, profiled as a favorite Instagrammer on Instagram and recreated videos for BuzzFeed's Tasty. People around the world recognize her work – even those McFarlane-Watts didn't expect.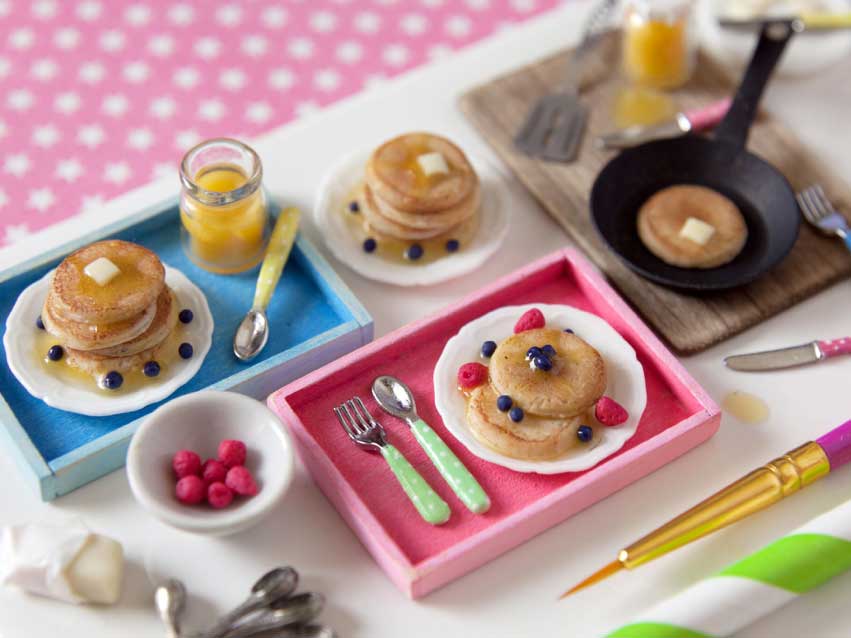 "In an emergency dentist appointment in Europe, the dental hygienist asked if I'd seen the miniature work of Caroline from Tall Tales," McFarlane-Watts said. "Taken aback, I told her that that was me. We both found it hilarious."
McFarlane-Watts' popularity illustrates one of many instances of the rapid popularity increase of tiny food videos. Nine years ago, a tutorial of mini clay cookies was posted by RRcherrypie. Today, a YouTube search of "tiny food" brings up over 24,800,000 results, and Tastemade even has its own tiny food tutorial channel. The trend shows no sign of stopping. Why? These videos meet all universal attention demands: with no language barriers to cross, the videos are popular all over the world.
Interestingly enough, viewers themselves don't seem to understand what makes these quirky videos so compelling. Tiny food is not only illogical, but it's often inedible. McFarlane-Watts' miniatures, for example, are made of only synthetic materials. "They look so real in fact," explained McFarlane-Watts, "that people have mistaken images of my work for the real thing and sought to hire me to cater their events. I've had to explain that my work is inedible and in fact made of clay."
Edible or not, the art of miniature food has exploded in popularity. A few years ago, the YouTube channel Miniature Space published its first tutorial of cooking miniature food. Over one million subscribers helped Miniature Space's popular video, "Mini Food Cake," reach more than 10 million views. The trend has since spread around the world: miniature cooking videos are some of the most-shared on social media sites such as Facebook.
Social media analysts are also starting to notice the intrigue in tiny food videos. Tubular, a company that tracks and analyzes video content all over the internet, released a publication in 2015 titled "The Growth of Food Content on YouTube." The data analysis showed that from 2013 to 2015, "Food-related views have increased 170 percent year-over-year." Moreover, the miniature food video subcategory took up 3 percent of total food video views, an impressive feat given that five years ago, the videos didn't exist. Alongside graphs depicting the statistics, Tubular explained that the trend has quickly increased its viewership. "The channel Miniature Space has received over 49M views and 430k subscribers in less than a year," Tubular stated. And since 2015, the number of tiny food subscribers and viewers continues to grow.
According to the Statistic Brain Research Institute, an online platform provider of statistics and analytics, 300 hours of videos are uploaded to YouTube every 30 seconds. YouTube publications range every possible topic, and few videos ever achieve a substantial number of viewers. Yet the miniature food trend has thrived. A hailstorm of praises litter the comment section of each miniature food video. And while viewers find pleasure in watching teeny-tiny flapjacks sizzling on an equally small pan, they fail to identify why they enjoy watching these videos. One of many commentators, John Flowers, exclaimed, "I really enjoyed this for no reason at all."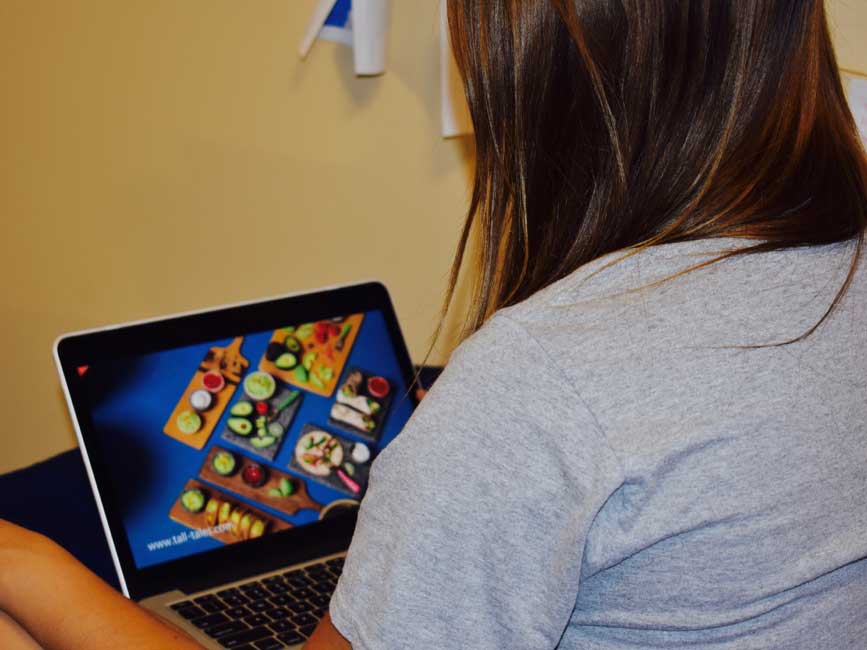 Nevertheless, trends always go viral for a reason. Author and Chair of Stanford University's Department of Communication Fred Turner believes that there is more to these videos than meets the eye. (EDITOR'S NOTE: Peninsula Press is a project of the Stanford Journalism Program, housed in the Stanford Department of Communication.) Turner's background as a professor of American culture, technology and media led him to believe that trending videos often have a deeper significance than just the amusement of the audience. He explained that public interest in miniature food videos may be due to two reasons.
Foremost, "people have always been drawn to curiosities," Turner said. He compared the concept to P.T. Barnum's Freak Show, a display of people with deformities. "Part of [what tiny food videos are] is a museum of freaks – and in this case, the tiny foods are the freaks. They have all the characteristics of a good freak. They are like something you actually know in the world, but they are also different: this is food, it's real, but it is also deformed. And the real-deformity line is what makes it interesting."
For McFarlane-Watts, the "freaky" part of the food, its size, allures her to the art form. "I think this real organic quality [of miniature food] is exciting to people because it makes it seem like the miniatures have come straight out of some tiny world. You don't get that same sense that it is real with other miniature items such as furniture or spaceships."
The tiny food trend has also expanded beyond one country or culture to all over the world. One prime reason media propagates across continents? It matches universal attention needs. "Nobody has to necessarily market tiny foods, yet they will spread virally very quickly across linguistic and cultural borders… Things that we are all interested in, regardless of culture, travel most easily." The charm of tiny food wouldn't carry much weight if people were not able to understand the videos. Because the tutorials lack spoken language, the diversity of the audience increases. Food represents not only a physical necessity, but also a critical facet to cultures worldwide. The miniscule size of the food being filmed only makes the tutorials that much more attractive.
"We are hardwired to look at things that are different in our environment, that are peculiar … and media makers create those buttons for us to push," Turner explained. "It reflects on a kind of 'snack-bite culture' we have, a culture where so much of the work, particularly in media, revolves around capturing our attention to market it.
For Brian Ashcraft, journalist and senior contributing editor for Kotaku, a Japanese video game site, tiny food videos fulfill the attention needs of both a Japanese and American audience. Ashcraft recently published a story about a Japanese miniaturist named Tomo Tanaka. He chose to write about the topic, and particularly focus on Tanaka's creations of miniature food, because he found them to be entertaining. "I figure," Ashcraft explained, "[If] I think something is interesting, perhaps other people will, too."
So far, he seems to be right. The amount of interest in tiny food videos continues to rise. As for miniaturist McFarlane-Watts, the popularity boost is opening many doors. She plans to exhibit her work internationally and publish a book. "Tiny things," she said, "-can take you big places!"