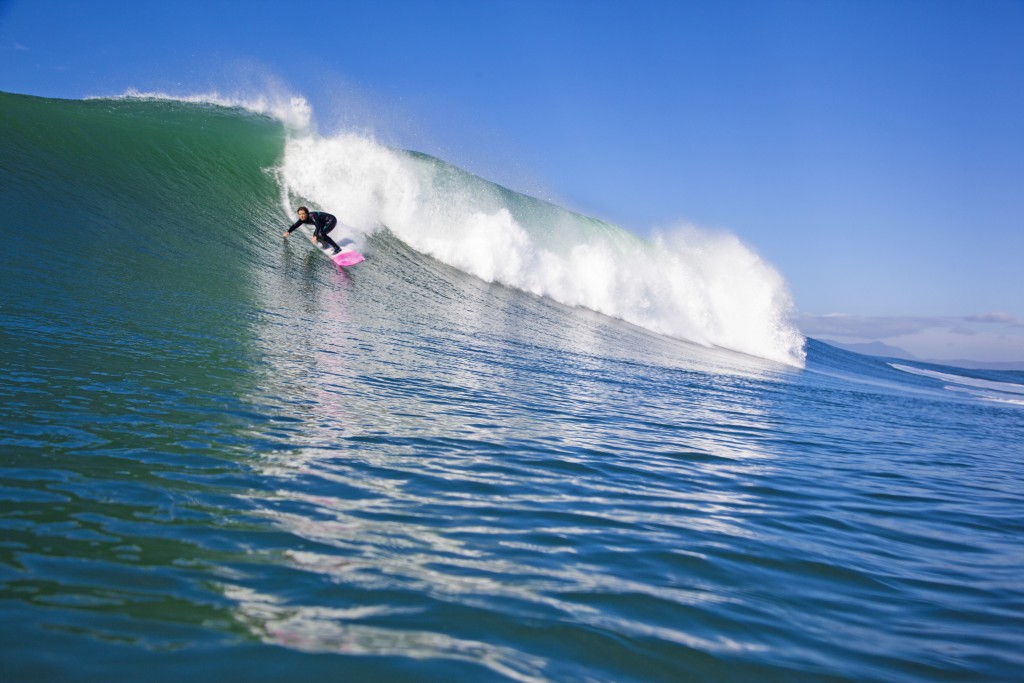 [dropcap letter="T"]he fog horn groans over Pillar Point Harbor. A single seal glides past sailboats resting in misty piers. The iconic radar station, a white sphere, rises up from the horizon and looks out to sea. Two miles out into the mist, the Mavericks surf break waits.
This cold, foggy surf spot just north of Half Moon Bay is famous in worldwide surfing circles for its near-annual big-wave surfing contest, the Titans of Mavericks. This season, for the first time, Mavericks will hold a women's heat, a milestone for women who have long sought acceptance within the sport.
When the conditions are right — and they have to be right or the contest won't be held — people fly in from as far as Australia, often with only 48-hours notice. Mavericks is one of only three major big-wave surf contests — the Pe'ahi Challenge and the Eddie Aikau Big-Wave Invitational are both in Hawaii. Selection for Titans of Mavericks is prestigious, with 30 people selected from a worldwide pool of only a couple hundred big-wave surfers. Since 1999, the contest has been held 10 times.
This year, six women will have a chance to surf in a single 45-minute heat out of the daylong competition. Three are from Hawaii: Emily Erickson, Keala Kennelly and Paige Alms. Andrea Moller is from Brazil and two local surfers from Santa Cruz, Jamilah Star and Sarah Gerhardt, round out the competition.
"For women to have the same opportunities, to be a big-wave surfer and make a living at it, you have to have the opportunities to compete in contests, to have your photo taken to get sponsors," said Jennifer Savage, policy director for the environmental activist network Surfrider.
In past years, women were selected as alternates or judges, but they never had the chance to compete in the water. Unlike other surf competitions, where men and women compete in separate heats, the Titans of Mavericks selection process pitted women against men. While a woman could in theory surf in the contest, no women were ever selected as participants.
The contest organizers said that women weren't selected because they weren't good enough, but advocates say it's because of bias. Either way, the practical effect was that women were excluded from one of the most important events in the big-wave surfing world.
Gerhardt called it a "huge honor" to compete this year.
"It's an incredible opportunity to grow this sport," Gerhardt said in an interview. "I look at this as an opportunity to help open the door for other women." 
The rough world of women's big-wave surfing
[dropcap letter="B"]ianca Valenti is a regular at Mavericks who started surfing in Southern California when she was 7 years old. She is one of a few hundred elite surfers in the world who can catch a wave here.
"It's a life or death situation," said Valenti. She said she's learned to focus and overcome her fear. "When I'm out there, I'm only thinking about making it."
Valenti co-founded, along with Paige Alms, Andrea Moller and Keala Kennelley, the Committee for Equity in Women's Surfing, a group that organized surfers to back a women's heat at the Titans of Mavericks contest. Valenti's life revolves around surfing, but she can't make a living in the sport. "It's not a career, it's a passion," she said. Valenti has a flexible job as the Italian wine specialist at her family's restaurant in Marin County.
Women who aspire to be professional surfers face obstacles in and out of the water. Sarah Gerhardt, who is in the first women's heat, said that the surfing industry is dominated by men. When she started surfing she had to wear men's wetsuits and rash guards, because, at the time, top-quality gear wasn't made for women.
Gerhardt said that, although she felt supported by the men she met surfing, she experienced a double standard in the industry. Men who showed courage and athleticism got sponsorships, but women needed to be conventionally attractive to attract sponsors. "It doesn't matter if you're the best in the world," Gerhardt said. "If you don't look good, you're not going to get a financial sponsorship."
She watched friends struggling to make a living surfing without sponsors because they didn't have a certain look. So, Gerhardt decided not to surf professionally, and instead, focused on her teaching career. She is a tenured professor and chair of the chemistry department at Monterey Peninsula College.
While some professional surfers make a good living, big-wave surfers have always struggled financially, said Steve Hawk, former editor of Surfer Magazine. It's ten times more difficult for women big-wave surfers than men to get sponsors, Hawk said.
"The chauvinistic, sexist history of the sport plays into it," said Hawk, but "it's a cultural phenomenon that expands beyond surfing."
(EDITOR'S NOTE: Steve Hawk is a former faculty advisor to Peninsula Press.)
The fight for inclusion
[dropcap letter="W"]omen will have the opportunity to compete this year largely because of one woman's crusade. Sabrina Brennan, the San Mateo County Harbor Commissioner, fought for a separate women's heat at Mavericks.
Brennan lives in Moss Beach in a home that overlooks where Mavericks is held.
She's attended nearly every contest since the first one was organized in 1999 by the surf-clothing brand Quiksilver. At the time, the contest name was Men Who Ride Mountains. "With that name, it's not really very welcoming,'' for women, she said.
But life hasn't been easy for Brennan following the Coastal Commission meeting. "There's been a lot of pushback and angry interactions with people," Brennan said. She has received negative feedback on social media.
When asked for comment on the new women's heat, a spokeswoman for Cartel Management, Kelsey Kaulukukui, emailed a news clipping from the Palo Alto Daily Post about an altercation between Brennan and Cartel Management board member Brian Overfelt. Kaulukukui was critical of Brennan's speaking to the Coastal Commission and said Brennan was trying to "disrupt" the contest.
But Brennan said she is supportive of the event. "The whole community wants to see the event be a success," Brennan said. "And so we're hoping that's what happens and that women can be part of that success."
Kaulukukui said the company thought comparing women and men to each other is "the form of true equality" but after hearing testimony from women surfers, they are "happy to accommodate" a women's heat. 
"We are excited to see the participation of women grow," Kaulukukui said.
CORRECTION – Editor's Note (12/20/2016): In this story originally published Dec. 18, 2016, the story said Sabrina Brennan co-founded the Committee for Equity in Women's Surfing. That is inaccurate. Bianca Valenti, Paige Alms, Andrea Moller and Keala Kennelley co-founded the committee. We regret the error.