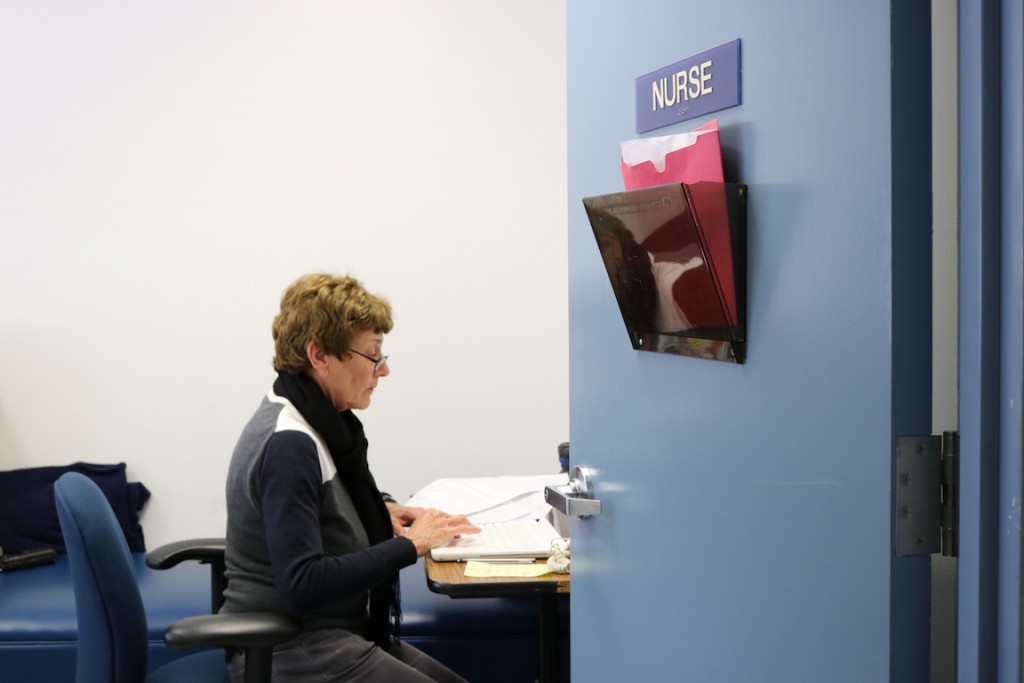 The Sequoia Healthcare District, a public entity that provides community-based healthcare services to residents of central and southern San Mateo County, is investigating ways to increase the number of nurses in eight local schools districts.
A community task force, brought together through the healthcare district's Healthy Schools Initiative, wants to hire more qualified nurses, increase school nurse salaries and provide financial support for credential programs.
The Healthy Schools Initiative funds programs and staff in support of the physical and mental health needs of students and families of local public schools. This year, the healthcare district is investing $810,000 for school nurses, benefiting nearly 30,000 students in 42 schools within its San Mateo County region.
The committee, made up of Sequoia Healthcare representatives, school officials, nurses and special education employees, convened to discuss impacts and concerns of high student-to-nurse ratios and to map out potential action plans at a meeting on Nov. 7. A proposal will be drafted in the coming weeks and presented to the district's board for approval in December.
The effort comes as public school districts struggle to recruit and support larger nursing teams to treat the growing number of students with medical conditions requiring direct care, said Andrea Garen, director of health and wellness at Redwood City School District, in an interview. Garen described seeing an increase in the number of students with diabetes, food allergies, asthma and seizure disorders across districts. As demands for one-on-one care from school nurses have increased, the number of available nurses has failed to keep up.
Pamela Kurtzman, director of grants and programs for the Healthy Schools Initiative, identified Redwood City School District as the district most in need.
"We have nurses that are absolutely burning out," Kurtzman said in an interview. "We need to find some solutions and it needs to be out of the box because right now the way the system is doesn't allow us for growth and change. We have to be that change maker."
Kurtzman said the issues the committee aims to solve are not new for school districts, many of which began shedding funding for school nurses during the 2008 recession. She said the healthcare district has the capacity to help but needs school districts' input to determine exact needs.
She described local school nurse ratios as concerning, pointing to Redwood City School District, which currently has five Registered Nurses and three Licensed Vocational Nurses rotating daily to cover 16 school campuses with a total of 7,951 students. Licensed Vocational Nurses provide student care but have limited responsibilities and work under the supervision of the Registered Nurses, who develop student care plans.
"This is a perfect storm for putting the school districts in a very tenuous liability," said Kim Griffin, a registered nurse and board member of the Sequoia Healthcare District. "And I would say it puts the child at risk. It's not a good situation in terms of job satisfaction either."
Griffin said in an interview that nurses prioritize scheduling by medical needs rather than student population size. She explained that when a nurse is on location at one school, teachers and administrative staff supply first aid at another and this runs the risk of other student conditions falling through the cracks.
"Just the other day there was a student with a badly injured finger and he couldn't stop crying," recalled Amanda Rothengast, principal at Hoover Elementary School in Redwood City. "The nurse was not here. The mom of the student was not able to come pick up her son for two hours. I was about to call the paramedics but then a volunteer who happened to be a doctor came by our school. She helped wrap up the fingers properly and let me know it was most likely badly bruised and the paramedics were not needed. This is a situation where having a nurse on campus would have been very helpful."
Elvira Gomez, a parent of Redwood City School District, said in an interview she has been called multiple times to pick up her daughter from school, when a nurse was not available. She said she is fortunate to not have her job jeopardized.
"For other parents, those who are working paycheck to paycheck, having to leave to pick up their child does affect their bottom line," said Gomez. "If a nurse was there full-time it would help those families."
The task force gathered nurses with school officials to learn about the issues at hand and find areas for improvement.
The group is considering a nursing float pool, which would consist of a collection of new district nurses to be utilized by any of the schools in the region. Kurtzman said the team of nurses would help schools districts like Redwood City.
"We have a running joke that none of us can be sick. That's how it is," said Phoebe Reid-Chambers, a school nurse in Redwood City. "If one person gets sick or something unexpectedly happens it significantly impacts us."
Both Garen and Kurtzman explained Redwood City School District's low pay scale, as a potential barrier in its inability to recruit and retain nurses. According to each school district's salary schedule, a nurse working in Redwood City has a starting salary of $51,199 compared to $59,722 in Sequoia Union High School District. A 2013 EasyNCLEX study showed the average salary of a Registered Nurse in the South San Francisco, San Mateo and Redwood City region to be $110,630.
"Nurses can make a lot more money in a clinic or hospital or private practice than they can at a school," Kurtzman said. "That right there is a huge issue. Even if we were able to fund a nurse in every school we might not be able to find them."
Griffin said the committee is still strategizing ways to raise nurse salaries, which she described as currently exploitive.
"Most of those nurses are not getting lunch breaks and working past the normal work day. I would propose we work directly with the union and also state legislature. We need to make the school nurse look like something that someone wants to aspire to," Griffin said.
The final aspect in the committee's plan involves financially supporting nursing education and certification. The group is working with Katherine Abriam-Yago, Ph.D. in education at San Jose State University, to reinstitute the university's school nursing credential program. Currently, the closest program for residents of San Mateo County is in Sacramento.
Griffin said the next step is to come up with a budget and for the nursing pool, to establish a mechanism for "cost sharing" between districts. She said the task force's effort is not only going to get kids healthy in schools but will impact the health of the whole community.